Age has its limitations, and one of these limitations is mobility. There are several options to help the elderly enjoy a comfortable life, and one of the most valuable options lies among the best recliners for the elderly.
The best recliners for the elderly are essentially power lift-reclining chairs that incorporate unique features not found in standard recliners. These engineered pieces of furniture enable the elderly to get out of the chair.
In the following article, we are going to talk about the best recliner models, as well as the buyer's guide to help you make the ideal choice! Let's dig in!
Now here is the clincher – Medicare covers a portion of the cost of a power lift reclining chair. So, if you are considering buying a recliner and have an elderly family member at home go for one of these rather than a standard recliner and get some of your chairs coverage covered by Medicare.
The concept is based on the costs of the lifting mechanism which are defined as durable medical equipment (DME). Just make sure your Medicare representative approves of this before you buy one.
Now let's take a look at the best recliners for the elderly, and these include powerlifters and standard recliners.
List of Top-Rated Recliners for Elderly Comparison Table:
Table of Contents
The Recliners for Elderly Reviews:
Baby Relax DA7197-GRR
Description
The Baby Relax is a contemporary design nursery swivel gliding recliner, which you might not think of as an elderly recliner, but what's good for a mother is good for a grandmother too. This once comes upholstered with gray velvet-like fabric with a twill finish.
Performance
This was quite an interesting choice, but what closed the deal was when some elderly women decided to test out the chair for their needs, which included painful lower backs, arthritic knees, and some with weak swollen ankles. The chair passed the test admirably.
This swivel and recliner chair that also gives you a smooth glide is perfect for the elderly, and while it is being sold as a young mother's infant care chair, it is a perfect solution for those aged and weary bones.
The all-around swivel option is perfect for placement in a room, you can turn around in any direction, and the recliner slides into a nearly 180o position, so you can even snooze comfortably. The inside trigger is easy to use, and the pocket coil seating is designed for maximum comfort.
This model is upholstered with velvet-like gray fabric and a twill finish with bold, white contrast welting and button tufting.
Features
Contemporary design swivel gliding recliner
Shaped arm design with inside recline trigger release
Full recline, 360o swivel base, and gliding motion
Easy assembly
Assembled dimensions: 32" W x 36.5" D x 39.25" H
---
Serta Power Reclining
Description
The Serta power recliner (Morgan model) is a recliner designed specifically for the elderly and individuals that find it hard to get up from their seats.
Performance
The Serta power recliner is built to last and uses a steel frame with marine-grade plywood and Pirelli webbing to construct a 15,000-cycle device that performs smoothly time and again.
This model comes with a patented comfort lift mechanism, you just press a button, and the recliner tilts you out of the seat. The memory foam is gel-infused, so you get a comfortable and personalized experience that forms to your contours.
Features
Frame construction
Smooth, quiet mechanism that goes up to 15,000 cycles
Gel infused memory foam, dream coils
Marine grade plywood
Pirelli webbing
Ergonomic LED hand-held control with USB power port
Virtuoso java upholstered fabric
---
Best Selling 540532AZ
Description
The club chair recliner is an up-market recliner for the study, workroom, or club room. This is a classic reading chair recliner and is well suited for the elderly family member that is looking for a relaxing read but without all the space taken up with fluffiness.
Performance
If you want a leather-like recliner that looks perfect in an exclusive lounge-type environment, then this is the one you want. Its classic club lines are neat and slim, and it does not offer the same level of plushness as a full power recliner but does offer a great moment for relaxing reading and conversation.

This model comes with a foot extension and fully reclining back, and is made of bonded leather stretched over solid hardwood. It will also take up to 250 lbs of weight.
Features
Foot extension and reclining back
Sturdy frame and feet for stability
Made of bonded leather over a solid wood
Chair Dimensions: 35.83" H x 33.46" W x 27.17" L
Seat Dimensions: 17.25" H x 20" W x 22.25" Dia
---
Dorel Living 75-3MT
Description
The Dorel Padded Massage Rocker Recliner I a perfect solution for seniors with muscle soreness and small daily pains. It comes with a beautiful design and can easily be a part of any house interior.
Performance
This amazingly cool microfiber recliner comes with amazing features that include the full reclining functionality but with an added massaging bonus. As you would expect, it has all the shape and trimmings of a classic massage recliner and has ample arm pads and extremely plush upholstery.
The massage unit is located in the seat and the back, and you can operate the zones individually. There is a lever release mechanism for the reclining function, and the seat is made of dense foam. The seat and back cushions are sewn into place, so they do not move around, and you get full leg and knee support pads.
The recliner goes back providing a "fully-reclined" position, and it comes with a rocker for added comfortingly.
The frame is made of steel, and the seat integrates coil springs and foam. The upholstery is microfiber (suede), and the seating capacity is 225 lbs.
Features
Individual zone massage with settings
Massaging zones can operate together or separate
Lever release for reclining function
Fully upholstered chair pad supports legs and knees
Sewn-in seat and back cushions
---
AmeriGlide 325M
Description
The AmeriGlide 325M 3 Position lift chair is an exceptional elderly recliner chair designed for heavy-duty performance and perfect functionality. It is a Brand name and comes with a brand price, but you get what you pay for: excellence.
Performance
Remember the Medicare thing? Well, this is the device you want to leverage that. This is a heftily priced recliner, but it is well worth the cost and comes with exceptional features, which is why I left it for last in the review.
The AmeriGlide 325M is a 3-position lift chair that delivers all the power and functionality of a lift chair but at a fraction of the price, and yes, it is still the most expensive when compared to the other best recliners in the review.
This model comes with a steel lift mechanism that supports loads of up to 325 lbs. It is designed for specific heights too and is best suited for individuals that are 5'4″ to 5'8″ in height.
This is an electrically powered unit and comes with a battery backup feature which is according to Medicare requirements. The material is not fire retardant, so don't smoke when seated. The material is easy to clean, which is an added benefit.
The upholstery comes in several colors, and this includes cocoa, sky, fern, and sandal.
It is easy to assemble, and once fully assembled the operability is smooth and seamless. The motions are slow, and this is limited by Medicare's requirements. The actions are silent, and the padding of this chair is plush all over, but more so on the arms.
Features
Three recline positions
Electric powered
325 lbs load capacity
Floor to seat height: 18.5″
Dimensions are Seat depth: 20″ x 20" W x 25" H
---
RELAXONCHAIR MK-II Plus
What is a recliner without a proper massage? An incomplete resting experience, to say the least! Some claim that this chair is the best massage recliner available for the elderly.
RELAXONCHAIR MK-II Plus comes with a computerized control panel that's located on a stand on the left side of the recliner's armrest. It may look a bit too technical, but we assure you the panel is really easy to use and understand, which means seniors will have no problems with it.
This massage chair fully reclines and comes with 4 different automatic massage programs which are designed to substitute a professional therapist, 5 massage techniques (Tapping, Kneading, Combo, Shiatsu, and Rolling), 3 speeds, and 3 levels of airbag intensity control.
Which allows you to choose the speed and intensity of your massage. Plus, you can choose a specific spot and continue to massage it.
The individual airbags on the inner sides of the chair can automatically inflate/deflate to stretch your body and relieve tension around your neck, shoulder, and leg areas.
Designed with innovative rollers that fit the spine's natural shape and provide full-body massage, it is especially good for people with lower-back agony, sore glute muscles, or sciatica disorders. The L-Track System provides a good and relaxing massage with two heating pads for your lower back.
Your whole body gets scanned by the chair to detect specific body locations and provide the best possible experience. Zero Gravity system lifts your legs at your heart level, thus, minimizing the pressure on your vertebrae, calming your heart rate, and relieving your back from pressure.
This RELAXONCHAIR MK-II Plus is a great addition to your everyday life full of relaxation and back support.
Features
Unique L-Track Massage System
Built-in Lower Back Heating System
Sole Massage Roller
Calf and Foot Massager
Arm Massager
Full Body Air Massage
Intuitive Body Scanning System
Full-Size Remote Controller
Targeted Area Massage
3 speeds and 3 widths control
4 automatic massage modes
3 manual techniques
3 levels of airbag intensity control
Pros
Zero Gravity Shiatsu
Long Service Life
Topnotch engineering and high-grade materials
Full reclination
Deep tissue massage and full body stretching
---
Esright Massage Recliner
This recliner chair is designed for ultimate comfort, convenience, and relaxation. Not only it looks amazing, but it can also rock, swivel, and vibrate. Moreover, Esright Massage Recliner provides heating for your lumbar area.
Its thick padding creates ultimate comfort with its backrest, armrests, and adjustable headrest. Pull the lever on the side to recline the footrest or press against the backrest to fully recline the chair.
And if you don't fall asleep at once, four storage pockets and 2 cup holders can be convenient when you need to keep your drinks and accessories beside you, whether it's your favorite drink or popcorn, remote controllers, magazines, newspapers, smartphones, game consoles, or tablets.
This chair comes in 2 parts which are easy to assemble, and a few wires (power/massage) that you will have no problem getting together. It also has a nice cover to hide the wires behind it.
The remote control has a heating button, intensity level (high/low), 5 massage modes (Pulse, Press, Wave, Auto, and Normal), 4 massaging body parts (lumbar, leg, thigh, back), and the timer (15/30/60 minutes).
You can choose what parts of the body you want to massage, and target each of them individually.
Features
Rocker recliner
360 degree swivel function
Heating and vibrating functions
Back, Lumbar, Leg, Thigh massage functions
2 side pockets for convenient storage
Manual reclining and footrest control
Remote control (massage functions)
5 control modes
2 intensity levels (low/high)
2 cup holders
4 storage bags (front/side)
Assembly instruction
PU leather
Dimensions: 33.5″(W) x 35.8″(L) x 43.2″(H)
Seat Size: 22.8″(W) x 20.5″(D) x 18.9″(H)
Fully Reclining Length: 72″
Reclining Angle: 140°
Max Capacity: 300lbs
Pros
Thick-padded headrest, back, seat cushions, and armrests
Easy to clean
Good price
Ergonomical recliner
Breathable PU leather
Water-resistant
Simple assembly (no tools required)
Durable Frame
---
Mcombo 7040
If you or someone in your family have any trouble getting up from their favorite chair, maybe it's time to replace it with this sleek power lift recliner. Just don't forget about your drinks in cupholders when getting up! Let's see why this chair is cool.
First, it has a great level of comfort that you can feel once you sit in it and recline (140 degrees). Grab that easy-to-use remote controller and push the Recline Down button to recline the chair (push "Lift" to gently push the chair up and get yourself out of it).
Then there are also buttons to activate separate heating (waist area) and vibrating (8 vibrating points) functions. You can choose your intensity level (5 intensities) and set the timer to turn the functions off in 10, 20, or 30 minutes.
And don't worry about flipping back in this chair because it has a sturdy base that features an anti-back-tipping design and a durable metal frame for your safety.
Apart from power lift assist, this Mcombo recliner has a TUV certified motor that guarantees quiet operation and great performance.
We've mentioned 2 cup holders in the thick-padded armrests already. There is also a side pocket and 2 USB ports on the left to charge your iPad/iPhone. Everything for your convenience and comfort!
Features
Power lift recliner
Vibrating and heating functions
9 vibration modes and 5 intensity levels
8 vibrating points
1 heating area (waist)
Countdown timer (10/20/30 minutes)
Easy to clean (dry/wet cloth)
Dimension: 34.6″W x 30.7″L x 41″H
Seat: 17.7″W x 20.5″D
Voltage: 110V/60 Hz
Minimum distance to wall – 15.7″
Reclining angle – 140°
Weight capacity – 320lbs
Upholstery material – high-quality faux leather
Pros
Power lift mechanism
2 USB outlets, a side pocket, and cupholders
---
Real Relax Favor-03
The name says it all! You can feel that once you sit in this ergonomic multi-functional recliner. It's all about massage, muscle tension, and body pain relief.
This Real Relax massage chair was designed to feel total relaxation while watching a TV, napping, or reading a book. Use a remote controller with an HD VFD display to easily choose your favorite massage intensity and speed for your neck, waist, back, arms, hips, calves, or feet.
Feel the benefits of heating functions in your feet and waist areas. Don't forget to try the Zero-gravity seating which is also a great feature that can improve your massage experience and make you feel weightless.
If you are looking for the best air massage experience in a budget-friendly recliner, this Real Relax massage chair is your choice – its 30 airbags will deliver a solid air massage experience. You can also move the chair around easily since it has 2 casters in the back.
Features
Unique ergonomic armrest linkage system
Embedded arms clips for comfort
Adjustable reclining level
4 pre-set auto-reclining programs (sleep, relax, mild, strong)
8 massage rollers
30 adjustable airbags
Countdown timer (up to 30 minutes)
Weight limit – 400 lbs
Comes in 2 boxes
For users up to 6'3" tall
Pros
Zero-gravity design for a weightless feeling
Built-in heating function (waist/feet)
Easy to assemble
Adjustable massage rollers speed
Individual massage areas (neck, back, waist, hips, arms)
Calves and feet massage
---
Ashley Furniture 1090012
This one is simply a beautiful contemporary power lift recliner in a high-quality fabric upholstery from Ashley Furniture Industries. The manufacturer has more than 70 years of experience in the market, which means you can be sure of its product reliability.
The chair looks fantastic and feels just the same – it's soft, comfortable, durable, and convenient when it comes to getting up. Recline it with one touch and elevate the footrest (separate reclination available) or do both.
When you see it, the desire to take a seat is simply irresistible. . Just take a seat, recline, relax, and get rid of the pressure in your joints!
Features
Seat height – 20″
Fully reclined length – 69″
Dimensions – 40″L x 35″W x 42.5″H
Weight – 132 lbs
Emergency battery backup (batteries not included)
Instructions and tools included
Independent back/footrest control (dual motors)
Reliable corner-blocked frame
Soft 100% polyester upholstery
Pros
Easy assembly
Ultimate relaxing experience
High back
Thick high-resiliency foam cushions
Metal reinforced seat
One-touch power button
Effortless getting out of the chair
Quiet and smooth operation
Sturdy frame & high lift
Fits 30″ doorways (or wider)
---
Kahuna Massage Chair LM6800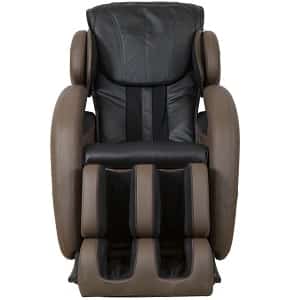 Kahuna LM-6800 features an L-Track massage system. Get ready for deep relaxation and improved sleep because this chair has it all for your comfort. Namely, a variety of programs and massage techniques, a full-body scan to automatically (and manually) locate the problematic areas of your body.
No more back pains related to your spinal disks – only deep massages that can also be targeted at special points of your body (zone massage). Choose your favorite massage intensity and speed and improve your sleep quality and general health.
The heating function will help soothe painful back and calf areas. Spread your whole weight across the recliner and enjoy your effective massage in any of the three available Zero Gravity positions. LM-6800 is a perfect choice in its price range!
Features
L-Track massage system
3 intensity levels
Dual foot rollers
Zero Gravity Positions (3 levels)
Shoulder air massage
5 manual modes
6 auto pre-set programs
Chiropractic auto mode for back relief
Double-layer arm air massage
Calf and foot air massage
Heating therapy function (lumbar/feet)
Dimensions – 46"L x 48"W x 31"H
Weight – 249 lbs
Pros
Easy-to-use remote controller
Countdown timer (up to 30 minutes)
Double-layered shoulder airbags
Space-saving technology
Extended footrest (up to 6″)
Full-body 3D Scan to detect your body proportions
---
Recliners for the Elderly – The Buyer's Guide
When (you think) you have already found your stylish recliner, make sure it has all the right features you may need. Exteriors can be deceiving, and you want to have the most comfortable, healthy, and convenient chair to rest.
Take a seat and chill in your chosen recliner, while checking if your head, shoulders, arms (if you need armrests), back (lower back), knees, and feet feel comfortable in it.
These are the pressure points that need the right support to provide good health and relaxation. If everything feels great, you will avoid unnecessary pains in the future.
Also, if you have some back/mobility problems, make sure your recliner will not cause you any trouble. Almost all orthopedic recliners for the elderly are designed to help seniors with such problems.
Don't rush to buy until all your questions are answered and everything is clear and satisfying. Also, don't forget to ask about the warranty and upgrades. Check out tips to not get lost in the wide range of designs and features.
The basics
Here are some of the major tips to consider before purchasing. Take a good look and keep them in your mind to make the right choice for sure.
First things that come to mind is an easy assembly and durability. The materials used will tell you alot, but the truth is – most recliners for elderly are made of same durable materials.
Mechanism and functionality. Make sure it's a solid and sturdy construction with a reliable frame (7 gauge steel mechanism, for example, guarantees reliable support for years). It may be manual, electric-powered or battery-operated. Electric-powered chairs are the best.
Check the quality when unfolding/folding it. Make sure it's made of high-quality materials and nothing is loosened or noisy. Whether you are pushing the lever or pressing a button to lower the back of your chair and elevate its front, everything has to be smooth and inspire devotion.
Swiveling, rocking, and lifting
Some chairs can also swivel 360 degrees. However, don't forget to check the maximum reclining angle (135° is quite OK). Consider your height and the necessity of full stretching!
And if you need a lift chair, make sure it has a reliable electric lifting and reclining mechanism along with built-in remote control and easy-to-use buttons. Of course, don't forget about the right height for yourself and remember that comfort is everything!
By the way, if you need a rocking chair, you may have both a rocking chair and a recliner in one!
Materials to help you get comfy
Upholstery material. Choose "breathable" and easy to clean materials. Make sure you won't sweat while sitting in your chair. Also, your lounger doesn't have to be a "trap" for all types of bacteria, bugs, and dirt. Some materials may wear pretty fast, for others it takes some time, but you can always cover your lounger with fabric and make sure it's always clean and not dusty.
Quality leather and polyester are strong, easy-to-clean materials that have a nice texture, however, the leather may get punctured pretty easily, so watch out for sharp objects. You can choose healthy and soft cotton or linen, but they are not that durable as the previous materials.
There is also chenille (elegant, but the quality is pretty poor) and faux leather, which you should avoid. Choose natural materials, and don't be worry about overpaying for this. Also, don't forget to smell it and make sure it will not smell later!
The seat doesn't have to be too soft or firm. However, padding has to be dense. You will know it's your lounger after spending some time in it, resting in a comfortable position, and feeling your blood circulating inside. It is essential to feel perfect and maintain proper body positioning to prevent back pains and joint issues.
Additional features
As for the features, well, that depends on what you need – it may include all types of different buttons, touchscreens, or levers on the side for taking various positions (some have over 16), lifting, or rocking. Some have speakers or radios in them with slots for headphones, special pressure relief cushions for you perfect headrest and neck support, pockets on the sides for remote controls or anything you may need to have near you, locking wheels, lumbar parts, cup holders, some recliners for the elderly are designed with a low-level vibrational massage and inbuilt heating options.
Footrest. Check if it's (dual) locking and easy to unfold (separate from the lounger). Make sure your feet feel great on it and fit perfectly.
Recliners 101
Some people don't require the exact set of features that recliners for the elderly have to offer. The choices are plenty, and we virtually every type of recliner under the sky. Here's a list to help you start searching for that perfect recliner!
Conclusion
For the elderly, comfort is the most important factor when it comes to recliners, besides the ability to get in and out of the chair with ease. As such Medicare is recognizing certain brands that provide the requirements needed for the coverage. Just make sure to pick the correct model that matches the requirements and has all the useful features you can utilize!
At The Home Dweller, we cover all sorts of homestead topics and bring you the essential info so you can make valuable purchases! If you found our article helpful, feel free to share it on social media and help someone pick the best recliner for the elderly! Cheers!