Summer months can be so pleasant outdoors. But on hot days, your afternoon rest with a book may turn unpleasantly sweaty. That's where a great outdoor ceiling fan comes in – it creates a nice summer breeze right where you are.
Feel free to get comfy. A patio fan can double as a light fixture, so you don't have to quit reading after sunset. Best of all, even with a light, an outdoor fan is a very energy-efficient way to stay cool.
Bring a breath of fresh air and style to your veranda, porch, or covered patio with one of the best outdoor ceiling fans we reviewed. Further down, in the buyer's guide, you can learn how to choose the best outdoor ceiling fan for your home.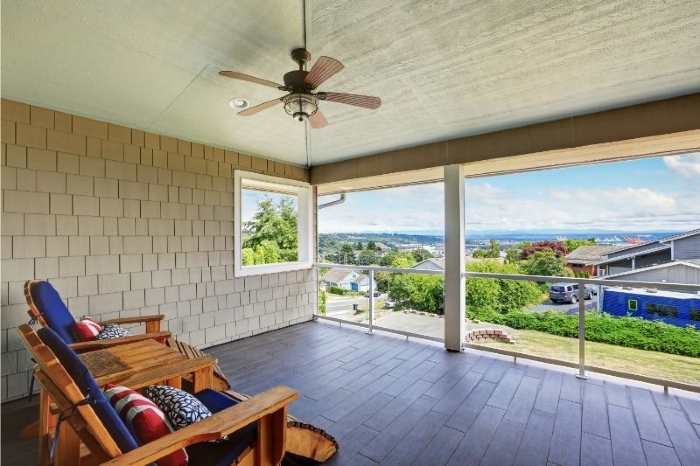 Top-Rated Outdoor Ceiling Fans
Best Overall
Honeywell 50207 Indoor / Outdoor Ceiling Fan
Pull-chain operated, but compatible with Honeywell remotes
52" plastic blades
Stainless steel hardware
Good price
Premium Choice
Minka-Aire F896-65-BNW Xtreme Outdoor Ceiling Fan
High airflow up to 9,092 CFM
Contemporary design with 5 different finishes
Remote included (6 speeds)
Best Budget
Hunter Cassius Indoor / Outdoor Ceiling Fan
3 metal fan blades for a total of 5,537 CFM
5 different finish options
A sleek, modern look at an affordable price
To truly equip your covered space with the best outdoor ceiling fan, you need to pick a model that can withstand the elements. Moisture, salty air, heat, and cold – all can be enemies to ceiling fans.
You'll know that the ceiling fan you're looking at is good for the outdoors if it's wet-rated. Water can't damage these sturdy, often stainless-steel models and they live through any weather.
Damp-rated ceiling fans are less resistant to moisture, but they can more or less survive most climates. They may get a few rust stains over time, but will otherwise serve you well for as long as the motor is protected from moisture.
Apart from choosing weather-resistant models, in our reviews, we featured a range of fan styles, from modern to traditional, as well as options for all budget ranges.
Other Recommendations
Table of Contents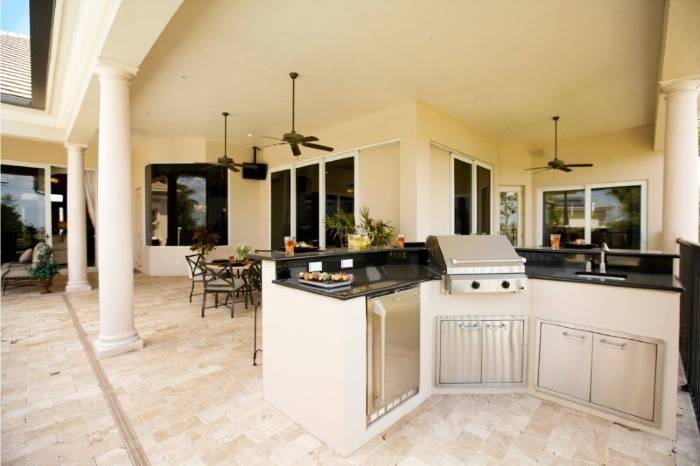 Reviews of the Best Outdoor Ceiling Fans
Best Overall
The Honeywell 50207 Palm Island Tropical is a good addition to any outdoor covered patio or deck.
The fan has a simple but pretty design that's perfect if you're looking for something more tropical in your abode. It also comes with plastic blades that are made of durable material. Also, it doesn't cost too much, making it great as an indoor or outdoor ceiling fan.
This great outdoor ceiling fan is pull-chain operated, so it doesn't come with a remote. However it is compatible with Honeywell fan remotes, so you may get one separately if you decide it's the right operation mode for you.
With 4 speed options, this 3516 CFM ceiling fan is powerful enough for outdoor use. Its 52" plastic blades are stylish and durable. Even though the model is damp rated, it's sure to last a long time outdoors with its stainless steel hardware that won't rust over time.
Pros:
Pull-chain operated, but compatible with Honeywell remotes
Tropical design
52" plastic blades
Stainless steel hardware
Good price
Cons:
Somewhat weak airflow for a 52" ceiling fan
No light
Premium Choice
The Minka-Aire Excelsior brings elegance to your outdoor living area with its contemporary design.
Durable metal blades create maximum airflow for unmatched cooling potential, while you can choose the sleek blade finish to blend in or stand out. Whether you want a subtle look or an eye-catching statement, this fan has it all.
The fan blades are made from maintenance-free durable metal, so they last as long as your love of cool air lasts. The unbreakable metal blades can withstand rain or harsh summertime conditions without getting damaged.
While the original setup doesn't include lights, you can purchase a 20W LED Light Kit separately to bring a spark of dimmable light to your yard.
With up to 9000 CFM and a remote included (6 speeds), you're guaranteed maximum comfort without having to move an inch! Operate your outdoor fan with a remote, install a wall switch, or connect it with your Google Home of Amazon Alexa if you wish to turn up the speed on your way home from work! Sadly, you need to purchase a wall switch or Bond BD-1000 Smart device connectivity hub for these operation options.
Pros:
65" metal blades for maximum outdoor airflow (up to 9092 CFM)
Contemporary design with 5 different finishes
Works with Google Home / Amazon Alexa (sold separately)
Remote included (6 speed)
Cons:
Light kit, wall switch, and smart device connectivity hub are sold separately
Best Budget
You don't have to spend a fortune to get a durable, high-quality outdoor ceiling fan that will last you a long time. With the Hunter Cassius, you'll get a great airflow, a sleek design, and a water-resistant ceiling fan for a low price.
With a sleek, modern look and 5 different finish options, this fan has it all at a budget price. It comes with 3 metal blades and the size of the fan is 52". A total of 5537 CFM provides an amazing airflow for circulating the air in your yard, making it ideal for open spaces.
The Cassius is damp-rated, so it can withstand humidity, but during installation, you should make sure rain can't reach it.
This ceiling fan is quite simple – instead of bells and whistles, Hunter installed quality hardware. It's operated with pull chains and it doesn't have space for a lightbulb.
Pros:
3 metal blades for a total of 5537 CFM
5 different finish options
A sleek, modern look at an affordable price
Cons:
Pull chain operated
No light
Best For Large Spaces
The Kensgrove Outdoor Ceiling Fan is a gorgeous addition to any outdoor space. As it's wet rated, you can install this model anywhere outdoors, without worrying if a bit of rain will get to it.
With its impressive size of 72", it's sure to be a great addition to your living room, patio, or deck.
With a maximum airflow of around 10,000 CFM, this fan can cool down your veranda in mere seconds! This fan features 8 plastic blades. It comes with a lovely espresso bronze finish that will give your house a warm and welcoming feeling.
A dimmable LED light is included. You'll love the included remote (complete with 9 speeds and dimmable light) as it'll make it easy to set up your environment perfectly without ever having to get up!
Pros:
8 blades for a quiet operation
A super-high airflow at almost 10,000 CFM
Remote-controlled with dimmable light
Lovely espresso bronze finish
Cons:
The blades are advertised as maple, but they're actually plastic
Best For Low Ceilings
If you've been dreaming of an efficient new ceiling fan for your low-ceiling covered patio, deck, or veranda, this model by Hunter may just be it!
Hunter's Sea Wind Outdoor ceilings fan is here to deliver! This style features a unique design that moves air with minimal noise.
The 5-blade construction is made of durable metal and comes in 4 different finishes, so you can match it with your outdoor design.
This Hunter fan is 48" big and engineered specifically for low ceilings. The company developed what they call "dust armor nanotechnology", used to prevent dust from affecting the quality of rotation and make maintenance easier.
This 3-speed fan will keep you cool even in the hottest summer months with its airflow at 4072 CFM. However, you'll have to get up to set up your fan, as it is pull chain-controlled. It doesn't come with lights, but it may be possible to install a light kit on this fan.
Pros:
Designed for low ceilings
5 metal blades with a total size of 48"
Strong airflow at 4072 CFM
Dust-free
Cons:
Best Smart Ceiling Fan
Minka Aire outdoor fans don't just help beat the heat, they also make your home look like a luxurious resort. With brushed nickel finished blades, this medium-sized fan will make your covered patio comfy and pretty at the same time.
Minka Aire indoor/outdoor ceiling fans are versatile and completely safe out in the open - it's wet-rated and the hardware seems very tightly sealed. The fan itself is very powerful at up to 5,300 CFM.
The remote control is well-designed. You can shift between 3 speeds from the comfort of your seat and mount the remote on the wall, so you never lose it! The tech-savvy will love that you can purchase a connectivity device that makes your ceiling fan compatible with smart assistants like Google Home and Amazon Alexa.
Pros:
3 blades with a brushed nickel finish
Remote controlled and smartphone compatible (purchase separately)
Quite strong at up to 5,300 CFM
Cons:
Light kit can't be installed
Great Option
If you want to bring a breath of fresh air to your patio with a classic, wooden design, look no further than this medium-sized Sofucor!  
The Sofucor ceiling fan offers 6 speeds, from a whisper to a frenzy, all controlled with a remote controller. It comes with an LED light too, so this ceiling fan will become your best friend on hot summer nights. Sadly, the light is not dimmable.
This fan is suitable for outdoor use, and it features three wooden walnut blades that will highlight your patio or deck beautifully! In total, it can output an airflow of 5,000 CFM, which is just perfect for a medium-sized patio.
Rest assured that this is a safe and worthy investment - this fan has a lifetime warranty on the motor.
Pros:
Includes LED Lights and a remote control
Real wood blades
Lifetime warranty on the motor
Cons:
The light is not dimmable
How To Recognize a Great Outdoor Ceiling Fan – A Buyer's Guide
Weather-proof Materials
First and foremost, you must get a damp- or wet-rated ceiling lamp if you want to install it outdoors. Even if your deck or porch is covered, your fan will still be in frequent contact with humidity and water.
A wet-rated ceiling fan can withstand rain and humidity. A damp-rated one is more susceptible to moisture in the air, but they're still able to operate if you protect it from inclement weather conditions.
Get a wet-rated model if you live in a humid area or near the sea. For arid climate dwellers, a damp-rated fan will do the job and resist rust as long as a heavy downpour season isn't on your way!
A stainless-steel ceiling fan is always a safe bet, especially if you live near salty water. However, plastic blades are fair game for most climates, and this material offers more style choices too.
Airflow Output – CFM
The cooling power of your ceiling fan depends on its total airflow output.
Airflow is measured in CFM – Cubic Feet per Minute. It's a metric that shows you the amount of air that your ceiling fan can move in a minute when running at its highest speed.
The higher a CFM rating is, the stronger the breeze! You should use this rating to decide which size and rotation speeds are best for cooling your covered outdoor space.
CFM depends on the length of your ceiling fan blades and how fast they rotate, a.k.a. speed levels.
Outdoor Ceiling Fan Size
Some indoor ceiling fans come in pretty compact sizes. That's not true for outdoor ceiling fan models. Outdoor fans have a tougher job – as the air dissipates in the open space instead of continuing to move around the room. So, they're usually quite big.
Fan size is measured in its blade span. It's the diameter of the entire fan – measured from the tip of one blade to the tip of the blade across it.
Ceiling fans powerful enough for the outdoors have a blade span between 50" and 90". People usually choose to install one big outdoor fan (70"- 90") rather than two smaller ones.
Speed Levels
Most ceiling fans come with a few speed settings. A good outdoor ceiling fan may have anywhere between 2 and 10 speeds.
The number of speed levels doesn't give you any precise information about the power of your fan. Instead, speed levels make it easy for you to adjust your fan to blow more or less air at you.
If you'd like to calculate the maximum power of the fan, find the RPM metric – it stands for rotations per minute and shows you exactly how fast the top speed of the ceiling fan is.
Ambient Noise
The downside of high CFM is that a powerful ceiling fan will be noisier than a lower-powered one.
When buying a high CFM outdoor ceiling fan, decide on the acceptable noise levels for your space – taking into consideration that it's outdoors. Most people consider anything that creates below 50 dBA of noise acceptable.
The Light Kit
Not all, but most ceiling fans double as a light. People often opt for a ceiling fan as a primary source of light in the room. Feel free to pick a fan that doubles as a light fixture – the installation process is roughly the same, and in most cases, you'll have the option to use or not to use the light independently of the fan.
Most outdoor ceiling fans use LED lights, which are bright, durable, and energy-efficient. Dimmable light is a great bonus, but not all fans come with this feature.
Reversible Blades
Reversible blades are a hot topic when it comes to indoor ceiling fans. However, reversible blades don't matter in outdoor ceiling fans.
Here's the gist of it: Switching between counterclockwise and clockwise rotation creates downdraft or updraft in your room. Because of the way it works, reversing the blade rotation clockwise in the winter can warm up your room. However, that only works for closed spaces – sadly, you can't warm up your deck or veranda that way.
Manual and Remote Control
Last but not least, you'll also need to decide how you turn your ceiling fan on and off. Some ceiling fans are operated with a standard pull chain on the fan itself, some come with a wall switch, and advanced models come with a remote control or Bluetooth connectivity.
It's up to you to decide which option suits you best. In the case of outdoor ceiling fans, most people go with a pull chain or a wall switch, since it can be easy to misplace a remote control outdoors.
FAQ About the Best Outdoor Ceiling Fans
How much CFM do I need for an outdoor ceiling fan?
The reality of how much CFM you need for an outdoor space is – it depends. Many factors come into play, including the total area of your porch or patio, how tall the covering is, and how much airflow the space gets naturally.
On average, fans larger than 50" create anywhere between 3,000 and 10,000 CFM. For outside space, pick a ceiling fan with large blades and a CFM of 3,000 or more.
Can I install an outdoor ceiling fan on a sloped ceiling?
Yes! Most ceiling fans are designed to accommodate sloped ceilings. You can mount most fans on a ceiling that slopes up to 30°.
If your ceiling comes with a bigger slope, you may purchase an extension down rod that will help you adjust the position of the fan so it fits on your outdoor sloped ceiling. 
Do outdoor ceiling fans use a lot of electricity?
Unlike space heaters and air conditioners, ceiling fans use up very little electric power. Since there is no heating element (similarly to bathroom exhaust fans), outdoor ceiling fans use most of the energy to move the blades.
The difference is immense. Whereas a typical space heater uses 1500 W per hour, a ceiling fan uses between 40 and 80 W. The light function may add up to your ceiling fan usage, but if you choose a ceiling fan with an LED light bulb, you'll use approximately 10 W of power per hour, which is negligible in the overall electricity consumption of nearly any household. It is safe to say that the electric needs of ceiling fans are pretty low.
Wrap Up
Outdoor ceiling fans are a great option for those who want their covered patio, deck, or veranda to feel more like an extension of their living room. With an outdoor ceiling light, you can sit back and relax while you're getting cooled outdoors. The best outdoor ceiling fans can double as light fixtures too, which can make playing cards, reading, or just having fun outdoors in the afternoon hours more comfortable.
We give our best to truly bring you top-notch home appliances and the best advice on how to choose the right model for your home. We do that because we firmly believe that everyone deserves high-quality, durable stuff for their home. 
If you found this article useful, please consider sharing The Home Dweller with your friends and family on social media!