Any home's comfort depends on the quality and efficiency of its ventilation. Most houses are equipped with supply and exhaust units with side grilles, but high airflow ceiling fans remain the most efficient solution to stuffy air in your home.
Ceiling fans have been around for decades, and they stuck around for a reason. They're great at keeping the air in your room pleasant, they help ward off mold, and they save lives. Luckily, you don't have to go with an old-fashioned design – there are plenty of modern ceiling fans that can fit into any home! So, enjoy the reviews and the buyer's guide, and hopefully, get the best airflow ceiling fan for your home!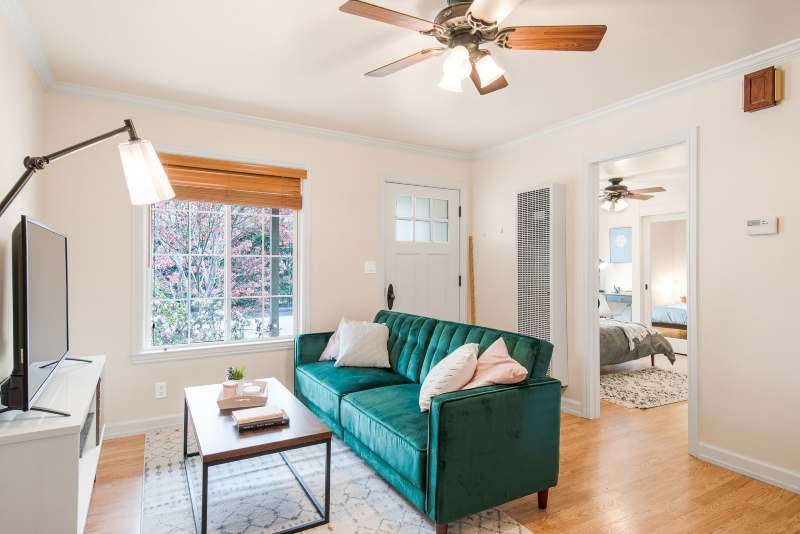 Top-Rated Best Airflow Ceiling Fans
Other Recommendations
Table of Contents
What Do You Get With A Ceiling Fan?
The growing interest of homeowners in exhaust equipment is understandable – your home feels fresher and less stuffy when air flows properly. 
Ceiling fans can be useful both in scorching summers and freezing winters, and they also help control the humidity in your home, helping prevent mold.
Thanks to their location at the center of the room, a built-in ceiling fan effectively distributes cold air throughout the room. It doesn't truly cool it down, but a ceiling fan can lower the perceived temperature in your room.
Not only that – you'll be warmer in the winter too. As the warm air from your space heater rises up, your ceiling fan can redirect it back down, recirculating warmth. Some people even combine them with the best kerosene heaters for quick results.
Some ceiling fans come with an LED light, so you get a 2 in 1 deal.
Reviews of the Best Airflow Ceiling Fans
How To Pick a Great Ceiling Fan – A Buyer's Guide
There are so many different models on the market, choosing the perfect ceiling fan for your home can be confusing. Here are the most important factors you should consider before you put any particular model into your shopping cart. 
Keep in mind that the more functional the fan is (e.g. equipped with a light, remote control, or connected to a mobile app, high CFM rating, etc.), the more power it will consume. Determine which features you need and which are "nice to have" to find the best deal for you. Remember – if it sounds too good to be true, it probably is.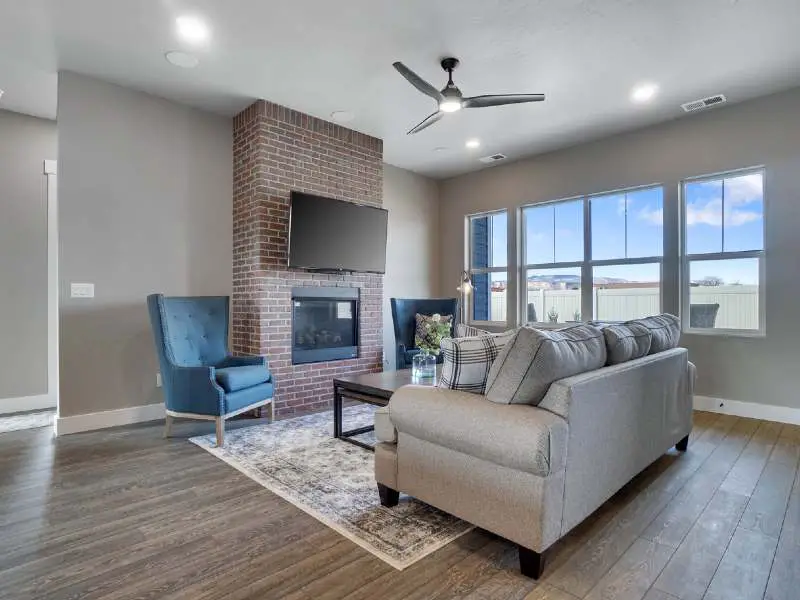 Find The Right Position
The first thing to do is to determine the installation location for the fan. Typically, people put their ceiling fans to the center of a room or hall to ensure equal airflow throughout the room. 
For very big spaces, it's best to install two or more ceiling fans for proper air circulation. 
If you're looking for a fan for your bedroom, avoid putting it directly above your bed to avoid direct airflow.
Fan Size
The size of the fan (the blade span) is an important factor that affects how good of an airflow your ceiling fan can create. Pick the right fan size according to the size of your room. 
Under 36″ – for small rooms, kitchens, bathrooms (up to 75 square feet)
42″ to 48" – for medium and small rooms (up to 175 square feet)
52″ and bigger – for large rooms (dining rooms, wide living rooms, or bedrooms up to 350 square feet).
That being said, the way the blades are positioned matters too. The blade pitch angle should be at least 12 degrees to move the air efficiently.
Airflow – High CFM Rating
CFM stands for cubic feet per minute, and this metric is directly related to the airflow your ceiling fan can produce. The higher the CFM rating, the more powerful the airflow. 
CFM shows you the amount of air that the fans can move in a minute when running at the highest speed. Both the size and the rotation speed of your ceiling fan determine the final airflow rating. 
However, the more powerful the ceiling fan, the noisier it'll be. Keep this in mind when buying a powerful fan with a high airflow rating for your home. To avoid exposure to excessive noise, make sure your fan doesn't create more than 40-46 dB of noise. For reference, a regular conversation is about 60 dB, while you can expect to hear about 30 dB of noise while quietly reading in a library. 
Adjustable Speed
These practical features will enhance your device's capabilities. By controlling the speed of your device (most often with the included remote control or pull chains), you can choose the airflow intensity. 
High airflow is great in the summer, but lower speeds are handy for colder days. Ceiling fan models may have anywhere between 2 and 10 speeds to choose from, but 3 speeds are the most common option.
Rotation Direction
Make sure to get a ceiling fan that lets you control which way it spins – it truly does matter! This feature is sometimes also called reversible airflow.
In the summer, the ceiling fan blades should rotate counterclockwise. Spinning that way, it pushes the air down, providing coolness. 
In the winter, the blades should rotate clockwise. That way, your fan creates an updraft, pushing the warm air stuck near the ceiling downwards (remember that hot air rises).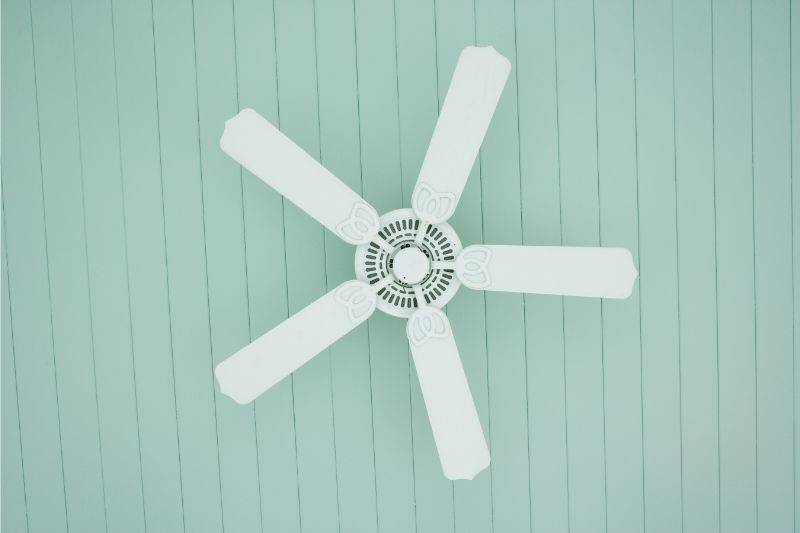 Remote Control
Traditionally, ceiling fans are controlled via a set of control chains or a wall switch. The chain and wall control are tested and tried systems and most people are happy with them. 
But if you're after something super convenient, you can get a ceiling fan with an included remote control, or one that can connect to your phone via an app, or even voice-controlled through Alexa or Google Home. 
Materials
Ceiling fan blades come in two types – wood or plastic. 
If you want to make an investment that will last a long time, you should opt for wooden blades. They are more attractive and last longer, but such fans can be expensive and require maintenance. 
Plastic blades are certainly cheaper, but their functionality is no worse than wooden models and they're easier to maintain. However, they're less durable.
If you go for a cheaper model, it may begin to deform, wobble, and make noise quickly. To avoid this issue, make sure the blades are detachable. This will let you replace them in case of failure or damage. Not all devices have removable blades.
Indoors or Outdoors
Ceiling fans come in three ratings – dry, damp, and wet. A dry-rated fan should only be installed indoors, in a safe environment where it won't get damaged by water. If you have a damp-rated ceiling fan, feel free to install it in a sheltered outdoor environment (for example, a covered patio). A wet-rated ceiling fan won't suffer damage even if you install it in a place where it's exposed to the elements during snowy and rainy days. Essentially, an outdoor ceiling fan can be a great upgrade for your patio, deck, or outdoor kitchen.
Light
Last but not least, many ceiling fans double as lights that can replace your regular light fixture and make your room brighter. Most modern ceiling fans have integrated LED light (some come with, some without LED bulbs), though it's possible to find some with other types of bulbs. If you're happy with your current light fixture, you can get a ceiling fan without lights.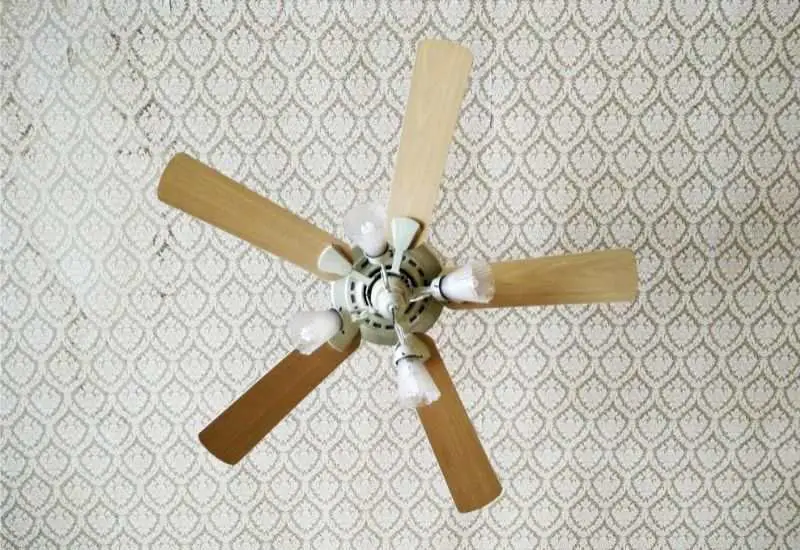 Best Airflow Ceiling Fans – FAQ
What is a good airflow for a ceiling fan?
It depends on your needs. A 2500 cubic feet per minute rating is sufficient for smaller rooms. If your space is big (more than 100 square feet), your ceiling fan should have a high-speed fan with a high CFM rating – ideally between 4,000 and 6,000 cubic feet per minute.
What makes a ceiling fan powerful?
High speed moves more air, so a powerful motor plays a big role. It controls rotation speed (measured in RPM), and the total CFM rating of the fan. Blade pitch, which refers to the blade angle, also plays a role. 
Who makes the best quality ceiling fans?
There are plenty of great ceiling fan manufacturers out there. Hunter Fans is the most popular brand that makes ceiling fans for homes and patios. A few more honorable mentions are Minka-Aire, Westinghouse, Monte Carlo, and Harbor Breeze.
Can I leave my ceiling fan on all the time?
Most fans are simple machines – merely a motor and a light, so nothing will go wrong if you leave them running for long periods without a break. However, keep in mind that leaving your fan working non-stop will significantly raise the cost of electricity at the end of the month. That's why you should turn your ceiling fan on when you are in the room.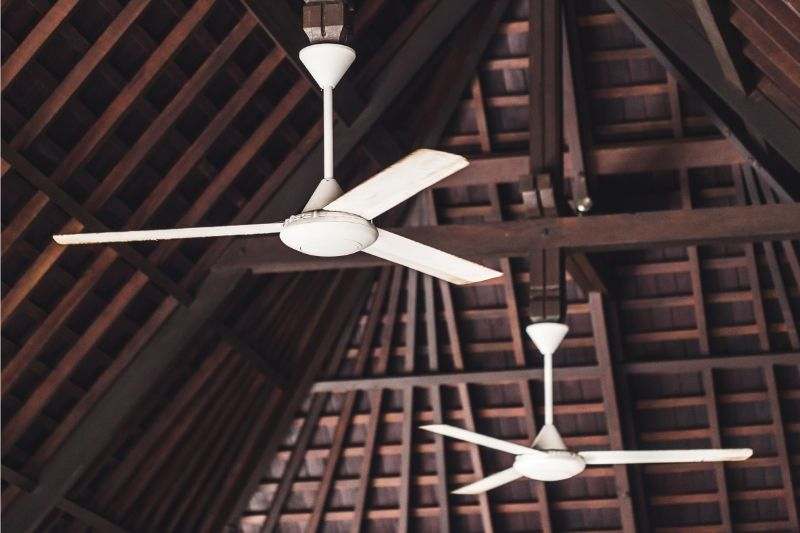 Do ceiling fans use a lot of electricity?
Unlike space heaters which can make your electricity bill rise significantly, ceiling fans don't use a lot of power at all. Most ceiling fans run at 40-80W and will cost you around $0.006-$0.01 per hour at $0.12 per kWh. The price may change depending on the type of bulb in your light kit – LEDs have a great efficiency rating, so they're recommended. Even the best bathroom exhaust fans are rated similarly, and we use them every day. However, the cost can quickly add up if you leave your ceiling fan on all the time. Also, ceiling fans can be left unsupervised, which does not go for space heaters' safety.
If you're willing to learn more on the topic, we recommend you check out our in-depth guide on ceiling fan electric needs.
Can a ceiling fan cool down my room?
Ceiling fans are not air conditioners – they don't cool air. Instead, they distribute it through the room. However, fans do change perceived temperature. If your room temperature is 80°F, a running ceiling fan will make you feel like it's 72°F because of the breeze you feel on your skin.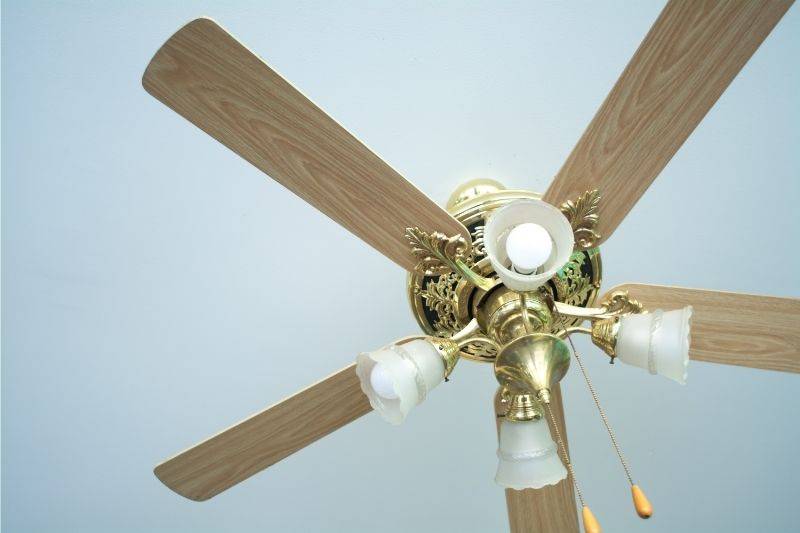 Conclusion
There are many factors to consider when choosing a ceiling fan. Consider the size of the room, the height of the ceiling, whether the fan will include any light fixtures, its power, as well as your style and finish preferences. We hope we made this decision easier for you!
If you enjoy what we do at The Home Dweller and find it useful, consider sharing our site with your friends on social media!