Kerosene heaters are highly efficient machines that quickly generate heat using little fuel. Producing over 20,000 BTUs, even small kerosene heaters can bring warmth to indoor spaces within minutes.
Kerosene heaters can be used to warm up any well-ventilated area. It can keep working in your garage and construction site cozy, or serve as backup heating for a large room in your home during a power outage. Don't let the power go out on your family.
Today, we'll analyze some of the most popular models on the market, and talk about everything you need to know if you want to own your own kerosene heater. So, make sure to take a look at the reviews and the buyer's guide.
Table of Contents
Top-rated Kerosene Heaters for Indoor Use
Best Overall
Dyna-Glo WK24BK Indoor Convection
Perfect for the indoors
23,000 BTU 
1.9-gal tank for 10 hours of operation
360° warmth 
Premium Choice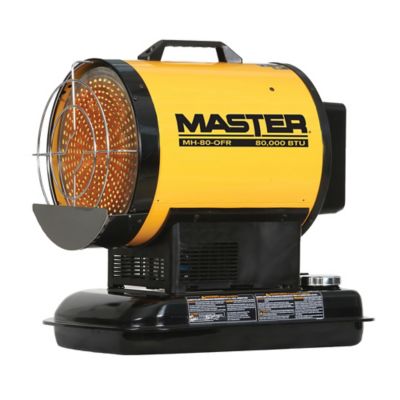 Master 80,000 BTU Kerosene Radiant Heater
Multi-fuel radiant heater
80,000 BTU 
4-gallon tank
Premium safety features
Budget Friendly
Sengoku Heat Mate HMC-23K
Classic indoor model
Affordable but powerful
1.9-gal tank for 10 hours of warmth
23,000 BTU
Things to Know Before Buying a Kerosene Heater for the Indoors
Whether you're looking for an inexpensive way to warm your well-ventilated workspace or preparing temporary heat for a power outage, a kerosene heater is a great indoor heating option – as long as the room stays well-ventilated.  
A kerosene heater is economic and powerful – using little fuel to emit a large amount of heat around itself.
Used in portable lamps, kerosene has been a popular light source for ages. The fuel burns cleanly, producing almost no smoke or fumes. When stored properly, kerosene has a long shelf-life.
Kerosene heaters are a popular option for emergency heating. You only need a bit of fuel for quick, localized warmth even during a power outage. They're also used for zone heating, to warm up spaces like garages, individual rooms, or cabins.
Warehouses can use kerosene heaters too, but these large spaces require several high-output machines. Luckily, the kerosene heater BTU output ranges from 10,000 to 200,000 BTUs – quite a bit to choose from.
Choose lower BTU outputs for smaller spaces. There's no temperature control in kerosene heaters – they always work at maximum heat output. Simply turn off the heater when your room or garage reaches a pleasant temperature.
Many kerosene heaters send heat upwards or sideways – leaving your floors chilly. Combine a kerosene heater with a ceiling fan to ensure your room gets heated evenly. Remember to set the fan blades to winter mode for maximum efficiency!
Reviews of the Best Kerosene Heaters for Indoor Use
Best Overall
Dyna-Glo convection kerosene heaters are a moderately-priced consumer favorite. They have kept their place as a bestseller for years. 
It's a great kerosene heater for the indoors - moderately sized yet quite powerful. It packs up quite a punch with up to 23,000 BTU per hour that radiates 360° around the unit. The quiet convection operation will warm up your room, garage, or workspace evenly and very quickly. This heater type can handle large rooms up to 1,000 sq feet. 
The Dyna-glo heater comes with a 1.9-gallon tank. A full tank can give you about 6-10 hours of heat. It's simple to operate with automatic ignition (batteries included). Since it doesn't use electricity, this model is a great heater to have in case of emergency.  
Specifications: 
Fuel tank size: 1.9 gallon 
Burn time on one tank: 6-10 hours
Heat output: 23,000 BTUs
Safety features: Tip-over shutoff, grille
Best Overall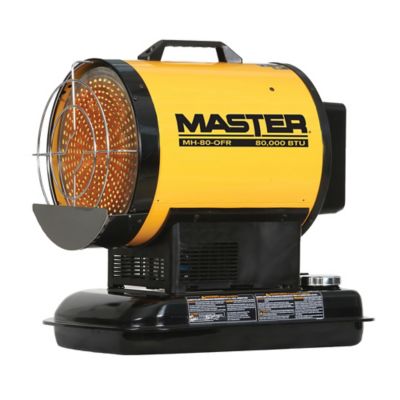 Kerosene heaters bring a lot to the table. But if you want to be completely ready for any cold day life throws your way, consider a multi-fuel radiant machine like this powerful Master heater.
Keep yourself toasty using either K-1 kerosene, #1 and #2 diesel fuel, Jet A/JP8 fuel, or #1 and #2 fuel oil. It's nice to know you can use almost whatever you can get in the case of an emergency.  This Master accommodates 4 gallons in its tank. 
The heater burns powerfully and cleanly, producing as much as 80,000 BTUs per hour. It's much quieter than most radiant kerosene heaters, making it a perfect pick for your garage, construction site, or workspace. 
It weighs around 30 lbs and features a lift handle for increased portability. Its safety features include an overheat shut-off system, tip-over protection, and error indicator light.
Electric power is necessary to ignite, but the heater doesn't just take up an outlet. Since you need to keep it plugged in, the heater features a 120V power outlet that you can use for other devices!
Specifications:
Fuel tank size: 4 gallon
Burn time on one tank: 8 hours
Heat output: 80,000 BTUs
Safety features: Overheat protection, tip-over protection, error indicator light
Best Budget
This classic convection model is one of the cheapest and the best kerosene heaters on the market. It's efficient and heats up quickly, so you'll be toasty in no time.
The heater is one of the most durable models you can get. It's not too big, so it's a good pick for homes, well-ventilated basements, workshops, and garages. 
It can produce heat up to 23,000 BTU per hour - you can expect it'll take less than half an hour to get a regular-sized living room nice and cozy! In fact, it was designed for large spaces, so it can heat a 20'x45' room. 
The tank can hold up to 1.9 gallons of kerosene at the time, which is enough to keep your space warm for up to 10 hours. 
This is a great model for the indoors, as long as you keep your window cracked open. It features a 3-way safety shutoff and a safety grille to prevent accidental contact burns. It's quite easy to fill up and operate, and minimal assembly is required.
Specifications: 
Fuel tank size: 1.9 gallon 
Burn time on one tank: 6-10 hours
Heat output: 23,000 BTUs
Safety features: Tip-over shutoff, grille
Best Forced Air
Here's a great pick if you're after a powerful kerosene torpedo heater! This Dyna-Glo forced air kerosene heater is perfect for large garages, construction sites, or chilly open-plan homes. 
This powerful heater can generate up to 50,000 BTUs of heat, quickly heating up any room. If you need to warm up a drafty space larger than 1,200 sq. ft, you can also pick one of the stronger units from the same product line. Dyna-Glo Delux forced air kerosene heaters come in a wide power range from 50,000 to 180,000 BTU. 
The 5-gallon tank unit we picked here is ideal for workshops, cabins, and large rooms. The large tank provides up to 14 hours of heating on a single fill. The downside is that this heater requires electricity to start. 
This heater is somewhat portable too, rocking an ergonomic lift handle sturdy enough to carry the 27-lb construction. 
Specifications: 
Fuel tank size: 5 gallon 
Burn time on one tank: 10-14 hours
Heat output: 50,000 BTUs
Safety features: Overheat shutoff, flame-out sensor
Best Portable
Here's a great pick for anyone looking for a portable kerosene heater for a smaller space. You can use it to warm up your cabin, garage, or room up to 500 sq. ft. 
This Dyna-Glo kerosene heater may be compact, but it packs quite a punch. It will produce up to 10,000 BTUs of radiant heat that spreads in front of it. 
It's cost-efficient too. The unit will run for as much as 13 hours on a full tank, that is only 1 gallon of kerosene. 
This is an amazing backup heater to have in case the power goes out. It doesn't need electricity - the ignitor is powered by a battery. In addition, this 20-pounder won't be too hard to carry anywhere you might need it. 
Specifications: 
Fuel tank size: 1 gallon 
Burn time on one tank: 13 hours
Heat output: 10,000 BTUs
Safety features: Safety grille, cool-top design, tip-over shutoff
Best Portable
The Craftsman bullet heater line features a few sturdy, durable heaters that keep attracting buyers with great reviews.
With a maximum of 80,000 BTUs, this forced air heater is up to the task of warming any job site, workshop, or home up to 2,000 sq. ft. Its steel construction weighs around 40 lbs, so it's not easy to carry around, but it also makes it sturdy. 
This Craftsman heater gives you fuel options. If 1-K kerosene isn't available, you can also use diesel or JP-8. However, electricity is required for the forced air system to work, so you'll need a plug somewhere close.
Specifications: 
Fuel tank size: 6 gallon 
Burn time on one tank: 10 hours
Heat output: 80,000 BTUs
Safety features: thermostat control, flame sensor, overheat shut-off switch
Great Pick
Next up, we have another popular indoor kerosene heater that has warmed homes across the US for decades. 
This convection model warms 360°, spreading pleasant heat across the room. It's strong enough to warm a room quickly, but not so scorching hot it's unpleasant to be around. With a 23,000-BTU output, you can be sure that your whole home will be nice and warm in no time.
It's designed to warm up to 920 square feet, and its 1.9-gallon fuel tank can keep you warm for up to 12 hours. 
The electronic ignition is powered by batteries, or you can light it manually. That's why this model is a wonderful heater to have during an emergency. Even in a blackout, the Kero World convection indoor heater will keep you toasty, give you light, and potentially warm a meal or two.
Specifications: 
Fuel tank size: 1.9 gallon 
Burn time on one tank: 6-10 hours
Heat output: 23,000 BTUs
Safety features: Tip-over emergency shutoff, safety grille
Indoor Kerosene Heaters Buyer's Guide
Equipping your home, garage, or cabin with the right source of heat can make or break your comfort during the winter months.
Kerosene heaters are the right pick if you're after a portable heater that quickly warms up entire rooms. They'll do great if you only have one or two rooms to heat, whether you need supplemental heat or a main heat source for your space. These large, powerful space heaters work quickly. While it takes some time to get your flame all set up, the powerful heat source will warm up your room lightning-fast. The only safety precautions to keep in mind – keep away from flammable objects and commit to regular maintenance!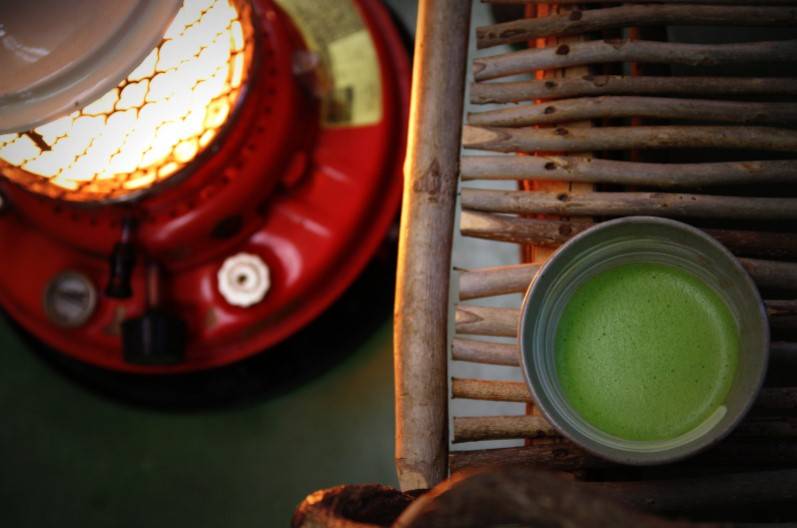 Are kerosene heaters safe to use indoors?
A kerosene heater is a safe option for heating your home. But, like with any other space heater, following basic safety precautions is a must.
Kerosene is a refined heating oil that comes with few impurities. When it burns, kerosene emits less carbon monoxide than most other heating fuels (including heating oil and propane). That makes it a safer choice for indoor heating, but it's important to keep your space ventilated!
However, kerosene does have a high carbon footprint, so it's not exactly an eco-friendly option!
How to Stay Safe with a Kerosene Heater
Even though it's mostly harmless, you should still be careful when handling and storing your kerosene heater and its fuel. Here are some golden heater safety rules to remember:  
Always use the right fuel
It's dangerous to use the wrong type of fuel in your heater. Always use 1-K kerosene. Whether that's regular heating oil, diesel fuel, or impure kerosene, avoid putting anything other than clear kerosene in your heater. Kerosene and gasoline mix particularly badly, so keep their canisters clearly labeled.  
Place your heater smartly
Position your space heater away from flammable objects. Look out for curtains, fabric-upholstered furniture, bed sheets, and loose papers. Make sure you won't accidentally knock over your heater (placing it near the door is a common culprit).
1. Ventilation is paramount
While kerosene doesn't produce as much carbon monoxide as other fuels, it rapidly depletes the oxygen in the room. Make sure to let some fresh air in.
2. Store kerosene safely
Store your kerosene in a clean, tightly-sealed, opaque bottle. It's best to use original packaging or an approved container.
3. Avoid direct contact with the oil
Don't ingest kerosene and avoid breathing in its fumes. Avoid contact with skin as much as possible since physical contact with kerosene can cause irritation.
In addition, kerosene may stain your floors and it emits a strong, paint thinner-like odor. Make sure you use the right equipment and refuel your heater outdoors.
4. Let cool before refueling
Refueling the tank while the kerosene heater is still warm is playing with fire (literally). Also, never smoke near exposed kerosene.
5. Clean your heater regularly
Cleaning the wick is the most important part of kerosene heater maintenance.
6. Equip your home with a CO and smoke detector
In the case something does go wrong, a carbon monoxide detector will warn you in time. This will ensure you notice the problem quickly, and escape the premises and call 911 as soon as possible.
7. Automatic shutoff and tip-over switch
Check out the safety features your heater comes with, and consult the user manual to learn how to use it the safe way.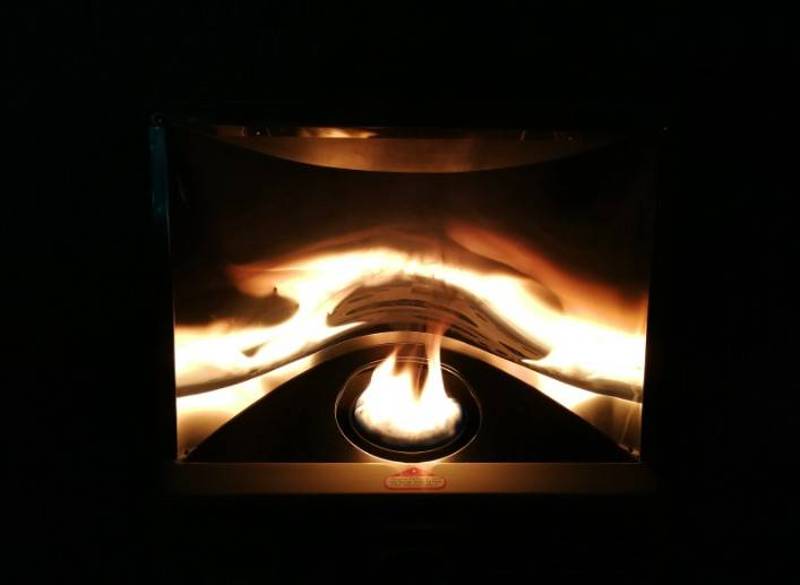 Do you need ventilation when using a kerosene heater?
Kerosene is known as a clean, low-viscosity oil that burns very cleanly. It doesn't emit nearly as much carbon monoxide or other dangerous fumes as propane and natural gas. However, that doesn't make it safe to use in a badly ventilated space.
As it burns, your kerosene heater will rapidly deplete oxygen. That makes keeping your window cracked open an inch or two an important safety measure. Keep your window open while your kerosene heater is turned on – it'll help you make sure you always have a supply of fresh air.
Kerosene Heaters: First-time Use and Maintenance Tips
A kerosene heater needs to be set up before use. Unlike power-hungry electric space heaters, it's not as easy as plug & play. Luckily, you only need to do this once. Set up your kerosene heater and all you'll need to do later is refill and clean it. 
So, here are a few tips to help you set up and use your indoor kerosene heater for the first time the right way:
Always handle kerosene with care. Fill and refill your heater outdoors to avoid dangerous fumes. Use a siphon pump (like this one) or a funnel to fill your heater with kerosene.  
When you fill your heater with kerosene for the first time, you'll need to let it sit for a while. Fill up the tank, and wait for an hour or so before starting the heater. This time is necessary for the wick to get properly soaked in fuel.
If you don't have a fully manual model, you'll need a pair of batteries to start your kerosene heater with a click of a button.
Burn your first tank of kerosene outside. Simply fill up the fuel tank, let it sit, and then turn on your kerosene heater outdoors. This will help break in the machine, burn off the residues of oils used in manufacturing, and season your heater for further use.
The smell of kerosene is normal when your heater just starts working and once you turn it off. During heating, you shouldn't feel a strong odor.
Kerosene Heater Maintenance Tips
 Kerosene heaters don't let you turn the temperature up or down. These powerful machines work quickly and you'll need to shut them down to stop heating. Simply set up your flame so it goes up around half an inch, let it burn, and turn the heater off once your room is warm enough!
Maintain your kerosene heater regularly by cleaning the wick.
If you use your kerosene heater as a main heat source, change the wick once a year.
Once a month, suck the remaining fuel from the tank, take your heater outdoors, and let it burn and deplete the remaining fuel. This process cleans the wick, removes smells, and helps your heater work at peak performance.
Store your kerosene safely, away from your home, in a clean, opaque container.
Do kerosene heaters need electricity?
Typically, no. Kerosene heaters and kerosene lamps are amazing devices to have during a power outage. Whether you want to save electricity, prep for an emergency, or even live off the grid, kerosene heaters are a solid option.
Kerosene heaters virtually remained the same for decades. The most prominent modern addition to it is the ignitor. Its job is to light the wick – and most indoor kerosene heaters today use a battery-powered piezo-electric ignitor. However, some models do require access to an electric plug to start or run an electric fan for forced-air convection heating.
Use the Right Fuel – Know Your Kerosene
Using the correct kind of fuel for your heater is super important. Only pure 1-K kerosene should go into your kerosene heater. Using any fuel other than kerosene can cause your heater to malfunction and pose a fire hazard.
You may have noticed that fuel canisters usually come color-coded. Gasoline is stored in red bottles, diesel fuel comes in yellow, and kerosene is packaged in blue bottles.
Don't use a bottle that was used to store another type of fuel – even trace amounts of gasoline can wreak havoc on your kerosene heater. Gas and kerosene don't mix well, so don't mix up their containers.
A few grades of kerosene are available on the market too. Always use clear, colorless kerosene for your heater, especially when heating the indoors.
Kerosene is a very shelf-stable fuel and it can last for a long time if stored properly.
How to Store Kerosene
If you're used to burning gasoline, you may be surprised by how much energy you can get with only a little bit of kerosene. The highly calorific fuel is very energy-efficient and burns slowly, giving you a lot of heat in the process. A little goes a long way with kerosene.
Stock up if you want to use it as a primary source of heat. A typical indoor kerosene heater tank holds 1.9 gallons, while the bigger industrial units need 5 or more gallons for a full tank.
Keep kerosene away from your home to avoid a build-up of fumes in your living space. Make sure it's far from your heating system and away from direct sunlight – fuel canisters should not be exposed to heat.
Always use a clean, opaque container to store your kerosene. Don't reuse old gas canisters for kerosene – even trace amounts of gasoline can cause issues with your heater, and possibly start an explosion or a fire. 
With proper storage, kerosene is very stable and can last up to 5 years. However, old kerosene is less efficient. Add a fuel stabilizer once a year to extend the shelf-life of your kerosene.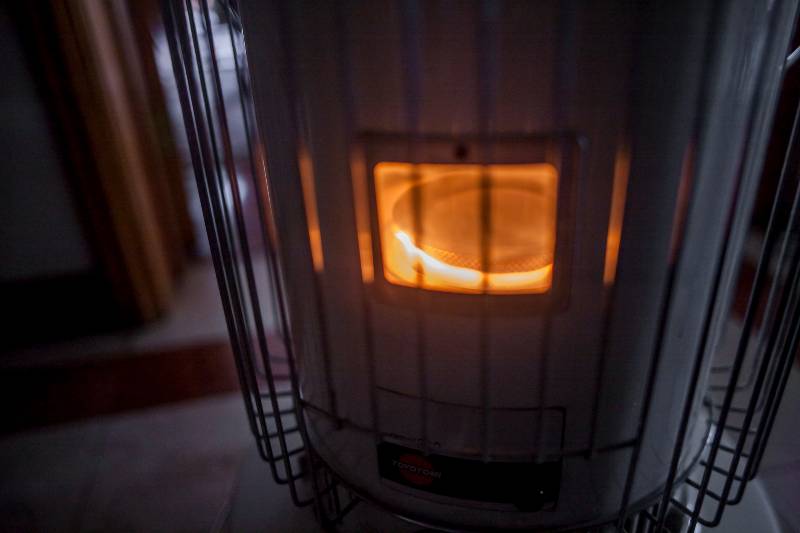 Wrap Up
Kerosene heaters for indoor use are a popular choice for emergency or zone heating. Best of all, kerosene heaters don't require electricity, so they're a great option that can help you warm up quickly even during a complete blackout. 
These machines are sturdy and durable (some people still use units bought in the '80s), which makes them an excellent investment.
Over here at The Home Dweller, we want to help make your home as comfy as it can be. We put in time and energy to create a quality source of information for homeowners and dwellers. If you appreciate what we do, consider sharing the site on social media or telling a friend about us!