Garages bring the best and the worst of both indoor and outdoor spaces. They're covered to shield your vehicles from the elements, yet they're often drafty and cold with huge, wide openings for doors. That happens because garages typically have poor insulation.
If you don't want to invest a fortune into a hard-wired, heavy-duty heater, you can get by with one of the best 120V garage heaters. An inexpensive 1500W space heater will warm up a small garage quickly, and help you avoid getting your fingers frozen stiff while you get work done in the shop.
Read on to see the most popular 120V garage heaters and visit our buyer's guide to learn what to pay attention to before you make your purchase!
Top Rated 120V Electric Garage Heaters
Best Overall
Dr. Infrared DR-238 Carbon Infrared Outdoor Heater
Radiant heater with 3 heating units
Wall, ceiling, or tripod mounted
Remote-controlled
Premium Choice
Dr Infrared Heater Portable Space Heater, 1500-Watt
Compact radiant heater
Highly portable 
Remote or button-controlled
Washable filter
Best Budget
Stanley ST-300A-120v Electric Garage Heater
Inexpensive forced-air convective heater
Simple two-knob operation
Adjustable heating position
Table of Contents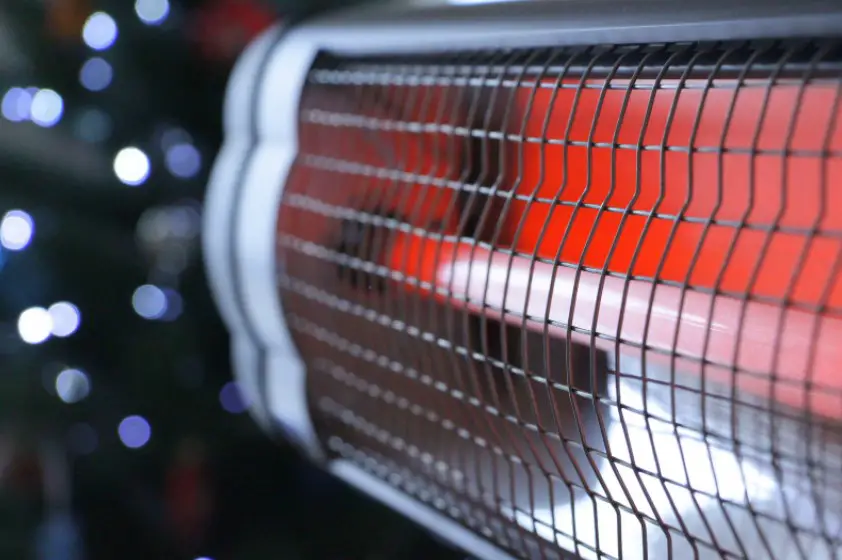 Other Recommendations
Things You Should Know Before You Get a 120V Heater for Your Garage
Garages can be difficult to warm up. They're often poorly insulated and let heat escape easily. That's why heating your garage the traditional way may turn out expensive. 
Higher-voltage heaters will warm you up faster, but they're also more expensive to run and harder to install. The plug-and-play 120V heaters produce less heat, but they're more affordable and cost-efficient. 
If your garage isn't well insulated, infrared garage heaters (also known as radiant heaters) are a great pick. They radiate energy that turns to heat when it reaches an object, rather than heating the air around it. In a way, radiant heaters increase perceived heat without wasting energy. 
Make sure your new heater has essential safety features like tip-over protection and a thermostat.
Reviews of The Best 120V Electric Garage Heaters
Best Overall
Garages are often short on space. If your garage already feels cramped as-is, you can avoid heaters that take up a lot of floor space. This infrared heater by Dr. Infrared might be just perfect!
The weather-proof infrared heater can heat up your garage, covered patio, or living room in a jiffy. 
It's designed to be mounted on the wall, hung off the ceiling, or set up on a separately sold tripod. All of those options will help you reduce the footprint of your heating system while keeping you warm. Just make sure to point this radiant model towards the part of your garage where you most frequently stand.
Unlike most other space heaters on our list, this Dr. Infrared model rocks three heating units. That translates to more heat settings to choose from - 900W, 1200W, or the full 1500W. 
It's controlled with an included remote control. This heater has a built-in internal thermostat that protects it from overheating and a timer that will let you enjoy the warmth without worry. 
Specifications:
Positioning: Wall, ceiling, or tripod
Operation: Remote control
Timer: Yes
Thermostat: Yes
Tip-over Protection: No 
Cord Length: 6 ft
Distinguishing Feature: 3 heating units - 3 power settings
Premium Choice
As our premium choice, we bring you this highly portable cherry-wood encased radiant heater by Dr. Infrared. 
This unit might be small, but it's more powerful than it seems. The 1500-watt model can heat you with the full or only half of its intensity. Just remember that an infrared heater needs to be set up so it faces you directly! 
Forget about buying a new heater each season. This heater will last many years. Along with a sturdy build, this model rocks a washable, reusable filter that can greatly increase its durability.
The 24-lbs heater can be put on the floor or on the table. Don't worry about its weight - it comes fully equipped with castor wheels for enhanced portability! 
You can set up this heater to heat you the way you like it with a remote control or the buttons on its control panel. It comes with all the safety features you might need, so you can just turn it on and forget about it while you work away in your garage! 
Specifications:
Positioning: Floor or table
Operation: Remote or buttons
Timer: Yes
Thermostat: Yes
Tip-over Protection: Yes
Cord Length: 6 ft 
Distinguishing Feature: Castor wheels and a washable filter
Best Budget
Good heaters can also be inexpensive. Especially if you're happy with a forced-air convective heater - a great option for insulated garages!
Made by the electrical tool superstar manufacturer Stanley, this is a reliable and affordable little heater.
It's made to be simple - operated by two knobs on the unit, this electric garage heater doesn't have the bells and whistles of more expensive units. 
However, it packs quite a punch, heating-wise. This Stanley will let you choose between two power strengths. Put it on the floor or a table, and set up its adjustable heating angle to blow at you and warm you up directly.
It's super-portable too, so you can use it pretty much anywhere where you have access to a 120V outlet. It weighs only 6 lbs and has a convenient carry handle. Together with a 6-ft long cord, it's a very portable model you can bring anywhere you go. 
Specifications:
Positioning: Floor or table
Operation: Knobs on the unit
Timer: No
Thermostat: Yes
Tip-over Protection: Yes
Cord Length: 6 ft
Distinguishing Feature: Adjustable heating angle
Best Portable Convection
Next up, we have another portable and affordable model made by a trusted company - NewAir. This 120V forced-air convection heater is robust, durable, and yet very small and easy to store.
It takes up very little floor space, though it seems most users prefer to put it on their workbenches or tables near the spot where they work. It's no wonder why, too - with an adjustable heating position, you can swivel the heater and point it directly towards yourself for a more comfortable winter workshop session. 
The NewAir is easy to start and set up with knobs on top of the heating unit. While there aren't many options, this simple heater comes with everything you need to stay warm and safe. 
In addition to its compact size, this portable model is quite lightweight and easy to carry around. It comes equipped with a convenient carry handle. However, find a good spot for it in advance - its power cord is only 3 feet long. 
Specifications:
Positioning: Floor or table
Operation: Knobs on the unit
Timer: No
Thermostat: Yes
Tip-over Protection: Yes
Cord Length: 3 ft
Distinguishing Feature: Adjustable heating angle
Best Wall Mounted
The Heat Storm Phoenix infrared space heater is a great choice for anyone looking for an easy and efficient way to stay warm in a poorly insulated space. 
This heater is a great pick for cramped garages and sheds - it'll save precious floor space with its wall-mounting design. If you choose to, you can also place it on the floor as it comes with attachable feet. 
You also get to control this heater remotely. Some versions of the heater also come with WiFi connectivity, letting you fine-tune your heating through a smartphone app. An LED display will always give you the latest thermostat reading. 
This infrared heater should be placed so it faces the place where you most frequently stand while working. Make sure you have a power outlet nearby since this unit comes with a 3-ft power cord. 
Specifications:
Positioning: Wall or floor
Operation: Remote, WiFi (some versions)
Timer: Only via WiFi connectivity
Thermostat: Yes
Tip-over Protection: Yes
Cord Length: 3 ft
Distinguishing Feature: LED display, potentially WiFi-controlled
Best Ceiling Mounted Radiant
Many garages and work sheds are too small to effectively place a floor space heater. That makes wall and ceiling-mounted units a super popular choice.
The Comfort Zone radiant heater with quartz heating elements is a simple, straightforward machine. You install it on your ceiling or wall, pull the pull-string a few times, and you get warmth and light. No bells and whistles, no additional features - just plain warmth and a bit of light coming from the built-in halogen bulb. 
This unit is affordable, easy to install and use, and it's well-built so it will serve you well for years. Mounted on the wall, you don't need to worry about it tipping over. This ETL-certified heater will automatically shut off if it overheats, so as long as you keep flammable objects 3 ft away, you can rest assured this heater will warm your garage up safely. 
Another bonus - you don't need to carefully plan where you'll position the heater before you make your purchase. It comes with a super-long 6.6-ft power cord that will let you plug it in even if your only outlet is far away!
Specifications:
Positioning: Wall or ceiling
Operation: Pull-chain
Timer: No
Thermostat: Yes
Tip-over Protection: No
Cord Length: 6.6 ft
Distinguishing Feature: Halogen light, long power cord
Great Option
The AmazonBasics Portable Eco-Smart Space Heater is a great way to warm you up quickly and efficiently. 
This black unit is a typical infrared space heater that's designed to sit on the floor or your table, turned directly towards you to radiate heat most efficiently. It comes with two power settings, a full 1500W for quick heating, or the more conservative 750W that will keep your electric bill under control. 
The heater has a remote control and button-operated display, as well as thermostat functionality for precise heating. With tip-over protection and a 6-ft cord, it's easy to keep this space heater where you need it. Along with the heat-control buttons, you also get a LED display where you can read the current temperature. 
Overall, it's a nice, inexpensive, and portable infrared heater that can keep you warm efficiently.
Specifications:
Positioning: Floor or table
Operation: Remote or button-controlled
Timer: No
Thermostat: Yes
Tip-over Protection: Yes
Cord Length: 6 ft
Distinguishing feature: LED thermostat display
120V Electric Garage Heater Buyer's Guide
Space heaters can be an effective way to naturally boost your garage's temperature, but they come with limitations. However, if your garage is insulated, an electric heater can bring much-needed warmth to your garage or shop.
What is the most efficient heating for a garage?
Garages can be tricky to heat. They don't usually have the thick fiberglass or cellulose insulation that homes do. Neither do they have the natural insulation provided by the ground like underground basements.
Little to no insulation can be a problem when you need to spend more than 10 minutes in your garage. A lot of people choose to turn their garages into workshops or even remote offices, but the going gets tough when winter arrives.
The lack of insulation lets warmth escape the room quickly, even with closed doors and windows. Poor insulation makes it hard for a space heater to maintain a cozy indoor temperature without using too much electric power. For that reason, heating your garage with an electric heater can turn expensive. Instead, people turn to cheaper or more efficient ways to stay warm.
Gas and indoor kerosene heaters are popular choices for heating a drafty garage. However, good ventilation is necessary because of the fumes, so heaters that run on fuel can be impractical and dangerous.
Sometimes people choose hard-wired 240V electric heaters instead. However, if you don't want to use gas and you don't have the option to hardwire a 240V heater to your ceiling, a 120V electric garage heater might be the right solution.  
A 120V space heater will do a good job if you have a relatively small garage under 30 x 30 feet. For spaces bigger than that, consider a higher voltage heater or insulate your garage well!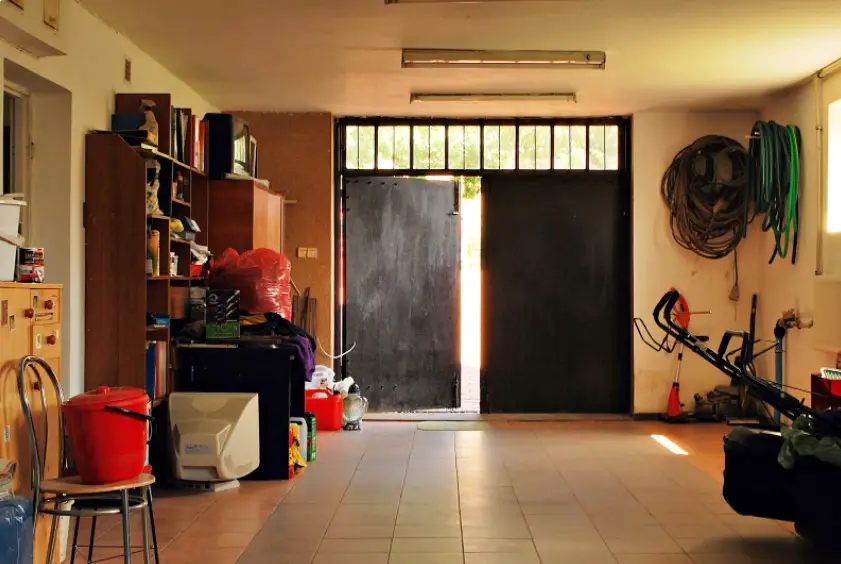 Can a 240V garage heater run on 120V?
Always use an outlet that matches the power of your device.
If your heater requires a higher voltage than your socket can provide, it simply won't get efficient heating. In fact, you may get very little heat out of that setup. Running a 240V heater on a 120V outlet will give you less than a quarter of its heat output.
On the other hand, wiring a low-voltage heater to a high-voltage socket can cause damage. If you manage to switch the heater on at all, the heater will overheat and pose a fire hazard. Chances are the power overload will significantly shorten the heater's life too.
If you use the wrong voltage outlet to run any device, your insurance company may refuse to cover any damages.
Hard-wired vs Portable Space Heater
If you're looking for portable space heaters, choose a 120V model. Although the low-voltage ones may not be as powerful as higher-voltage units, they are much more lightweight and easier to move around.
The major advantage of lower-voltage space heaters is that you can use them almost anywhere. Most portable models are plug and play – all you need is a standard 120V power outlet to use them. However, 120V heaters also provide less heat, so they may not be suitable for very large or poorly insulated garages.
On the other hand, larger, higher-voltage heaters (typically 208V, 240V, or 277V) are usually designed to be hard-wired. Some do come in the form of portable heaters with very thick power cords. However, the safest way to use them is to hard-wire them. High-voltage heaters are often ceiling-mounted.
Heat Output
Regular space heaters are great as supplemental heat, but they can't really match HVAC or gas heaters. 
The amount of heat that a space heater produces can be measured in BTU (British thermal unit) or, in the case of electric heaters, watt usage.
Wattage is often used to describe electricity usage and heat output of electric heaters over the course of an hour. Typical home-use, 120V space heaters are rated at 1500 watts. That usually means that it uses two 750-watt heating units inside the machine. The two heating units make it possible to turn your space heater on to half the heat output, giving you two heat settings.
As a supplement to your central heating system, 1500-watt heaters are great for insulated areas up to 700 sq. ft. As the sole heater in your garage, a 1500-watt heater is sufficient for up to 150 sq. ft.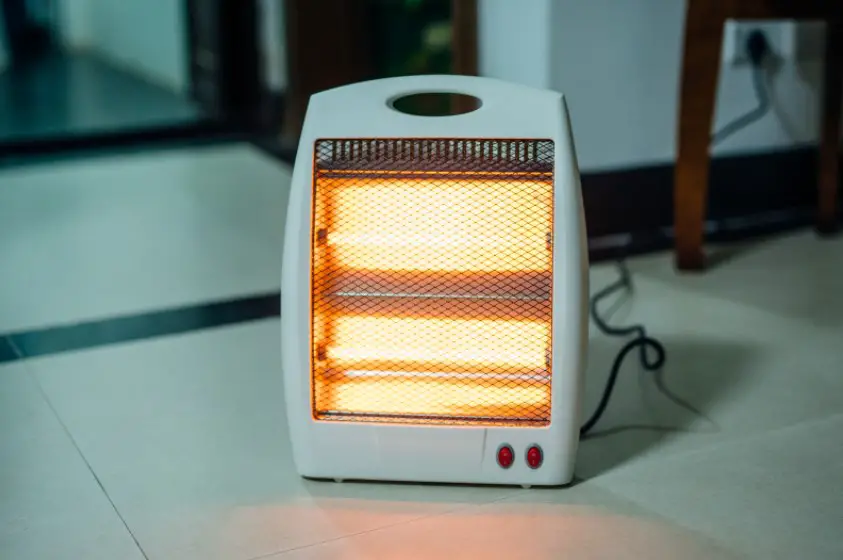 How much heat can a 120V heater provide?
Unlike wattage that measures electricity usage, BTU describes the intensity of heat. Though often used to describe gas heater and AC heat output, BTUs aren't customarily among electric heater specifications.
Still, British thermal units are a good reference point that can help you understand the actual amount of heat your device can produce.
One watt gives you approximately 3.4 BTUs. That translates to a bit over 5,000 BTU per hour for a regular 120V, 1500-watt heater.
| Heater type | Average BTU output | Energy Source | Disadvantage |
| --- | --- | --- | --- |
| 120V electric heater | 5,000 BTU | 1500W | Low heat output |
| 240V electric heater | 20,000 BTU | 4000W | Hard-wired |
| Fireplace | 40,000 BTU | Wood logs | Losses through the chimney, bulky |
| Torpedo heater | 80,000 BTU | Propane, Kerosene | Fumes, requires ventilation |
Can I install more than one 120V space heater in my garage?
It depends on the electrical setup of your garage.
If more than one breaker runs the outlets in your garage, feel free to use more than one electrical heater to keep your garage toasty!
Some garages use a single breaker for all outlets and lights. This is practical for small garages, but you can only have a limited number of devices running at the same time. 
Keep in mind that more space heaters mean a higher electric bill too!
Forced-Air, Convection, or Radiant Heating?
Electric space heaters come in a few forms, so you can choose the one most suitable for your space.
Forced-air heaters
This type of heater is known for being widespread and (usually) inexpensive. Their construction includes a ceramic or metal heating element and a fan that speeds up airflow, continuously spreading warm air. Also known as forced-fan heaters.
Convection heaters
These have a heating element on the inside and grilles or holes that let air pass through the body of the machine, warming it up in the process. Convective heater models sometimes come additionally equipped with a fan, combining them into forced-air convection heaters.
Radiant heaters
Sometimes called infrared heaters, are a great way to stay warm in poorly insulated spaces and outdoors. Instead of warming the air, radiant heaters send infrared waves that warm objects they hit.
When radiation hits an object, it turns into heat. The technology makes you warm just standing in front of the heater without wasting energy on heating air. Radiant heaters use just as much electric energy to run, but in terms of perceived heat, they're more efficient than convection heaters.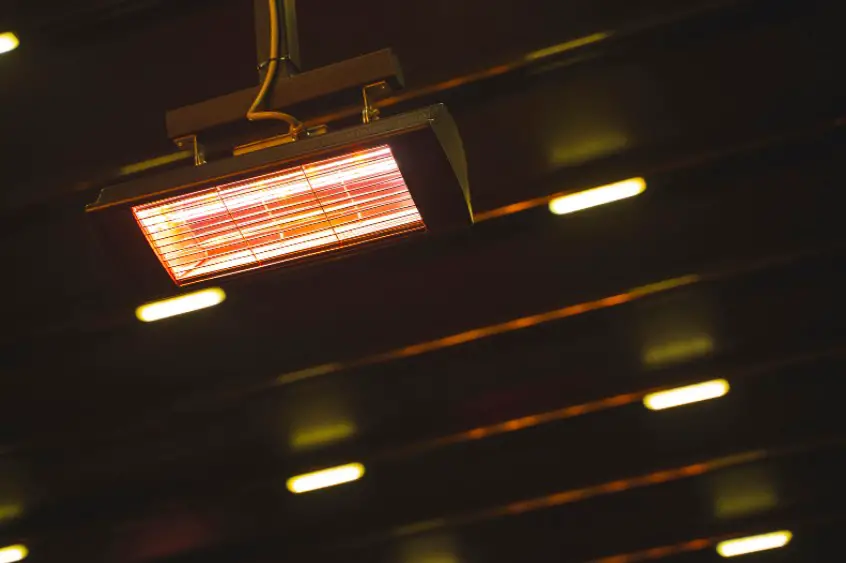 Must-have Garage Heater Safety Features
Space heaters that run on 120 volts are fairly safe to use. With their lower BTU output, they're less likely to pose a fire hazard. In fact, most space heater fires happen due to human error.
Take a few steps to make sure you stay safe with a space heater:
Read the heater's user manual before you use it for the first time
Keep combustible materials away from the heater
Make sure the cord and your electrical wiring are in working order
Never use an extension cord to run your space heater
Never leave a running heater unsupervised.
Space heater safety is quite simple when you take into account these few simple rules. To be extra safe, look for contemporary safety features when purchasing a space heater. Those include:
Overheat protection that switches the heater off if it becomes hotter than normal. The shut-off triggers if the heater reaches a critical temperature, which would quickly happen if a cloth accidentally covered it.
Tip-over protection that detects the orientation of the heater and shuts it off if it falls over. This is especially useful for homes with pets and children, but it's also a useful feature in a narrow garage.
A timer or an adjustable thermostat are great features to have. A timer lets you set up the time when your heater turns off. The thermostat lets you set the goal temperature for your heater – it'll automatically shut down once it reaches that temperature. You can work the day away without worrying if you accidentally left your heater on!
Wrap Up
Your garage workshop doesn't have to be freezing cold, but you don't need to invest a fortune into heating either. A 120V electric heater is not the most powerful heating system you can install in your garage. Still, it's enough to take the edge off in the cold months.
This winter, keep the work going with a nice 120V space heater that will make the dwelling in your garage more cozy and comfy.
Over here at The Home Dweller, we don't fear the frost. Staying warm in your home only takes a bit of knowledge and one smart purchase. Our goal is to deliver everything you need to stay cozy too! If you enjoyed this article, share it with your friends and family on social media and help them keep warm too!