There are several ways to heat the home, and one of the most common and older methods is the use of an oil boiler. The majority of pre-1990's homes will most probably have an old oil boiler.
Boilers use various sources of energy for power. These include natural gas, heating oil, propane, electricity, or a biodiesel-oil blend. The latest oil boiler systems are highly efficient, providing a 98.5% efficiency score in some cases.
The term central heating came from the installation of an oil boiler in a central location. The boiler would then pump the hot steam and water to heat the home and provide hot water for washing.
The main difference between oil boilers and non-boiler-type systems is that an oil boiler takes time to heat the water before dispersing it around the house.
Table of Contents
List Of Top-Rated Oil Boiler Brands for Home Heating
Boilers that use oil are usually found in areas that do not have access to natural gas, and the oil or energy source is stored in large tanks. As such, oil boiler prices are directly affected by the changing process in crude oil.
The modern oil boilers, which I present here, use biodiesel fuels; this fuel produces less pollution but is also related to the crude oil prices. Biodiesel also acts as a lubricant and even self-cleans the system, so maintenance costs are lower.
Let's Take a Look At The Four Best Oil Boiler Brands For Home Heating:
Eliminator Shop AENH-001
Features
Weight – 330 lbs
Dimensions – 30″ x 23″ x 42″
Voltage – 115
Chimney pipe size – 6″
Remote thermostat
Indicator lights
120.000 BTU output
Integrated circuit board
Pros
Simple design
Dependable stainless steel fuel pump
Burns almost any type of oil
Easy to clean
EPA approved
Clean heat generation
This waste oil heater is not your typical large and complicated unit. It's straightforward and relatively low tech which is why many owners are proud to have it.
This heavy-duty powder-coated steel unit provides 120.000 BTUs of heat. It features 15-gallon fuel capacity, thermostat control, 16″ hot air distribution fan to heat a building, stainless steel pump, patented air wand, manual ignition system, variable speed, and can burn 3/5 gallons of almost any (except for synthetic) type of waste oil (including diesel and home heating oil) per hour.
The stainless steel exterior gives the Eliminator a life-long quality appearance. It's a perfect device for a garage, workshop, warehouse maintenance, hazard elimination, and saving your money.
The easy access firebox makes an inspection and periodic cleaning of this unit a simple task. Its heavy-gauge steel heating chamber is built to last. This waste oil heater is exceptionally reliable, easy to clean, maintain, and clean-burning.
Your waste oil disposal problems are no longer an issue because this device provides a valuable service while turning your waste oil into fuel in a highly-effective EPA-approved method. It also has an easy-to-understand control panel with diagnostic lights (Reset, Power, On/Off) to let you know what's going on.
Whether you are an individual or a company with waste oil on hand, this unit was designed to deal with it effortlessly. There is no need to purchase and set up colossal waste oil systems because this one can burn any waste oil.
Your waste fuel gets pumped up from the oil pump and gets dropped into the burn pan to get combusted. And then you have the flame maintained. As simple as that. The pump and the fan are making all the magic and are made in the USA.
---
Burnham MegaSteam MST288
Product Features
Oil-fired boiler
ONLY Steam Applications
Beckett AFG burner is Included
One of a kind, 3-pass heat exchanger that makes it very efficient
Has Tankless Coils
Passed Energy Star Certification
About Burnham Boilers
Burnham LLC, first called Burnham Corporation, is a leading manufacturer that operates under "Burnham Commercial." Established in 1873 in Lancaster, England, BC has been involved in producing high-quality steam and hot water boilers for commercial/industrial purposes.
The original construction was manufactured in 1921, and since then, it has gone through many changes and modifications. But the quality has remained unequaled. You can find a variety of light commercial models and big industrial-size boilers to meet any client's needs.
B.C.'s full-time engineering department guarantees high-quality installation and manufacturing so that you can be sure of your boiler's durable design and safety. B.C.'s Research and Development department ensures the latter, which runs safety tests for each boiler before meeting the marketplace.
Acquiring the product, you also receive a state-of-the-art device to serve for many years, since each device part is assembled and by B.C.'s skillful operators to ensure the highest standards and quality control for your satisfaction.
The manufacturing plants are located in Zanesville, Ohio (Casting Solutions LLC). It is there that the processes of manufacturing, testing, and quality control are held. After the tests are completed, a boiler can proudly "wear" the Burnham Commercial name.
Features
Durability
The only manufacturer with a full line of ASME-certified stainless steel and proven cast iron solutions.
Flexibility in application and installation.
Custom designs
More than 85 % thermal efficiency in 90% of boilers
MPC boiler, the only UL-listed cast-iron boiler
Made in the USA
---
Burnham MST396SL-HB
This is the Burnham Megasteam (MST) Boiler, a highly efficient Oil-Fired steam boiler providing 86% AFUE in a three-pass heat exchange system.
Performance
This efficient oil-fired system delivers 86% efficiency and operates through its unique 3-pass heat exchanger, providing exceptional efficiency with lasting steam quality.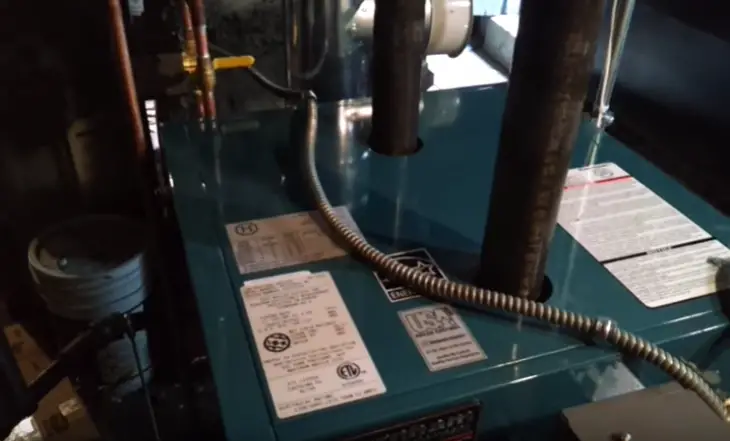 This oil-fired boiler uses tankless coils and heater, as well as a Beckett AFG burner, and the materials provide a corrosion-resistant performance that will not clog up the system after a few months of use.
This ENERGY STAR Certified device uses the Burnham engineered 3-Pass design and will warm your home in moments.
Features
Unique 3-pass cast iron sectional design
Very stable waterline, high corrosion resistance
Superior steam quality
Recommendations
If it's only a heating system, this steam heater will provide you with speedy performance and is highly efficient at 86% AFUE.
---
Weil-McLain
Originally called "Weil Brothers," the company was founded in Chicago, in 1881, by Benjamin and Isadora Weil and then moved to Michigan in 1918, changing its name to Weil-McLain. Since then, it has started to grow to become one of the U.S's largest and most respected names.
They manufacture and design cast-iron gas-fired and electric heaters/boilers along with hydronic comfort heating systems, making this world less complex with simplified solutions for different applications.
It is mainly for homes, offices, schools, restaurants, and various facilities with their plants located in North Carolina and Indiana.
Their administrative office is in Burr Ridge, Illinois. People of various occupations and businesses trust the manufacturer and rely on their comfort heating needs and peace of mind on W.M.
Expect safety, system flexibility, functionality, and reliable support. These boilers are cost-saving and energy-efficient. Today, this company of around 600 employees is a leading indirect and direct household water heating manufacturer.
Features
Compactness, combinations with other units
High performance and energy efficiency (95.2% in some models)
Simple plug-and-play installation
Various sizes and capacities
The latest, advanced technologies and materials for heat exchangers (cast iron, corrosion-resistant stainless steel, and aluminum)
Sold exclusively through the certified wholesale merchants
Buderus
One of the oldest manufacturers on the HVAC market Buderus AG was founded in 1731 in Germany. In 2003, Buderus joined Bosch Thermotechnic GmbH.
A comprehensive supplier of modern energy-efficient heating technology and comfort climate systems.
Gas boilers are the most popular in the Buderus product line. In addition to heating technology, Buderus offers components and accessories for heating systems: chimneys, pumps, expansion tanks, fittings, and other products from leading European manufacturers.
Buderus introduces innovative equipment to the market, e.g., condensing heating technology which allows the maximum use of the burnt fuel energy and equipment operating on alternative energy sources (heat pumps, solar collectors, wood-burning boilers).
Their equipment is used for industrial and domestic sectors (production facilities, residential areas, private houses, communal and social infrastructure facilities.
The high-quality and durable equipment is designed to provide heat, hot water, and electricity. Their boilers guarantee convenient operation, beautiful and compact design, cost-saving heating. The system works without any remarks, strictly keeping the necessary temperature.
Buderus boilers are fast to ignite without any effort. By buying their models, you forget about constant repairs and stock up on quality for years to come.
Features
Stainless Steel corrosion-resistant burners
Efficiency and compactness
Fast electronic ignition
Good quality/price ratio