The winter chill is no joke when you spend your days or nights in a large and potentially drafty room. Whether your open floor plan apartment has no central heat, or you just want to make your bedroom a little bit cozier, a few extra degrees are always welcome in the coldest months of the year.
This winter, you can keep yourself warm with one of the best space heaters for large rooms. I'll walk you through some of the great models on the market, give you my unbiased reviews, and also help you pick the right model for your home in the buyer's guide down below.
Best Overall
Dr Infrared Portable Space Heater (1500-Watt)
Low noise, high velocity blower
Quartz Infrared element
Safety features – no exposed heating element
Premium Choice
Duraflame 3D Infrared Fireplace (DFI-5010)
5200 BTUs
Patented 3D Electric Flame
Automatic Shutoff Safety Feature
Best Budget
Lasko Ceramic Space Heater (755320)
Great price
1500 Watt ceramic heater
Ships fully assembled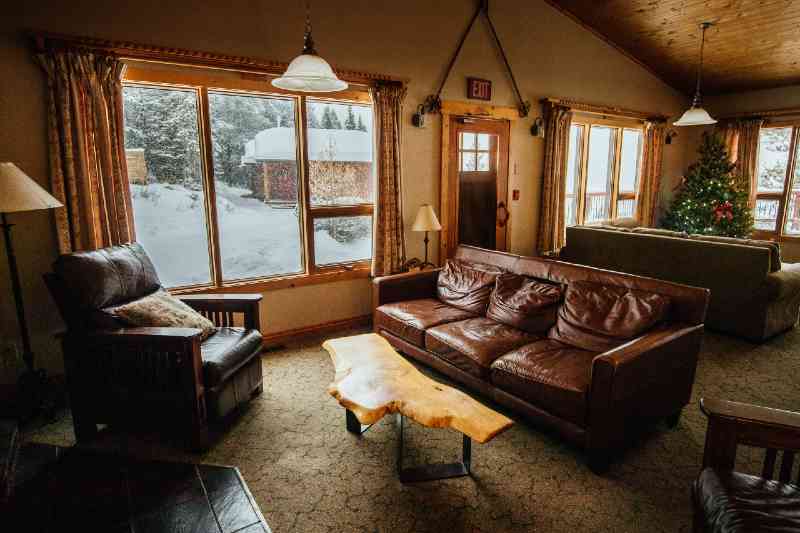 Best Large Room Space Heater Reviews
Finding the right model that fits your needs perfectly is not an easy task, especially when you're dealing with a large room. That's why I took the time to review some of the best finds on the market today.
Best Overall
Best Large Room Infrared Heater – Dr Infrared Heater Portable Space Heater, 1500-Watt
Combining a classy look with effective performance, this is what defines the Dr. Infrared space heater. Delivering a feeling of natural heat, perfect for a large, cold room, this heater outperforms competitors.  It generates heat at an average temperature of 250 degrees Fahrenheit at 3.5 meters per second. Compare this to many heaters delivering 155 degrees at 2.2 meters per second.
The Dr. Infrared automatically selects one of four heat settings based on the temperature of the room. It then uses a high velocity, low noise blower to move the air. The infrared technology focuses on heating objects in the room, so it's quick to warm you up! 
Kids and pets will be safe around this heater. It boasts outstanding safety features including tip-over and overheat protection.
Here's what I like:
Best overall heater for the price
Programmable timer, low noise
Safe for the family
The bad sides:
A bit pricier than other models (but worth it)
Specifications:
Dimensions: 13 x 12.5 x 17 inches
Weight:  24 pounds
Temperature Settings:  50 – 85 degrees
Premium Choice
Best Large Room Fireplace Heater – Duraflame 3D Infrared Electric Fireplace Stove (DFI-5010)
When you combine stylish decor with phenomenal technology, you get a premium large room space heater! I recommend the Duraflame Fireplace to anyone willing to spend a little more to get the best.
This 5,200 BTU heater features glistening flames atop stacks of logs, with five adjustable colors. Remotely control the brightness and speed of the flames, and use the thermostat to maintain a constant temperature capable of supplementing heat for a room as large as 1000 sq ft! 
The infrared quartz technology will warm you instantly while heating up a large area. It also provides overheat protection as an important safety measure.
Here's what I like:
Incredible, realistic fireplace ambiance
Quick heating with adjustable thermostat
Remote control 
The bad sides:
The control panel is behind the closed door
Specifications:
Dimensions:  13.07 x 24 x 23.4
Weight:  28.6 pounds
Temperature Settings:  62 – 82 degrees Fahrenheit
Best Budget
Best Large Room Ceramic Heater – Lasko Ceramic Space Heater (755320)
If price is your driving factor, the Lasko Ceramic Heater is a great cost-effective option. It's relatively basic, yet has all the features you need to warm up a large room. The Lasko uses convective heating, with a built-in, oscillating fan.  This works to quickly warm up static air, but it's not ideal for a drafty room. 
The heater ships assembly free right out of the box, along with a multi-function remote control. You can select high heat, low heat, or an auto setting.  The built-in-timer is nice offering one-hour intervals up to a max of 8 hours.
Safety features include a "cool-touch exterior" and overheat protection. 
Here's what I like:
Great space heater for a great price
The oscillating fan quickly warms the surrounding air
Portable and lightweight
The bad sides:
Best suited with supplemental heat in a non-drafty room
Specifications:
Dimensions:  7.25 x 8.6 x 23 inches
Weight:  8 pounds
Maximum 1500 Watts  
Best Oil Filled
Best Oil Filled Space Heater – PELONIS Oil Filled Radiator Heater
Many know the Pelonis brand, offering advanced space heaters for a reasonable price. With caster wheels for portability, noise-free, and oil-filled, this radiant heater is made to heat family rooms, living rooms, bedrooms, and basements.
Though oil-filled heaters take a bit longer to warm up the room, they are quite energy-efficient and effective. Expect a quieter operation because this heater does not need a fan. You'll find a great user experience with an LED display, 10-hour timer, and a digital thermostat.
You will feel safe knowing that the Pelonis is built with overheat protection. The tip-over switch will automatically turn the unit off if it's knocked over.
Here's what I like:
Quiet, luxurious heating experience
Mobile with caster wheels
Ideal for medium to large rooms
The bad sides:
Can take more time to warm up the room
Specifications:
Dimensions (LxWxH):  15.16 x 6.38 x 26.06 inches
Weight:  16.1 pounds
Temperature Settings:  65 – 85 degrees Fahrenheit  
Best for Drafty Room
Best For Large Drafty Room – De'Longhi Oil-Filled Radiator Space Heater
Drafty rooms are typically the result of poor insulation or leaking seals. This environment isn't conducive to trapping heat. If this describes your situation, turn to the DeLonghi radiant heater: a durable, powerful heater designed to warm up objects, not the surrounding air.
Featuring a patented thermal slot design, this heater will maximize the flow of heat into the room while saving energy in comparison to its competitors. This model is a bit on the pricier side but offers a 24-hour programmable timer and an anti-freeze setting when the temperature drops on the coldest nights!
The thermal cut-off function will prevent overheating for a safe user experience.
Here's what I like:
Radiant heater, ideal for rooms with higher airflow
Portable with pre-assembled caster wheels
Energy-saving features
The bad sides:
Specifications:
Dimensions (LxWxH):  16.4 x 10.3 x 26.1
Weight:  26 pounds
1500 Watt 
Best Designer Oscillating
Best Large Room Oscillating Heater – Lasko 6405 Designer Oscillating Heater
With Lasko's sleek design, it's a great fit for most home décor. It can heat a 340 square foot room within half an hour and oscillates up to 30 degrees for better dissemination. It offers a cool-touch exterior for protection against skin burns. 
This isn't just a charming heater… its versatility is the best feature. Use it in your bedroom for a cozy night's sleep, or in your living room on top of an end table. It provides a thermostat with an automatic shut-off timer.  It comes fully assembled and ready to be plugged in. This is a great supplemental space heater for any large room!
Here's what I like:
Attractive design blends in with your furniture
Widespread oscillation
Self-regulating ceramic for a cool touch 
The bad sides:
Specifications:
Dimensions (LxWxH):  10 x 10 x 16
Weight:  6.5 pounds
Temperature Setting:  60 – 85 degrees
Best Wall Mounted
Best Large Room Wall Mounted Heater – Cadet Com-Pak Twin Wall Heater
This is not a traditional space heater, but it will be a perfect fit for a segment of our readers so it's worth a look. A powerful, wall-mounted heater, perfect for a more permanent solution to heat your large room and proudly made in the U.S.A.
We're "bringing the heat" with this 4000W, 240V heater. If you're the DIY type, installation may not be a problem, but for the rest of us, plan on calling an electrician. The Cadet is designed to be mounted into the wall and wired into your house.
You will need to "think outside the box" to find the same level of convenience as other space heaters (no remote control). Innovative ideas include wiring in a timer and installing a remote thermostat. 
Here's what I like:
Extremely effective at heating a large room
Blends in well with the rest of the house
Automatic shut-off safety feature
The bad sides:
Could get expensive hiring an electrician to install
Specifications:
Dimensions (LxDxH):  16.25 x 1 x 12 inches
Weight: 12 pounds
4000 Watt
Best Wall Mounted
Honeywell HZ-980 MyEnergySmart Infared Whole Room Heater
We round out our product reviews with another great heater from the trusted Honeywell brand. This heater scores high marks in quick room heating and great safety features.
You'll find all the great features you're looking for to include remote control, nice LCD display, programmable thermostat, 1-8 hour timer, and three different heat settings.
Safety features: the Honeywell outshines competitors with a 4-way tip-over switch and terrific overheat protection. 
Here's what I like:
Safety – great protection against flammable materials (drapes, clothes etc)
Dependable brand name
Designed for a large room
The bad sides:
Some people complain about defective heating units after a period of time
Specifications:
Dimensions (LxDxH):  18.11 x 15.75 x 18.5
Weight:  20.8 pounds
1500 Watts
How to Pick the Best Space Heater for a Large Room
The space heater market has a lot to offer, so choosing the option that works for you can be quite a challenge. After all, everyone needs a cozy, warm home in the wintertime.
That's why I'm here – to help you find the perfect model for your spacious open plan apartment, renovated basement, small vacation cabin, workshop, or big RV.
What Type of Heater is Best for a Large Room?
We will cover two different types of space heaters. You can find great models from each category, so it all comes down to your preference and your specific situation. Unlike airflow ceiling fans, picking a heater for a larger room can be a tricky task.
Convective Space Heaters
If your room is well insulated, but you still want a few degrees extra, a convective space heater might be the right pick.
Convective (or convection) heaters are the most common electric space heater. They have an inner metal or a ceramic construction that heats up and a powerful fan to deliver warm air all over the room.
An average-sized convection heater could take a couple of hours to warm up a big room. They use quite a bit of electric power because they have to generate heat constantly. Here's the advantage: you can sit right in front of them for instant coziness.
Radiant Space Heaters
Use a radiant heater in a drafty, badly insulated room. In fact, you can even use an exterior radiant heater to warm you up on chilly fall evenings out on your patio. These machines usually utilize infrared technology, which makes them quite energy-efficient. Plus – they are very quiet!
But there's a catch – radiant space heaters don't warm up the air. Instead of heating the air, the radiating wavelengths warm up objects as they make contact. So maintaining a line of sight to the heater is important. That means that your room will stay approximately the same temperature, but you'll feel warm sitting near a radiant heater.
Some radiant heaters can make the air warmer as well. These models use infrared bulbs to warm up a heat exchanger (such as a piece of copper or ceramics), and a fan to spread the warmth. Let me give you peace of mind right away: infrared wavelengths are not harmful. In fact, the way these heaters warm us up is pretty similar to the Sun – just without the harmful UV wavelengths. Just make sure to keep your heater away from flammable material – but that goes for any heater type out there.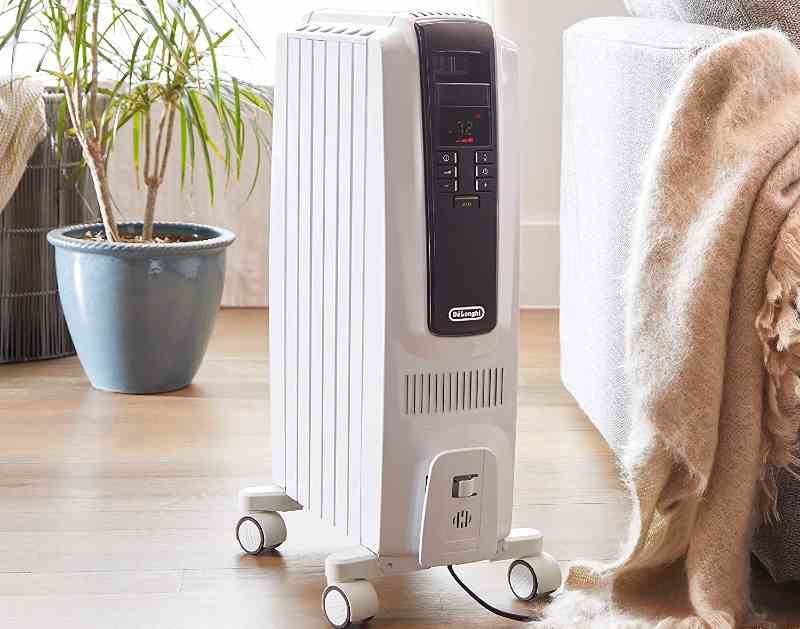 What is an Oil-Filled Space Heater?
Oil-filled space heaters offer the best of both worlds. They use both convection and radiant heating and may be a great solution. They tend to be more energy-efficient but sometimes take longer to warm the room.
Oil-filled heaters resemble regular radiators, except they're powered by electricity and usually mounted on a set of wheels for higher portability. Once you plug in the device, the oil on the inside heats up – this can take a while (about 10 minutes, depending on the size of the device). The great thing about oil is that it retains heat for a long time. In practice, this means that you not only stay warm while the device is turned on, but in fact, it continues to heat the room long after you turn it off or unplug it.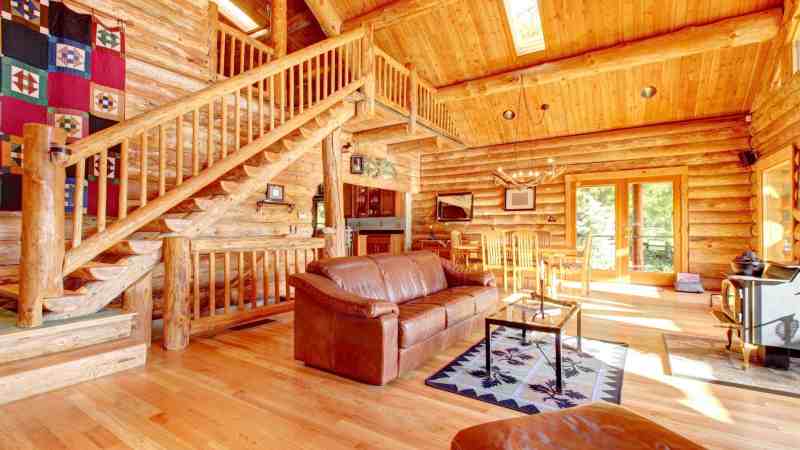 Features You Need in a Large Room Heater
Finding the perfect model in the sea of similar-featured space heaters is no easy task. Here are the most important factors you should consider before making your final pick. 
Power
Most indoor space heaters are electric. Their power is measured in watts. The watt-rating of a heater will let you know exactly how much warmth you can expect from it, but also how much it will cost you in electricity.
Some models will cost more than others depending on how efficiently they operate. The most energy-efficient models will heat the room quickly, and automatically turn off while continuing to generate warmth. In the end, this will save you money on your electric bill.
Electric space heaters for large rooms typically use about 1500 watts. That's enough for a 300 sq ft room if you need to warm it up from scratch; but if you have central heating and use the space heater as a supplemental heat source, it can easily warm up 700 – 1,000 sq ft.
If you want to calculate how much using a 1500-watt heater would cost you, you first need to find out how much a kilowatt-hour costs in your area. This type of heater uses 1.5 kW per hour – so if the rate in your state is 10 cents per kWh, simply multiply 10 by 1.5, and you'll know that running the heater will cost you 15 cents an hour.
Multiple Heat Settings
Multiple heat settings allow you to adjust the device to your current needs. For instance, a 1500-watt large room space heater may also come with 750 and 1000-watt settings. This is a nice energy-saving feature that allows you to tailor your heater to the size of the room.
Space Efficiency
Consider how much floor space your heater will require. Even if you have a large room, you don't want a heater with a big footprint. There are lots of options out there – upright (tower) heaters are tall but they have a small footprint. Oil-filled heaters take up a bit more space. Wall-mounted heaters are not portable, but they take up no floor space at all. Portability is an important factor for many people.
Mobility
Once in a while, you might want to change the position of your heater. In those moments, you'll be glad you opted for the more portable model.
Just because a heater is small, doesn't necessarily mean it's weak – even a four-pound, 1500-watt model can pack quite a punch. Tower models are a bit clunkier, but not heavy either as these typically weigh under 10 lbs. Cabinet and oil-filled models are the heaviest, at an average of 20 lbs. Most oil-filled models come equipped with caster wheels which helps offset the higher weight.
Power Cord Length
Another feature that determines your unit's portability is the length of the power cord. This is especially important since you should never use an extension cord for a space heater.
Even Heat Spread
If you don't want one corner of the room to be warmer than the other, you should consider how well the heater distributes air.
Convective heaters typically use a fan to disseminate warm air. Some also oscillate, or rotate side to side, to provide a more even spread.
The range of motion can be anywhere between 30 and 90 degrees. Oscillating fans are typically found in upright tower space heaters.
Low Noise
Any space heater with a fan creates noise. While it may not be loud, it can be annoying. If you're someone who is easily bothered by device noises, you might want to opt for a quiet infrared or oil filled space heater.
Some people enjoy the white noise of a fan, but remember, a heater is not just a fan. The heat generation process can produce noise as well (we address noise in our product reviews above).
Automatic Shut Down
A programmable shut down option can be a lifesaver. There are three methods of automatically shutting down a heater: a thermostat, a timer, or a tip-over safety feature. But please make sure you don't leave your space heater turned on all night.
Thermostat
Almost every model out there features a thermostat that measures the surrounding temperature. But some thermostats can be set up to shut the heater down once the room reaches the target temperature. This is quite handy, especially if you want to sleep while your space heater is working.
A thermostat will also shut the heater down if it overheats. For example, if a piece of cloth falls on your heater, that's a serious fire hazard – but a heater with a properly set-up thermostat will detect the sudden spike in temperature and shut the device down before a fire breaks out. In general, digital thermostats are more accurate and easier to use than dial thermostats.
Timer
A timer will turn the heater off after a programmed amount of time. That comes in handy, especially when you want to stay warm overnight.
Tip-Over Safety
Finally, most present-day space heaters include tip-over safety. If the device tips over and falls, it'll turn off automatically, preventing the risk of a fire. Honestly, you should not even consider a model that does not have this feature – especially if you have pets or young children in your home.
Always read the user manual to ensure maximum safety when using a space heater.
Remote Control
Let's face it – sometimes you just don't feel like getting up, especially if it's just to turn your space heater on or off. Luckily, in this day and age, you don't have to: there are plenty of remote-controlled space heaters out there. Turn it on or off, adjust the temperature, change the work mode, all without leaving your comfy armchair.
Frequently Asked Questions
How Many Square Feet Will a 1500 Watt Heater Heat?
A space heater is made to supplement the heat in your house. It is not made to stand alone. Typical 1500 watt space heaters can warm a room up to 150 – 300 sq ft with little help. But plan on that heater working hard to raise the temperature on its own.
When properly supplemented with your home heating system, the best space heaters for large rooms can heat up to 700 – 1000 square feet.
Which Heater is Most Energy Efficient?
Oil-filled heaters are the most energy-efficient space heaters. An oil-filled heater with a great thermostat will regulate its use while providing warmth well after the unit turns off.
What is Ceramic Heating?
Convective heaters use electricity to warm up highly conductive materials inside the space heater. In cheaper models, these heating elements are made out of metal. Higher quality heaters use PTC ceramic material.
Ceramic has a longer lifespan and heats up slightly quicker. The way it works is quite simple and doesn't differ much between these two types of heaters. In essence, electricity warms up the heating elements. Then, the device's fan blows air which passes over the hot ceramic element, dispersing warmth throughout the room
Electric or Gas Space Heater – Which is Better?
If you search for space heaters online, you might notice that almost all of the results are electricity-powered models.
The electric models are more popular for many reasons. First of all, they're very easy to use and require little to no maintenance. Just plug it in and you're good to go. They might give off an odor at the start (that's usually machine grease or dust burning off), but that only lasts the first few hours. The cost is trickier to calculate – while electric models cost less upfront, running costs are higher since electricity is more expensive than propane or kerosene.
On the other hand, gas-powered large room space heaters might be more cost-effective, especially in poorly insulated rooms. Gas units produce more heat and combined with the lower cost of gas, this will reduce the money you spend on heating each winter.
However, gas space heaters come with a certain risk. You have to ventilate or air out the room properly. Because inhaling the by-product of gas combustion (carbon monoxide) can be poisonous, many people shy away from gas-powered heaters inside the home.
Wrapping It Up
We invested countless hours of research to provide you the best heaters for large rooms on the market today. We continue to update our articles as new products outshine older products. If you found this article informative, please share it on social media and leave us a comment below!