If you're in the market for a recliner, you must have heard of the biggest name-brand manufacturer – La-Z-Boy. Their recliners are known and loved far and wide, but few know that they invented and patented the recliner chair – no wonder they're the best in class!
But how do you choose the best La-Z-Boy recliner for you? Check out our reviews and buyer's guide for all the info you need to pick the perfect model. Then, it's time to put your feet up, lay back, and relax in the unmatched comfort of a Lazy Boy recliner!
Best-Rated Lazy Boy Recliners
Best Overall
Joshua Rocking Recliner
Smooth rocking mechanism
Well-cushioned
For tall people
Premium Choice
Pinnacle Power Wall Recliner
Powered & super cushy
Gliding mechanism
For tall people
Best Budget
Vail Rocking Recliner
Inexpensive
3-position leg rest
For small users
Other Recommendations
Table of Contents
Why La-Z-Boy?
Any recliner can be comfy, as long as you choose one that suits you well – the brand is less important. 
But there are plenty of reasons La-Z-Boy got the name recognition they have today. After almost 100 years of existence, La-Z-Boy continues to provide customers with long-lasting, super comfortable recliners that few others can match.
Unmatched longevity: Unlike other brands, their recliners come with sturdy 4-sided frames that don't get wobbly over time.
Recline and rock: Lazy boy recliners are the only ones on the market that let you lay back and rock at the same time. They achieved this through a mechanism that lets you control the back and the footrest separately.
No floppy footrests: The way they build their footrests is unique. Controlled with a rod mechanism rather than springs, your footrest won't flop over time. As a bonus, you get to lock the footrest in place and choose between three leg rest positions.
Be unique: The company lets you choose the model you like, then fully customize it. 
Help from the pros: All La-Z-Boy stores employ professional interior designers, who are there to help you find that one recliner that fits your living room perfectly. Don't worry – their help comes free of charge!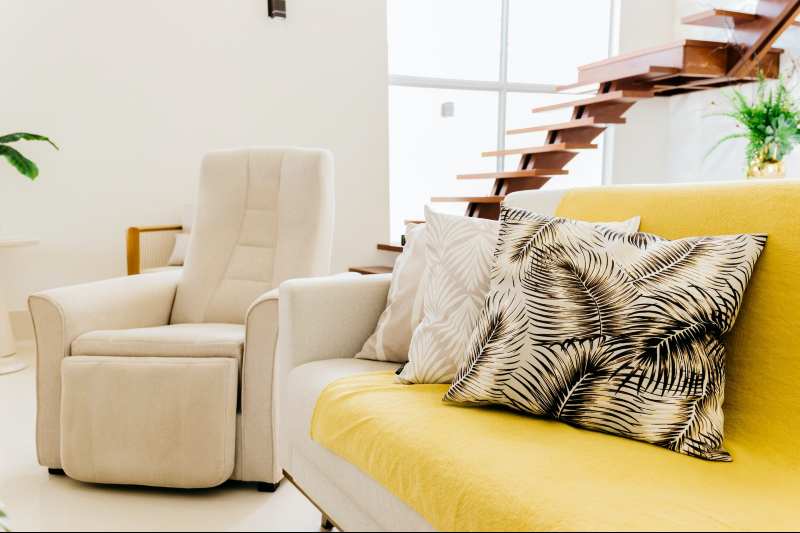 Reviews of the Best Lazy Boy Recliner Models
Best Overall
Joshua rocking recliner has it all. It's padded all over with soft cushioning, has a smooth rocker mechanism, and comes with cushy lumbar and head support. Most importantly, it comes at a very reasonable price! 
The long chaise seat with a continuous leg rest design can be locked in three positions, giving you plenty of choices when it comes to finding the comfiest position to kick back in. 
The back is tiered in three parts for proper support of your lower back, shoulders, and neck.
This model is designed for tall people between 5'10" and 6'2″.
As La-Z-Boy calls it, Joshua is "Basic-yet-classic". It doesn't come with the bells and whistles of the more expensive models. Instead, it has everything you need for a pleasant evening lounging in front of the TV. 
Specifications:
Powered: No
Base: Rocking
Seat Depth: 22"
Seat Height: 19.5"
Seat Width: 19"
Premium Choice
The premium comfort of La-Z-Boy's Pinnacle power recliner comes at a premium price, but it's worth every penny. Pinnacle is designed for people that are between 5'5″ and 5'9″ tall.
This model brings a lot of comfort, yet it can fit into any room, and you can place it mere inches from the wall. Its small footprint is made possible by its unique reclining mechanism that slides out rather than simply tilting back. 
Its extra padding makes this model super cushy. The back is channel-stitched, so it provides great neck support without pushing your shoulders. The 3-position leg rest is continuous so that your knees and ankles always get perfect support. 
Pinnacle is also powered - you control your position with the touch of a button, and you can even charge your phone or tablet on your chair if you don't feel like leaving it plugged into the wall!
Specifications:
Powered: Yes
Base: Gliding
Seat Depth: 21.5"
Seat Height: 18.5"
Seat Width: 19"
Best Budget
Let's go back to basics! Vail is one of those recliners that give you a lot for a lower price. 
Smaller users (between 5'5'' and 5'9″ tall) can sink into the cushy comfort of this budget recliner after a hard day at work. It has a static seat and a leg rest that can be locked in one of three positions. The biscuit-style back and headrest are designed to give space to your shoulders while giving your neck ample support. One of my favorite parts of this design are its encircling, super cushy armrests that will never put a strain on your elbows.
Specifications: 
Powered: No
Base: Rocking
Seat Depth: 19.5"
Seat Height: 18"
Seat Width: 17.5"
Best Super Tall
If you're a very tall person, La-Z-Boy has a comfy model tailor-made for people who find regular recliners too short! Neal is designed for people 6'3" and taller. It's designed to provide comfort in bigger dimensions without giving off the impression of being overstuffed. 
Neal comes with an extra-deep chaise seat (at 24"), a taller base that adds 1.5" in height, and an elongated handle for easier operation. It's cushioned with high-density foam that won't cave in under the weight. Also, it comes with 5 support springs rather than the usual 4. The continuous leg rest is slightly longer than other recliners to suit the taller users perfectly. 
Specifications:
Powered: No
Base: Rocking
Seat Depth: 24"
Seat Height: 22.5"
Seat Width: 24.5"
Best Style
People with classic living room designs may be wary of getting a regular recliner. That's exactly why La-Z-Boy came up with the elegant high leg recliner option.
Kimberly was designed for petite users who are 5'4" and shorter. It looks like a regular armchair at first glance, but in fact, it has a leg rest that unfolds under your feet as you push the recliner backward. The reclining mechanism has two positions - reclined and upwards.
While this recliner doesn't come with all the advanced comfort options, it's a perfect mix of elegant style and cushy pleasure. 
Specifications:
Powered: No
Base: High Leg
Seat Depth: 20.5"
Seat Height: 20.5"
Seat Width: 44.5" combined
Best Loveseat
Why keep all the comfort to yourself? Kick back and relax with someone you love on the family favorite Trouper reclining loveseat.
Trouper brings comfort and makes it double. Create memories with your family on these sculpted bucket seats and an easy-action latch release on both sides. Of course, each person can set up their position for maximum comfort. 
It has tiered cushioning, providing great neck and lumbar support while leaving enough space for your shoulders. The leg rest is continuous and it can be separately controlled.
The Trouper loveseat was designed for people between 5'10" and 6'2″ tall. 
Specifications:
How To Pick the Perfect La-Z-Boy Recliner
Most recliners out there are pretty comfy – for as long as they're well made and the right size for you. However, just like any other piece of furniture, recliners deteriorate and, over time, become harder on your back and neck. 
With La-Z-Boy recliners, you invest in a durable product that can stay in great shape for decades. So, if you'll be watching TV from the same recliner for years and years to come, you might as well take the time to get the one that suits you perfectly! 
Features to Factor In (aka Best Lazy Boy Recliner Buyer's Guide)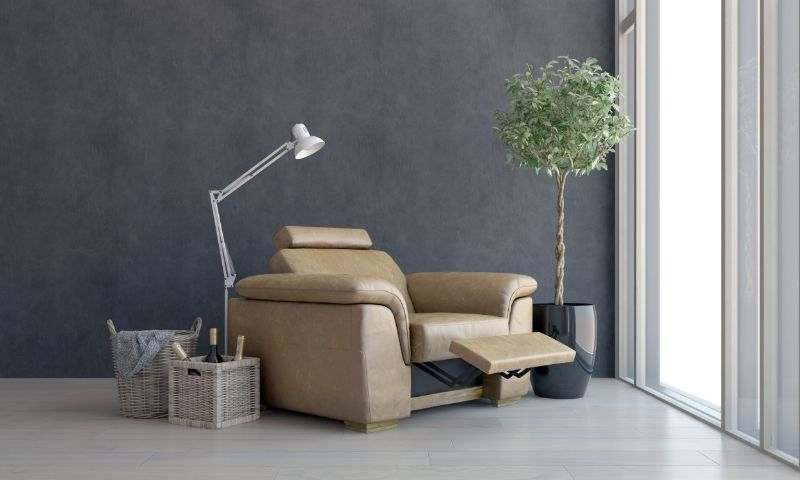 Not all recliners are made equal. While they can all seem comfy at first, the wrong model may leave you with back pain in the long run. Picking one that's made of quality materials and suits your body type is paramount – so here's what you need to look out for.
Your Height
Just like your shoes need to be the right size to be comfy, so does your recliner. When I (a 5'5" woman) sit in my uncle Tom's recliner, I simply sink into it, my head pushed forward and my feet hardly reaching the floor. Of course that my neck starts to ache right after. Not a pleasant feeling at all.
Avoid this issue by getting a recliner that's the right size for you. If you get the chance to try it out in the store, that's perfect (and in a moment, I'll get to some factors to consider).
Buying Online
Those that prefer to make their purchase online are in luck because La-Z-Boy has a handy guide that rates each recliner to a particular body height. Every chair they sell comes with a specified height rating:
| Recliner Rating | Body Height |
| --- | --- |
| Petite | 5'4″ & shorter |
| Small | 5'5″ – 5'9″ |
| Tall | 5'10" – 6'2″ |
| Extra Tall | 6'3″ & taller |
Hands-On Testing
In a store, you get the chance to try out some recliner models before making your pick. Don't be fooled – even if a recliner feels comfortable when you first sit in it, it may end up being a pain in the neck after a few hours in front of the TV. These tell-tale signs show that you came across as a good fit:
The depth of the seat matches your upper legs. Your feet should touch the floor and your legs are comfortably bent at the knee at a 90° angle.
The footrest fully supports your ankles but lets your heels droop slightly. Shift around to make sure the recliner provides good leg support everywhere.
Lumbar support feels just right. A well-fitted recliner comes with great lower back support both in the sitting and the reclining positions. Look out for gaps between your bottom and lower back in the lying position – that's a big no-no! 
Keeps your neck in a natural position. If the headrest is too tall for you, the top cushion will put pressure at the wrong spot, pushing your head forward. The crest of the headrest should support the back of your neck, with your head resting on the upper part of the cushion. If your head tilts backward, it's too short.
Build Quality
You don't need to worry too much about the quality of any Lazy Boy reclining chair. However, when you look underneath the recliner, look for these tell-tale signs of a high-quality build: 
Four-sided frame: Most cheap recliners only have three sides to their frames, usually lacking the side to the back of the chair. Over time, these frames lose stability and become wobbly. La-Z-Boy recliners retain their structural integrity for years thanks to their so-called "uni-body" frame construction. If you are looking for something more accustomed to more weight, consider extra-large recliners, aka big man recliners.
Hardwood base: The base should be made out of hardwood. Plastic frames spell trouble.
A layer of mesh: Even though it may seem insignificant at first, a layer of mesh between the springs and the cushion is a lifesaver. In essence, it helps distribute weight evenly and prevents tearing, making your cushion cushy for longer.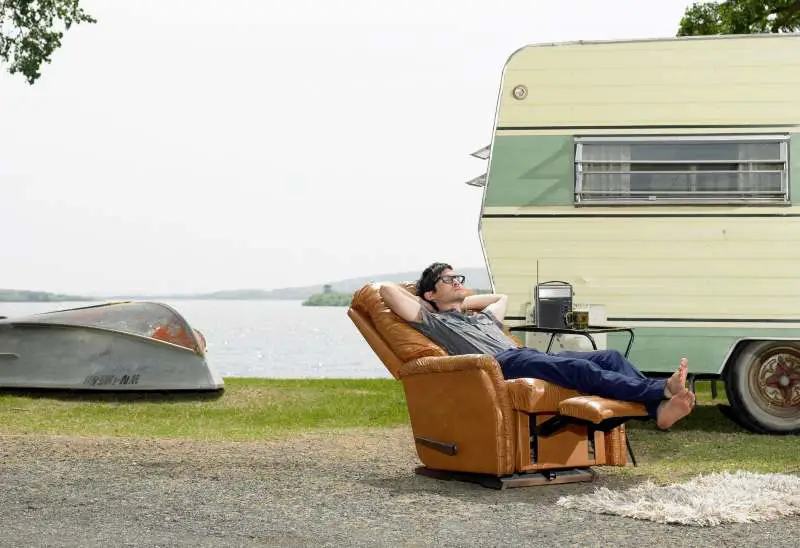 Upholstery Material
Most recliners on the market are upholstered with real leather, fabric, or PU leather. Each material choice comes with both pros and cons: 
Genuine leather
Some love it and some hate it, but the fact is that leather is the most durable upholstery material. If you want your recliner to look just as good as new in 15 years, pick real leather. 
This material provides high-quality heat insulation yet it's very breathable. Also, it's elastic and resists tearing and abrasion well. 
Of course, leather comes in different quality grades, stemming from its origin, tanning methods, and the fillers and additives used. 
The negative sides – it's the most expensive upholstery material out there, it requires special care, and it comes from animals.
PU Leather
Polyurethane and other artificial leathers provide the look and the feel of real leather – and that's where the similarities end. PU leather is more affordable, but it also wears and tears more easily than genuine leather. 
Besides being the animal-friendly alternative, the benefits of PU leather are its low price and the huge choice of colors, patterns, and textures.
Fabric
Many people claim nothing beats fabric when it comes to comfort. Besides being soft and cozy, the fabric doesn't absorb heat quickly. That means you won't get all sticky in the summer or have to endure the initial icy touch of leather in the winter. 
However, textile is the hardest upholstery material to clean as it absorbs fluids very quickly, possibly collecting more and more permanent stains over the years. In general, it has lower durability, so it's important to get a high-quality, tightly woven fabric that can withstand wear and tear.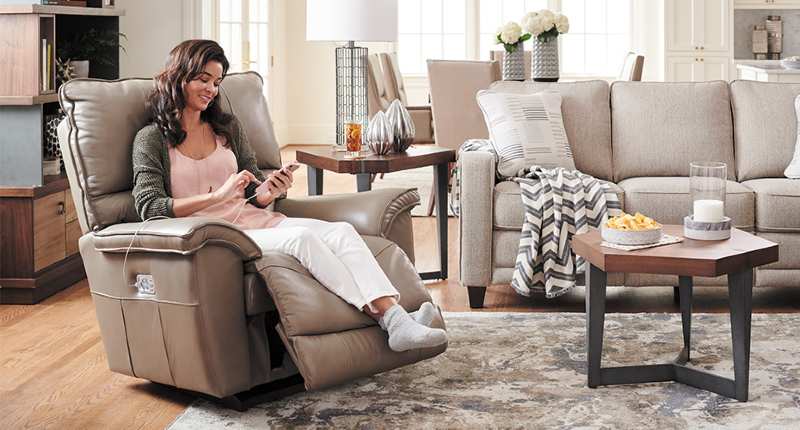 Quality-of-life Upgrades
With La-Z-Boy, you don't have to settle for pre-made models. Once you choose the ideal recliner chair, you can opt for additional options and upgrades like:
Electrical mechanism: Powered recliners have a remote control, so there's no need to use arm or leg strength to operate the recliner chair. 
Powered recliners may also come with massaging and heating, a higher number of footrest and back locking positions, and even headrest and lumbar position adjustment.
Base type –  swivel, gliding (wall recliners), or a rocker recliner: If you'd like to turn your recliner from the TV towards the window, get a swivel base that can turn easily. Wall recliners are ideal for smaller rooms – instead of simply reclining back, they glide forwards, so that you don't need to have a lot of space behind. Finally, a rocking recliner does just what a rocking chair does – gentle rocking is enough to put anyone to peaceful sleep. Every La-Z-Boy model comes with these base options – adjust your recliner to the way you love to relax.
Handle adaptation: Choose whether the handle is on the left or the right, make it shorter or longer, and pick the material it's made of.
Upholstery materials, colors and design, along with cushion options. For reference, the best recliners for sleeping are known for the comfiest materials.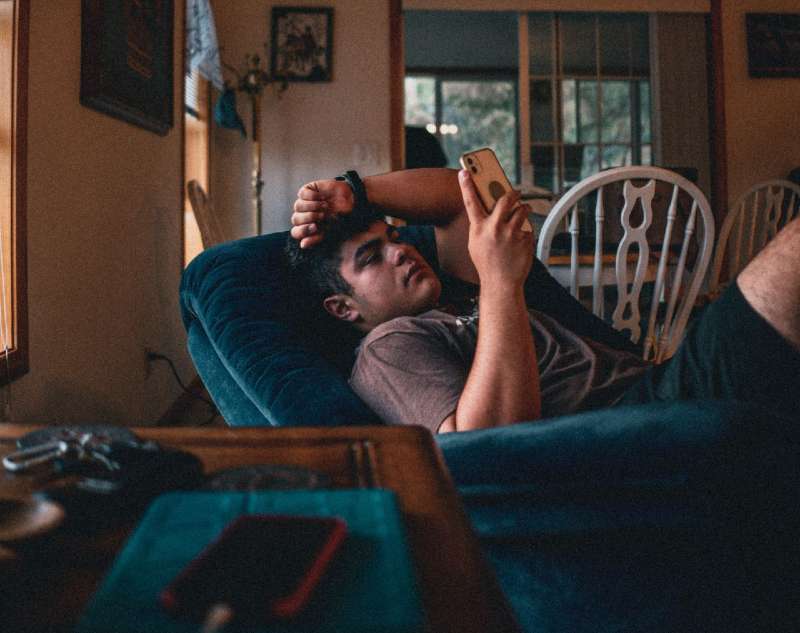 Wrap Up
There are few things as relaxing as just lounging away in a recliner – and few manufacturers can provide as much comfort and advanced options as La-Z-Boy!
Over here at The Home Dweller, we do our best to deliver tangible information in easy-to-read chunks. If this article helped you pick that perfectly cozy recliner chair for idyllic afternoons, consider sharing it with your friends on social media!