When handling a baby, you will spend a lot of time in the nursery, feeding them and putting them to bed. It is thus likely that you will also use this space as your nap area as you watch your baby sleep. Sure, you could have a chair where you could conduct all these activities.
However, not all chairs are suited for this purpose. Glider recliners provide you with comfort, and they allow you to put your baby to sleep fast. For the first six to eight months of parenthood, these chairs are lifesavers and are an investment worth making. Here are some of the best options in this regard:
Table of Contents
List & Comparison of the Best Glider Recliners:
Angel Line 65100-22
If you are looking for a piece of furniture to complete your nursery, this is the way to go. This elegant glider recliner features a metal base that adds to its stability. You can thus recline the chair as much as you would like. Additionally, it allows you to swivel at 360 degrees.
In this way, everything you need for your comfort and that of the baby is within reach. Propping your legs is easy thanks to the straightforward pull mechanism. You can use this chair in other rooms of the house, and it is ideal for use by both breastfeeding and pregnant women.
Product Features
100% linen cover
Upholstered
Swivel function
Glider and recliner
White piping finishing
Available in grey, dark grey, and white
Pros
Available in many colors
Elegant design
Comfortable
Tall back to rest your head
Easy to assemble
Sturdy
---
Christopher Knight Home 302057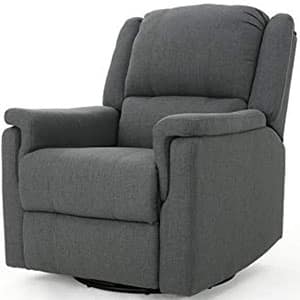 This chair can recline in all directions, allowing you to change your seating position as needed. You can thus enjoy a high degree of comfort for many years to come. It features high-quality materials designed to last the test of time. Additionally, it swivels.
Product Features
Weighs 80.5 pounds
Requires assembly
Seat height- 19.5 inches
Arm height – 24.25 inches
Plastic legs
Available in navy blue and charcoal
Pros
Comfortable
Versatile uses
Adjustable
High-quality
Long-lasting
---
Classic Brands I01115-0011
If you are worried about cleaning up after spills, this is the chair for you. It features soft fabric that is resistant to stains and moisture. Thus, cleaning up should not be a hurdle.
Furthermore, this chair swivels in 360 degrees, allowing you to reach everything with ease. You will be happy to know that it comes in varying colors.
Product Features
Available in grey and charcoal
Features live smart performance fabric
360-degree swivel features
Width – 40 inches
Length – 31 inches
Height – 40 inches
Pros
Easy to clean
Resistant to stains
Comfortable
Noiseless movement
Varying color options
---
Babyletto M11288FTGRY
This chair allows you to rest as you put your baby to sleep comfortably. It comes with a USB port from which you can charge your gadgets. The smooth motions of the chair as it swivels glides and reclines will impress you.
You can lean back and raise your feet, thanks to the easy control panel in the armrest. The sleek design of this chair makes it possible for you to use it in other rooms, other than the nursery.
Product Features
Available in multiple colors
Wingback style
Push-button control
USB charging port
Swivels at 270 degrees
Pros
Modern design
Smooth recline
Sturdy construction
Free of chemical retardants
Comfortable
---
Baby Relax DA6942S-BG
This elegant chair will add to the beauty of its nursery thanks to its high-quality finishes. It features upholstery that is easy to clean and maintain. You can thus maintain its aesthetics for years on end.
Its track arm design is a plus for anyone who wishes to relax their arms during feeding or coaxing the baby to sleep. Whether you are looking to cuddle with the baby, feed, or relax, this is an ideal option.
Product Features
Square silhouette
Button-tufted backrest upholstery
Track arm design
Welt trim detailing
Ball-bearing mechanism
Spring core foam filled seat
Weighs 89.1 pounds
Pros
Beautiful design
Smooth motion
High-quality build
Comfortable
Easy to assemble
Available in many colors
---
DaVinci Olive M11687GCM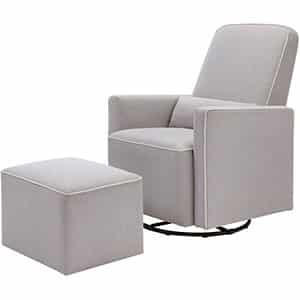 This chair not only works for your nursery, but it can also work for other rooms in the home. You can thus transition it from a nursery chair to a lounging chair in later years. It features soft upholstery on which you can learn as you swivel and glide your baby to sleep.
The added ottoman makes resting your feet easy and adds to the comfort. You can add the lumbar pillow for added stability.
Product Features
Available in five colors
Heathered polyester fabric
Comes with an ottoman
Metal base
360-degree swivel motion
Pros
Comfortable
Free of chemical retardants
Smooth motion
Easy to assemble
Durable build
---
Delta Children 508210-036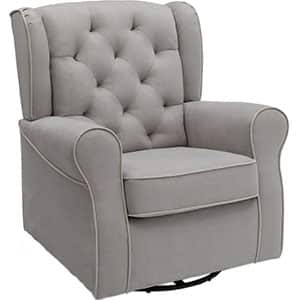 This classic chair is perfect for the nursery, thanks to its safety and comfort features. It comes with padded armrests on which you can relax as you soothe your baby to sleep. Its sturdy frame ensures that it can serve you for many years to come. Thanks to its timeless design, you can use it in other rooms in the future.
Product Features
Available in three colors
Soft micro-fiber finish
Padded armrests
Removable cushion
Back height: 26.5 inches
Pros
Available in many colors
Comfortable
Easy to clean
Sturdy build
Quiet motion
---
FAQs
What is better? Glider or rocker?
When buying a glider chair for the first time, one may wonder if there are any benefits to this as compared to a rocker. Well, the difference may not be much, but it will affect the experience that you and your baby get.
With a rocker, the movement is up and down, which can be a bit too much for a newborn. For a glider, the motion is back and forth, which is soothing to children. You can quickly put your child back to sleep with this motion.
Also, gliders are heavy, and this adds to their stability. You thus don't have to worry about the chair losing balance and posing a danger to you and your child. With a rocker, the movement causes a change in position. Where you are short of space, you will find that the glider is a much better option.
When it comes to comfort, the glider is the clear winner. Though there are rocking chairs with padding, it is hard to get one that can recline. It is equally more difficult to get a chair with an ottoman. You will thus have a lot of fun with a glider as you can recline it to a position where you can relax.
Support is a significant factor when it comes to choosing a chair for the nursery. With a rocking chair, you will find that the backrest comes to shoulder height and rarely goes above this.
However, with a glider, you can look forward to a high back, which will make you and your babe comfortable. Lumbar support is also of the essence, and it is something that you can enjoy in a glider.
That is not to say that rocking chairs are a terrible idea. The pronounced motion leads to the development of balance centers in the brain. Rockers can thus aid in your baby's sense of balance. However, considering the above factors, the glider recliner takes the day.
Note that some gliders have been shown to cause motion sickness. However, this is rare, and when it does happen, the effect goes away after you get used to it. When deciding between the two options, your focus should be on the features.
Gliders are useful when it comes to nursing as they are very comfortable. Rocking chairs, on the other hand, can serve many purposes, and they aid in developing balance. However, gliders are more comfortable and are, therefore, the best option in this regard.
What kind of chair is best for breastfeeding?
There are tons of gliders available in the market. You thus have many shapes and sizes to consider as you make this critical decision. Some are available in modern designs which will up the aesthetics of your home. Others come in traditional designs that have a calming effect on your space.
Other than in design, the chairs also differ in the features offered. You will find that some are advanced such that they can recline. Other options will have charging sockets while others come with ottomans.
Investing in a glider is a considerable investment. Not only will it set you back a chunk of cash, but it will also influence your nursing experience. It is thus essential that you give this process the attention that it deserves. Here are some of the most critical factors in this regard:
Comfort
Comfort should be crucial in this process, more so where you plan on feeding your tot while seated in the glider. Anything with soft upholstery and adequate padding will do. The size of the seat cushions also matters, and you should get something that can adequately accommodate you.
The back should be stable to provide you with a hard surface on which you can lean. In this way, you can sleep in the chair while carrying your child, and you will not wake up with aches.
Where you like seating at an angle, get a chair that reclines. As such, you can change the position as is necessary, enabling you to be comfortable. Suppose you would like to lift your feet off the ground while you rest, getting a chair with an ottoman would be ideal.
Also, consider how easy it would be to get out of the chair. Where getting out is an issue, you will end up waking the baby and would have to rock them back to sleep. Thus, if you do not want to keep perturbing your child, get something that you can get out of with ease.
Breastfeeding is another thing which you should look into in this regard. Get a chair with wide armrests such that you can relax while you feed the baby. Else, you will end up tired after the process.
You can figure out how comfortable a chair is by going through user reviews.
The Material
Dealing with a baby means that you will often spill things on surfaces, and that includes the glider. You should thus look at whether the material can handle such spillages without getting damaged. The best option would be a chair with removable covers which you can throw into a washing machine.
If you cannot get this, get something that is water-resistant. In this way, whenever you or the baby makes a mess, you can wipe off the spill with a damp cloth.
Extra Features
Sure, you will primarily use the chair to hold your baby during feeding and nap time. However, you may find that you spend a lot more time in the chair than you intended. In this case, it would be a good idea to get a chair with additional features.
Suppose you spend lots of time on your phone, getting a chair with a charging socket would be ideal. Look into what options are available before settling for a chair.
Adjustability
Carrying a baby in one position can be tasking. Thus, it helps to have a chair that you can adjust as time goes by. When selecting a chair, get one whose controls are easy to reach. In this way, you can comfortably adjust the position without disturbing your baby.
The Size
Size may not be an essential factor. However, it depends on the size of the nursery. Where you have a small space, it would help to get something that can fit in the room without making it cramped. As such, you should consider the chair's height, length, and width. Then match this up with the dimensions of the room where you wish to keep it.
The Design
You probably have a theme for the baby's room and whatever furniture you put in it should match this design. Thus, when getting a chair, consider how well it will fit in with what you have in mind. Given that the chair will be in the room for a long time, it helps to get something that will not interfere with the ambiance.
Safety
Another thing to consider is how safe the chair is. Gliders can harm your baby by pinching their fingers or throwing them off the chair. When you are not using a chair, it should remain locked. Thus, get a chair where the lever is easy to reach if you will use it near a toddler.
Also, ensure that the space beneath the chair is clear before setting it in its original position.
Finally, when choosing a chair, consider its use in years to come. When your baby is all-grown, can that chair fit in with the rest of the furniture?
This consideration is especially essential where you wish to use the chair in another room other than the nursery. All the best in choosing the best glider recliner for your nursery!