Age has its limitations, and one of these limitations is mobility. There are a number of options to help the elderly enjoy a comfortable life, and one of these options includes a power lift recliner that is designed specifically to help those with mobility issues to get out of the chair with ease.
The best recliners for the elderly are essentially power lift-reclining chairs that incorporate unique features not found in standard recliners. These engineered pieces of furniture enable the elderly to get out of the chair.
However, there are also standard recliners that also perform a great job for the elderly, so its really a matter of personal choice as well as budget considerations.
Quick Installation Guide – How to setup a lift chair
List of Top-Rated Recliners for Elderly Comparison Table:
Now here is the clincher, Medicare covers a portion of the cost of a power lift reclining chair so if you are considering buying a recliner and have an elderly family member at home go for one of these rather than a standard recliner and get some of your chairs coverage covered by Medicare.
The concept is based on the costs of the lifting mechanism which are defined as durable medical equipment (DME). Just make sure your Medicare representative approves of this before you buy one.
Now let's take a look at the best recliners for the elderly, and these include powerlifters and standard recliners.
The Recliners for Elderly Reviews & Buyer's Guide:
Description
The Baby Relax is a contemporary design nursery swivel gliding recliner, which you might not think of as an elderly recliner, but what's good for a mother is good for a grandmother too. This once comes upholstered with gray velvet-like fabric with a twill finish.
Performance
This was quite an interesting choice, but what closed the deal was when some elderly women decided to test out the chair for their needs, that included painful lower backs, arthritic knees and some with weak swollen ankles. Guess what; the chair passed the test admirably.
This swivel and recliner chair that also gives you a smooth glide is perfect for the elderly, and while it is being sold as a young mothers infant care chair, it is a perfect solution for those aged and weary bones.
The all-around swivel option is perfect for placement in a room, you can turn around in any direction, and the recliner slides into a nearly 180o position, so you can even snooze comfortably.
The inside trigger is easy to use, and the pocket coil seating is designed for maximum comfort.
This model is upholstered with velvet-like gray fabric and a twill finish with bold, white contrast welting and button tufting.
Features
Contemporary design swivel gliding recliner
Shaped arm design with inside recline trigger release
Full recline, 360o swivel base, and gliding motion
Easy assembly
Assembled dimensions: 32" W x 36.5" D x 39.25" H
Recommendations
I opened up with this model, since it's a nursery model, and life starts out in the nursery. While this is being sold as a nursery model, its actually an excellent recliner for the aged, especially those with no getting up issues. The contemporary design brightens up any room, not just the nursery.
Description
The Serta power recliner (Morgan model) is a recliner designed specifically for the elderly and individuals that find it hard to get up from the seat.
Performance
The Serta power recliner is built to last and uses a steel frame with marine grade plywood and Pirelli webbing to construct a 15,000-cycle device that performs smoothly time and again.
This model comes with a patented comfort lift mechanism, you just press a button, and the recliner tilts you out of the seat. The memory foam is gel infused, so you get a comfortable and personalized experience that forms to your contours.
Features
Frame construction
Smooth, quiet mechanism that goes up to 15,000 cycles
Gel infused memory foam, dream coils
Marine grade plywood
Pirelli webbing
Ergonomic LED hand-held control with USB power port
Virtuoso java upholstered fabric
Recommendations
If it's a bespoke fitment, then this is the recliner for you. This means you get a power recliner that remembers your contour, and as such, is more of an individual seat rather than a general family one. However, in most families, there is that "daddy" chair which is owned by one person, and that is what this recliner is all about. The price is moderate too.
Description
The club chair recliner is an up-market recliner for the study, workroom or club room. This is a classic reading chair recliner and is well suited for the elderly family member that is looking for a relaxing read but without all the space taken up with fluffiness.
Performance
If you want a leather-like a recliner that looks perfect in an exclusive lounge type environment, then this is the one you want. Its classic club lines are neat and slim, and it does not offer the same level of plushness as a full power recliner but does offer a great moment for relaxing reading and conversation.

This model comes with a foot extension and fully reclining back, and is made of bonded leather stretched over solid hardwood. It will also take up to 250 lbs of weight.
Features
Foot extension and reclining back
Sturdy frame and feet for stability
Made of bonded leather over a solid wood
Chair Dimensions: 35.83" H x 33.46" W x 27.17" L
Seat Dimensions: 17.25" H x 20" W x 22.25" Dia
Recommendations
This is more of a guest recliner. It's a perfect fit for those upscale settings and is extremely comfortable. The price is even more comfortable for what you get. It's a great showpiece and good for grandpa, his glass of whiskey and his cigar.
Description
The Dorel Padded Massage Rocker Recliner I a perfect solution for those elderly muscles that need a smooth and comforting message to help wear out the day's exertions.
Performance
This amazingly cool microfiber recliner comes with amazing features that include the full reclining functionality but with an added massaging bonus. As you would expect, it has all the shape and trimmings of a classic massage recliner and has ample arm pads and extremely plush upholstery.
The massage unit is located in the seat and the back, and you can operate the zones individually. There is a lever release mechanism for the reclining function, and the seat is made of dense foam. The seat and back cushions are sewn into place, so they do not move around, and you get full leg and knee support pads.
The recliner goes all the way back providing a "fully-reclined" position, and it comes with a rocker for added comfortingly.
The frame is made of steel, and the seat integrates coil springs and foam. The upholstery is a microfiber (suede), and the seating capacity is for 225 lbs.
Features
Individual zone massage with settings
Massaging zones can operate together or separate
Lever release for reclining function
Fully upholstered chair pad supports legs and knees
Sewn-in seat and back cushions
Recommendations
This is a really great massage recliner and is perfect for anyone and everyone, especially the elderly. So, if you want to fight over the comfy chair, don't wait for competitors, jump in and massage away, it will also remove that white noise too. The price is extremely reasonable for the product.
Description
The AmeriGlide 325M 3 Position lift chair is an exceptional elderly recliner chair designed for heavy duty performance and perfect functionality. It is a Brand name and comes with a brand price, but you get what you pay for: excellence.
Performance
Remember the Medicare thing? Well, this is the device you want to leverage that. This is a heftily priced recliner, but it is well worth the cost and comes with exceptional features, which is why I left it for last in the review.
The AmeriGlide 325M is a 3-position lift chair that delivers all the power and functionality of a lift chair but at a fraction of the price, and yes, it is still the most expensive when compared to the other best recliners in the review.
This model comes with a steel lift mechanism that supports loads of up to 325 lbs. It is designed for specific heights too and is best suited for individuals that are 5'4″ to 5'8″ in height.
This is an electrically powered unit and comes with a battery backup feature which is according to Medicare requirements. The material is not fire retardant, so don't smoke when seated. The material is easy to clean, which is an added benefit.
The upholstery comes in a number of colors, and this includes cocoa, sky, fern, and sandal.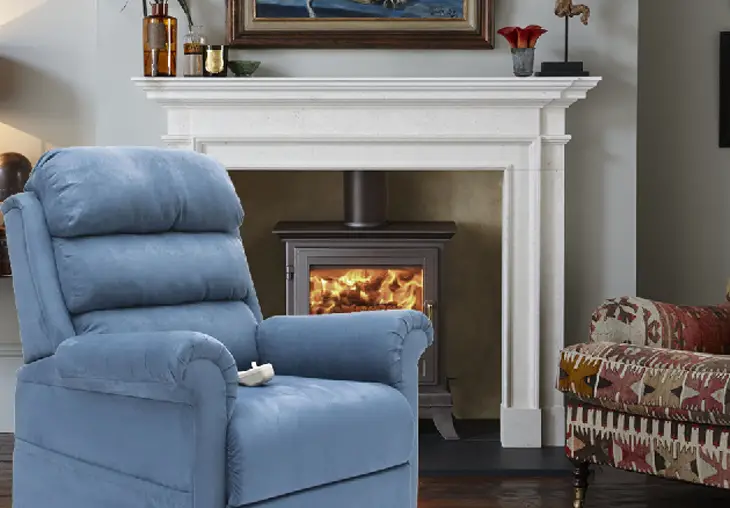 This is an easy chair to assemble, and once fully assembled the operability is smooth and seamless. The motions are slow, and this is limited by Medicare's requirements. The actions are silent, and the padding of this chair is plush all over, but more so on the arms.
Features
Three recline positions
Electric powered
325 lbs load capacity
Floor to seat height: 18.5″
Dimensions are Seat depth: 20″ x 20" W x 25" H
Recommendations
While the price is high, the Medicare sorts that out, so don't think twice about price when considering this recliner. It is an elderly recliner and is extremely comfortable and ready to use immediately. There are a number of different versions of this model; all are exceptional, this is the basic one and is perfect for all homes.
Conclusions
There are many types of recliners, each one comes with its own set of advantages and disadvantages. For the elderly, comfort is the most important, with the ability to get in and out of the chair with ease. As such, power lifting recliners are now dominating the elderly market, and Medicare is recognizing certain brands that provide the requirements as set down by Medicare.
You are not limited to buying a power lift recliner, you can buy any recliner you want, comfort is the essence, and just consider your elderly family members size and weight. Match their mobility to the chair. In regard to upholstery, that's a personal matter and each individual has specific tastes.
Recliners for the Elderly. Tips for Best Choice
When (you think) you have already found your stylish recliner, make sure it has all the right features you may need. Exteriors can be deceiving, and you want to have the most comfortable, healthy, and convenient chair to rest.
Take a seat and chill in your chosen recliner, while checking if your head, shoulders, arms (if you need armrests), back (lower back), knees, and feet feel comfortable in it. These are the pressure points that need the right support to provide good health and relaxation. If everything feels great, you will avoid unnecessary pains in the future.
Also, if you have some back/mobility problems, make sure your recliner will not cause you any troubles, but, in fact, almost all orthopedic recliners for the elderly are designed to help seniors with such problems.
Don't rush to buy until all your questions are answered and everything is clear and satisfying. Also, don't forget to ask about the warranty and upgrades. Check out tips to not get lost in the wide range of designs and features.
Here are some of the major tips to consider before purchase. Take a good look and keep them in your mind to make the right choice for sure.
First things that come to mind is an easy assembly and durability. I'm not sure how exactly you are going to check these parameters, but you definitely have to.
Mechanism and functionality. Make sure it's a solid and sturdy construction with reliable frame (7 gauge steel mechanism, for example, guarantees reliable support for years). It may be manual, electric-powered or battery-operated. Electric-powered chairs are the best. Check the quality when unfolding/folding it. Make sure it's made of high-quality materials and nothing is loosened or noisy. Whether you are pushing the lever or pressing a button to lower the back of your chair and elevate its front, everything has to be smooth and inspire devotion. Some chairs can also swivel 360 degrees. By the way, don't forget to check the maximum reclining angle (135 is quite OK). Consider your height and the necessity of full stretching!
If you need a lift chair (for your quick and effortless getting out of it) make sure it has a reliable electric lifting and reclining mechanism along with built-in remote control and easy-to-use buttons. Don't forget about the right height for yourself and remember that comfort is everything!
By the way, if you need a rocking chair, you may have both a rocking chair and a recliner in one!
Upholstery material. Choose "breathable" and easy to clean materials. Make sure you will not sweat while sitting in your chair. Also, your lounger doesn't have to be a "trap" for all types of bacteria, bugs, and dirt. Some materials may wear pretty fast, for others it takes some time, but you can always cover your lounger with fabric and make sure it's always clean and not dusty. Quality leather and polyester are strong, easy to clean materials which have a nice texture, however, the leather may get punctured pretty easily, so watch out for sharp objects. You can choose healthy and soft cotton or linen, but they are not that durable as the previous materials. There is also chenille (elegant, but the quality is pretty poor) and faux leather which is better to avoid. Choose natural materials, and don't be worry about overpaying for this. Also, don't forget to smell it and make sure it will not smell later!
The seat doesn't have to be too soft or firm. However, padding has to be dense. You will know it's your lounger after spending some time in it, resting in a comfortable position and feeling your blood circulating inside. It is essential to feel perfect and maintain proper body positioning to prevent back pains and joint issues.
Features. As for the features, well, that depends on what you need – it may include all types different buttons, touchscreens, or levers on the side for taking various positions (some have over 16), lifting, or rocking. Some have speakers or radios in them with slots for headphones, special pressure relief cushions for you perfect headrest and neck support, pockets on the sides for remote controls or anything you may need to have near you, locking wheels, lumbar parts, cup holders, some recliners for the elderly are designed with a low-level vibrational massage and inbuilt heating options. How do you like that?
Footrest. Check if it's (dual) locking and easy to unfold (separate from the lounger). Make sure your feet feel great on it and fit perfectly.
Well, that's pretty much it. Choose wisely and get yourself a reliable product that meets your expectations and requirements and will serve you good for the rest of your life.