Roofing made of metal is known both for its pros and cons. It protects from all sorts of weather, it's affordable, and its waterproofing is excellent. However, metal roofs are also loud, and their thermal capabilities are not that great. That is why having the best underlayment for a metal roof is key. It will help mend those downsides of having metal roofing, all while not breaking the bank.
The most important underlayment for a metal roof will be thermal protection since metal roofing does not provide any thermal protection at all. Metal conducts heat and cold perfectly and does not act as much of a barrier in extreme weather conditions.
Let's take a look at the five best metal roof underlayment options on the market, and talk about the essence of underlayment for metal roofs (i.e. the FAQ).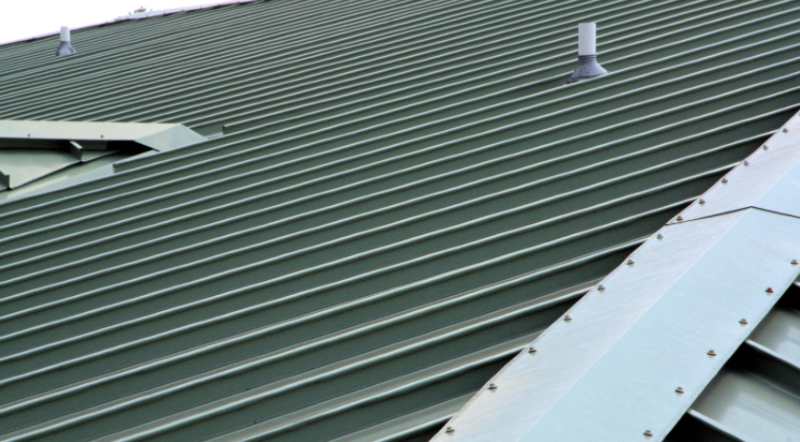 Table of Contents
List of Top-Rated Underlayments for Metal Roof
The Best Underlayments for Metal Roof Reviews
Tyvek® Protec™ 160 roofing underlayment is a moisture protection product with great traction performance for roof applications.
Features
This product is formulated using an embossed pattern ingrained into the surface that provides safer traction when walking along the roof during application. If you value safety features, this might be the matching underlayment for your metal roofing. But, keep in mind that a lot of brands offer some sort of slip resistance.
The Tyvek® Protec™ 160 is a lightweight material that is used to eliminate moisture issues under metal roofing. Since metal roofs don't offer a lot in terms of thermal regulation, moisture eliminating is more than desirable.
Specifications
Nominal Thickness (mm) ASTM D1777 0.379 mm
Nominal Thickness (mils) ASTM D1777 14.9 mils
Fire rating ASTM E108 Class A
UV exposure ICC-ES AC188 180 days
Temperature range Thermal Cycling –40°F to 240°F (–40°C to 115°C)
Code approvals ICC-ES AC188, per Intertek CCRR-1062, ASTM D226
National Roofing Contractors Association
Western States Roofing Contractors Association Member
ASTM D226 Types I & II
ICC-ES AC188; Intertek approved (CCRR-1062)
Fire Rating Class A fire rating per ASTM E108
TRI-FLEX® XT synthetic roofing is an underlayment material used to provide a waterproofing section between the metal roof and the ceiling underneath.
Features
TRI-FLEX® XT underlayment is made from a high-strength woven synthetic material that is coated on both sides with slip-resistant polymers. This product is available in 10 sq rolls (48 in. wide x 250 ft long) and comes with two color options; black or gray topside surface.
The TRI-FLEX® XT has a slip-resistant surface to secure a safer application. It is also a lighter material than standard #30 felt and covers by weight over 5 times the surface of feeling.
TRI-FLEX® XT is 20 times stronger than #30 felt and can withstand high winds that tear away nails.
Specifications
Weight 28 lbs (10 sq roll)
Thickness 7 mils ASTM D3767
Tear strength MD 58 lbs; CD 77 lbs ASTM D4533
Accelerated aging Pass (no damage, cracking, chipping) ICC-ES AC48
Ultraviolet resistance Pass (no peeling, chipping, cracking, flaking) ICC-ES AC48
Water ponding Pass (no percolation) ASTM D779
Pliability Pass (no cracks) ASTM D226
Water transmission Pass ASTM D4869
Tensile strength MD 96 lbs; CD 116 lbs ASTM D828
RhinoRoof U20 is a coated woven synthetic roofing underlayment. It is designed to help out with several roofing types, with metal roofing being among them.
Features
RhinoRoof U20 is fabricated with a fiber grip walking surface that provides a safe surface for walking over when applying and can be chalked upon just as felt.
This is an air, water, and vapor barrier underlayment for metal roofs and is best applied over all surfaces included ventilated locations. The underlayment can be left exposed during installation for up to 60 days before requiring replacement.
Specifications
Meets ASTM D4869 & D226 Types I & II
Fiber grip slip-resistant walking surface
Enhanced UV – 60 days exposure
Inert to mold growth
Lays flat and does not absorb water and wrinkle
No oil leaching
No hazardous material content
Class A Fire – ASTM E108 (as part of a system)
Contributes to LEED® points
Advanced backside non-slip coating
Low-temperature flexibility
Interwrap Titanium® PSU30 is a thick professional self-adhesive synthetic roofing underlayment. This product is 45 mils thick, so it's perfect for protection under your metal roof. It endures all sorts of damage from wind-driven rain, water, snow, and even ice dams.
Features
Titanium® PSU30 is a patented rubberized asphalt Peel and Stick underlayment that has been modified and includes the proprietary using Sure-Foot® nodular walking surface technology. This means you can use this product safely on the steepest of roofs.
PSU30 is used on 2:12 or greater angled roofs and provides full waterproofing protection. This product provides a rubberized asphalt adhesive that delivers high temperature (240°F / 115°C) flow resistance, and low temperature (40°F / 4.4°C) deck adhesion.
Features
Watertight asphalt to asphalt lap system
Up to 6 months UV exposure rating
Meets and exceeds ASTM D1970
ICC ES Approved
Class A Fire ASTM E108, CAN/CSA A220.1
Meets Class 4 Hail Rating
DuPont™ Roof Protector™ is a waterproofing underlayment that has a high strength-to-weight ratio. This is an excellent lightweight and durable water barrier designed to be installed under metal roofs.
Features
DuPont™ Roof Protector™ has a slip-resistant surface that is much less prone to wind pull-up and faster point tearing. It is designed to be applied to steep slopes under metal panel roof materials.
The construction of this underlayment is exceptional, with a four-layer configuration that delivers a strong, gripping water-resistant, and slip-resistant surface with chalk mark guidelines.
Specifications
90-day UV resistance
Class "A" fire rating per ASTM E108
Meets AC188 (Intertek CCRR-1062), ASTM D226 Types 1 & II, CAN/CSA A123.3, CAN/CSA A220.1
Length per roll 286 ft
Width per roll 42 in
Weight per roll 20 lb
Roll size 42″x286′ (10 square)
Rolls per pallet 49
Pallet weight 1,095 LB
Weight per square 2.04 LB
Underlayment For Metal Roof – FAQ
Is underlayment necessary for a metal roof?
As a rule of thumb, no. Metal roofing can stand alone. However, if you want a safe and water-free environment for a very long time, then underlayment is a must.
Metal roofing is notoriously hot in the summer, cold in the winter, and high winds, and if not affixed properly – it will rip off the roof. As such, an underlayment will provide added protection to your home that includes insulation, waterproofing, and moisture elimination.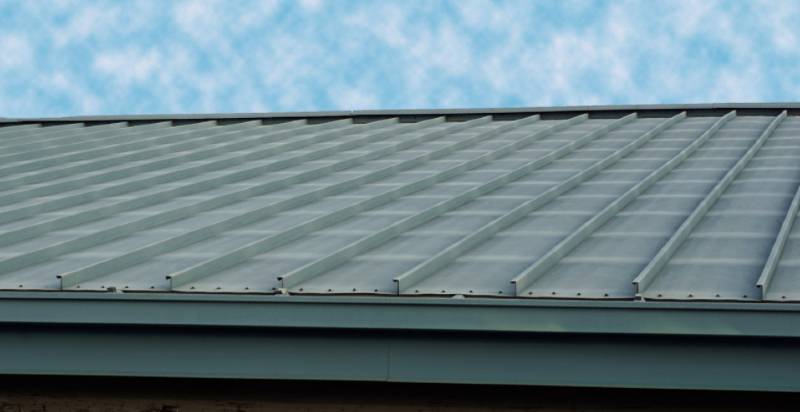 What is roof underlayment?
Underlay or underlayment can be any number of layers that come between the metal roof and the ceiling of the house. These include waterproofing, reflective surfaces insulation, and general thermal insulation.
Underlayment materials are application-focused, and they come in a wide variety of materials and configurations.
We have a library of roof-related knowledge, so, if you find yourself lost, or want to doublecheck something, here's a good place to start:
What kind of underlayment for a metal roof should I use?
Any underlayment that works for tile roofing is good for metal roofing and vice versa. However, to be more precise and detailed, there are many different types of roof underlayment for metal roof sheets and these are based on location.
Since metal roofing is not thermally protective, you need to consider buying insulation materials as well as moisture and waterproofing underlayment for under a metal roof.
Another feature that metal roof underlayment must have (in contrast to tile roofing) is a smooth non-granulated surface. You don't want the tougher underlayment materials to scratch the backs of the metal roof panels.
There are usually three layers of underlayment to a metal roof project, and these include the ice and water shield. The underlayment materials are usually made of rubberized asphalt or butyl-based adhesive with a polyethylene carrier sheet.
This layer has to be able to withstand the hot surface temperature of the roof on a sunny day.
The second layer should be a polypropylene scrim-reinforced underlayment that is constructed out of multiple layers. This serves as a moisture barrier, and also as a slip sheet.
However, this is good for cold locations, if you live in a hot climate, then you should third layer. This layer has reflective or breathing insulation that will protect the house from heat buildup, making it the final layer of underlayment.
How to install synthetic roof underlayment for a metal roof?
1. Install the Drip Edge
Your first step is to apply a drip edge to the eave and cut drip edge flashings at the corners, pressing them lightly on the eave end. Now lightly hammer in a nail at the end, and always align the material using the chalk line.
2. Overlap and Cut Drip Edges
Make sure you overlap meeting drip edges by 2 inches and when they meet in a valet, cut the overlapping tabs and press these tabs firmly to form a seamless, clean corner.
3. Align the Felt
Roll out around 12 feet of material using the chalk line as a guide. Make sure there are no creases or bubbles. Reroll and unroll to make sure of this. While unrolling, peel off the paper backing.
Try installing the bottom half first on steeply angled roofs. You can also apply the underlayment at the same time as the felt (during dry spells). After this, install the shingles. Add more felt when you are 6 inches away from the top edge.
Valley Application
You must always apply for extra protection at the valley. You do this by rolling out the material and driving nails on one side to temporarily hold it in place.
Now fold over the other side while peeling off the paper backing and press into place. After this, remove the nails and peel off the paper from the other side.
Maintaining Parallelism
When overlapping, add at least 4 inches and use the chalk line as a guide. Using the lines as guides will make sure that all applications are parallel, all while reducing bubbling, creasing, and ugly roofing work.
Apply the Underlayment
Make sure to apply the underlayment up to (but no more than) 4 inches from the ridge. Overlap the felt on the ridge with at least 8 inches on either side.
Roof to Wall Completion
Lap the underlayment to the wall where it meets the roof by 4 inches. You might need to detach and reattach sidings to do this.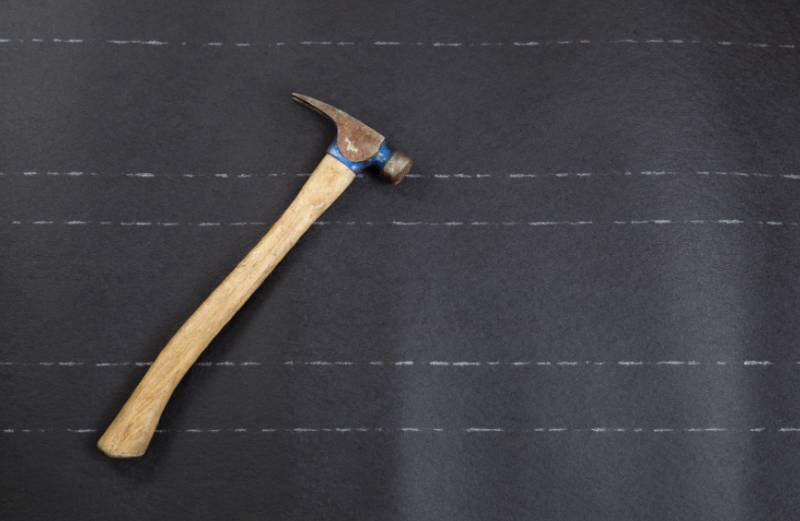 Conclusion
Underlayment for metal roofs is a must-have for residential and commercial purposes. While metal roofs are perfect waterproofing solutions, they are terrible insulators, so they require underlayment that will add a layer of insulation as well as protect from moisture build-up and, in some instances, act as an additional water protector.
At The Home Dweller, we research and deliver all sorts of data on homestead topics, helping you make valuable decisions, ultimately making your home better, safer and cozier. If you found this article useful, feel free to share it on social media – who knows, maybe you help a friend in need!