Metal roofs come with plenty of benefits, but they have a unique set of disadvantages too. Namely, metal roofing is notorious for rust, cracks between seams, holes where nails or screws were used, and wind damage.
Don't wait for the rain to start seeping in – there are several affordable and quick solutions to remedy a damaged metal roof.
Metal roof sealants and caulks are among the best-known repair solutions. Sealants are a popular choice because they're easy to apply (you can do it yourself!), and they're widely available and quite inexpensive too!
List of Top-Rated Metal Roof Sealants
Table of Contents
Reviews of The Best Metal Roof Sealants
Sashco Through the Roof!
Through the Roof! is a clear, waterproof, ultra-elastic sealant. This product is used to stop and prevent leaks, and it can completely weatherproof your roof. You can use this clear, colorless sealant over finished surfaces without damaging your curb appeal.
Through the Roof! can be applied in temperatures as low as 0°F. It sticks to wet surfaces so you can even apply this product during a downpour.
As all roof sealants are, Through the Roof is also UV resistant, so it will work well in both cold and sunny climates. This product is superelastic and doesn't dry and crack, so you don't need to worry about gaps even if your metal roof expands during the hot season.
This sealant comes in a 10.5 oz. cartridge, and it's one of the most affordable options on the market.
Specifications
Sealant Type: Co-polymer rubber formula
Color: Clear
Packaging: 10.1 oz. cartridge
Service Temperature Range: -25°F to 180°F
Application Range: 0°F to 120°F
---
MasterSeal NP1 Polyurethane Caulk
Formerly known as Sonolastic NP1, MasterSeal NP1 is many contractors' top pick for almost any exterior use. This versatile high-performance polyurethane sealant has permanent elasticity and creates weather-tight seals.
NP1 can prevent leakage and create a weather-resistant seal on metal roofs, along with many other outdoor uses. Substrates include aluminum, concrete, masonry, and wood.
NP1 sealant fills and covers up to 1-1/2 inches wide gaps. This sealant is a great pick for reliable and durable roof tile installation too.
Non-rigid coatings and paint can be applied over after the sealant cures, which will fully happen within a week. This sealant comes in a 10.1 oz. cartridge.
Specifications
Sealant Type: Polyurethane
Color: Gray (other colors available)
Packaging: 10.1 oz. cartridge
Service Temperature Range: -40°F to 180°F
---
Titebond WeatherMaster Metal Roof Sealant
Titebond WeatherMaster Metal Roof Sealant is a polymer formula that provides waterproof and dustproof seal solutions for all roofing issues.
The WeatherMaster adheres to Kynar coated metal materials, and all standard metal, aluminum, steel, galvanized bonderized surfaces, plastics, and glass. It's ideal for sealing metal roofs, windows, doors, siding, gutters, and vent
The Weathermaster is applicable in extreme weather conditions, with temperatures as low as 0°F/-18°C. The product's high level of UV resistance makes this a perfect choice for sunny climates too. The sealant is permanently flexible, so it won't crack over time.
You can paint over this product using a water-based (latex-based) paint one hour after application.
Specifications
Sealant Type: Elastomeric superior polymer
Color: Gray (other colors available)
Packaging: 10.1 oz. cartridge
Service Temperature Range: -75°F to 212°F
---
Durevole RV Trailer Roof Sealant
Durevole means "durable" in Italian – and it describes this product perfectly. No matter what happens to your RV – the wind, the sun, humidity, rain, or hail – it'll always be as good as new with this sealant protecting your investment from damage.
This sealant is perfect for sealing any type of metal roof but it's particularly great for RV roofs. It prevents leaks and provides a waterproof and breathable seal.
This durable formula not only seals leaks but doesn't shrink, making it great at preventing cracks in the roof made by expansion and contraction due to temperature changes.
Durevole is a professional-grade product made to last that stands up against the toughest weather conditions and long-term exposure to UV light. It'll seal aluminum, brass, steel, glass, mortar, wood, PVC, EPDM, TPO, and TPV.
You can even apply it in a pinch – it adheres to both dry and wet surfaces.
Specifications
Sealant Type: Silicone
Color: White
Packaging: Two 10.1 oz. cartridges
Service Temperature Range: -40°F to 200°F
---
How to Fix a Metal Roof with a Sealant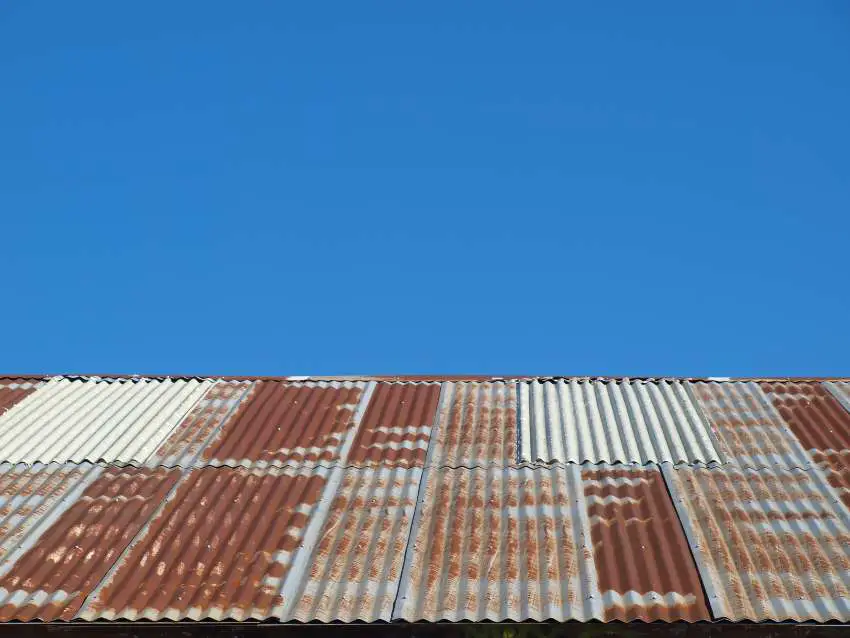 Metal roofs are a great choice for homeowners. They're durable, low-maintenance, and can withstand extreme weather conditions.
However, a metal roof is not invincible – problems will come up with time. Metal roofing comes with some issues, and these include:
Open seams
Open penetration flashings
Metal roof oxidation
Fastener backout
Open ridge/headwall flashing
Loose counterflashing
Improper installation methods
Panel damage
There are many options to choose from when dealing with roof problems, and these include repairing, restoring, and replacing the roof materials
Metal Roof Repair and Replacement Options
Repairing a roof requires ongoing maintenance, and when you maintain a metal roof, it will last for up to 30 years or more. You should look at the status of the roof every half a year and fix any problems before they become extreme. The most common issues include open seams and oxidation, both of which are easily repaired.
Restoration is when you make a comprehensive repair of all the roof, which means cleaning the entire roof surface and seams, applying rust inhibitors, undercoats and top coats. You might consider adding a sun or waterproofing sealant.
Replacement is usually performed when repair and restoration are costlier than replacing the metal sheets. You simply buy a new sheeting and replace the old ones with the new ones.
How to Fix a Leaking Tin Roof
Corrugated metal roofs do get damaged from excessive moisture and strong winds. The two key components that tend to get affected first are the seams and the steel nails or screws used to attach the roofing sheets.
First, locate the problem, and then decide what needs to be done:
Will a simple repair job suffice, or do you need to restore the whole section?
If the damage isn't too bad, you can probably fix your roof yourself – though it's always best to call in a professional. Let's look at the basic leak fix job, where either a seam has parted, or a nail has rusted:
Remove all the nails that are rusted and check the sheet for roof corrosion damage.
Get rid of all the rust around the holes with sandpaper and coat the damaged areas with a rust inhibitor.
Let the rust inhibitor dry and then coat it with paint and let it dry too.
Now hammer in a new nail and then cover it with a sealant.
Check the damaged seams for corrosion, if there is rust, perform the same preparatory action as above, if not, go to the next step in the process.
Remove all the loose caulking and adhesives and clean the area.
Apply a metal roof sealant to the seam and close it up.
Another area to check are the places where roof panel edges overlap. Check for gaps and cover the overlapping areas with fabric tape – you can smear a sealant onto the area and then cover with the fabric.
After an initial dry time, cover it with a waterproof and weatherproof coating.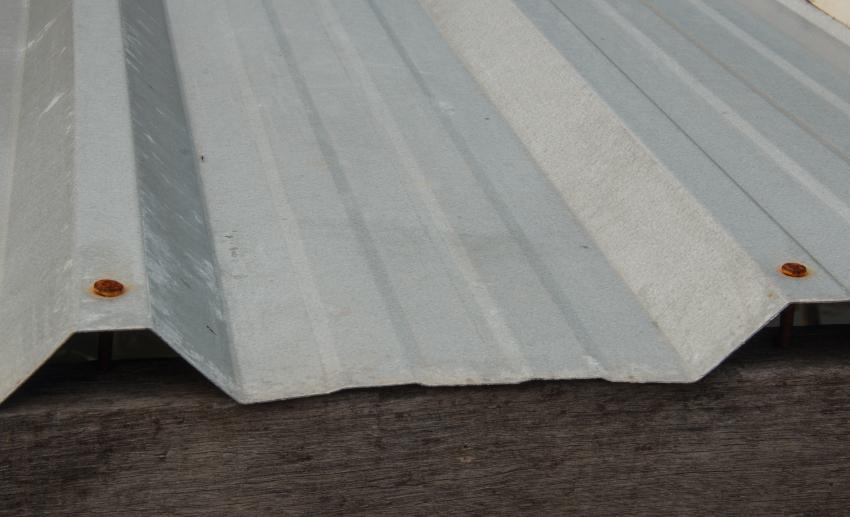 How to Waterproof a Metal Roof
Make sure the entire roof surface is dry.
If there is rust, remove it completely with a brush or sandpaper.
Apply metal primer over the roofing.
When the primer has dried, apply a coat of waterproofing compound along with the sheet overlaps, metal screws and nail heads and all flashings. You can also use strips of fabric along seams and coat them again with a sealant after the first layer has dried.
After completing these steps, coat the entire roof with a coating of sealant and one it cures, paint over with all-weather paint.
That's a Wrap!
If you want to keep your roof in good condition and avoid the hassle of replacing it every few years, regular maintenance with a quality sealant will go a long way!
Metal roofing sealant is your best friend – it will help keep your roofing weather and waterproof, and help seal any leaks that may appear along the way.
Your neighbors may not think so much about their roofs until they need repairs or replacements. We hope that sharing The Home Dweller on social media will encourage them to take better care of their homes too!