Managing a kitchen without a dishwasher is almost inconceivable in this day and age. A dishwasher not only helps keep the kitchen cleaner but also saves a handful of precious hours that you otherwise would have spent on washing and drying dishes by hand.
Whether you are looking for a new dishwasher or a timely replacement, the first thing you might want to establish on your search is the budget. Naturally, while it could be rather tricky to find a satisfactory appliance under a limited budget, such a feat is not entirely impossible. Many leading industry brands offer a wide selection of affordable dishwashers for just under $400, all of which are capable of high-quality cleaning and drying.
List of Top-Rated Dishwashers Under $400, $500, and $600
Table of Contents
Things to Consider
Even if you are new to these ins and outs of particular kitchen appliances, finding a dishwasher that's just right for your household can be pretty simple. The key to that is to first pinpoint the top function that, in your circumstances, would lead to the betterment of the entire kitchen experience.
Materials
Naturally, the first thing to look for is the materials used for the tub and outer case. Most budget dishwashers under $400 come with plastic tubs and door lining, though plenty of these models reinforces the polymer interior with stainless steel exterior finish to increase durability as well as give the overall appearance a more luxurious feeling.
Capacity
Most budget models can hold between 12 and 16 place settings. This describes the maximum number of items that can be arranged in the dishwasher's racking system for a single cycle cleaning. So if your family is rather large, or perhaps you like to frequently cook for a large number of people, it would be best to look for a dishwasher with 15 or 16 place settings. Smaller families will find that a model with 12 or 13 place settings will work just as well.
Sound rating
This measurement describes the noise level that a dishwasher produces during an average cycle, including the drying stage. This number is measured in A-weighted decibels or dBA; the loudness of a dishwasher depends on the design of its motors and pumps, but it mostly hinges on the quality of insulation.
Most budget dishwashers under $400 are equipped with decent sound packages, placing them within the quieter or average range. If you value peace, it is best to find a dishwasher with a sound rating of 55 dBA and lower.
Review of the Best Dishwashers Under 400
---
Frigidaire FFCD2413US Dishwasher Under $400-$600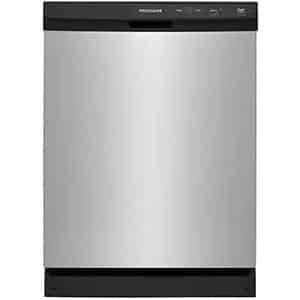 The Frigidaire FFCD2413US is a built-in dishwasher with a tall tub design and durable polymer interior.
Even though this model is more modest in terms of program variety, each set delivers a powerful and consistent wash, including powerful drying and low-energy options. There are 3 wash cycles in total: heavy, normal, and 1-hour wash best used when you need your clean dishes delivered extra fast.
Each cycle can be programmed to include the final drying stage supported by the interior heating element. This heated dry option efficiently removes all excess moisture from your dishes after the first run and saves you the need to dry each item manually.
As for the capacity, this model offers substantial 14 place settings that could be arranged in various combinations, with the cutlery fitting inside the lower level silverware basket. Both racks are made of safe PVC with matching coating and give substantial clearance for tall items, with the lower rack accommodating dinner plates between 11 and 13 inches.
The five-level wash system includes 2 wash arms, a self-cleaning plastic filter, and a stainless steel hard food disposer designed to clear off large food particles and protect the nozzles from clogging.
Electronic controls are located on the front panel and feature a child lock function, a 4-hour delay start, and multiple LED lights for indicating cycle status. The wide black console is designed to contrast with the stainless steel finish that both distinguishes this dishwasher from standard budget models while at the same time making it universally compatible in terms of appearance since it fits practically any kitchen.
This Frigidaire comes with an ENERGY STAR® certification and an upgraded sound package that includes better insulation and a quieter pump system, resulting in a comfortable 60 dBA operation. Average energy intake is also quite lenient, amounting to about 270 kilowatt-hours per year.
Features:
Loading capacity: 14 place settings
Number of cycles: 3
Sound rating: 60 dBA
Exterior Finish: Stainless steel
Dimensions: 24" W x 35" H x 25" D
Energy consumption: 270 kWh/year
Pros:
Reliable cleaning performance
Improved filtration
Heated drying
Stay-put latch door for easier loading
---
Frigidaire FFID2426TS Dishwasher Under $400-$600
The Frigidaire FFID2426TS is a spacious dishwasher with a built-in 24-inch design that comes with an improved spray system backed by quality hard food filtration. The hard food disposer and polymer filter form an effective filtration unit, removing large food particles and making sure the dishes remain streak-free.
By introducing an improved BladeSpray® wash arm to its polymer interior, this Frigidaire dishwasher can increase the performance rate without impacting the pricing. Moreover, the wash arm greatly expands spray coverage to clean the entire load even at full capacity.
Two nylon racks with a total capacity of 14 place settings provide enough loading space for various kitchen items, while the 2 upper-level cup shelves can safely hold sets of glasses and stemware.
With its 4 cycles and additional wash options, the dishwasher helps you handle dishes of varying sizes and spoilage levels in one go. This model features Frigidaire's DishSense™ technology for automatic parameter adjustment based on the soil levels of each load.
Among the most efficient cycles is the Top Rack setting which acts as a half-load program that can be particularly useful with lightly soiled loads. Also, the NSF®-certified Sanitize option is added to help you get rid of the most common food bacteria by way of hot rinse.
The drying process is supported by the dishwasher's heated drying system which is generally more hygienic than fan-assisted drying. It also generates little to no noise while still effectively removing the moisture from your dishes.
All functions could be accessed via Ready-Select® touch controls located on the top inside panel of the door. The console also includes the delay start option, start or cancel touchpad, and LED light indicators for easier monitoring.
Features:
Loading capacity: 14 place settings
Number of cycles: 4
Sound rating: 54 dBA
Exterior Finish: Stainless steel
Dimensions: 24" W x 35" H x 25" D
Energy consumption: 270 kWh/year
Pros:
Delay start works in 2, 4, or 6-hour intervals
UltraQuiet™ sound package ensures quiet run
ENERGY STAR® certified operation
Top rack wash option
Improved coverage
---
Amana ADB1400AGS Dishwasher Under $400-$600
The Amana ADB1400AGS is a built-in dishwasher with a plastic tub, stainless steel finish, and triple filtration.
Featuring 3 wash cycles, 2 options, and built-in sensors, this model offers a consistent cleaning performance for both heavily soiled items and lightly stained glassware.
While the heavy cycle can effectively handle greasy pots and pans, the express 1-hour wash setting is designed to clean various items on the spot, particularly dishes, mixing bowls, and party glasses.
By choosing to perform a heater-generated drying process, the dishwasher can considerably speed up the drying of dishes compared to air drying, saving you time and energy on toweling each item by hand.
Where this Amana shines the brightest is perhaps in its effective application of the triple filter wash system. The three stages of filtration handle some of the most tedious preparation steps that you would normally have to do manually, in particular, pre-rinsing the dishes before loading. Instead, the triple wash filtration allows you to simply put the dishes as they are and skip on scrubbing food stains in the sink.
This particular make comes in a smooth and durable stainless steel finish completed with a contrasting front console and toe kick plate. The dishwasher is also ENERGY STAR® certified and moderately silent, producing around 63 dBA during a normal cycle.
Features:
Loading capacity: 12 place settings
Number of cycles: 3
Sound rating: 63 dBA
Exterior finish: Stainless steel
Dimensions: 23.875" W x 34.5" H x 24.5" D
Energy consumption: 270 kWh/year
Pros:
Express wash options
Accelerated drying
Energy-saving operation
Improved filtration system
Stainless steel exterior
---
Amana ADB1400AGW Dishwasher Under $400-$600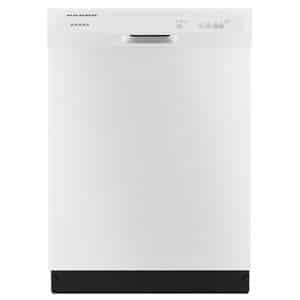 The Amana ADB1400AGW is a built-in dishwasher with a slate gray plastic tub, heater-generated drying, and improved filtration aimed to maintain consistent cleaning regardless of the load size.
This Amana dishwasher is virtually identical to the previously described model, except for the exterior finish which comes in a beautiful classic white color with a matching front control panel.
In terms of interior capacity, this 2-rack dishwasher is a pretty spacious unit for its price bracket as it offers up to 12 place settings per cycle. Though this number also depends on the type of kitchenware you plan to wash as well as the way you arrange it.
Located in the lower rack, the removable silverware basket can hold a range of cutlery and other cooking items such as spatulas, whisks, skewers, and even cheese graters.
In addition to its 3 wash cycles, the program selection offers the option of a high-temperature wash that uses the internal heater to boost the main wash water temperature to give your glasses and dishware an extra sparkle.
Moreover, front controls allow you to initiate the last cycle recall function, oversee the wash progress with the help of status indicators, and even cancel a program at any time.
Features:
Loading capacity: 12 place settings
Number of cycles: 3
Sound rating: 63 dBA
Exterior Finish: White
Dimensions: 23.875" W x 34.5" H x 24.5" D
Energy consumption: 270 kWh/year
Pros:
Automatic temperature controls
Automatic detergent and rinse aid dispenser
Full-extension vinyl racks
Triple wash filtration
ENERGY STAR® certified run
Heater-generated drying
---
In Conclusion
How long should a dishwasher last?
An average dishwasher can last for quite a long time, with its life cycle ranging from several years to almost two decades. With the general range of 7-15 years, the average life cycle of a dishwasher could be estimated to be approximately 10 years. The longevity of service largely depends on the specific brand and make of a dishwasher as well as the frequency and quality of maintenance, the intensity of usage, and the hardness of the water supply.
What brand of a dishwasher is the most reliable?
One of the most reliable dishwasher brands in the current market is Whirlpool. The brand has received consistently positive customer feedback in the past 5 years, especially with part availability.
Whirlpool also holds one of the lowest return rates topped only by its service request rates. The latter is determined by the number of Whirlpool dishwashers that required any form of service work in the first year after the purchase.
Only 4.27% out of all Whirlpool dishwashers purchased in the past year has required professional service attendance, which tops the next most reliable mass-market brand by at least 5%.
Is Bosch the best dishwasher?
Over the years Bosch has consistently shown itself as one of the top dishwasher brands based on consumer reports and aggregated opinions of industry specialists. The brand's service return rates are among the lowest in the market, placing Bosch just below Whirlpool and Samsung.
How much does a good dishwasher cost?
Dishwashers can be generally divided into three main price categories: budget, midrange, and upscale/luxury. Each category offers plenty of top-quality models, with the average price fluctuating between $400 and $800.
Which dishwasher is the quietest?
Modern dishwashers can come with nearly identical sound packages, with the quietest dishwashers starting from 40 dBA and below, prime examples being the 39 dBA Bosch SHXM98W75N or 40 dBA GE CDT866P2MS1.
Most mid-range and budget dishwashers are also equipped with quiet sound packages that decently suppress the noise level, putting out about 50-63 dBA. Among the quietest budget dishwashers under $400 are Frigidaire FFID2426TS and GE GDF530PGMWW.
How do I choose a dishwasher?
Before even embarking on your dishwasher hunt, it is best to check your kitchen setting first. Some homes simply don't support dishwasher connection, or they support only a quick hookup done with a portable appliance. All things considered, choosing a dishwasher can be a rather uncomplicated process as long as you figure out exactly what your kitchen needs. You can make the first rough estimate in a few easy steps.
Measure your kitchen space. First, you need to decide on the place for your future dishwasher installation. For this, you will need to take accurate measurements of the space intended for the new appliance. Take measures of the counter height, the width of the gap, and the depth between the wall and the front of the counter.
Decide on the installation type. Dishwashers can be freestanding or integrated, with the latter usually integrated into your counter space with custom-made paneling. Integrated models are more expensive (though look considerably more stylish), while freestanding units are easier to install and tend to be more affordable.
Consider the unit's size. There are two main size configurations of residential dishwashers: standard and compact. Compact models are usually 18 inches wide and designed for smaller kitchen spaces. These are suited best for flat sharing situations, couples, and small families. Standard dishwashers measure at 24 inches in width and can service larger families or especially busy kitchens.
Find the program selection that suits you best. Sometimes the fewer cycles there are, the better the dishwasher works with day-to-day cleaning tasks. Cycle selection depends on the habits of your family and the most commonly used types of dishes that need to be washed frequently.
Choose tub materials. While stainless steel tubs are generally more durable, plastic tubs make the dishwasher more affordable.
Look for a quiet model. Most modern dishwashers come with improved sound packages designed to reduce operational noise which could be vital for open-plan apartments and families with small children.
Consider safety features. It is best to invest in the safety of your new dishwasher since it can save you more money in the future. This includes various anti-flood sensors, floor protection systems, self-cleaning filters, and more.
And above all, always look for a reasonable balance between the dishwasher's pricing and functionality. Sometimes style over substance can work out nicely for certain kitchens, but when it comes to budget models it is always best to go for functional quality, even if it might be rather basic compared to fancy models.
If you are working under a budget, feel free to move the overpacked program catalogs aside and focus on the consistency of the dishwasher's cleaning performance. As long as a dishwasher holds its own against the demands of your household, you can consider your money well spent.