Blenders are versatile machines, and getting the best blender for frozen drinks is no easy task. They blend, chop, pulverize, emulsify, grind, whip, whisk and do much more. 
However, not every blender can handle ice and frozen fruit and vegetables. If icy slushies, cocktails, and smoothies are something you want to enjoy daily, you will need a powerful machine with quality stainless steel blades and a durable blending container.
So, which models on the market are up to the task? Find the ideal blender for ice-cold drinks in our reviews and the buyer's guide as well!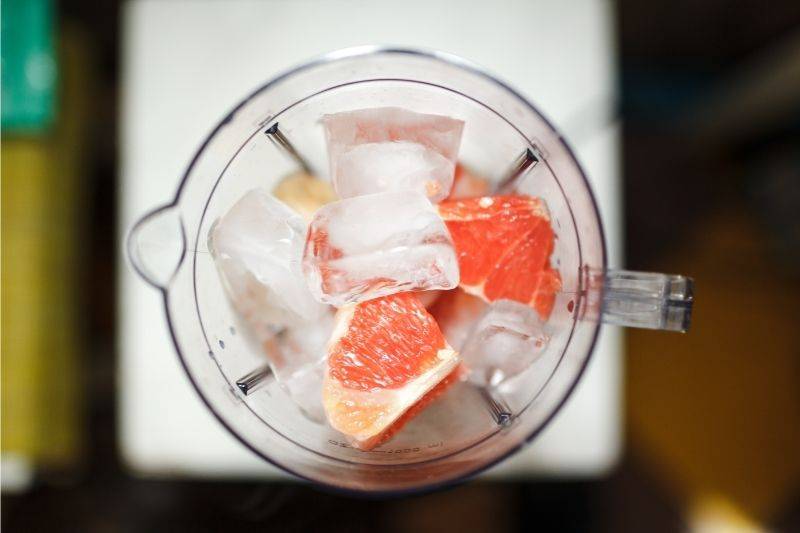 Top-Rated Blenders for Frozen Drinks
Best Overall
Ninja Professional Blender BL660
Powerful and versatile
Extra-large 72-oz and a small 16-oz jar
To-go lids
Premium Choice
Vitamix 5200
Professional-grade quality
High-power 1380 W motor
Large 64-oz jar
Best Budget
Ninja Master Prep QB900B
Small and portable
Very affordable
Super-easy to operate
Other Recommendations
What Blender Makes The Best Frozen Drinks?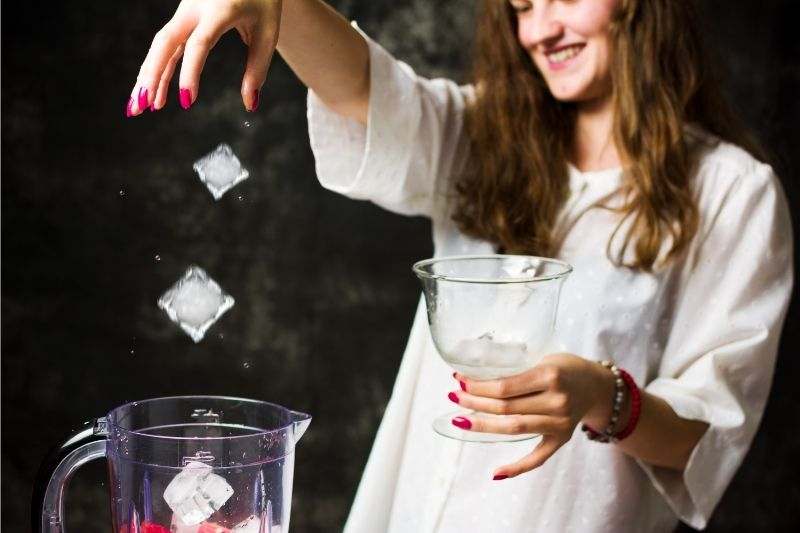 Finding the perfect blender for your kitchen can be tough with so many different models on the market. Nothing can match a hot grilling day better than an icy cold drink.
The best blender for frozen drinks needs to handle the hard ice cubes you throw in it. It doesn't matter if you're making margaritas and pina coladas for your home party guests, slushies for your kids to cool off after jumping on a trampoline, or a healthy fruit smoothie with frozen blueberries. 
But not any blender can handle this.
To crush ice well, a blender needs:
High motor power – Ice is tough. To blend the hard ice cubes into snow, your blender needs approximately 700 Watts of power. Make sure it comes with an overheating prevention system too!
Quality blade assembly – Low-quality blades will get dull in no time if you try to crush ice. Look for high-quality metal blades. A blade assembly with blades pointing upwards gives you an even, smooth blending as it brings the ingredients from the top downwards, but it's also more difficult to clean.
Sturdy jar – When you blend ice cubes, they rapidly hit the walls of your blender jar with a lot of force. Naturally, the jar needs to withstand these hits without bursting. Look for a model with a high-quality tempered glass or plastic blending jar. Lastly, cleaning a juicer is way simpler than cleaning a blender, thanks to the jar build and shape.
Best Blenders for Frozen Drinks: Reviews
Best Overall
Ninja Professional Blender BL660
If you ever wanted to have both a powerful countertop blending machine and a personal-sized blender but didn't want to spend money on two different devices, Ninja Professional Blender BL660 is the perfect two-in-one solution.
You can use it as a classic countertop blender with an extra-large 72-ounce jar or attach a small 16-ounce jar to a removable blade assembly and make a drink just for you.
The 16-ounce blending jar doubles as a portable cup, which is very convenient. Just after making your favorite frozen drinks, you can put a lid on and take it with you to have on the go.
You can vary the smoothness of the consistency of your drinks by playing with the 3 available speed options and the Pulse mode.
This Ninja blender is powered by an 1100-watt motor, so your fruit will always be perfectly pulverized and your ice completely crushed.
Pros:
Fairly powerful and versatile blender
Comes with an extra-large 72-oz and a small 16-oz jar
Good at crushing ice – turns ice to snow
Includes to-go lids that turn blender jars into drinking cups
Specs:
Motor wattage: 1100 W 
Jar size: 72 oz
Jar material: BPA-free plastic
Speed options: 3
Premium Choice
One of the blender market undeniable leaders, Vitamix is the staple of power and quality. 
You can make ice cream, whip up batter for your pancakes, grind dry foods, blend hot liquids, and of course make delicious frozen drinks like margaritas or slushies. You don't need a ton of kitchen appliances for this: Vitamix 5200 Professional-Grade Blender can do it all and more. 
Of course, crushing ice and blending frozen fruit is not a problem at all to its powerful 1380 W motor. Choose between its 10 speeds and use the Pulse mode for a smoother or chunkier consistency.
The 64-ounce jar with measurement marks for your convenience can make meals for your entire family within minutes. You might appreciate this if you don't have the time or desire to spend hours in your kitchen.
This blender has that signature design that makes Vitamix blenders easily recognizable. Muted colors, a clean and simple look, and solid quality in every detail.
Pros:
A blender from one of the most popular brands on the market
Professional-grade quality
High-power blending machine
Easy to use
Make treats for the whole family in its 64-oz jar
Specs:
Motor wattage: 1380 W
Jar size: 64 oz
Jar material: BPA-free plastic
Speed options: 10 
Best Budget
This is a small blender with only a 400-watt motor, but it managed to get a high ranking on our list for a reason. When it comes to frozen drinks, Ninja Master Prep performs wonderfully and doesn't feel inferior to much more powerful machines, which makes it the perfect budget blender.
It seems to be more of a combination of a small food processor and a blender, with all the functions it offers. It comes with a 48-ounce blending jar, a chopping cup, and an extra blade assembly.
While 400 W of blending power might not seem like much at all, this small machine can still pack a punch making smoothies, crushing ice for icy drinks, and grinding dry ingredients. Ninja Master Prep crushes ice into snow and blends frozen fruit extremely well.
One of the interesting things is that this blender's motor is on the top of the machine and it's the motor you need to fix on top of the blending container and not the other way around like with traditional ice crush blenders. This allows for smoother, more thorough blending: something you need when you make frozen drinks and don't want pieces of ice in them.
Unlike most blenders, Ninja Master Prep doesn't have any speed options. Instead, it works pretty much like the Pulse mode in most blenders – push the button and crush those ice cubes into snow for amazingly tasty frozen beverages.
Pros:
Affordable yet powerful frozen drink maker
Small and compact
Very easy to operate and clean
Specs:
Motor wattage: 400 W
Jar size: 48 oz
Jar material: BPA-free plastic 
Speed options: 1 
High Power
Cleanblend 1800 W Commercial Blender boasts to have all the features of more expensive, professional-grade blenders for a much lower price. It offers a sleek black-and-gray look and a bulky rectangular-shaped base with manual controls, but most importantly, it's super powerful so ice crushing is a breeze.
This Cleanblend model has a hefty motor with 1800 W of power and offers multiple functions from making smoothies to batters and hot soups. 
Cleanblend 2001 doesn't come with the traditional speed picking system. To add more precision to any task, you can slide until you reach the perfect speed using a dial or use the Pulse mode to make shaved ice.
For a blending machine this powerful, it's not a problem to blend any frozen ingredients into delicious drinks with a perfectly smooth consistency. Thanks to 8 stainless steel blades there is no task that this blender can't tackle.
And a large 64-ounce BPA-free plastic jug will allow making fresh and nutritious meals for an entire family.
Pros:
Pick speed on a slider, rather than speed presets 
Powerful 1800 W blender designed to tackle challenging tasks
Large 64-oz jug
Specs:
Motor wattage: 1800 W
Jar size: 64 oz
Jar material: BPA-free plastic 
Speed options: Slider-based
Great Pick
Hamilton Beach 54220 is one of those solid reliable blenders we often see on professional kitchen countertops. This model comes with all the blending functions you'll need. It blends, mixes, pulverizes, and crushes ice and frozen fruits for amazingly refreshing fruit smoothies.
It will work with anything out there – larger ice cubes, ice pellets, and frozen foods are all ingredients this blender handles quite well. While it's not the most powerful on our list, its 700 W motor has enough power to pulverize solid ice ingredients and turn them into refreshing frozen smoothies.
Low Pulse and High Pulse modes will allow you to reach the desired consistency. The 8-speed options offer versatility in making more or less textured meals, whether you want to turn large into smaller ice cubes or snow for slushies. 
This model is not made for big families, but people who only want to make a couple of servings of frozen beverages will appreciate its compact 40-ounce jar made of durable glass. This countertop blender is designed to make preparing meals for yourself and your family easier while being as uncomplicated as possible and still matching the power of a full-sized blender.
Pros:
Powerful enough to easily crush ice and frozen ingredients
Quite affordable
Features a compact 40-oz glass jar
Specs:
Motor wattage: 700 W
Jar size: 40 oz
Jar material: Glass 
Speed options: 8 
Great Option
If you are looking for a quality blender to make your frozen drinks but don't want to splurge on an expensive device, go for this Oster Reverse Crush Counterforms Blender. While this is not the best budget blender on the market, it sure comes very close for the price. 
It's a basic blender with only the essential functions but its 1000 W motor is powerful enough to impress you with the texture and smoothness of the frozen drinks it makes. 
It even has pre-programmed settings for frozen drinks and chopping. Manual settings include Low Pulse and High Pulse modes, and that gives you a total of 7 speed options. The blades will move in the reverse direction automatically to get rid of all the chunks of food stuck to the bottom.
Another feature that allows this machine to break and pulverize frozen fruit and veggies is its robust blade assembly of 6 stainless steel blades. Very sharp and curved in different directions, they pull ingredients down and easily turn them into smooth nutritious drinks.
Oster Reverse Crush Counterforms Blender also offers a high-impact borosilicate glass jar that holds 6 cups (48 oz) of liquid and is durable enough to withstand blending those big ice cubes and frozen fruits day after day.
Pros:
Affordable
Durable and eco-friendly 48-oz boro glass jug
Pre-programmed cycles for frozen drinks
Specs:
Motor wattage: 1000 W
Jar size: 48 oz
Jar material: Glass 
Speed options: 7 
The Buyer's Guide for Best Blenders for Frozen Drinks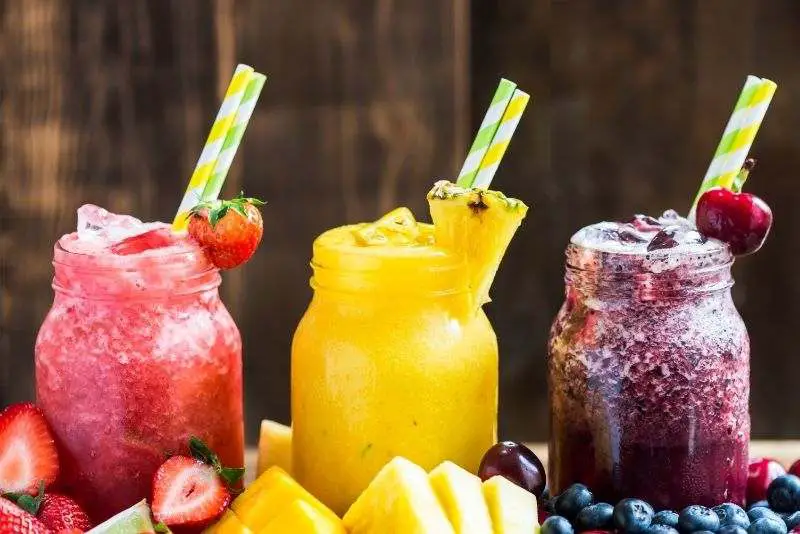 If you need crushed ice or snow for your drink, you can make it in a blender – for as long as it's powerful enough to handle the tough job!
Can any blender crush ice?
Not just any blender is fit for the tough job. Sure, you can put ice in just any blender and get a fairly good frozen drink. But if the model wasn't designed for ice crushing, it can dramatically reduce its lifespan. Blades that weren't designed for ice crushing will quickly get damaged and dull, a low-quality jar will crack, and a motor that can't handle ice will quickly overheat. 
Ice crushing requires:
A powerful motor to push through the tough parts and crush ice
Strong, durable blades (both sharp and blunt blades will do)
A strong jar that can withstand the force of ice hitting it at high speeds. Both tempered glass and BPA-free plastic jars will work well. 
What is the best blender for frozen fruit?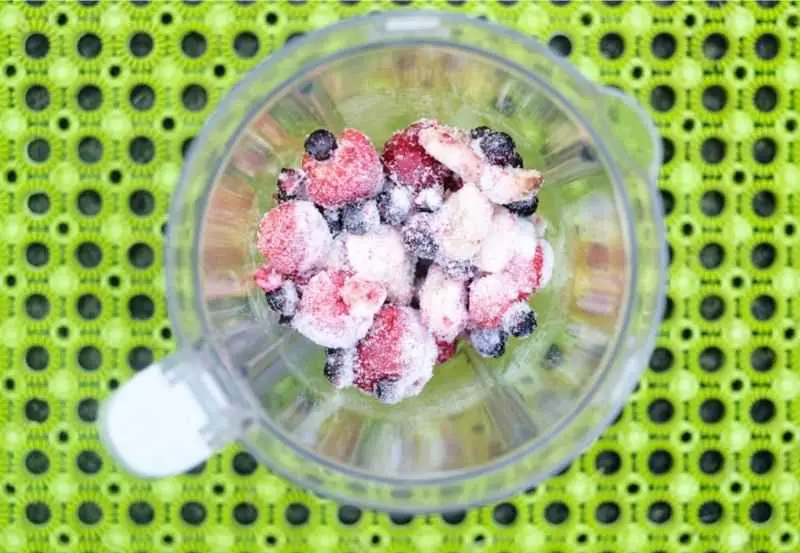 Frozen fruit is no different than ice cubes – a blender that can handle crushing ice will blend frozen fruit too.
You need a blender of high quality and reliable enough to serve you for years even after crushing tough, hard ice every day.
One thing to pay special attention to is the durability of the blades and the blending jar. The blades must be made of hardened stainless steel. The container should be made of food-grade BPA-free plastic or tempered glass.
All of the blenders on the list match these criteria. However, if I had to choose a machine for making frozen drinks based on its performance, quality, and durability, I would choose the Vitamix 5200 Professional-Grade Blender or the Cleanblend 1800 W Commercial Blender.
They might not be the most affordable blenders on the market but you can be sure that a machine like this will be your icy drink maker for years to come. In the long run, it's cheaper than buying short-living inexpensive devices.
What is the best blender for making margaritas?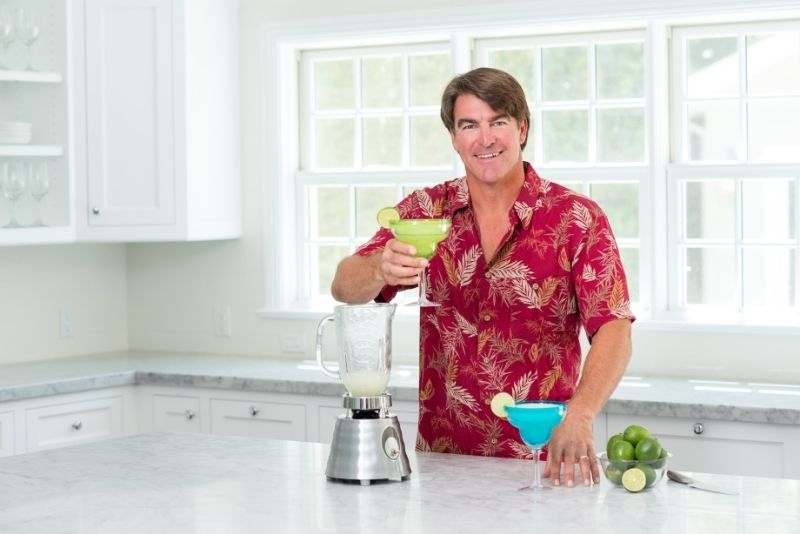 I'd say that I would still stick with Vitamix and Cleanblend for the reasons I stated above. However, if what I needed was not a large countertop machine but a small personal-sized blender, I'd choose Ninja Blender QB900B or Ninja Professional Blender BL660. Ninja blenders are known for their powerful performance when it comes to dealing with ice.
They both are great at making ice that's perfect for popular cocktails and quite affordable too.
Can you make frozen drinks in a food processor?
Technically, yes, you can. However, food processors are not designed to work with liquids. If you want to make a thicker, less moist mass, using such a processor might be fine. If you want a liquid drink, use a blender or make fruit juice with a masticating juicer.
What can you not put in a blender?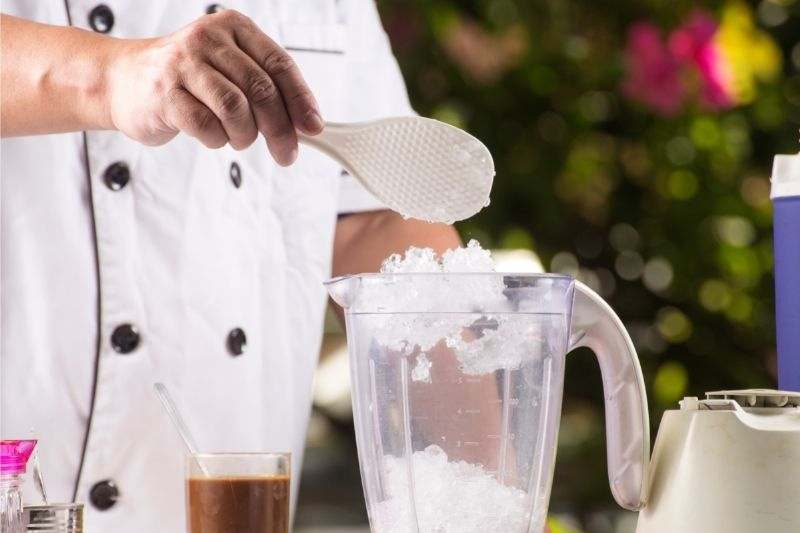 Don't try to blend dried fruit, coffee beans, or hot liquids unless the user manual specifically says that the blending machine you are using is designed to do that. Putting deep-frozen foods in a regular blender also might not be a good idea unless it's a high-power machine.
Stay Cool
We love the summer heat, especially with a cold drink in hand. Blending is one of the most convenient ways to make icy beverages, so getting a quality blender that can crush the ice with ease makes a world of difference once summer temperatures peak.
Over here at The Home Dweller, we want to make it easier for you to make an informed decision and get appliances that will serve you well for years to come. If you found this article useful, consider sharing it with your friends on social media!