Picking the best cold press juicer is no easy task. To get your daily dose of healthy vitamins and nutrients, you need a cold press juicer that fits your daily habits, which is what you'll hopefully be able to do after reading our intricate guide. 
Store-bought juice tastes great and comes in eye-catching packages, but the truth is – they often contain unhealthy amounts of added sugars and unnatural ingredients (like sweeteners and preservatives). Just wait until you start drinking fresh orange juice in the morning – you will never go back!
Nothing comes close to homemade juice, and all you need to get started is fresh ingredients and a high-quality cold press juicer. We have reviewed and a buyer's guide to go through, so let's dig in!
Best-Rated Cold Press Juicers
Other Recommendations
Table of Contents
What Makes a Cold Press Juicer Special?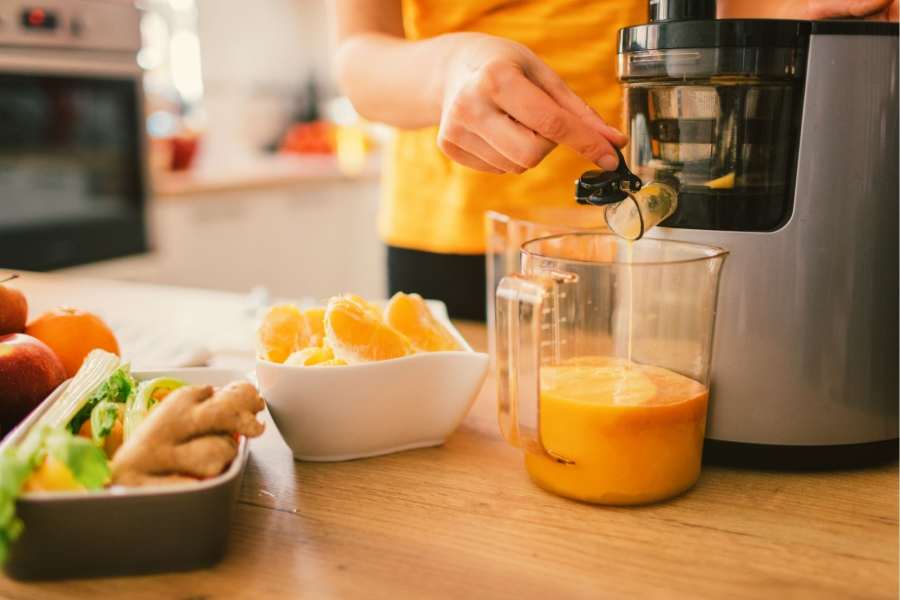 If you want to get into juicing, you should know the difference between a cold press juicer and a more traditional centrifugal juicer. Essentially, cold press juicers grind ingredients using a slow mastication method, which involves little to no heat. We could say that cold press juicers are the opposite of Ninja blenders when it comes to speed. We even did a Vitamix vs Ninja comparison, in case you want to take a look at that side of smoothie-making.
Heat can alter the nutritional value of the juice, whereas cold press extraction methods better preserve the vitamins and other nutrients that exist in fresh produce. On the other hand, more typical centrifugal juicers generate heat during the juice extraction process. This heat can significantly affect the taste of the juice, not to mention the nutritional value. 
So, in short – a masticating cold press juicer preserves nutritional value while keeping the taste of the ingredients intact. Also, to eliminate any further confusion, it is important to note that cold press juicers also go by the name "masticating juicers" or "masticators".
One could argue whether juicing without a juicer is faster or slower than masticating, but in the end, the juice quality decides the outcome of this debate. Masticators are surely slower than juicers for greens for example, and that is fine since the juicing methods are different.
Where Should You Start?
To introduce the health benefits of cold-pressed juice into your diet, you have to start by choosing a cold press juicer that is reliable and performs well. Given how popular juicing became, it's no surprise that many of the small appliance manufacturers are developing their juicer models. 
However, thanks to this kind of competition, and the number of juicer models to choose from, finding the right juicer can be a tough job. So, to help you out, we have counted down seven of the best cold press juicers available on the market today.
How We Selected the Best Cold Press Juicer Models
We went through the most popular models and dug out virtually every bit of info available. Since the number of juicer models can be a bit terrifying, we got it down to a selection of seven juicer models, with a "something for everyone" thought in mind. Doing the research involved going through the specs and features that involve factors from size and volume to noise, maintenance, strength, etc. For example, there are blender models that gravitate towards a certain feature, like the best blenders for crushing ice.
Finding the right balance between performance, budget, and versatility is essential when it comes to kitchen appliances. Every cold press juicer model we mentioned has something to offer, and each of them is capable of producing healthy (and tasty) juice! If you are interested in a machine that deals with cold drinks, check out the best blenders for frozen drinks and see whether they fit!
We invite you to check out the factors and get the best cold press juicer for your needs. You will find the selection criteria in the cold press juicer guide below. Now, let's see what these juicer models have to offer.
Cold Press Juicer Reviews
Cold Press Juicers – The Buyer's Guide
If you want to get a fitting cold press juicer for your household, there are several factors to consider. While all these models can deliver you nutritious and tasty liquid treats, there are nuances you should be aware of. No matter how much juice is in one orange, you want the juicer that can extract the most, and to get there, we think it's important to consider the essentials.
Size
When it comes to cold press juicer size, there are two things to consider: the overall size and the volume (aka the feed tube). The size of the body is not as important as the container, which determines how much juice you can make in a single session. So, the first thing you should check while going through cold press juicers is the volume. 
From there on, the decision is up to you. It is as simple as – aim for a juicer with more volume if you are preparing bigger batches at a time. The volume doesn't affect the quality of the juice. However, a cold press juicer with a larger cup will speed up the process of making juice for more people.
Juice and Pulp Separation
Whether you are a fan of pulpy juice or not, having the option to separate the pulp from the juice nicely is a quality-of-life feature you should consider. Being that some ingredients come with quite a lot of fiber, it can be challenging for the juicer to separate it from the liquid. After all, you want to drink the juice, not eat it with a spoon. 
Luckily, cold press juicers do a great job in separating fruits and vegetables from the rest of the substance. Keep in mind that complete juice and pulp separation is virtually impossible, but some models come quite close to it. On the other hand, the pulp is full of fiber; keeping some fiber is a great way to boost your metabolism.
By having the option to entirely separate the pulp from the rest of the juice, you also get the option to repurpose the pulp later. There are a lot of recipes out there that efficiently implement the pulp as the main ingredient.
Finally, it's important to note that your fresh-made orange juice won't last as long as the store-bought version, so be sure to check out our article on how long orange juice lasts in the fridge.
Cleaning and Maintenance
Let us not forget the least-favorite part of making juice – cleaning the juicer. Cold press juicer maintenance boils down to washing the parts with running water right after you are done juicing the fruits and vegetables. Look for a juicer that makes it easy to detach and re-attach the parts. 
When you're fixing a fresh glass of juice in the morning before work, you will want a model that has an easily detachable feeding tube. This way you can clean the juicer in a matter of minutes and continue with your day. 
Lastly, juicer maintenance all comes down to how often you clean the appliance. Cold press juicers are simple devices, so there's not much else to do besides wash the components.
Why Should You Start Using a Cold Press Juicer?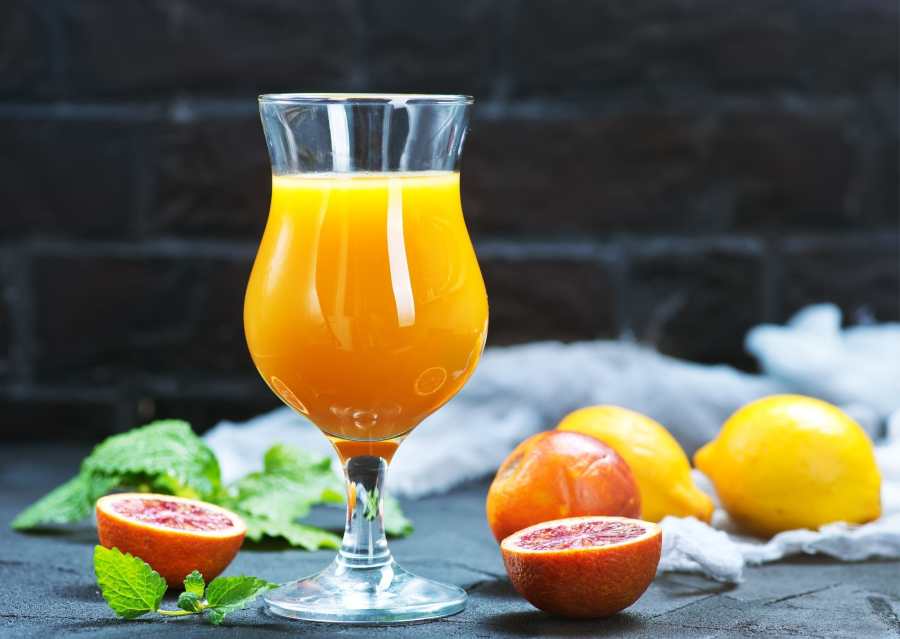 In case you were not already convinced about the benefits of juicing, the following are just some of the reasons why you should consider picking up a cold press juicer:
Convenience – Cold press juicers are one of the easiest ways to turn fruits and vegetables into liquid snacks. Most juicers are even easier to use than a standard coffee maker, so there is no reason to buy pre-made juices that are full of chemicals that keep them fresh for days, if not months.
There is no better way to start a day than to drink a glass of citrus fruit. Just remember, for safety and convenience sake, that not all juices last the same. If you want to get started, check out our "How Long Does Lemon Juice Last?" article, and learn how to avoid ruining your juice mixes with sour or bitter juice.
Health – Consuming cold press juices is one of the easiest ways to make sure your body is getting all of the vitamins, minerals, and antioxidants it needs to function properly. Some people even go with fruit, veggie, and hydrogen water combos. Just remember – cold-pressed juices are not a substitution for meals. 
Affordability – While a good quality cold press juicer may seem like an expensive purchase, you should view it as an investment. It's worth it to spend a bit more money and walk away with a high-quality, long-lasting product.
Before You Go
Having the option to treat yourself to a fresh glass of cold-pressed juice at home is a nice way to get some healthy food into your diet. As long as you are not overdoing it, cold-pressed juices can be a great way to supplement all those vitamins and minerals, and boost your energy level along the way. 
We hope you find our reviews and guide handy, and that you find the best cold press juicer that will elevate your diet to a whole new level. 
If you have anything to add or ask, please leave a comment below, and we will come back with the right answer ASAP.