Picking the best cold press juicer is no easy task. To get your daily dose of healthy vitamins and nutrients, you need a cold press juicer that fits your daily habits, which is what you'll hopefully be able to do after reading our intricate guide. 
Store-bought juice tastes great and comes in eye-catching packages, but the truth is – they often contain unhealthy amounts of added sugars and unnatural ingredients (like sweeteners and preservatives). Just wait until you start drinking fresh orange juice in the morning – you will never go back!
Nothing comes close to homemade juice, and all you need to get started is fresh ingredients and a high-quality cold press juicer. We have reviews and a buyer's guide to go through, so let's dig in!
Best-Rated Cold Press Juicers
Best Overall
Omega J8006HDS Quiet Dual-Stage Slow Speed Masticating Juicer
Super-efficient pulp separation 
Multiple settings 
Strong enough to handle all sorts of fibrous ingredients 
Premium Choice
Kuvings Whole Slow Juicer EVO820GM
High-quality BPA-free parts 
Wide feed tube for quick and efficient juicing
Extra safety features 
Best Budget
Aicok BPA-free Slow Masticating Cold Press Juicer
Easy to clean and disassemble 
Great budget-to-performance ratio
Quiet and convenient
Other Recommendations
What Makes a Cold Press Juicer Special?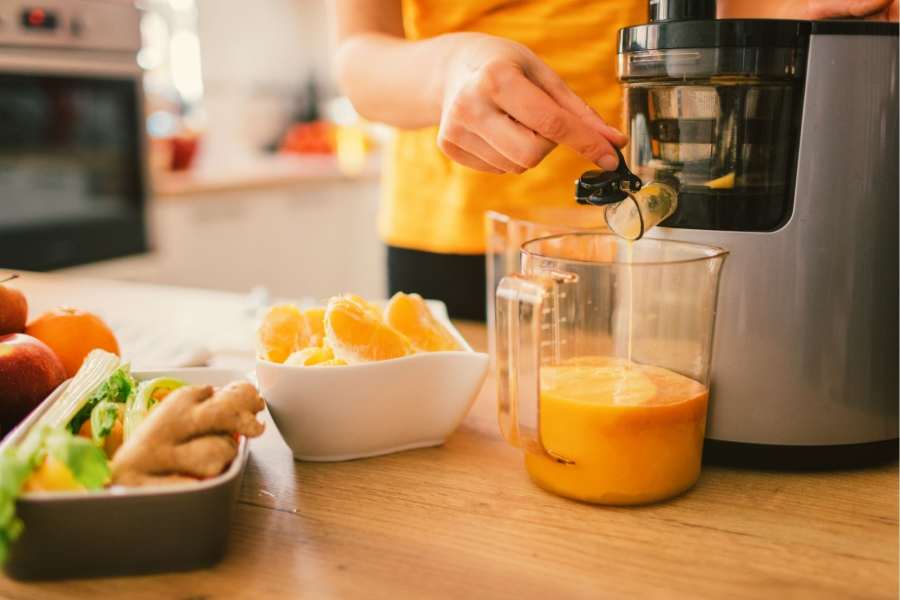 If you want to get into juicing, you should know the difference between a cold press juicer and a more traditional centrifugal juicer. Essentially, cold press juicers grind ingredients using a slow mastication method, which involves little to no heat. We could say that cold press juicers are the opposite of Ninja blenders when it comes to speed. We even did a Vitamix vs Ninja comparison, in case you want to take a look at that side of smoothie-making.
Heat can alter the nutritional value of the juice, whereas cold press extraction methods better preserve the vitamins and other nutrients that exist in fresh produce. On the other hand, more typical centrifugal juicers generate heat during the juice extraction process. This heat can significantly affect the taste of the juice, not to mention the nutritional value. 
So, in short – a masticating cold press juicer preserves nutritional value while keeping the taste of the ingredients intact. Also, to eliminate any further confusion, it is important to note that cold press juicers also go by the name "masticating juicers" or "masticators".
One could argue whether juicing without a juicer is faster or slower than masticating, but in the end, the juice quality decides the outcome of this debate. Masticators are surely slower than juicers for greens for example, and that is fine since the juicing methods are different.
Where Should You Start?
To introduce the health benefits of cold-pressed juice into your diet, you have to start by choosing a cold press juicer that is reliable and performs well. Given how popular juicing became, it's no surprise that many of the small appliance manufacturers are developing their own juicer models. 
However, thanks to this kind of competition, and the number of juicer models to choose from, finding the right juicer can be a tough job. So, to help you out, we have counted down seven of the best cold press juicers available on the market today.
How We Selected the Best Cold Press Juicer Models
We went through the most popular models and dug out virtually every bit of info available. Since the number of juicer models can be a bit terrifying, we got it down to a selection of seven juicer models, with a "something for everyone" thought in mind. Doing the research involved going through the specs and features that involve factors from size and volume to noise, maintenance, strength, etc. For example, there are blender models that gravitate towards a certain feature, like the best blenders for crushing ice.
Finding the right balance between performance, budget, and versatility is essential when it comes to kitchen appliances. Every cold press juicer model we mentioned has something to offer, and each of them is capable of producing healthy (and tasty) juice! If you are interested in a machine that deals with cold drinks, check out the best blenders for frozen drinks and see whether they fit!
We invite you to check out the factors and get the best cold press juicer for your needs. You will find the selection criteria in the cold press juicer guide below. Now, let's see what these juicer models have to offer.
Cold Press Juicer Reviews
Best Overall
Omega J8006HDS Quiet Dual-Stage Slow Speed Masticating Juicer
This particular Omega cold press juicer has a little bit of everything – it has a versatile juicing system that can handle all sorts of ingredients. Besides dealing with regular fruits and vegetables, this cold press juicer can also handle butter, milk, coffee, and even frozen food. 
Working at a speed of up to 80 RPM, this masticating juicer allows you to control how much pulp you want in your glass of juice. If you are not a fan of fibrous healthy drinks, you have the option to (almost) completely eliminate the pulp from the liquid. This is achieved via the 5-setting module that allows you to adapt the juicer to your tastes and adjust it to the type of food you are putting in. 
Lastly, you'll be happy to hear that the Omega J8006 is covered with a 15-year warranty, which tells us that the manufacturer stands behind the product. 
What we liked:
5 settings to adjust the amount of pulp and juice separation 
The ability to use coffee, milk, and frozen foods (besides standard ingredients)
15-year warranty
What we didn't like: 
On higher settings, the pulp can absorb some amount of juice, meaning that you need to use slightly more ingredients if you want the juice to be clear
Specifications:
Size: 14.5 x 6.5 x 15.5 inches
Weight: 13 lbs.
Warranty: 15 years
Premium Choice
Kuvings Whole Slow Juicer EVO820GM
Kuvings has been on the market for a while. As a brand, they raised the bar when it comes to cold press juicer quality. The EVO820GM is a model that stands out now only with its performance, but high-quality build as well. On top of that, the powerful 240W motor can tackle all sorts of ingredients to make smoothies, sorbets, and all kinds of juice.
Additionally, if safety is what you're looking for, you'd be glad to hear that this cold press juicer model comes with parts made of BPA-free plastic. The tap comes with a flap gate that prevents mishaps. You also get the option to use larger chunks of ingredients thanks to the wider-than-average feeding tube. This will not only allow you to use a wider range of nutritional fruits and vegetables, but it will halve the prep time as well.
What we liked:
Premium materials used, including the BPA-free plastic
Quiet operation and a wider feeding tube
3-in-1 extraction which includes juices, smoothies, and sorbets
What we didn't like:
Parts are not dishwasher safe
The juicer comes with a heftier price, but the price matches the performance
Specifications:
Size: 8 x 9.5 x 19 inches
Weight: 25.4 lbs.
Warranty: 10 years
Best Budget
AICOK – BPA-Free Slow Masticating Cold Press Juicer
If you are looking for a budget-friendly cold press juicer that does the job well, this AICOK model might be the one for you. Even though it doesn't have all the bells and whistles of other, pricier juicers, it certainly has a lot to offer in performance.
With this juicer, you should be able to tackle any fruit or veggie, as long as you cut it into chunks or normal size. The plastic used in the build is BPA-free, meaning that the juicer is safe to use even for baby food. While this slow masticating juicer doesn't come with multiple settings, it does have a decent juice and pulp separation. You will even be able to add greens into the mix.
Long story short – if you are looking for a juicer that gets the job done and you don't want to spend your budget on the features you may not need in the future, this AICOK is the one.
What we liked:
The juicer parts are easy to clean and maintain
Quiet operation
Great budget option with a nice price-to-performance ratio
What we didn't like:
The food chute is somewhat narrow, so you will have to chop the ingredients into smaller bits
Specifications:
Size: 16.1 x 7.9 x 11.6 inches
Weight: 8.2 lbs.
Warranty: 3 years
Best for Long Use
Hurom H101 Easy Clean Slow Juicer – Pearl Black
Hurom is a renowned brand that makes juicers of all kinds. This particular model is more compact and it is ideal for people that make juice on the regular. The vertical design, combined with some quality of life features, will help you get a fresh batch of juice each morning.
Speaking of features, Hurom decided to tilt the juicer chamber by 3 degrees. This tilt does not sound like much, but it is just enough to help you extract the juice while leaving less mess to clean up. The plastic parts are easy to disassemble, so you won't have trouble with cleaning and maintenance.
All in all, this juicer has a bit of everything. The 180-degree pulp outlet lets you control the pulp-to-juice ratio, allowing you to mix all sorts of fruits and vegetables. 
What we liked: 
Easy to disassemble and clean 
Quiet operation 
Excellent juice and pulp separation
What we didn't like:
The juicer may jam if the food chunks are not cut into smaller pieces 
Specifications:
Size: 15.5 x 14 x 14 inches
Weight: 22.9 lbs.
Warranty: 10 years
Best Choice for Starters
AMZCHEF – Two Speed Cold Press Juicer With Travel Bottles
If you are looking for a way into the whole juicing concept, this AMZCHEF cold press juicer may be the perfect starting point. While it is a model on the compact side, it will bring you the full juicer experience. Additionally, you'll be happy to hear that the juicer comes with two 500 ml travel bottles. 
Do not let the size fool you – this cold press juicer goes from 50 RPM when juicing softer food, to 100 RPM for harder fruits and vegetables. The feeding chute is long and narrow, so greens are also fair game, as long as you chop them into smaller pieces. 
The overall noise levels are low, at about 60 dB, and the portable design of the unit will let you place it virtually anywhere. 
What we liked:
Compact and lightweight design 
Two separate modes for softer and harder fruits and vegetables 
Comes with two 500 ml travel bottles 
What we didn't like:
The materials are not as sturdy as with high-priced juicers
Specifications: 
Size:7.87 x 12.2 x 16.14 inches 
Weight: 10.6 lbs.
Warranty: 2 years
Best for Citrus
Aobosi – Cold Press Juice Extractor
Believe it or not, a lot of people out there use their juicers for citrus only. Naturally, some cold press juicers are designed to be better at dealing with citrus fruit. Such is the case of this Aobosi slow masticating juicer.   
The compact vertical design of this cold press juicer allows you to install it anywhere in the kitchen. Inside the juicing chamber, there is a well-placed metal filter that helps with juice and pulp separation. On the outside, the plastic used is BPA-free, meaning that the juicer is safe to use for baby food. 
When it comes to the juicer yield, it delivers 80-90% when working with citrus fruit. However, this doesn't mean that you can't juice all sorts of fruits and vegetables with this model. Lastly, with this cold press juicer, you get a juice jug and a cleaning brush to help you with maintenance.  
What we liked: 
Compact design with excellent stability 
Great for citrus fruits and pulpy ingredients in general
Detachable parts are made of high-quality Tritan plastic
What we didn't like: 
Juicing greens with this juicer will require you to cut everything into smaller pieces beforehand
Specifications:
Size: 16.3 x 14.3 x 7.5 inches
Weight: 8.7 lbs.
Warranty: 2 years
Best Slow Juicer for Greens
Omega VSJ843QS Vertical Slow Masticating Juicer
Green vegetables are a great addition to any juice if you aim to boost your metabolism. However, juicing greens comes with some challenges since they can be quite fibrous. This Omega slow masticating juicer will help you get all those vitamins and minerals in. 
On-board, this juicer has a dual-edge auger that virtually extracts every drop of juice from the ingredients. The vertical design makes the juicer compact, allowing you to use it even if you have limited kitchen space. Inside, the filter system lets you separate the pulp from the juice easily – just use the built-in tap. 
Each plastic part is easily detachable. Once you are done using the juicer, make sure to clean all the parts by simply washing them under some running water, especially if you are juicing greens. 
What we liked: 
Compact juicer design with minimal noise 
Excellent pulp from juice separation 
Great yield, even when juicing greens
What we didn't like:
Even though each plastic part is detachable, the juicer takes a bit to clean entirely 
Specifications:
Size: 15.51 x 6.97 x 15.47 inches
Weight: 11.5 lbs.
Warranty: 15 years
Cold Press Juicers – The Buyer's Guide
If you want to get a fitting cold press juicer for your household, there are several factors to consider. While all these models have the capability to deliver you nutritious and tasty liquid treats, there are nuances you should be aware of. No matter how much juice is in one orange, you want the juicer that can extract the most, and to get there, we think it's important to consider the essentials.
Size
When it comes to cold press juicer size, there are two things to consider: the overall size and the volume (aka the feed tube). The size of the body is not as important as the container, which determines how much juice you can make in a single session. So, the first thing you should check while going through cold press juicers is the volume. 
From there on, the decision is up to you. Actually, it is as simple as – aim for a juicer with more volume if you are preparing bigger batches at a time. The volume doesn't affect the quality of the juice. However, a cold press juicer with a larger cup will speed up the process of making juice for more people.
Juice and Pulp Separation
Whether you are a fan of pulpy juice or not, having the option to separate the pulp from the juice nicely is a quality-of-life feature you should consider. Being that some ingredients come with quite a lot of fiber, it can be challenging for the juicer to separate it from the liquid. After all, you want to drink the juice, not eat it with a spoon. 
Luckily, cold press juicers do a great job in separating fruits and vegetables from the rest of the substance. Keep in mind that complete juice and pulp separation is virtually impossible, but some models come quite close to it. On the other hand, the pulp is full of fiber; keeping some fiber is a great way to boost your metabolism.
By having the option to entirely separate the pulp from the rest of the juice, you also get the option to repurpose the pulp later. There are a lot of recipes out there that efficiently implement the pulp as the main ingredient.
Finally, it's important to note that your fresh-made orange juice won't last as long as the store-bought version, so be sure to check out our article on how long orange juice lasts in the fridge.
Cleaning and Maintenance
Let us not forget the least-favorite part of making juice – cleaning the juicer. Cold press juicer maintenance boils down to washing the parts with running water right after you are done juicing the fruits and vegetables. Look for a juicer that makes it easy to detach and re-attach the parts. 
When you're fixing a fresh glass of juice in the morning before work, you will want a model that has an easily detachable feeding tube. This way you can clean the juicer in a matter of minutes and continue with your day. 
Lastly, juicer maintenance all comes down to how often you clean the appliance. Cold press juicers are simple devices, so there's not much else to do besides washing the components.
Why Should You Start Using a Cold Press Juicer?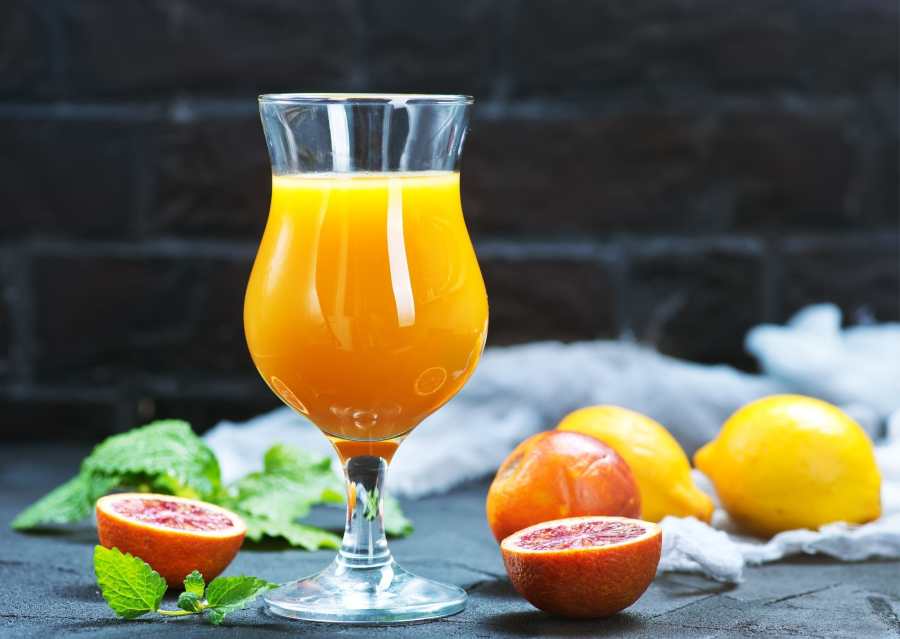 In case you were not already convinced about the benefits of juicing, the following are just some of the reasons why you should consider picking up a cold press juicer:
Convenience – Cold press juicers are one of the easiest ways to turn fruits and vegetables into liquid snacks. Most juicers are even easier to use than a standard coffee maker, so there is no reason to buy pre-made juices that are full of chemicals that keep them fresh for days, if not months.
There is no better way to start a day than to drink a glass of citrus fruit. Just remember, for safety and convenience sake, that not all juices last the same. If you want to get started, check out our "How Long Does Lemon Juice Last?" article, and learn how to avoid ruining your juice mixes with sour or bitter juice.
Health – Consuming cold press juices is one of the easiest ways to make sure your body is getting all of the vitamins, minerals, and antioxidants it needs to function properly. Just remember – cold-pressed juices are not a substitution for meals. 
Affordability – While a good quality cold press juicer may seem like an expensive purchase, you should view it as an investment. It's worth it to spend a bit more money and walk away with a high-quality, long-lasting product.
Before You Go
Having the option to treat yourself to a fresh glass of cold-pressed juice at home is a nice way to get some healthy food into your diet. As long as you are not overdoing it, cold-pressed juices can be a great way to supplement all those vitamins and minerals, and boost your energy level along the way. 
We hope you find our reviews and guide handy, and that you find the best cold press juicer that will elevate your diet to a whole new level. 
If you have anything to add or ask, please leave a comment below, and we will come back with the right answer ASAP.