Blenders are something we are very accustomed to seeing in kitchens, but answering which one is the best blender for crushing ice isn't that easy. Over the decades, blenders turned from a technological wonder to one of the most common kitchen appliances.
These handy kitchen tools save us a lot of time and effort helping us blend, mix, pulverize, puree, grind, and mill foods in a matter of minutes. Some models can do even more than that, going as far as making dough, whipping up batter, and even using friction to make hot soups.
Finding the best blender for crushing ice can be tricky. You will need a powerful machine for ice, but power capacity isn't the only factor you should pay attention to. That's where we step in to bring you the most reliable blenders that can handle all sorts of foods, ice included. Make sure to check out the buying guide and the reviews to get the best perspective.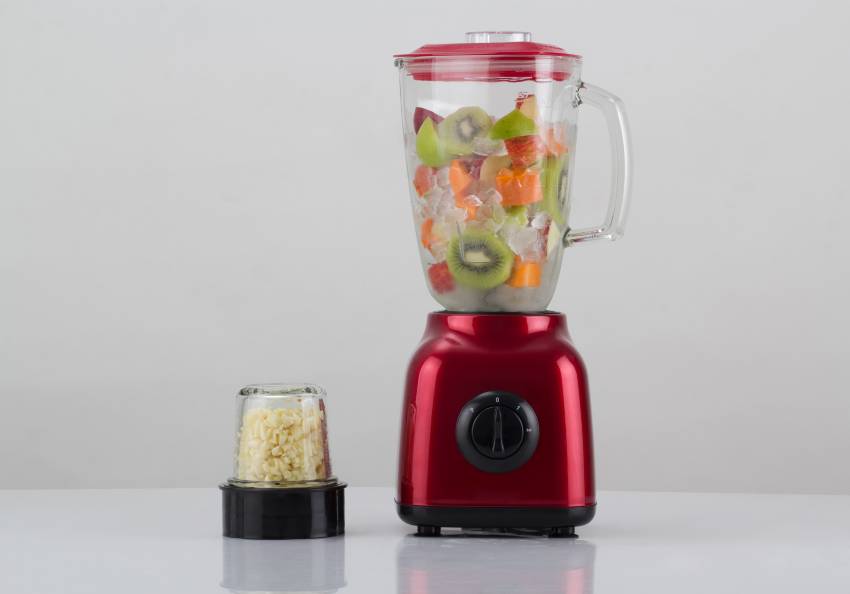 Best Blender for Crushing Ice – Top Picks
Best Overall
Vitamix 5200 Professional Blender
Made by a trusted blender brand
Professional-grade blender with a high-power motor
Large 64-oz cup
Makes hot soup
Premium Choice
Blendtec 800 Professional Blender
Powerful, professional-grade blender
Lower noise operation
Many speed options and blending program presets
Blunt blade design that lasts longer
Best Budget
NutriBullet Pro
Very easy to use and to clean 
Small enough to fit in any kitchen
Affordable
Other Considerations
Features To Look For in an Ice Crushing Blender 
Here are the most important features that are telltale signs of an amazing blender that handles ice crushing easily:
Powerful motor – Ice cubes are tougher than you think. Blending ice into fine snow requires a powerful motor. Look for a blender that has more than 700 Watts of power and comes with overheat prevention.
Robust jar – The ice you put into your blender spin rapidly, hitting the blender jar with a strong impact. The jar needs to withstand that force, so it needs to be made of quality materials like tempered glass or BPA-free plastics like Tritan. 
Tenacious blades – The tough ice can do a number on a blender's blade assembly. Getting a blender with high-quality stainless steel blades will ensure long-lasting reliability.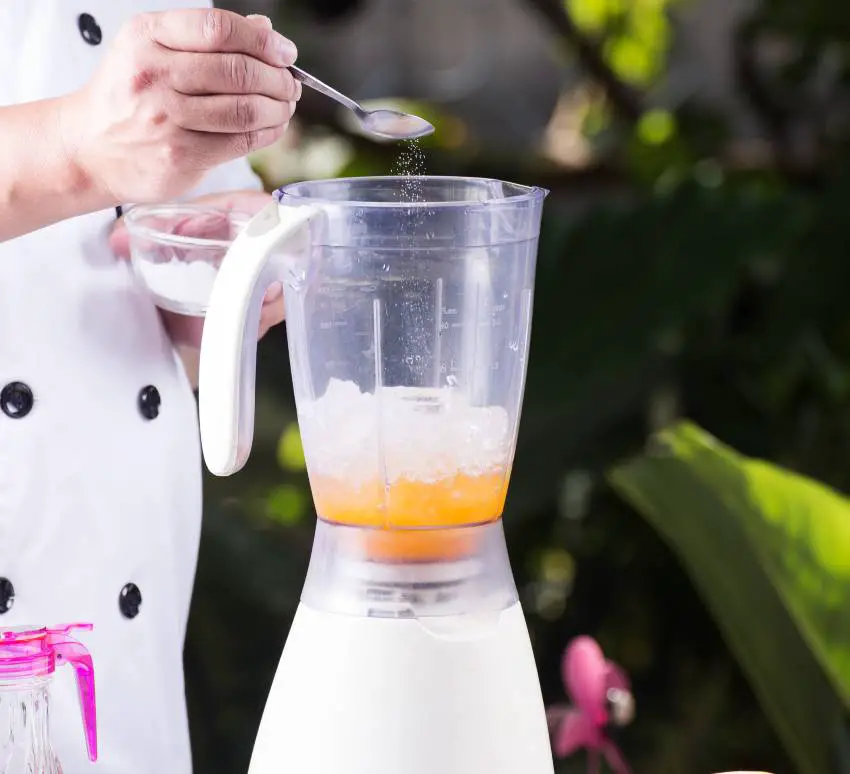 If it turns out an ice-crushing blender is more than you bargained for, a portable model might be a better pick for your kitchen. And if you're after staying cool with a glass of cold juice, a cold-press juicer will likely deliver better results.
Best Blenders For Crushing Ice – The Reviews
Best Overall
Vitamix blenders are well known for their high-level performance, power, and versatility. The 5200 is a tested and tried model that continuously outperforms other blenders – in fact, many pro chefs swear by it! 
Whether you want to make nutritious smoothies for your whole family or ice cream, hot soups, dough, batter, this Vitamix is more than up to the task.
This blender's design is not just pretty. The large rectangular base featuring easy manual controls is designed to keep this powerful machine still while it's working – so your countertop won't shake from the vibrations. It comes with a big 64-oz blender jar that has no issues withstanding cold or hot blending. In fact, this blender is capable of utilizing blade friction to make hot soup from cold ingredients – and we mean piping hot!
Its sharp stainless steel blades will blend anything into an even smooth mass without leaving any chunks behind. At almost 1400 watts, the motor is very powerful, yet it doesn't overheat thanks to a smart motor-cooling system. 
The Vitamix 5200 doesn't disappoint in terms of versatility either. It offers 10 speed options so you can always reach your preferred level of consistency.
Here's what we liked:
Made by a trusted blender brand
Professional-grade blender with a high-power motor
Large 64-oz cup
Makes hot soup
Specs:
Motor power: 1380 W
Jar size: 64-oz
Jar material: BPA-free plastic
Speed options: 10
Premium Choice
Blendtec 800 Professional
Blendtec Professional 800 is one of the most reliable blenders on the market. It has everything you may want in a blender, and then some more. 
This high-power Blendtec comes with a tweak – a plastic enclosure around the blending jug that blocks a large amount of noise and allows for a much quieter operation. If you are familiar with how loud blenders get, you will appreciate this interesting feature. Sure, it doesn't block all the sound, but it will surely make morning smoothie-making a more pleasant experience.
Blendtec Professional 800 Blender offers 6 blending presets at a touch of a button. Its 11 speed options let you reach desired consistency and texture with great precision. The control panel features a touchpad allowing you to change speed just by sliding your finger over it. This blender also features the signature Blendtec WildSlide+ jug design for increased blending efficiency.
From whipping up smoothies and shakes to making ice snow for your slushies and frozen drinks. It can also utilize blade friction to make your purees and soups hot, even when you start with cold ingredients. 
The blades won't dull over time – in fact, the blunt hardened steel blade assembly crushes and pulverizes whatever you put into it without the need for a sharp edge. This feature makes Blendtec blades last much longer than other brands, and in addition, they're easier and safer to clean. 
Its 1800-watt, very powerful motor helps it deal with tougher tasks like crushing large chunks of ice or kneading dough.
When it comes to design, Blendtec Professional 800 Blender offers elegant simplicity and efficiency. It rocks a high-tech, professional look that will make your kitchen feel like a pro's.
Here's what we liked:
Powerful, professional-grade blender
Lower noise operation
Many speed options and blending program presets
Blunt blade design that lasts longer
Specs:
Motor power: 1800 W
Jar size: 36-oz
Jar material: BPA-free plastic
Speed options: 11
Best Budget
The Pro version of the popular blending machine has more power (900 Watts), higher capacity and is slightly heavier than its predecessor, the NutriBullet. It's also an amazing budget blender anyone can learn how to use.
It's one of the smallest machines in this category, intended for personal use rather than as a family appliance. Considering it's a relatively small device, it's surprisingly powerful.
Aside from making smoothies, it crushes ice and frozen ingredients with ease, chops and blends leafy veggies, and makes thick dips and all kinds of butter.
Just like the original NutriBullet, this blender comes with useful extras. Along with its 32-oz blending jar, you'll get a to-go lid (yep – you can literally turn this blender jar into a drinking cup) and cup rings. 
NutriBullet doesn't come with several speed settings. Instead, it works similar to a pulse option of traditional blenders – the blades rotate when you press the machine down. This makes the NutriBullet Pro extremely easy to use. 
In terms of design, NutriBullet Pro looks very similar to the original model with its combination of plastic and brushed metal finish. It comes in a large variety of color options, so you can choose one that will look fabulous in your kitchen. Maintenance is quite simple too – all removable parts are dishwasher safe.
Here's what we liked:
Very easy to use and to clean 
Personal blender – small enough to fit in any kitchen
Affordable
Specs:
Motor power: 900 W
Jar size: 32-oz 
Jar material: BPA-free plastic
Speed options: one 
Valuable Option
Breville Fresh and Furious
This blender is an amazing, affordable alternative to the popular high-performance machines like Blendtec or Vitamix. Being a few times less expensive and quite powerful at 1100 W, it's capable of coping with tough tasks efficiently.
Breville BBL620 Fresh & Furious Blender is somewhat smaller than other high-power blenders, at 17 inches tall and 8 inches wide. However, it comes with a sizable 48-oz blending jug made of high-quality plastic – Tritan. Thanks to the wide-bottomed, large pitcher, this blender is quite easy to clean by hand or on the top rack of your dishwasher. Along with being easy to use and clean, it's also less loud and less heavy.
It's a little bit more modest in terms of versatility as well. Breville BBL620 Fresh & Furious Blender won't make hot soups and knead the dough but it will blend, pulverize and crush ice for your icy drinks efficiently.
The patented system of 4 curved blades allows pulling ingredients towards the blade and pulverizing them super smoothly, without the need for a tamper to push the ingredients down.
It's extremely easy to use too, with its 3 blending presets that include smoothies, green smoothies, and auto pulse ice crush. In addition, it offers 5 speed settings for mixing, chopping, blending, pureeing, and liquifying. This blender also includes an LCD that is sure to make your life easier.
The jug and the lid are dishwasher-safe, but make sure to only wash them on the top shelf.
Here's what we liked:
A smaller and more affordable high-performance blender
LCD screen 
3 preset blending programs and variable speed control
Specs:
Motor power: 1100 W
Jar size: 48-oz
Jar material: Tritan
Speed options: 5
Great Pick
Cuisinart CBT-2000 Hurricane Pro Blender doesn't stand out from the crowd in terms of design but it's certainly a reliable and versatile machine capable of tackling many tasks, including crushing ice and frozen ingredients.
It has a 1500-watt, powerful motor that lets it both crush ice and frozen fruit and make hot soups with ease.
One of the features that make this possible is the large heavy-duty stainless steel blade assembly that will chop through pretty much anything you throw into its large 64-oz Tritan jar.
A user-friendly control panel with an LCD display is another feature worth mentioning. It's a helpful feature that makes it easier to choose the right speed, since the blender can make anywhere between 1,500 and 30,000 rotations in a minute.
Cuisinart CBT-2000 Hurricane Pro Blender offers a few easy-to-use features and simple, button-controlled presets, making it great for anyone, even if you're a complete novice at blending.
For quite a powerful device, Cuisinart CBT-2000 Hurricane Pro Blender isn't too heavy and is quite stable when working. It's also not too loud, which is a nice bonus.
Here's what we liked:
Powerful and versatile, but easy to use
LCD screen helps you pick the perfect program
Variable blending speed
Specs:
Motor power: 1500 W
Jar size: 64-oz
Jar material: Tritan
Speed options: 1,500 – 30,000 RPM 
How to Choose the Best Blender for Crushing Ice?
Crushing ice is no easy task for a blender – that's why it's important to make sure your blender has a powerful motor, durable blades, and a sturdy blending jar that can handle the job. If your blender fits these criteria, chances are you can make ice that has that amazing snow-like consistency – for margaritas and other frozen drinks. In addition, a blender that's simple to assemble and has dishwasher-safe parts will make your life easier!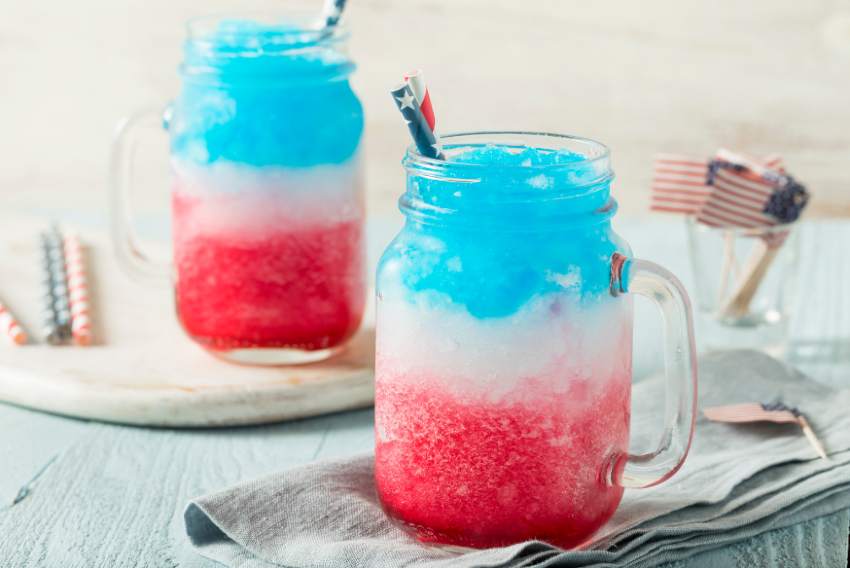 Can you use a blender to crush ice and frozen fruit?
The simple answer is yes, but not all blenders can handle frozen food entirely. But before you try it, you should determine whether your blending machine has the muscle to tackle ice and frozen ingredients.
While many machines can blend small ice pellets and shaved ice, it takes a powerful device with heavy-duty blades and a high-impact container to crush whole ice cubes.
Remember, when blending ice and frozen fruits, always add liquid – whether that's water, milk, or juice – since doing that will help keep the motor from overheating. 
Can all blenders blend ice?
No – you need a high-quality blender to make slushies and margaritas. Ice, and frozen fruit, crushing is one of the tougher tasks, so a blender needs some muscle to handle it. 
Of course, it depends on what kind of ice you are trying to blend: 
Shaved ice and ice pellets are easier to blend, so most blenders with more than 500 watts of motor power will suffice.
On the other hand, whole ice cubes are tougher to process, so a machine run by a powerful motor of 1000 watts and above would be best.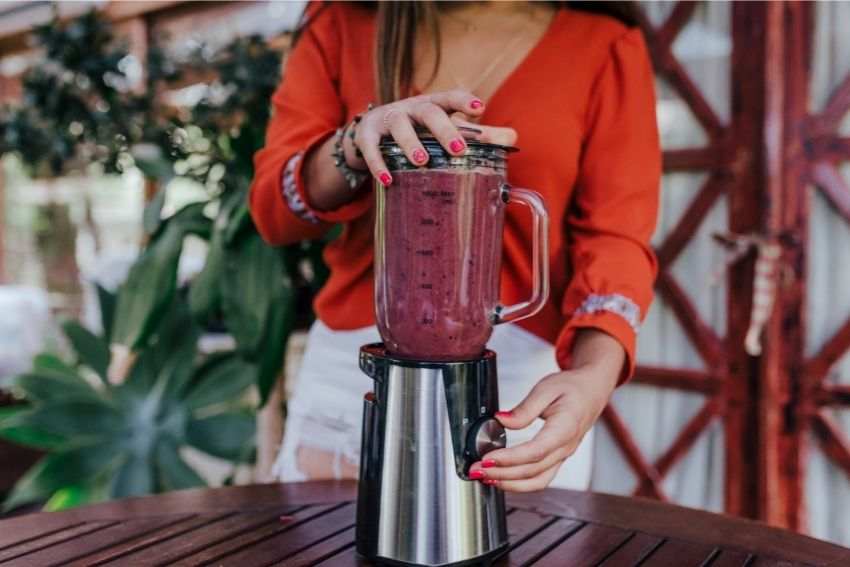 Can Ninja blenders crush ice?
The Ninja brand has quite an impressive range of blenders that vary in power, shape, and number of functions. So, the answer is – it depends on which model of the Ninja line you choose.
However, Ninja blenders are generally well-made, dishwasher-safe, and quite powerful. In fact, taking the price difference into account, Ninja blenders are even comparable to Vitamix machines which are considered top-of-the-line on the blender market.
If you opt for a Ninja blender for your frozen drink adventures, look for models that have above 1000 watts of power, hardened stainless steel blades, and a durable container that is capable of handling impact. Some Ninja models utilize their proprietary Total crushing technology that uses a blade assembly similar to a food processor – and these models tend to do quite well crushing ice.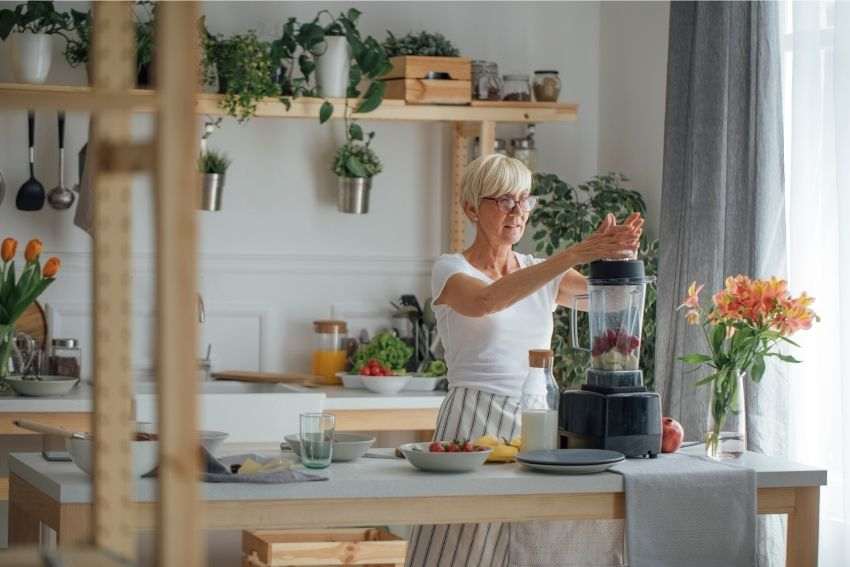 Conclusion
Once you start using a blender in your day-to-day meal prep, you'll wonder how you lived without one so long. If your blender happens to crush ice as well, you'll start enjoying your summers more with all the ice cream, slushies, and frozen drinks to keep you cool. 
We hope we helped you find that perfect blender that can crush ice, suits your budget, and fits your kitchen counter just right. 
Over here at The Home Dweller, we give our best to bring you trustworthy info and choose reliable products that will make your life easier. If you appreciate what we do, consider sharing The Home Dweller with your friends on social media!