Are you looking for an elliptical machine that is affordable, heavy-duty, and easy to use? Do you want to see results in the mirror without spending hours at the gym? The Sole E25 elliptical might just be the solution for you!
Check out this E25 elliptical review for more information on the benefits of the Sole design and how it can help you reach your goals.
Dynamic hand grips with pulse sensors
20″ stride length
Power incline
20 lb flywheel
Front-drive system
Built-in speakers
Beautiful LCD display
Water bottle holder
Cooling fan
Assembly – the video is hard to follow / two-person job (up to 10 hours)
Fan – not the greatest, blows warm air at times
Speakers – poor sound quality (like a small radio)
Heavy – not portable
Should You Buy It (Overall Review)?
This elliptical machine is one of the best on the market in its price range for value, function, and build quality. It has a variety of features that are typically only available on higher priced elliptical trainers. The Sole E25 is well worth the investment, especially when you can get it for under $1000!
Specifications
Product Name
Sole E25 Elliptical
Price
$999 – $1499
Resistance Levels
20
Weight
212 lbs
Dimensions (LxWxH)
70″ x 24″ x 71″
Max User Weight
350 lbs
Workout Programs
10
Display Console
6.5″
Drive System
Front Drive
Construction
Steel
Warranty
Lifetime (Frame)
3 Years (Parts / Electronics)
1 Year (Labor)
Features & Benefits
You saw the host of features we love about this machine in the introductory table of pros and cons. Let's dive in a bit deeper and find out the benefits.
Stride Length
Stride Length can make or break your workout in many respects. If it's too short (some machines only offer an 18″ stride length) it can put a ton of stress on your joints. The Sole E25 has a 20-inch stride length, which gives you a nice range of motion without bouncing.
Heart Rate Monitoring
As with most Sole machines, the E25 elliptical trainer has dynamic hand grips with pulse sensors so you can keep track of your heart rate. Additionally, it is chest strap compatible for heart rate monitoring. The E35 comes with a chest strap, but unfortunately, the E25 does not.
A chest strap not only allows you to engage with a variety of heart rate training programs in the console but also to transfer that information to your favorite fitness app.
Some of the fitness apps that are compatible with Sole fitness chest straps are MyFitness Pal and Apple Health, among others. It can also connect with individual heart rate monitor apps. Whether you're a seasoned pro or an entry-level exerciser, tracking your progress is essential to hitting your goals.
Power Incline
The Sole E25 elliptical features an electronically adjustable incline so you can easily increase or decrease the cross ramp on the machine. When you exercise on an incline, you recruit different muscle groups, which helps you burn more calories. The E25 elliptical offers a fantastic combination of both upper and lower body action.
Technology & Entertainment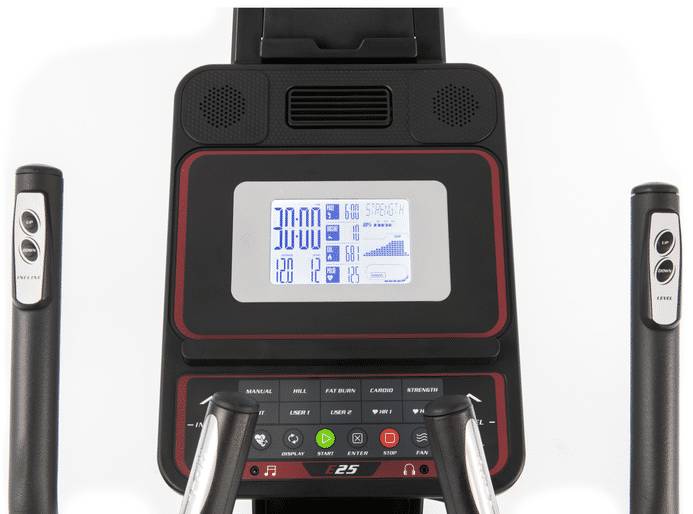 For personal entertainment, the sole E25 offers a tablet holder, built-in audio speakers, an LCD display console, Bluetooth connectivity, and more. You can also track all of your workout stats including time, distance, incline levels, and average pulse rate during your session.
Workout Programs
To provide variety and challenge, the Sole E25 elliptical offers 6 preset workout programs, 2 custom, and 2 that incorporate the chest strap and pulse monitoring. Each workout features different resistance and incline levels so you can get the most out of your session. This type of workout programming is almost like having a personal trainer right there in your console!
User Experience
Expect a top-notch user experience, thanks to a few key features. Many elliptical trainers leave their users with a less-than-stellar experience. Exercisers will often complain of joint pain, numbness in the feet, or knee stress.
Ergonomics
Some of the features that help Sole E25 users overcome these common complaints are related to the ergonomics of the machine. From the foot pedal to the flywheel, Sole Fitness knocked it out of the park with their design. They consistently produce exercise equipment that takes the movement of the human body into consideration.
Flywheel
The Sole E25 features a 20-pound flywheel. That might not sound like a big deal, but if you've ever been on an elliptical trainer with a really light wheel, you know how bad it can be. The heavier the wheel, the smoother the ride, because the weight of the wheel keeps the foot pedals moving without any stutter.
Front-Drive Elliptical
In a nutshell, that just means that the flywheel is in the front, rather than the back of the machine, but there's a little more to it than that. The front-drive setup of the Sole E25 elliptical gives it a smaller footprint and more options for incline.
Generally, a rear-drive machine will be limited to how high the incline can go and the result is a much flatter ride. This machine will give you plenty of workout options due to its front-drive configuration.
Finally, the high gear ratio allows you to add resistance without affecting the smooth ride.
Foot Pedals
The foot pedals are designed with a two-degree inward slope. This is recommended by physical therapists and other industry experts to help prevent undue stress on the knees and ankles. Very few cross trainers are built with such attention to physiology and how movement affects the workout.
Track Design
The track design has dual rails, which allow the pedals to glide forward and back without risk of moving from side-to-side. Many elliptical trainers at this price point utilize only one rail, which leaves room for the pedals to shift from side to side. Not only is it annoying and uncomfortable, but this motion can also cause additional stress on the lower extremities.
Stability
Last, but not least, the Sole E25 elliptical is extremely stable with minimal movement during your exercise session. It has a wide base to prevent rocking from side-to-side and the machine itself weighs about 212 lbs, which keeps it firmly in place on the floor. Many other manufacturers use lighter, cheaper materials for ease in shipping, but Sole is dedicated to the user experience, and it shows.
Other Recommendations
Conclusion
From user experience to design to the price, you won't go wrong with the Sole E25 Elliptical. It has all of the design elements of more expensive machines without costing you an arm and a leg.
If you're interested in researching other potentially cheaper options, be sure to check out our other elliptical reviews. But we think this elliptical machine has all the right specs and features to give you a great experience in the comfort of your own home.
We hope you found this article informative. We take great pride in our research, so please help us out by sharing this article on social media and leave us a comment below!