"What is the best trampoline size for my family?" A common question every future trampoline owner needs to tackle; and the answer is – it depends.
Today, we'll dive into important factors like your setup location, space available, trampoline shape, kids' ages, and more. With so many options on the market, picking the right trampoline size can be tricky.
So get excited for sky-high leaps on your perfect trampoline as we walk you through all the considerations. Without further ado, let's jump right in (pun intended)!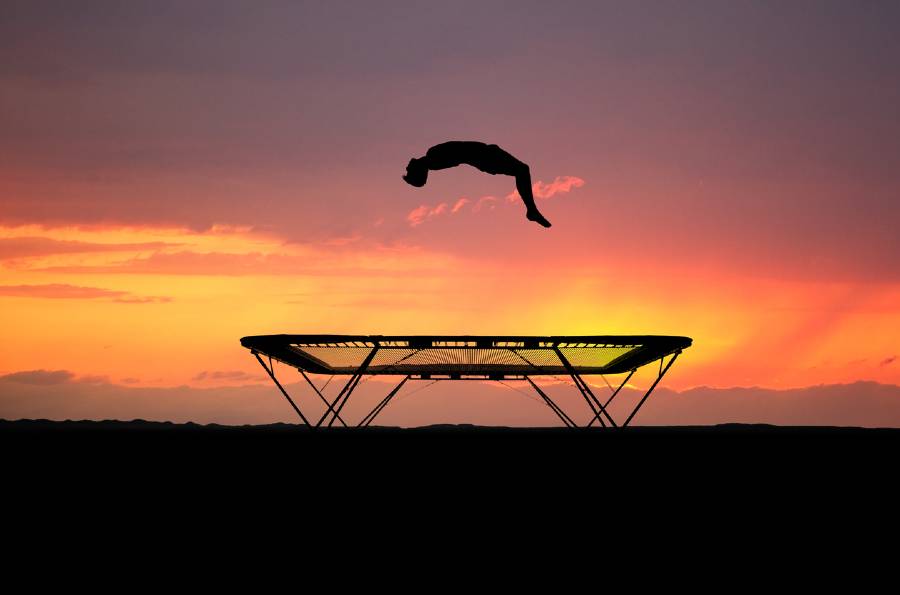 Table of Contents
What Are The Different Sizes of Trampolines?
From kiddie-sized to enormous, trampolines come in many shapes and sizes.
Small Trampoline Sizes
Small, indoor trampoline models come in sizes between 5 and 8 ft. These are big enough for children to play in, but can't provide fun for the whole family.
Big Round Trampoline Sizes
Trampolines with frames of 10 ft and above are designed for outdoor use. They're usually made of heavy-duty materials that can withstand exposure to the elements.
Standardized round trampoline sizes include 10, 12, 14, 15, 16, and 17 ft in diameter.
Rectangular Trampoline Sizes
Also known as gymnasts' trampolines, rectangular models are usually large and only made for outdoor use. If you want to ramp up your fun, add a basketball hoop to your rectangular trampoline.
Due to their shape, the dimensions of rectangular trampolines may vary. The most common sizes are:
7×10 ft,
8×12 ft,
9×14 ft,
10×17 ft,
14×16 ft
How Do You Know What Size Trampoline to Get?
All of these sizing options can leave you feeling confused. Is a 12 ft trampoline big enough? How big is too big?
Luckily, there's an easier way to decide how big of a trampoline you need. Let's talk about the key factors that can help you pick the ideal trampoline size.
1. Consider Your Space
Outdoor models can get ridiculously big – up to 17 ft in diameter for round trampolines. Unless you have a huge yard with lots of unused space, that's probably way too big.
Pictures rarely illustrate the actual size. So get your tape measure before you push that 'add to shopping cart button!
Clearance
Once you measure the actual space for your future trampoline, make sure you have at least 6 ft of clearance on all sides. Pick a location with a soft surface (preferably grass) in case someone falls off.
That space doesn't only need to be clear of obstructions like trees and tree stumps, but the ground should be level too. Watch out for low-hanging branches – look for 20 ft of overhead clearance for safe bouncing.
So before you buy a trampoline, pick a good spot in your yard and take your measurements.
2. Age Matters
Since kids weigh less, smaller trampoline models can handle their bouncing weights. But the laws of physics dictate one more rule – the bouncing child needs to be heavy enough to 'activate' the springs.
That means that a toddler may not get a good bounce on a 10 ft trampoline because they're not heavy enough.
Here are some estimates for what round trampoline size works best for your child's age.
| Age | Trampoline Size |
| --- | --- |
| 1 – 4 y/o | 4 – 6 ft |
| 4 – 6 y/o | 6 – 8 ft |
| 6 – 9 y/o | 8 – 12 ft |
| 10 – 14 y/o | 12 – 14 ft |
| 14+ | 14 ft + |
By the way – the so-called "mini trampolines" are not the same as small, kid trampolines. Quite the opposite!
Mini trampolines, also called 'rebounders' are fitness trampolines for adults. They don't have enclosures, though sometimes these trampolines feature handles. Rebounders are used for cardio workouts, and they're a great fitness tool – but children should not use them!
3. Play Together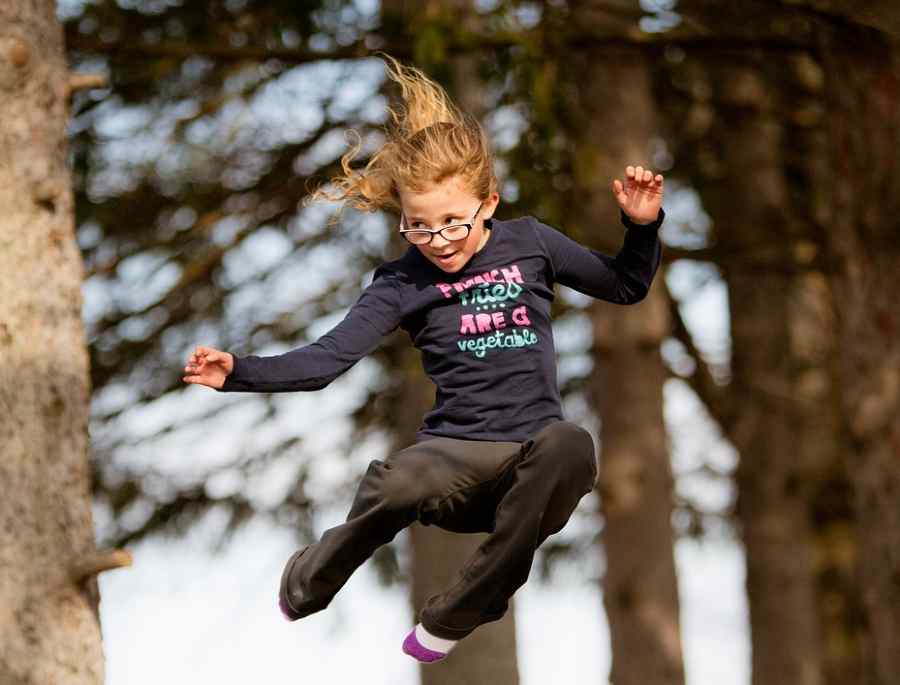 It's against trampoline safety guidelines to have more than one person jumping on a trampoline at a time. But try explaining that to a group of kids! If you decide to let neighborhood buddies or siblings jump on a trampoline together, you should make sure your trampoline is as safe as possible.
First things first, if you have two or more children that want to use the trampoline at the same time, go for a bigger model. With multiple jumpers, it's important to ensure that the trampoline's weight limit is well over its combined weight.
The mechanics of bouncing differs between round and rectangular trampoline models. Whereas round models tend to drive jumpers towards the center, rectangular trampolines provide even bouncing all across the surface. So, if you have multiple kids on the same trampoline, they're more likely to bump into each other on a round trampoline.
4. Budget
In general, rectangular trampoline prices are higher than round models. They're also generally bigger. That is one of the main reasons why round trampolines dominate the market.
The bigger the trampoline, the more it'll cost. So if you decide to go big, don't compromise safety features for the price.
Is a 12 ft Trampoline Big Enough?
Families around the world love their 12 ft trampoline models – this seems to be the most popular size by far. That's no surprise since this is a medium size for an outdoor round trampoline.
It's small enough to fit in most backyards, yet it's big enough to have a couple of kids playing at the same time.
This popular size is a great place to start when picking the ideal trampoline size for your backyard. However, don't forget to consider all four factors before making your choice.
Frequently Asked Questions (FAQs)
How Much Does a Round Trampoline Cost?
You can find smaller, 6 to 10 ft models for as little as $200 without sacrificing quality. The most popular 12 ft round trampolines range from $300 to $400. As you move up to 14 ft and higher expect to pay upwards of $500 for models worth their salt.
How Much Does a Rectangular Trampoline Cost?
Rectangular models are typically more expensive. Medium quality, smaller rectangular models will cost you ~$600, but the more typical price range is anywhere between $800 and $1500 for larger models.
How Much Does a Mini Trampoline Cost?
Note that mini trampolines are NOT made for children. Instead, a mini trampoline (also known as a rebounder) is a fantastic piece of fitness equipment to have at home.
Mini trampolines come in a size range between 36 and 55 inches. That's why they're much cheaper than regular trampolines, and can be found for as little as $50, up to $200.
How Big is a Trampoline Jumping Mat?
While there's no definitive rule, your trampoline mat will be approximately 1.5 or 2 ft smaller than the frame. In practice, that means that your 12 ft trampoline has 10 ft of jumping space.
The trampoline dimensions tell you the size of the frame. The actual jumping surface is smaller.
How Tall Is a Trampoline?
Trampoline height differs depending on the size.
Typically, smaller indoor trampolines are between 6 and 7 ft tall. The actual height of the jumping mat from the ground is about 2 ft, and the rest of the height is the safety enclosure net.
A 12 ft trampoline sits about 3 ft above the ground and has a total height of approximately 8 ft. Most big trampolines come with a ladder included specifically for this reason.
Wrap Up
Having a trampoline is super fun. It's a great way for kids (and adults) to get exercise, and more importantly, get away from electronic devices. I hope you learned everything you need to know to pick a perfect-sized trampoline that will put a smile on your child's face.
If you're in the market for a new trampoline, I highly encourage you to check out our trampoline reviews before making your choice.
At The Home Dweller, we put countless hours into research to bring you the most valuable and actionable information. So, if you found this article informative, consider supporting us by sharing our site on your social media!