If you're looking for a way to exercise efficiently at home, getting your hands on the best magnetic resistance spin bike is the way to do it!
With new brands appearing on the market, getting the right spin bike can be quite challenging. You can reach your fitness goals even if you don't want to spend a fortune on a Peloton bike. We're here to share some valuable insight and help you find the perfect magnetic spin bike. So, feel free to check out the buyer's guide and learn how to pick the best magnetic resistance bike for your home!
Best-Rated Magnetic Resistance Spin Bikes
Best Overall
Echelon Smart Connect EX-3 Magnetic Resistance Spin Bike
Ergonomic, elegant design
Sturdy triangular tubing frame
32 levels of silent magnetic resistance
Premium Choice
Keiser M3i
Corrosion-proof rear-wheel design
Feature and accessory rich
Minimal maintenance required
Best Budget
MaxKare Magnetic Exercise Bike
Heavy-duty triangle-type steel frame
LCD monitor
Budget-friendly
Other Recommendations
Magnetic Resistance Spin Bikes – Reviews 
You don't have to be a pro cyclist to reach your fitness goals. You can get access to daily home exercises and save money and time. The best magnetic spin bikes match the quality of a Peloton bike without costing you an arm and a leg. Magnetic resistance spin bikes come in many shapes, sizes, and price ranges, so it's important to make an informed decision. And, in case you were expecting something different, take a look at the other side of the home gym, and see the benefits of elliptical cross trainers.
So, how can you find the right exercise bike? Before we get into details, here are the top magnetic spin bikes for your consideration.
Best Overall
Echelon Smart Connect EX-3 Magnetic Resistance Spin Bike
The EX-3 Smart Connect Magnetic Resistance Bike from Echelon is going to take your exercise to another level! This elegant magnetic spin bike has all you need and even more than that. It's lightweight, quiet, sturdy, compact and it's really easy to set up and use. This model features a new modified motor and an easy-to-use resistance knob for smooth magnetic resistance which has 32 levels.
Then there are also clip-in SPD-compatible cage pedals, ergonomic height-adjustable handlebars (9 levels) for a perfect grip, comfortable height-adjustable (17 levels), and horizontal-adjustable (7 levels) seat with 0.6″/0.5″ movement per level. The EX-3 model also comes with an all-new handheld slide rack. 
You can expect a glorious user-friendly experience thanks to various interactive features. The EX-3 bike features an adjustable console (flips 180 degrees) and Bluetooth connectivity. Thanks to the Echelon Fit App (Android/iOS) you will never pedal alone again! Go for a ride with other cyclists!
The device features more than 1500 on-demand rides, Zumba, Strength, Barre, Yoga classes, and other exercises, training programs, and workouts. Ride with other owners all over the world with comfort at home and enjoy the progress. Workout properly with more than 30 certified instructors from Chattanooga, TN and stay motivated every day! Achieve great results and reach new levels!
A black/red color scheme is available for purchase as well.
Here's what we liked: 
Ergonomic, elegant design on a powerful magnetic resistance spin bike
Sturdy triangular tubing frame
32 levels of silent magnetic resistance
Specifications:
Dimensions – 48.8″ x 19.9″ x 43.7″ (low seat) 54.3″ x 19.9″ x 54.9″ (high seat)
Weight – 105 lbs
Capacity – 300 lbs
Flywheel weight – 28.7 lbs
Premium Choice
Keiser M3i is by far one of the most popular magnetic spin bikes available on the market. Though it costs a bit more upfront, this indoor cycling bike brings a lot to the table. It's feature-rich, super durable, and it rocks a unique lightweight design that you will love. Atop it all – it's also made in the USA!
This spin bike has a one-of-a-kind V-shape frame to mimic various bike frames with letting you adjust the seat or handlebars for the perfect fit, no matter if you're 4"5' or 7″ tall. You can keep track of your progress by installing the Keiser M Series app on your phone and cycle with real-time graphs for heart rate, power, FTP zones, etc. This indoor cycling bike also comes with a simple digital display that helps you keep track of your performance.
The unique rear-wheel design of the M3i makes the unit easier to clean. Since your sweat doesn't fall on the flywheel as you exercise, this model is also safer from corrosion caused by moisture. The Poly-V belt is also maintenance-free.
This bike comes with a super lightweight flywheel that only weighs 8 lbs, resulting in a fast, smooth ride. You can expect quiet operation and fully-controlled workouts that feature 24 magnetic resistance levels. You'll have no issue setting up this spin bike, as it also comes with transportation wheels.
All in all, it's a durable and simple cycling machine that comes with many features and needs almost no maintenance. 
Here's what we liked:
Rear-wheel design is less prone to corrosion
Feature and accessory rich
Poly-V belt for smooth operation and minimal maintenance
Specifications:
Dimensions – 45″(H) x 26″(W) x 49″(L)
Weight – 85 lbs
Capacity – 350 lbs
Flywheel weight – 8 lbs
Best Budget
MaxKare Magnetic Exercise Bike
Here's an amazing deal for a budget-friendly spin bike! It features a high-quality build with a silent magnetic resistance, allowing you to enjoy a smooth ride.
The handlebars with a pulse grip sensor and LCD monitor are fully horizontally and vertically adjustable as well as the tick-padded large seat. Besides, you can also find the tension knob to increase/decrease the resistance, or push it in case of emergency to safely stop the pedal rotation.
Additionally, there is an LCD monitor that allows you to track your stats and improve your experience. You can see the workout time, distance, speed, etc., which gives you the full picture of your progress. This spin bike can hold up to two hundred and sixty-four pounds and is ideal for all fitness levels.
Here's what we liked:
Heavy-duty triangle-type steel frame
LCD monitor
Budget-friendly
Specifications: 
Dimensions – 42.3″(L) x 35.4″(H) x 7.7″(W)
Weight – 60 lbs
Capacity – 264 lbs
Flywheel weight – 40 lbs
Great Option
This durable machine is your savior in lousy weather and an everyday assistant on your way to getting in shape at home! IC4 is perfect for inside workouts and high-intensity cycling with reduced impact. A total of a hundred resistance levels are at your service! 
The IC4 is feature-packed and comes with all the details that make indoor cycling a joy.
You can stay hydrated with the dual water bottle holder right beside you, and follow a workout plan by connecting your indoor cycling bike to apps like Zwift and Peloton. Keep yourself inspired and watch cool fitness videos on your iPad which is securely fixed in the media device holder. This spin bike also has an LCD console to keep track of all your workout progress, including time, distance, RPMs, etc. The bike comes with a Bluetooth armband that helps you keep track of your heart rate.
Moreover, it has an adjustable (horizontal/vertical) race-style foam seat and padded handlebars for your comfort during a long or intensive ride. Then there are also dual SPD pedals that provide flexibility with regular toe-cages or SPD clips. 
Schwinn IC4 is a top pick for many fitness enthusiasts out there because it brings so much to the table.  
Here's what we liked:
100 micro-adjustable resistance levels
Packed with features and accessories
Specifications:
Dimensions – 45″ x 22.8″ x 49″
Weight – 83 lbs
Capacity – 300 lbs
Flywheel weight – 40 lbs
Easy Assembly
Sunny Health & Fitness SF-B1805
This spin bike features a heavy-duty flywheel with a belt drive mechanism and micro-adjustable resistance for a smooth and consistent ride. What's even more satisfying in this model is that you don't have to bear with the noises of the flywheel as there are none.
This magnetic resistance spin bike is quite affordable and a solid choice for anyone looking for a budget-friendly spin bike. You will appreciate the lightweight 4-way adjustable seat and sweat-resistant handlebars that make spinning effortless and convenient. Works for all user levels so you can adjust this machine to meet your standards, no matter how good you are at cycling.
One of the best things about this spin bike is that it's super easy to assemble and set up in your home gym.The seat cushion is adjustable, too, which makes it ideal for both short and tall users.
SF-B1805 allows you to enjoy spinning while demanding virtually no maintenance. It has a high-quality steel frame for improved durability and robust casters for easy transportation. You can also find holders both for your water bottle and media device that are mounted directly on the steel handlebars.
Then there's also an emergency stop brake for your safety, in case you pedal too fast. Note that it also has toe-caged adjustable strap pedals to keep your feet in place securely.You can easily make your cardio exercises more exciting with this customizable cycling machine. So pedal to your perfection!
Here's what we liked:
Heavy-duty 44 lbs flywheel and a durable steel frame
Micro-adjustable resistance
Fully adjustable and easy to set up
Specifications:
Dimensions – 48″(L) x 23″(W) x 45″(H)
Weight – 125 lbs
Capacity – 300 lbs
Flywheel weight – 44 lbs
Great Option
This model has a digital monitor for your convenience. You can record your progress statistics and keep track of the time, speed, distance, burned calories, and pulse. ICO31 also has a thick comfortable plush seat, 40-lbs chrome flywheel with adjustable resistance, and reliable pedals. Anyone who is looking for a cost-saving model will appreciate the sturdy build of this spin bike.
Besides, there is also a water bottle holder to deal with your thirst and a device holder to help you stay motivated while watching cool fitness videos as you cut those extra pounds. You will appreciate vertical and horizontal adjustments that allow you to customize your cycling workouts.
No special footwear is required for the adjustable caged pedals.
Here's what we liked:
It can record your cycling stats
Feature-rich
Push-down brake
Specifications:
Dimensions – 41″(L) x 21.26″(W) x 47″(H)
Weight – 104 lbs
Capacity – 275b lbs
Flywheel weight – 40 lbs
How to Choose the Perfect Magnetic Spin Bike – Buyer's Guide
You may have an ideal bike in your mind, but does it have all you need? Even a cheap magnetic spin bike can be quite an investment. So, it's important to consider various features and parameters to suit your individual goals before you buy the machine.
Put an elliptical machine or a treadmill next to the magnetic resistance spin bike to complete your home gym.
Resistance – What is magnetic resistance on a spin bike?
Riding an exercise bike is a convenient way to do cardio at home. As you work out, you become stronger and better at the exercise you're doing. At some point, you'll need to add more resistance to your spin bike to keep your workouts effective. 
There are two types of mechanisms that increase and lower the cycling resistance on a spin bike – direct contact and magnetic resistance. 
Direct contact resistance 
It works on the principle of friction, similar to car brakes. The bike's braking pads sit along and above the flywheel. When you rotate the resistance knob on the frame, the brake touches the flywheel, creating friction. Some spin bikes have friction bands instead of brake pads. 
The higher the resistance, the harder it is to pedal, making the workout more intensive.
Brake pads make a quiet sound when they touch the flywheel. Over time, the brakes wear out, so you'd need to replace them once a year or so. 
Magnetic resistance 
This type of resistance implies two powerful magnets and the flywheel as a magnetic conductor. When you increase resistance, the powerful magnet interferes with the flywheel. This makes it harder to cycle, putting more load on your muscles.
The good thing is you can effortlessly move from one intensity level to another. Besides, the brake doesn't touch the flywheel, so there is no noise or wear and tear. If you want something silent and durable, go magnetic.
Drive
The drives in most exercise bikes are made of rubber belts or chains.
Rubber belt 
When cycling, you spin the pedals. Then, a robust rubber belt transfers the power from the pedals to the flywheel. The high tension of the belt keeps it from slipping and provides a smooth ride. Tighter kevlar belts, used in some spin bikes, have a longer lifespan. With belt drives, you get low acoustics and a smooth cycle. Most magnetic spin bikes utilize a belt drive for a seamless indoor cycle. They cost more than chain drives but require little to no maintenance. 
Chain
A spin bike chain drive is just like the one you see on regular outdoor bikes. When you spin the pedals, a roller chain turns the flywheel with the motion of your legs. If you love to cycle outdoors, you will get a similar experience on chain-driven spin bikes. Chain drives make typical clinking sounds, authentic movement, and require standard maintenance.
Flywheel 
The flywheel is a big metal disc located either on the front or the back (rear flywheel) of a spin bike. It gives you a comfortable riding experience by smoothing out the cycling motion and promoting a consistent pedaling rhythm.
Heavy flywheels provide a smooth ride and spin slower than their lighter and smaller high-speed counterparts (like on the Keiser M3i magnetic spin bike). The weight of a spin bike wheel is no big deal as the cycling is going to be smooth anyway. It's just that heavier and bigger flywheels are a bit more "aggressive."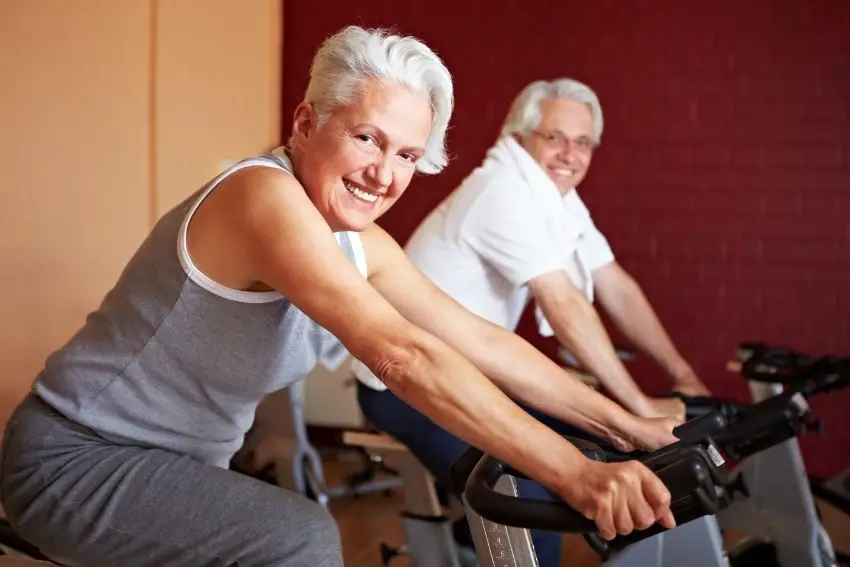 Frame
The frame of a spin bike is one of the most important design features. The frame defines your riding position, and thus your whole indoor cycling experience. 
If the flywheel is at the front of the bike, you will have to clean it often. This flywheel position makes corrosion due to sweat a possibility. Luckily, this problem is easy to avoid with regular spin bike maintenance. 
A rear-driven bike is the best option if you don't always have the time for regular cleanups. 
No matter which type of frame you choose, look for high-quality bike frames with sweat and rust protection.
Accessories
Accessories and special features can bump the price of your spin bike, but they're well worth the investment. Additional features can make your cycling workouts more comfortable, fun, and easy. Here are some magnetic spin bike accessories to consider:
An LCD monitor that tracks your resistance, speed, time, distance, and calories burned,
Pulse sensors that let you monitor your heart rate
Transportation wheels for easier set-ups
A water bottle holder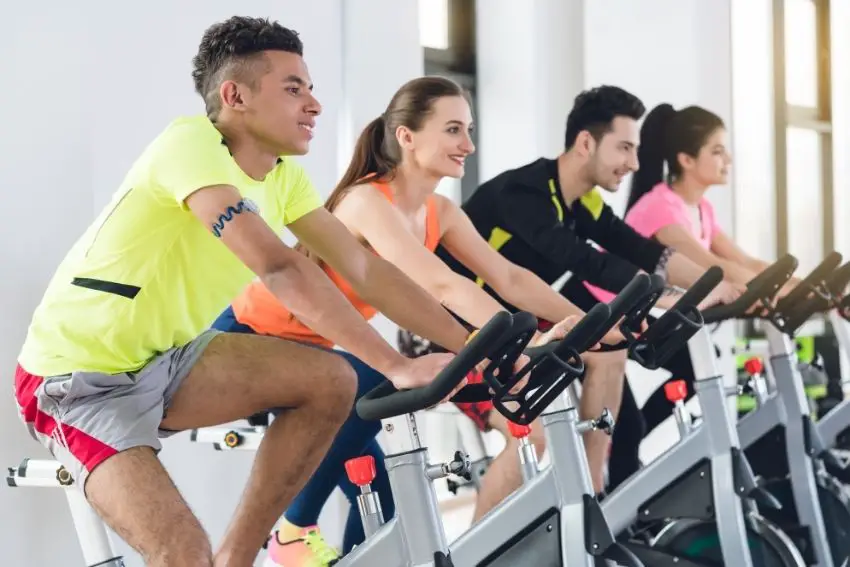 Conclusion
Indoor cycling is an amazing cardio exercise, no matter if you're a complete beginner or a seasoned fitness enthusiast. Having a cycling exercise bike at home makes regular workouts even more convenient, comfortable, and above all – more efficient. Due to its compact size, an indoor magnetic resistance spin bike makes a perfect addition to any home gym. 
We work hard to bring you high-quality information and make your life easier. If we helped you choose the right product or learn more about fitness, consider sharing The Home Dweller with your friends on social media.