If you're looking for a way to exercise efficiently at home, getting your hands on the best magnetic resistance spin bike is the way to do it!
With new brands appearing on the market, getting the right spin bike can be quite challenging. You can reach your fitness goals even if you don't want to spend a fortune on a Peloton bike. We're here to share some valuable insight and help you find the perfect magnetic spin bike. So, feel free to check out the buyer's guide and learn how to pick the best magnetic resistance bike for your home!
Best-Rated Magnetic Resistance Spin Bikes
Table of Contents
Other Recommendations
Magnetic Resistance Spin Bikes – Reviews
You don't have to be a pro cyclist to reach your fitness goals. You can get access to daily home exercises and save money and time. The best magnetic spin bikes match the quality of a Peloton bike without costing you an arm and a leg. Magnetic resistance spin bikes come in many shapes, sizes, and price ranges, so it's important to make an informed decision. And, in case you were expecting something different, take a look at the other side of the home gym, and see the benefits of elliptical cross-trainers.
So, how can you find the right exercise bike? Before we get into details, here are the top magnetic spin bikes for your consideration.
How to Choose the Perfect Magnetic Spin Bike – Buyer's Guide
You may have an ideal bike in your mind, but does it have all you need? Even a cheap magnetic spin bike can be quite an investment. So, it's important to consider various features and parameters to suit your individual goals before you buy the machine.
Put an elliptical machine or a treadmill next to the magnetic resistance spin bike to complete your home gym.
Resistance – What is magnetic resistance on a spin bike?
Riding an exercise bike is a convenient way to do cardio at home. As you work out, you become stronger and better at the exercise you're doing. At some point, you'll need to add more resistance to your spin bike to keep your workouts effective. 
There are two types of mechanisms that increase and lower the cycling resistance on a spin bike – direct contact and magnetic resistance. 
Direct contact resistance
It works on the principle of friction, similar to car brakes. The bike's braking pads sit along and above the flywheel. When you rotate the resistance knob on the frame, the brake touches the flywheel, creating friction. Some spin bikes have friction bands instead of brake pads. 
The higher the resistance, the harder it is to pedal, making the workout more intensive.
Brake pads make a quiet sound when they touch the flywheel. Over time, the brakes wear out, so you'd need to replace them once a year or so. 
Magnetic resistance
This type of resistance implies two powerful magnets and the flywheel as a magnetic conductor. When you increase resistance, the powerful magnet interferes with the flywheel. This makes it harder to cycle, putting more load on your muscles.
The good thing is you can effortlessly move from one intensity level to another. Besides, the brake doesn't touch the flywheel, so there is no noise or wear and tear. If you want something silent and durable, go magnetic.
Drive
The drives in most exercise bikes are made of rubber belts or chains.
Rubber belt
When cycling, you spin the pedals. Then, a robust rubber belt transfers the power from the pedals to the flywheel. The high tension of the belt keeps it from slipping and provides a smooth ride. Tighter kevlar belts, used in some spin bikes, have a longer lifespan. With belt drives, you get low acoustics and a smooth cycle. Most magnetic spin bikes utilize a belt drive for a seamless indoor cycle. They cost more than chain drives but require little to no maintenance. 
Chain
A spin bike chain drive is just like the one you see on regular outdoor bikes. When you spin the pedals, a roller chain turns the flywheel with the motion of your legs. If you love to cycle outdoors, you will get a similar experience on chain-driven spin bikes. Chain drives make typical clinking sounds, authentic movement, and require standard maintenance.
Flywheel
The flywheel is a big metal disc located either on the front or the back (rear flywheel) of a spin bike. It gives you a comfortable riding experience by smoothing out the cycling motion and promoting a consistent pedaling rhythm.
Heavy flywheels provide a smooth ride and spin slower than their lighter and smaller high-speed counterparts (like on the Keiser M3i magnetic spin bike). The weight of a spin bike wheel is no big deal as the cycling is going to be smooth anyway. It's just that heavier and bigger flywheels are a bit more "aggressive."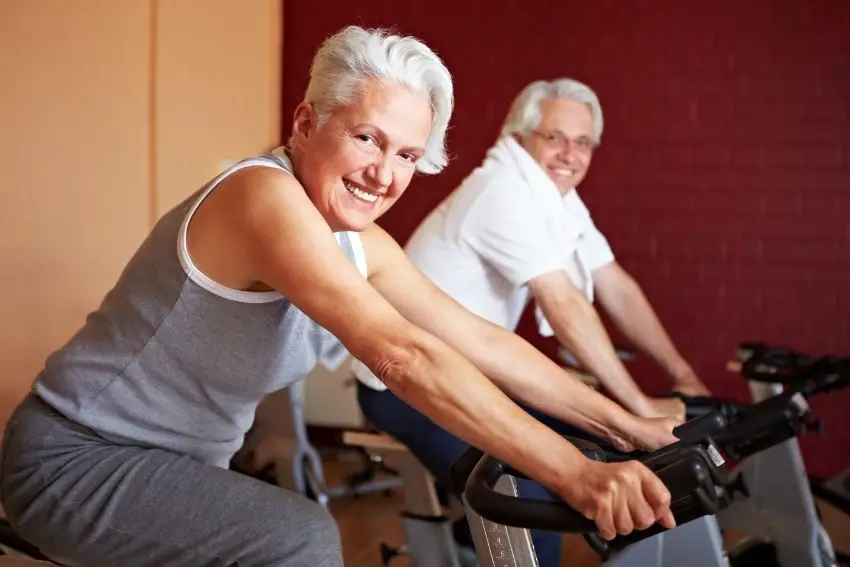 Frame
The frame of a spin bike is one of the most important design features. The frame defines your riding position, and thus your whole indoor cycling experience. 
If the flywheel is at the front of the bike, you will have to clean it often. This flywheel position makes corrosion due to sweat a possibility. Luckily, this problem is easy to avoid with regular spin bike maintenance. 
A rear-driven bike is the best option if you don't always have the time for regular cleanups. 
No matter which type of frame you choose, look for high-quality bike frames with sweat and rust protection.
Accessories
Accessories and special features can bump the price of your spin bike, but they're well worth the investment. Additional features can make your cycling workouts more comfortable, fun, and easy. Here are some magnetic spin bike accessories to consider:
An LCD monitor that tracks your resistance, speed, time, distance, and calories burned,
Pulse sensors that let you monitor your heart rate
Transportation wheels for easier set-ups
A water bottle holder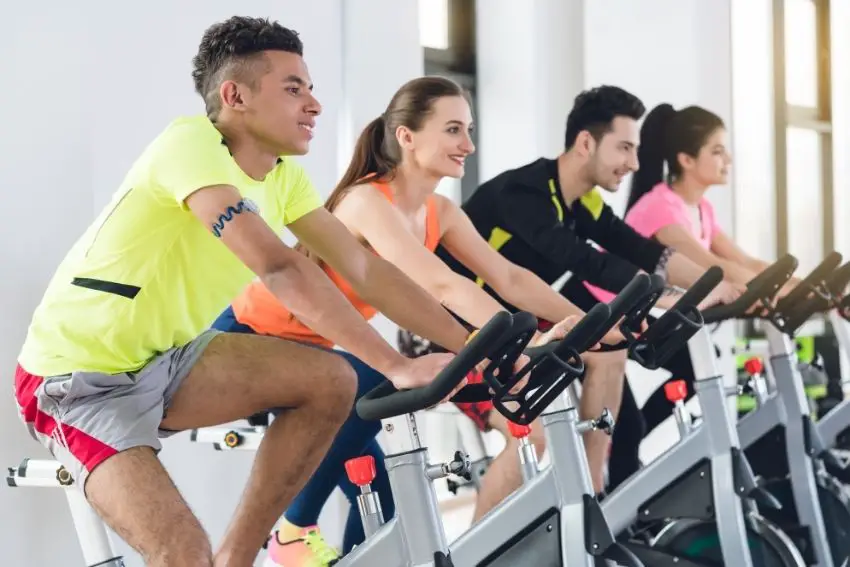 Conclusion
Indoor cycling is an amazing cardio exercise, no matter if you're a complete beginner or a seasoned fitness enthusiast. Having a cycling exercise bike at home makes regular workouts even more convenient, comfortable, and above all – more efficient. Due to its compact size, an indoor magnetic resistance spin bike makes a perfect addition to any home gym. 
We work hard to bring you high-quality information and make your life easier. If we helped you choose the right product or learn more about fitness, consider sharing The Home Dweller with your friends on social media.