Schwinn Airdyne Pro vs Schwinn Airdyne AD7: Comparison and Review
The first thing worth noting right off the bat is that the Schwinn Airdyne Pro and the Schwinn Airdyne AD7 are the same exercise bike. The manufacturer decided to market them separately because the Airdyne Pro is intended for commercial gyms and the Airdyne AD7 is intended for private use.
So, the Schwinn Airdyne Pro vs Schwinn Airdyne AD7 debate isn't a debate at all. But that doesn't mean this air bike doesn't have a whole range of features to offer. Hang with me as we dive deep into this bike's specs and features.
Table of Contents
Schwinn Fitness Airdyne Ad7
Wind resistance provides the continual burn you need
Full body workout with multi-position hand grips
Digital display, adjustable, comfortable seat
Schwinn Airdyne Pro and Schwinn Airdyne AD7 offer the same high level of quality customers are already accustomed to expect from Schwinn. These are solid high-end exercising machines, quite compact, and relatively lightweight. Both are at the top of the price range but at the same time, they deliver great value for money. The difference between Schwinn Airdyne Pro and Schwinn Airdyne AD7 is in warranty coverage only. 
One of the distinctive features of these bikes is that they offer 9 pre-programmed workout routines as opposed to manual control. While these programs allow the user to control the exercise intensity, none of them can affect the air bike's speed/resistance level. This is of course due to the specifics of air bikes in general: they don't feature any resistance adjustment features. The resistance grows as you go faster.
These machines might look quite small and compact at first glance but they are surprisingly sturdy. The strengthened stainless steel frame allows them to endure even the most intense workouts and up to 350 lbs of weight. Additionally, the adjustable seat can be moved up, down, backward or forward to fit just about any type.
One thing these air bikes have in common with ellipticals is - handlebars you can move. The manufacturer took special care to design them to help you adjust the bike to your body type and exercise regimen, all while maintaining firm grip and stability.
There is an option of telemetric heart rate tracking using a chest strap but you'll have to purchase this accessory separately. A large bottle holder is a nice feature for those who like to have their water bottles close during workouts.
It's also worth noting that these machines come without a power cord. They are battery-powered. Two AA batteries are included in the package, along with the user manual and a toolkit. After all, the goal is to use your own energy to move the bike's mechanism, right?
Pros:
Extra durable steel frame
Fits any body type, up to 350 lbs of body weight
Transport wheels to help you move the bike around with ease
Ergonomic design, adjustable seat, and movable handlebars with multi-grip options
9 pre-programmed workout routines
Easy assembly
Versatility and Adjustability
9.5
Exercise Bikes As Workout Machines
Exercise bikes are easily the best-selling workout machines. Manufacturers recognize the great demand for these bikes and competition is fierce. Because of the huge selection, finding the right machine for your home may not always be the easiest task.
We all have slightly different motives. Some people want to get toned up and lose weight, while others want to complement their weight training with cardio sessions. Many people use exercise bikes to help them recover from injuries.
If you're considering an alternative to an exercise bike, be sure to check out our best budget ellipticals. Ellipticals are great on your joints and can supplement a bike for a great total body workout. But here's why you might consider an exercise bike!
Reasons To Buy An Exercise Bike:
You don't depend on weather conditions. You exercise as much as you want in the comfort of your home while listening to your favorite music or watching movies, or TV.
They are great for everyone in the house. You can always adjust the settings and components to fit each user's preferences and body type. There is no need to buy a separate exercise machine for each family member.
Exercise bikes are safer than actual race cycling or jogging. They offer low-impact workouts without the risk of traumatizing your joints and muscles, even during the high-intensity training sessions.
There is no need to go to all the trouble of choosing the best cycling route and riding through the streets with busy traffic and careless drivers.
You don't have to be a cycling pro to use an exercise bike. You might not even know how to ride an actual bike and still be able to use an exercise bike easily. If you're low on space, you can invest in a foldable exercise bike and pack it up when you're done exercising.
Other Considerations
Schwinn makes great exercise machines. If you're interested in expanding your horizons, we suggest taking a look at these models:
Air Bikes: General Information
Based on the type of resistance, there are several kinds of exercise bikes:
brake-based
direct contact
fan-based
Fan-based resistance bikes, or air bikes, are a relatively recent invention. They stand out among all the other kinds of exercise bikes thanks to their unique design and incredible versatility.
Air bikes can easily adjust to your exercising needs in no time. If you want to do some high-intensity cycling (imagining you are riding a racing bike), it will deliver. In case you feel like doing full-body cardio, it will turn into an elliptical.
Those who only want to do an upper body workout can place their feet on a footrest and do just that. This makes it a remarkable combination of an upright stationary bike, an elliptical trainer, and a rower in one compact exercise machine. Almost like an entire gym combined in one contraption. While there are differences between ellipticals and bikes, an air bike like this Schwinn will provide all the benefits of both worlds.
How Do Air Bikes Work?
Air bikes work thanks to air resistance. Their main component is a large fan/flywheel. You can set it in motion by moving the pedals and handlebars. With this type of exercise bike, there is no option of adjusting resistance levels.
The faster you move, the higher is the level of resistance. Due to this mechanism, air bikes are mostly designed for challenging high-intensity training. They are usually not well suited for beginners.
If you've never tried an air bike before, you'll likely need some time to get adjusted to it. But, once you do get used to the whole ordeal, get ready to feel your blood flowing and your fat burning!
Air Bikes: Specifics
They effectively combine high-intensity training and safety. No matter how challenging you want your workout to be, it will always remain low-impact.
The high intensity affects your cardiovascular and metabolic systems, which helps you develop the skeletal muscles.
You can choose the type and intensity of workouts they prefer.
Also, you can spin the pedals in reverse direction, which allows training various muscle groups.
Lastly, you get to choose between full-body workouts, just upper, and lower body training.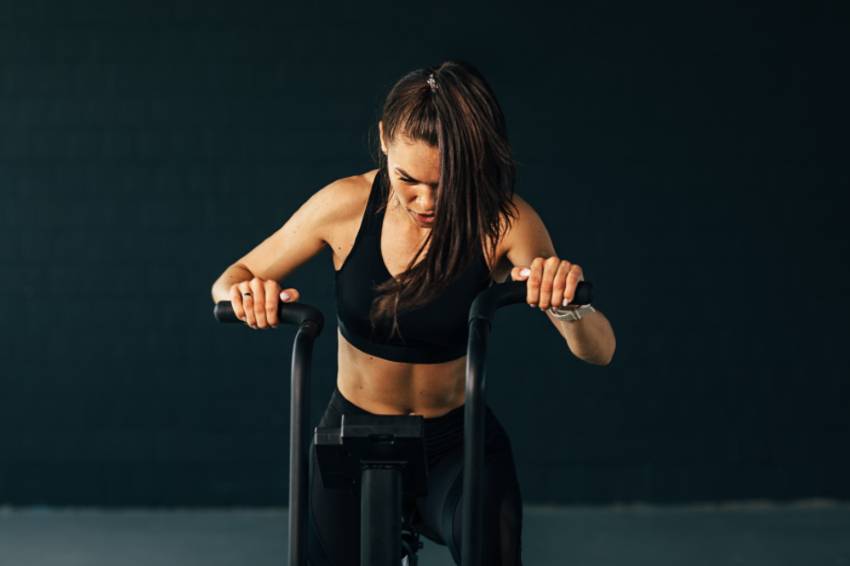 Schwinn Airdyne Pro vs Schwinn Airdyne AD7 – FAQ:
1. I have a problem installing the handlebars. How does it work?
You might want to use some additional light sources to be able to align them with the frame. Once you manage to do that, installing them should be easy. If you are still experiencing issues on that part, contact the manufacturer. They will guide you through the process.
2. Are assembly services included in the price?
No, you'll have to assemble it by yourself. It's not troublesome at all, though. The package includes all the tools you might need for this and the manual instructions are quite easy to follow.
3. Is it possible to block the handlebars from moving when I only want to use the pedals?
There's no lock on the arms but you can easily use pedals without touching the handlebars. They won't move if you don't touch them.
4. Does it make a lot of noise during intense workouts?
These air bikes are rather quiet. They might be quieter than other similar machines from other manufacturers. For example, the noise levels of the Airdyne and Assault series are comparably different, but both come with low sound levels while in use.
5. Do pedals come with straps or will I have to buy the straps separately?
These air bikes come without pedal straps. There's no need for pedal straps. After all, this is a low-impact workout.
In Conclusion
As you can see, the Schwinn Airdyne Pro vs Schwinn Airdyne AD7 isn't a debate at all – they are the same exercise bike with a slight difference – the warranty period. But, if you want to treat yourself to an air bike like this, you will not go wrong with either one. The Schwinn Airdyne Pro (aka Airdyne AD7) will provide you with more than enough features, a sturdy build, and adjustable parts.
At The Home Dweller, we explore everything homestead-related, bringing you useful info to help you with all sorts of purchases. If you liked our Schwinn Airdyne Pro vs Schwinn Airdyne AD7 article, feel free to share it on social media. Who knows, maybe you inspire someone to finally start exercising!