Looking for an indoor bike that's going to help you stay in shape, and it has come to Schwinn 230 vs 270? No worries, we got you covered!
Biking is undeniably great. Besides being a relatively lightweight vehicle that can take you from point A to point B, a bike gives you a full-body workout and a powerful endorphin boost. Unfortunately, you can't bike in every weather and if you live in a large busy city, that can be a problem too. That's when stationary exercise bikes come in handy. They don't take much space, they are comfortable and you can use them any time you want.
So, stay and read about the differences between Schwinn 230 and 270 – some are subtle, and some important. We prepared reviews for both models, and you can find the FAQ section at the end. Now, let's dig in!
Schwinn 230 Vs 270 Comparison Chart
Product
Product
Schwinn Fitness 230 Recumbent Bike
Schwinn Fitness 270 Recumbent Bike
Preset Programs
Preset Programs
13 Stanard Profile Workout Programs
29 programs: 12 profile, 9 heart rate control, 4 custom, 2 fitness tests, 1 recovery test, 1 quick start
Heart Rate Monitor
Heart Rate Monitor
Standard (via Bluetooth, strap not included)
Handlebars and Telemetry (Bluetooth Supported)
Bluetooth Support
Bluetooth Support
Yes
Yes
Speakers
Speakers
No
Yes – sealed acoustic chamber
Goal Track
Goal Track
Yes (Explore the World App)
Explore the World and MyFitnessPal App
Resistance Levels
User Profiles
Display
Display
Segmented LCD (5.5")
Schwinn DualTrack™ two blue backlit LCD window system
USB Charging Port
Sound System
Media Shelf (Tablet Holder)
Media Shelf (Tablet Holder)
Yes
Yes
Water Bottle Holder
Water Bottle Holder
Yes
Yes
Handle Bars
Handle Bars
Static ultra-grip handlebars
Static ultra-grip handlebars
Transport Wheels
Pedals
Pedals
Oversized weighted pedals with toe straps
Oversized weighted pedals with toe straps (3-piece)
Machine Weight
Machine Weight
81 lbs.
86 lbs.
Dimensions
Dimensions
64" L x 27" W x 44.5" H
64" L x 27" W x 49.9" H
Warranty
Warranty
Body - 10 years, Parts - 2 years, Electronics - 1 year, Labor - 90 days)
Body - 10 years, Parts - 2 years, Electronics - 1 year, Labor - 90 days)
Table of Contents
Schwinn 230 Vs 270 – Key Differences
To an untrained eye, these two recumbent bikes may look quite the same. However, even though you can get a good workout from both, the bikes come with several key differences. For example, Schwinn 230 offers a great entry-level set of features, while Schwinn 270 comes as a recumbent bike that focuses on goal tracking and versatility.
One of these key differences between Schwinn 230 and 270 is the display, or to be more specific – the console.
Console Comparison
Schwinn 230 Console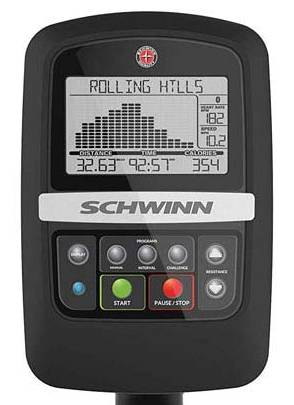 Schwinn 270 Console
The main difference between these two consoles is the backlight. It may seem like a trivial detail, but any experienced user will tell you that the backlight is more than just a "shiny feature" – it is a quality of life addon that helps with tracking a lot!
Additionally, the Schwinn 270 console allows you to more info at the same time, thanks to the dual-screen system that Schwinn developed to help organize your workouts properly.
Quality of life features
While you can get a solid exercise from both Schwinn 230 and Schwinn 270, the latter model comes with features like:
Sound system with two speakers
A USB charging port – excellent if you use tracking apps like Explore The World
The pedals are 3-piece, which makes them smoother to use (to a degree)
A wider variety of exercise programs (13 vs 29 respectivelly)
Schwinn 230 vs 270 – The Reviews
Schwinn 230
If you are looking for a great workout machine that has it all for the low-intensity exercise routines, this might be a great choice for you. This bike won't force you to break the bank but will still offer a generous number of various features, and a solid exercising experience.
The first thing worth mentioning is the two LCDs system. It allows watching videos or reading e-books, or even listening to music while monitoring and heart rate. This means there is no need to stop exercising to change programs or modes or check on your progress. Everything's right there before your eyes.
22 preset exercise programs will make an exercise experience as varied and un-boring as it gets.
Speaking of which, it would be wrong to think that if this recumbent bike is designed for more low-intensity workouts, it's unable to make exercising more challenging. Twenty resistance levels take care of that - Schwinn 230 makes it possible to increase your training load as your fitness level grows.
The bike has a comfortable wide vented seat that can be easily adjusted for any user, a fan with 3-speed options, a water bottle holder, acoustic chamber speakers for the best sound quality.
What's more, there are heart sensors built into handles and you can easily sync your workout results and data, even with My Fitness Pal mobile app. This way you'll create a personal comprehensive healthy lifestyle program.
Pros:
Thanks to a low-positioned adjustable seat, it's easy to access.
Lightweight, stable, durable, and quiet.
Wide choice of preset workout programs.
Two user profiles to share the bike with your loved ones.
Powerful media system
Max weight capacity is 300 lbs.
Schwinn 230 – FAQ:
1. I've noticed that the vented plastic seat isn't padded. Is it comfortable enough to use this bike for longer periods?
The seat feels hard but it's comfortable enough. Unless you have a lower back spinal or muscle issues, you'll have no problem using the machine for as long as you like.
2. Is this bike heavy and hard to move from place to place?
It's made of a lightweight aluminum frame and weighs under 100 lbs. It's quite easy to move since it's not too bulky. If you ever need to repair the bike, clean it, or simply do some maintenance, it won't be a problem to move it around.
3. How hard is it to assemble? Can I do it myself?
It's very easy to assemble and you will be able to do it without anyone's help. Using the manufacturer's instructions helps a lot along the way, if you get stuck that is.
4. Is this bike made entirely of plastic? And if it is, how long does it last?
Schwinn 230 is a combination of heavy-duty plastic and metal. The frame is stainless steel, most of the other parts are plastic. The same trend can be seen with virtually all similar indoor exercise equipment. Besides, the plastic parts are quite sturdy and very durable, even if your weight approaches the weight capacity limit and you use the bike every single day.
---
Schwinn 270
All in all, this model isn't much different from the Schwinn 230 bike. This is not surprising because Schwinn 270's designers used the older model as a base point. And still, it has a few substantial improvements worth mentioning.
While these bikes don't look much different, there are a couple of things you notice once you get into it. First, unlike Schwinn 230, which has a vented plastic seat, the seat you see on the Schwinn 270 model is cushioned. Second, Schwinn 270 is more expensive than its predecessor. The difference in price isn't too dramatic, though. Both models seem to get similarly positive reviews from customers.
As for other differences, it's worth noting that this bike has 29 preset workout programs, which is 7 more than Schwinn 230 offers. There are also 25 resistance levels as opposed to 20 provided by the previous model.
This bike offers both contact (grips sensors) and telemetric heart rate trackers (heart rate straps). You can create four user profiles on this one instead of 2, which makes it quite a great family option. Another notable feature is a 3-crank system on this stationary bike. It means that this fitness machine has more resilience when you use it at the highest resistance levels for longer periods.
Pros:
Easy assembly
Cushioned seat for a more comfortable experience
4 user profiles
29 preset workout programs and 25 resistance levels
Telemetric heart rate tracker
Schwinn 270 – FAQ:
1. Some models' padded seats are slippery. Does this bike have the same issue?
If you adjust the seat properly, you can avoid this issue. In case your bike seat gets slippery with sweat, I recommend putting a towel on it to prevent sliding and slipping out of it.
2. I'm 6'1". Can I use this bike normally without experiencing any discomfort?
Yes, you can. It's pretty easy to adjust the seat by sliding it back and once you do, you'll feel perfectly comfortable. Play around with the settings and positions until you find your perfect zone.
3. How heavy is this exercise bike?
According to the manufacturer, the Schwinn 270 recumbent exercise bike weighs 86 pounds.
4. Do the pedals on this bike require using special sports shoes or will I be able to use them barefoot?
No one will stop you if you decide to spin the pedals barefoot but it won't be the most comfortable feeling as the pedals are made of hard plastic. On the other hand, regular sports shoes might not fit under the straps attached to the pedals. We suggest that you use socks or smaller shoes.
5. Can I listen to music from my iPad or iPhone while using this bike?
Schwinn 270 features an MP3 input port, so you will have no problem listening to the music of your choice. There is also a rack where you can put your iPhone or iPad to listen to music, watch videos or movies while you work out.
---
Schwinn 230 vs 270 – FAQ
1. Where can I get Schwinn 230 recumbent bike parts? Does it come with any replacement parts when you order it?
The package does not include any replacement parts. You will have to contact the manufacturer and make sure that you choose the correct replacement parts for the model you own.
You can also buy pretty much any replacement parts you need for this bike online. It's best to take special care when you buy bike parts from anyone who is not the manufacturer. They have to be original quality parts if you want your bike to work in the best possible way.
2. What is Schwinn 230 heart rate monitor like?
Schwinn 230 features a contact heart rate tracking system. It includes sensors built into the hand-grip that's connected with the LCD. This allows monitoring your heart rates during exercises with no distractions.
This feature is extremely valuable to those who prefer to adjust the intensity and length of their workouts based on their heart rate data. When you don't want to go overboard and strain yourself too much, it will be more than helpful.
3. Does Schwinn 230 recumbent bike manual come with the product?
Yes, all Schwinn products come with a detailed manual. There are 2013 model and 2016 model manuals available for the Schwinn 230 recumbent bike.
You can find all the information you need there, from specifications and assembly instructions to recommendations as to how to use the bike for maximum benefit. There is also a troubleshooting section that will answer many questions about some issues you might have with the product.
In case you've lost your user manual or don't have it for any other reason, you can always download one from the manufacturer's website.
4. How does Schwinn 270 recumbent bike resistance work?
Schwinn 270 recumbent exercise bike has a 25-level magnetic resistance system. Firstly, it allows you to move almost quietly, no matter the level of resistance you are at.
Secondly, thanks to this system you can gradually and smoothly increase your training load from very low-impact to extremely challenging. To change a resistance level, you only need to press one of the 10 buttons.
This means that users can always adjust the training load according to their growing fitness level, age, or special needs if there are any.
5. What are the Schwinn 270 resistance problems?
Normally, customers rarely experience any major problems with any of this bike's features. However, one of the most frequent issues that occur is an issue with resistance adjustment.
If this happens, there might be several factors that contribute to the issue: malfunctioning console, damaged wiring that causes connection issues between the console and the motor, or motor problems. The first thing you should try is consulting the Schwinn 270 assembly manual. Schwinn left a lot of useful info there!
Many of these issues are easy to solve if you contact the manufacturer's customer service and describe the problems you are experiencing in detail. However, if the issue is all about the motor, it might be the best idea to return the product to the manufacturer for a refund.
Benefits Of Recumbent Exercise Bikes
Stationary bikes come in various sizes, shapes, and designs. Depending on your personal needs and preferences, you can purchase an upright bike, a recumbent stationary model, or a foldable exercise bike.
Upright exercise bikes simulate the real-life biking experience. Their design includes a smaller seat for a vertical sitting position with pedals positioned underneath. Recumbent models have larger, more comfortable seats that sometimes remind of office chairs with pedals in front. This means that you can expect a few benefits, such as:
They are much more comfortable to use, which means they are easier on your joints and spinal muscles. This means they are especially good for older people and those who are recovering after surgery and trauma. While upright bikes provide a harsher exercising experience, recumbent models offer a gentler approach.
This type of stationary bike offers a safer way to exercise. You can't stand on the pedals so the chance of any injuries due to contact with them is much lower.
Recumbent exercise bikes are great for beginners and those who want to increase the level of exercise intensity slowly and gradually.
Other Recommendations
If you're interested in exercising at home, you can upgrade your home gym in many different ways. Here's a list of relevant topics we covered, including different types of exercise equipment and budget ranges. Also, feel free to read through some info topics we covered as well.
Lastly, in case you want to stay within the Schwinn brand, we recommend that you start here:
Conclusion
Overall, these two bikes are quite similar. There are no great differences in size, weight, looks, or performance. They both are products from the same manufacturer, so it's not surprising. So, we could say that the whole Schwinn 230 vs 270 debate lies in the subtle nuances.
Schwinn 270 would be a great choice for those who value comfort as much as performance. But in case you don't want to pay an extra hundred for a larger number of features and a padded seat, you might as well go with the Schwinn 230 and still enjoy your exercise.
At The Home Dweller, we explore all sorts of homestead-related topics, bringing you the essential information needed to make a good purchase. If you found our article helpful, we encourage you to share it on social media and help someone in need of new exercise gear. Cheers!