There was a time we were newlywed (second time both) and short of money to buy a real bed. We decided to buy an airbed until we save enough money to have ourselves a solid wooden frame and a good thick mattress.
I remembered when I and my ex went on a vacation with my kids (link to the air mattress pump) and we had a pretty good INTEX air mattress which made our kids happy. So, when it came to buying an airbed, I didn't' think twice and bought one of the same trademark, INTEX.
What I didn't take into account were the fact that I was no longer under 30 years and 85 kilos, and my second husband is 1,93 meters tall and weighs proportionally. Do the math: the newlyweds, both big. The mattress thrived about three months and then died off, ahem, heavy usage.
We bought ourselves a futon. At least, you cannot break it. And somehow we got used to it and sleep on it even now, and when our old futon wore off, we had bought ourselves another, just the same.
But then, one day, my elder rugrat, who is 18 now, decided to make a flat renovation. He inherited an apartment and some money from his great-grandmother, and he decided to spend them on the new wallpaper, paint, linoleum, and some furniture to give his habitation a less grand-motherish look.
So I offered him to move with us for a while, we have a spare room, so it would be OK. He gladly agreed, but he didn't want to sleep on the floor on a futon, so we returned to the airbed option and started to browse in search of the one we would purchase.
List & Comparison of twin air mattresses with built-in pump:
Table of Contents
How much weight can a twin air mattress support?
That depends on the mattress. My son is not a lightweight, he is above 1,80 meters and a little shy of 100 kilos. That means that my demands are rather strict in this area.
How to inflate an Intex twin air mattress?
Back then when we had an air bed, it was tended to lose air, so we had to reinflate it every day and keep the pump ready. Good news: nowadays, there are lots of self-inflatable airbeds with built-in pumps.
So the answer is: you just plug it in, turn it on and wait until it is inflated. Then you spread a sheet on it, lay your pillow, and go to sleep. WARNING! The pumps usually do not turn off automatically, so you have to look after the inflating process and turn the pump off manually. Otherwise, the thing can leak at the seams.
Mind that stretching is a natural characteristic of vinyl, so the mattress can go a little sagged after the first use. But if it is not slightly sagged and lost a third or even half of its air, there is a leak in it, and you'd better have it replaced ASAP.
How to deflate Intex twin air mattress
Just the same way. The built-in pump can both inflate and deflate the mattress. Or you can just unplug the valve and let the air out.
Review of the best twin air mattresses with built-in pump:
Etekcity EAM-DT
It looks cozy. The material is 0.4mm PVC+ 0.2mm flocking, which means it will hold the sheet. When I used my old air mattress, it was a problem, because sheets slide off all the time. It certainly can hold my big boy's weight. It weighs 14.79 lbs itself, so we can easily keep it deflated in the wardrobe when my son moves back to his renewed place. There is also a valve for the manual inflating, so it can be taken outdoors.
Any air mattress loses air, but when it is half deflated during one night, it is no good. It gives you aches in the back and you wake up sore. ⅕ chances to buy a deflating item are kinda high in my opinion.
---
Intex 64411E2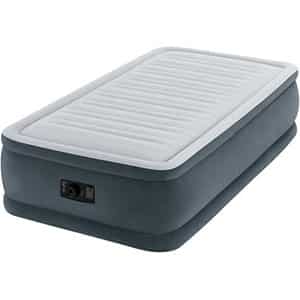 I have some kind of a sentimental feeling for the Intex trademark. Of course, I have researched their offering. I liked the Comfort Plush Elevated Airbed, first of all, because of its price. But my mother always said that the cheap fish makes a bad stew. So I researched further.
The advertising promises us the durability and comfort that would last for years.
It can hold 300 pounds, enough for us. The plush flocking that covers each bed can ensure that a sheet wouldn't slide. And the top is waterproof – not critical for us (my boy is no longer a baby), but rather useful in case someone spills something on the bed. The pump inflates the bed in 3 minutes, and there are dents on the sides to keep the sheet firmly.
---
Intex 67765E
This one is a part of the Dura-Beam series, like the previous one. The air chambers are situated horizontally, and that's why the series is called Dura-Beam. The Dura-Beam series seems to solve the constant Intes designed mattresses problem of which we shall talk about below. It is not that high, only 13 inches from the floor, which my boy may not like. Anyway, I shall take a look at it.
---
Intex 66705E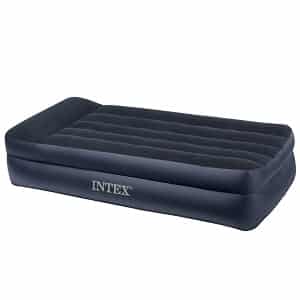 It is almost standard in size: 39 x 16.5 x 75, but a bit lower than two previous items (1,5 inches) Still, it's high enough to serve our purpose and seems to be durable.
The thing that I liked is that they provide it with a repair kit. If the bed starts leaking, you can find a leak and patch it with the same material that the mattress is made of.
They even teach you how to find the leak. Inflate the mattress and seal the valves. Mix some liquid soap and water in the sprinkler and spray over the mattress. There will be bulbs where the leak is. Then you wipe the place dry, remove the flocking with fine sandpaper (if necessary) and apply the patch with the glue added.
This item also has a pillow rest, which is nice, though if you like to sleep with your head high, you'd better bring an additional pillow, this resting is not high enough. The built-in electric pump has a bypass so you can use the mattress outdoors, with a hand or foot pump, or an electric one ( link to air mattress pump).
The people rate this item higher than the previous three.
---
SoundAsleep Raised Twin Size
This one claims to be more durable because of its puncture-resistant PVC and the ComfortCoil technology which provides the mattress with a kind of air pillar that supports the whole construction with a uniform load. Its Sure-Grip bottom prevents it from sliding.
It is 2 inches shorter than the other items. Their built-in pump produced 20% less noise. It has no bypass to inflate it manually, thus it is not an option for outdoor use (which is good enough for me, I already have one for the outdoors).
People don't feel the coils while sleeping, there is no risk of bulging at the center because of a seam gone apart. Also, there is no plastic smell to spoil your night's rest. They also say that this kind of PVC is eco-friendly, though I don't know what eco-friendly PVC is.
And oh, it cannot be plugged on 220 V net which is extremely sad for Eastern Europeans who would need to buy an adapter.
---
Intex 66775E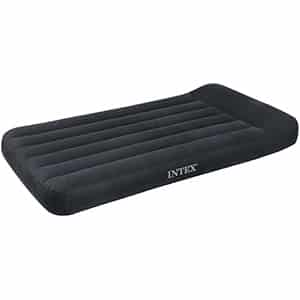 Hello, my old friend! This is the same mattress we had back then, except that one didn't have a built-in pump and this one has. Otherwise, this is identical. So I'll tell you at once that it is tended to sag down in the middle.
It is just inevitable with that long vertically situated big air camera. If it leaks, your bum is on the floor just in the middle of the night, because it is only 9 inches high. My kid will certainly reject it but I'll review it anyway for the sake of good old times.
If the inner seam goes apart you will have a nasty bulge. But I cannot help feeling sentimental, I spent so many happy hours on its lookalike.
People's rate is not particularly high. Though, there are customers who were lucky enough to have it over 1,5 years of everyday use.
Which is pretty good (remember, ours lasted about 3 months?)
---
Insta-Bed 840017
Now, that's interesting. Remember what I said about sagging down? Now forget it. The mattress has some kind of monitor and adds air automatically when needed. Sounds great, huh? And it turns off automatically, too, when fully inflated. And they say the pump works quietly.
The twin-size bed has 21 circular coils to provide a level surface.
Since there are two pumps, primary and secondary, the risk of leaking is twice higher.
On the other hand, the perspective of constant self-inflating is really attractive.
---
Intex 67951E
The mattress is waterproof flocked which makes it look very nice. The weight capacity is satisfactory and the bottom of the bed provides the extra gripping effect. It has a bypass for the manual inflating, which is good, too.
But the construction is still that typical for the Intes vertically-oriented ling air cameras, which are tended to sag on the middle when losing air and develop a hump when inner seams go apart.
---
King Koil 29171
I almost wanted to add "the first of his name" because the thing looks very Kingsly. It is 2 inches higher than your average airbed. The surface is flocking and they promise extra spinal support, which is great. It is designed for in-home use, so taking it outdoors may be unreasonable.
Some people just adore it. If there will be nothing better, I will stop on this one.
---
Noble Twin 92181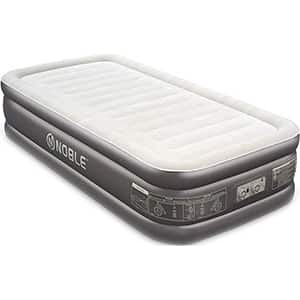 This is longer than any of the previous items: 80 inches. Since the potential user is a tall boy, this matters. And this one is quite wide. Horizontal beam-like air cameras will keep the item from sagging. It has everything you would want from the airbed.
It's difficult to choose between this one and the previous, maybe I'll just toss a coin.
---
How to pick an air bed?
First, you have to make up your mind about what you need.
Where can you settle your airbed? How many people will sleep on it – one or two, or, maybe even three (mother with kids, for example)? How do you think to use it, mostly indoors or outdoors? How often will you use it? How big is the person who will sleep on it? Does this person have any problems with the back or legs?
I had a clear picture of what I wanted from the bed and in my review, I always considered the potential user of this bed: a young man, tall and rather bulky, single, who will use the mattress for about two or three weeks every night. I knew his preferences and took them into account. This is the wisest way to pick an item: imagine who and how will use it.
The question of the price I put in the last place. A quality piece that lasts long is worth the money paid for it. On the other hand, if you want to have a makeshift bed for the one-night stand, you may go for a cheaper item and it will do.
General recommendations about using and maintenance of air beds
Air beds are mostly sophisticated vinyl bags filled with air. They do not require any special kind of usage and attention. But still, there are some peculiarities which are better to take into account.
Use the bedsheets. That flocking material looks like it just invites you to lay down and enjoy the feeling, but synthetic materials gladly absorb body oils and hence, body odors. I would use even some base layer of the natural material under the sheet, like a linen or cotton bed-quilt. There is another reason to use the additional padding/ The air, as we know it from the school course of physics, is a bad warmth conductor (which makes it a perfect warmth keeper). That means: the airbed will not get warm from the temperature of your body. If it is cold, it stays cold. The additional padding will resolve the problem.
Don't overinflate it. When it is rock solid, you certainly have overdone it.
Don't sit or lay on it while it is inflated or deflated. That may be fun, but it overloads the pump.
Having it bought, inflate in and leave like that without using, let PVC stretch a bit.
READ THE FREAKING MANUAL. If it says the maximum weight capacity is 300 lb, it is.
Every airbed comes with a bag you can store after usage. I didn't even mention it in the review, because it's a must. Even the cheapest models have them. So, when you take your bed outdoors or anywhere else, or simply keep it stored while not used, put it in the bag. It will prevent the item from scratching and direct sunlight. In any case, keep it in a dark dry place. Ultraviolet does nasty things to vinyl.
Before putting it into the bag, be sure it is clean and dry. We don't want it to mold, do we?
Don't keep it inflated when you don't use it. A needless strain will shorten the life expectancy of the mattress.
Usually, those mattresses are not intended for heavy everyday use. Yes, some people use them for years as their main beds, and even some manufacturers claim them to be like that, but mostly the thing is designed for short time use. Host a guest for a month or two, or take it outdoors, for a camping or a road trip, as an additional bed in a motel or a hotel if you go with kids. Like that. Using it on an everyday basis is not OK, as I persuaded on my own experience.
The other reason not to use an air mattress daily is that it is not good for your back. In the long run, our spines need a more solid surface to lay on. Air is just air.
Use your mattress on a flat, clean, and dry surface (if possible). Make sure that there are no stones, twigs, shell particles, thorns, nails, glass shards, or LEGO parts under the bottom where you set the bed. For additional insurance, use plastic or foam padding.
Cats and dogs with their tiny claws can easily damage your item. Especially cats who like to scratch furniture. The flocking surface just provokes them to knead. So, try to keep your pets and your air mattress apart.
Some mattress manufacturers claim their products to be puncture-resistant. Well, the material CAN withstand one or two accidental prods with not very sharp objects, but mostly it doesn't mean that one can just stick the mattress with pins and needles. Keep sharp objects away from the mattress.
Keep it clean. Dirt, residue, and bacteria do no good for any material. Don't clean it with harsh brushes, use a soft cloth. Avoid domestic chemicals that contain chlorine or ammonia, remove stains with alcohol or alcohol-based window cleaner. Don't clean it while it is plugged, you may compromise the pump. If some dirt and debris get inside the mattress, vacuum them away. Leave it inflated after washing and set it upright for air access.
Those patches and glue are designed to withstand high pressure and loading. You can also order a genuine repair kit if the manufacturers provide them, but some people say that bike tire repair kits are better.
Alright, I hope I was of use and my review was, too. By the way, I am still wavering between King Koil and Noble. Which is better, in your opinion?
FAQ
How wide is a twin air mattress?
Dimensions are about: 39 x 18 x 75 for the single bed and 80 x 60 x 18 for a queen-size bed. The mattress may be an inch or two higher, lower, wider or longer.
My boy is still single, and the bed wouldn't be endangered by extra usage and doesn't need to be double. He is going to sleep on it, nothing more. And he wants it rather high, like a real bed.