Investing in a high-efficiency indirect water heater is something we don't do very often. But, since you're here, you are in a need of a new indirect water heater. And you've come to the right place.
Modern indirect water heaters come in several sizes designed to suit a great variety of households. There are also general rules and guidelines to follow. More on that in the buyer's guide and the FAQ section. Now, let's dig in!
A list of top-rated Indirect Water Heaters
Table of Contents
What does an indirect water heater do?
Indirect water heaters supply hot water for your home, but they differ from direct water heaters. Indirect heaters are, well, indirect because they heat water without using direct electricity, employing heat transfer instead. This is possible if you heat your home with a boiler.
Indirect heaters are efficient thanks to a heat exchange system. It consists of a tank, plumbing connections in the flange, and a ring gasket design that has an in-built seal. Essentially, an indirect water heater utilizes its capacity to reduce carbon footprint and energy usage, ultimately saving you money.
How to Choose Your Next Indirect Heater – aka The Buyer's Guide
If you heat your home with the help of a central boiler, an indirect water heater may be an ideal source of hot water.
Whether your home needs a new water heater or a replacement, it is important to make sure a specific model is the right one for you. Outline the primary needs of your family and the amount of power your household requires. That way, you can pick the right specifications for your home.
Size
The size or the capacity of an indirect heater denotes the size of the inner tank. Modern heaters come in a wide selection of tank sizes, from 30 gallons to 125 and up.
You want everybody to have hot water on time, so pick an appropriately sized water heater for your family. A two or three-person household would benefit from a residential heater with a 35-50 gallon tank. Families with four members may need a medium-sized tank of about 80 gallons.
First hour rating
The first-hour rating describes the ability of the water heater to deliver fully heated water within an hour of usage. The heater's max capacity and the recovery rate are something to focus on.
Every family uses water differently. So, a "good" first-hour rating is only as good as the sum of the hourly needs of each individual. Before you pick a water heater, estimate which rating would provide an optimal ratio of energy-saving efficiency and hot water output.
Figure out which part of the day your family uses the most water, and use the number as a baseline.
How does an indirect water heater work?
The system you may find in most indirect water heaters doesn't include the usual electric heating or gas heating elements. Instead, their heat exchange system uses a fluid that absorbs heat from one area and releases it in another.
In an indirect water heater, the coil located in the tank wraps around it to provide enough surface area to efficiently radiate heat throughout the entire water tank. This exchange of heat from the coils to the tank leaves the coils cooled. By this time, the fluid is already traveling back up, out of the tank, and towards the heat source. The loop then continues.
When it comes to the heat source itself, modern indirect heaters use a furnace or a boiler. Older furnaces usually cannot be linked up to an indirect water heater because of incompatible HVAC integration. However, newer furnaces can fit without a hitch.
Boilers are generally a better choice as they have a higher efficiency rate with regards to heating via steam. As for power, the boiler can use gas heating and solar heating to power the main process. The heater itself does not generate heat, and so it does not require any venting system in its design.
Reviews of the Best Indirect Water Heaters
SuperStor SU-45 Indirect Water Heater
The HTP SuperStor SSU-45 is an indirect water heater with a stainless steel tank and improved insulation. This can considerably increase the recovery rate and reduce hourly heat loss.
At 45 gallons of total volume, the tank is both able to maintain large amounts of water supply regularly. Installed in the cool water circuit, the buffer tank protects the heater and the exchange system.
Made from corrosion-resistant stainless steel, the internal outlet tube is designed to draw hot water from the dome of the tank, extracting between 5% and 7% more hot water than standard heaters.
The aquastat is also reinforced with stainless steel, while the commercial heat exchanger is manufactured with finned copper-nickel alloy, amounting to 20 square feet of total surface and featuring 11 fins per inch along the length. As such, the exchanger design helps the heater reach a higher BTU output for a tank this size.
The water-blown foam insulation features thick 2-inch thick walls, reducing the hourly heat loss to less than 0.5ºF per hour, while its chlorofluorocarbon-free construction ensures all operation is environmentally safe.
The recommended flow rate of this model is 10 gallons per hour with an average pressure drop of 7.9 feet. Depending on the hour rating, the heater varies its pressure-flow accordingly. For example, at 140ºF it puts out 212 gallons per hour and at 115ºF it draws 292 gallons per hour.
Lead-free and NSF-certified, this HTP SuperStor heater comes with a 1-inch boiler supply connection and a 1-inch boiler return connection for a more effortless installation. Completed with a smooth silver finish over galvanized steel, the outer layer of this model resists corrosion and structural damage such as denting, making it highly durable and easy to look after.
Features:
Container size: 45 gallons
First-hour rating: 212 GPH
Working pressure: 150 psi
Electric heater output: 141,000 BTU
Shipping weight: 72 lbs
Finish: Silver gray
Dimensions: 52.5" H x 19.25" D
Pros:
Reduced heat loss
Improved insulation
Durable commercial heat exchanger
50% more hot water output
NSF-certified operation
Environmentally safe construction
Superior recovery rate
---
Amtrol CH41Z Indirect Water Heater
The Amtrol BoilerMate CH41Z is an indirect-fired water heater with an energy-efficient operation and high gloss blue finish.
This high-performance model comes with a large 41-gallon bimodal tank made from high-density polyethylene—or HDPE—making the base construction exceptionally durable.
As such, there is no need to install anode rods, and the tank resists the effects of hard water, chlorides, and corrosion. In addition to its improved rust protection, the poly tank stores and delivers only clean water, while at the same time supporting high temperatures reaching up to 180ºF.
The tank is in a steel stand with low-lead composition and protected by the deep-drawn pressure shell. The shell is made of steel, making it two times stronger than standard designs, and its rugged base is welded with extra precision.
The entire construction is insulated with molded urethane to provide a tighter and safer seal on both the shell and the tank. This way the appliance reduces the heat loss by the hour, dramatically improving the energy efficiency of the entire operation.
This heater also provides a more accessible maintenance process, as its coil can be removed with ease and cleaned when needed. The heat exchanger's top mount construction and finned design promotes a more effective transference of temperatures, ensuring faster delivery of hot water.
Top construction also saves you the need to vent or add other utility connections, making the heater more energy-efficient than traditional electric heaters. The double-wall option is also available as long as it complies with your regional code.
Features:
Container size: 41 gallons
First-hour rating: 89-170 gallons
Working pressure: 150 psi
Electric heater output: 100,000 BTU
Shipping weight: 124 lbs
Finish: High gloss blue
Dimensions: 48" H x 22" D
Pros:
Good continuous flow rating
Durable tank materials
Reduces energy expenses
Easy to clean
Supports high temperatures
---
Burnham AL35SL Alliance Indirect-Fired Water Heater
The Burnham AL35SL Alliance indirect water heater has a somewhat special approach when it comes to design. The stone-lined water tank proved to be a super-efficient method of energy conservation and heater efficiency in general.
Speaking of the water tank, this water heater comes packed with a 35-gallon hot water reservoir. Combined with the 192 first-hour ratings, you will rarely be left with no hot water. The hydra stone lining also plays a part in the anti-corrosive properties of this water heater. So, you won't have to invest time and resources into boiler maintenance that often.
The BTU output rating of this water heater is at 99000 BTUs, and the maximum working pressure is rated at 150 PSI. All in all, the heater and the tank are safe from all sorts of mishaps, as long as you install it up to code.
Features:
Container size: 35 gallons
Working pressure: 150 psi
Electric heater output: 99000 BTU
Shipping weight: 170 lbs
Finish: Blue
Dimensions: 39.25" H x 22.75" D
Pros:
Seamless hydrastone-lined tank
Very low standby heat loss
Easy indoor installation
Easy service
Utilizes a side mounted coil that is supplied separately
---
Crown MS2-50 Vertical Indirect Water Heater
The Crown MS2-50 indirect water heater comes with a less robust design. Now, do not let the modern design fool you – this water heater utilizes stainless steel to optimize performance. At the capacity of just over 50 gallons, your home's hot water needs are no match for this water heater.
Inside, the heater has a stainless steel coil. On the outside, the steel shell is protected with a 2-inch-thick insulation layer. This provides optimal heat retention, and by extension – optimal energy usage. All this provides a first-hour rating of 236, meaning that the water heater will easily provide for a family of four.
Lastly, among other things, you'll be happy to know that this model comes with a lifetime warranty, provided that you register the product properly after purchase.
Features:
Container size: 50.6 gallons
First-hour rating: 236 GPH
Working pressure: 150 psi
Electric heater output: 121,000 BTU
Shipping weight: 100 lbs
Finish: Steel
Dimensions: 50" H x 23.5" D
Pros:
Stainless Steel Heat Exchanger
Stainless Steel Tank Cylinder
Coated Steel Jacket
Large Diameter
Honeywell L4080B Adjustable Thermostat
Adjustable Feet
---
Best Indirect Water Heaters – FAQ
What are indirect water heaters?
Indirect water heaters use the boiler or main furnace to heat the water. The water then circulates through the interior heat exchanger and is stored in the inner tank. This type of heater draws the energy retained in the tank to minimize the usage of the boiler.
Are indirect water heaters more efficient?
Even though indirect water heaters can be rather bulky contraptions, most models of this type are more efficient in their performance when it comes to residential heating. Compared to standard heaters, indirect units conserve more energy and retain heat for longer periods.
Are indirect water heaters worth it?
Households with a large number of people would generally see benefits with the use of an indirect water heater. This type of heater comes with a dedicated boiler as well as better insulation for the inner tank. This reduces temperature loss and therefore requires less energy on energy support. This means less re-heating and more temperature consistency, especially when the high-efficiency boiler is working in the cold start mode.
Why are indirect water heaters so expensive?
Most indirect water heaters are equipped with expensive materials such as durable stainless steel tanks and cupronickel heat exchanger coils. These can last for 20-30 years. Inner insulation also includes high-quality materials and a more flexible design compared to heaters with glass-lined tanks.
Do indirect water heaters save money?
Indirect water heaters tend to have a shorter return on investment than direct water heater systems. This happens largely due to the higher energy savings derived from the boiler's running time and the usage of easily accessible heating systems (as opposed to direct water heaters' need for dedicated heating system installation). This combination positively impacts energy consumption, makes maintenance easier, and reduces overall cost.
The efficiency relies on performance and heat loss, and the performance itself can be twice or thrice the standard direct water heater's performance. All this while heat loss is considerably reduced. All these factors work together to allow indirect water heaters to save money.
How long do indirect water heaters last?
The average indirect water heater comes with a lifetime warranty. This is because their tanks are usually made from stainless steel, which doesn't react with chemicals and erodes. Moreover, the tanks of indirect water heaters are not put through the circumstances and conditions like the direct water heaters.
Indirect water heater vs on-demand water heater
Indirect water heaters are powered by a furnace or boiler to generate hot water. As such, they require water storage.
On-demand water heaters, often called tankless water heaters, provide hot water on the spot. The water heats up only when the hot water faucet is opened. The water then runs through the heat exchanger in the furnace or boiler without being stored in a tank.
Both heater specifications come with considerable upsides that are best utilized in certain settings and weather conditions.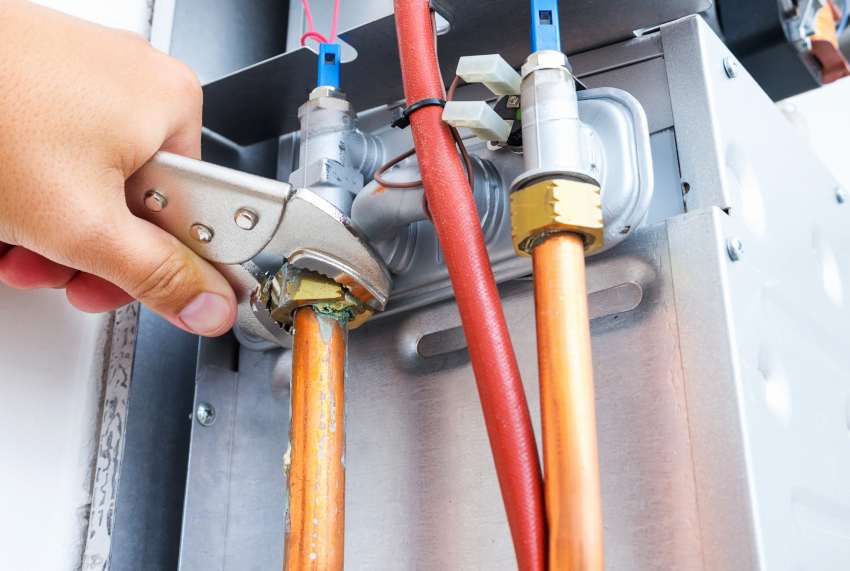 Indirect water heater for radiant heat
When applied for generating radiant floor heat, indirect water heaters can often be more cost-effective than regular boilers. Radiant floor heat is maintained through the application of warm water supplied for the underfloor piping system. Since boilers are designed to create extremely hot water for traditional radiators, many boilers fail to operate efficiently at lower temperatures. This can result in expensive hardware upgrades to avoid possible damage to the system.
Indirect water heaters, on the other hand, are designed for an efficient run at lower temperatures. In contrast to boilers that are engineered to boil, water heaters are designed to support the process of flue gas condensation.
Leading industry brands recommend using only high-efficiency water heaters for radiant heat. A high-efficiency indirect water heater made with durable materials is both energy-efficient and more environmentally friendly.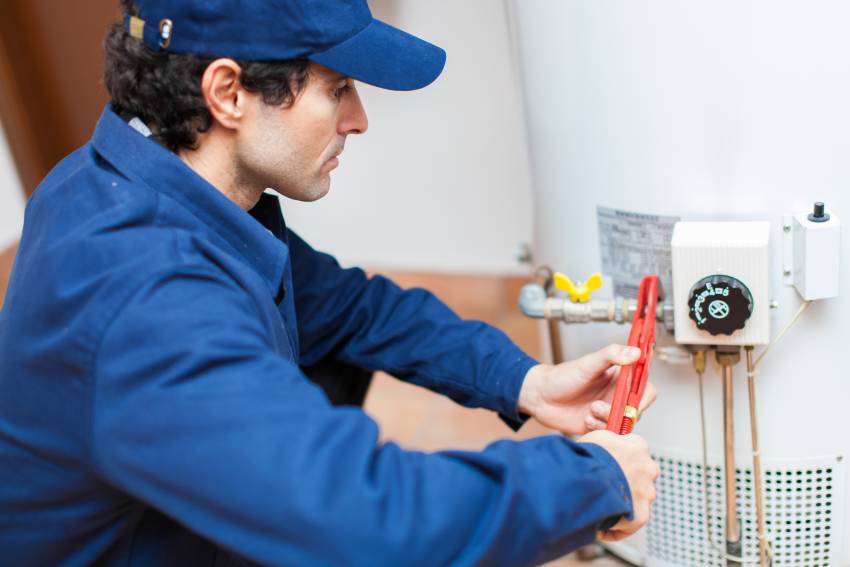 Indirect Water Heater Installaion Tips?
Installing an indirect water heater isn't much different compared to direct water heaters.
That said, before the installation of the heater itself, it is required to arrange the furnace or boiler placement. The boiler must be set up in a separate, previously designated zone that will connect it to the heat source. There is an exchange pipe that contains non-potable water, in case there is no other exchange fluid that can absorb and release heat.
This exchange pipe is what coils inside the tank and radiates heat throughout the tank. This non-potable water pipe is separate from the tank's actual water supply that is to be used and heated.
The installation of the heater begins with the power source. Firstly, make sure the power source is disconnected, and you have a power source nearby. If it is not within access, then a disconnect switch or other alternative means must be implemented while installing, to ensure the safety of the process.
Secondly, electrical wires must be protected. However, in the case that the water heater is not installed near the power source, or if perhaps it's in another compartment, then conduits are not necessary.
Thirdly, leave some space around the water heater. Although indirect water heaters have a lifelong warranty, there is the off chance that you may need maintenance. Safety standards in your area must be followed and met in creating this access.
Discharge piping should face downwards, so that heated water doesn't bother you throughout the installation. The piping cannot be PVC as the diameter has to be larger than PVC pipes allow. Traps cannot be built into the pipes either.
Finally, it is also necessary to check supply power with a circuit meter, making sure there is no excess of power that is fed into the heater.
How to replace an indirect water heater?
You should consider some things when it comes to indirect water heater replacement. First, the replacement model needs to be of the same make, model, and size. Then there is the matter of permit fees, tanks for expansion, and the breaking and repairing of carpentry to be able to first access the tank, then seal it off visually. The carpentry will most likely consist of framing a new wall, breaking and cleaning off space, or installing drywall.
Additionally, there may need to add lines and pipes for access to electricity or other means of fuel, from the current system to the indirect water heater. A water line installation (if not previously installed, or not sufficient for the replacement) will need to be looked at.
Do indirect water heaters have anode rods?
Some models do indeed come with anode rods, but many modern models bypass this feature. Both the presence and the number of anode rods differ from model to model. For example, some models have only one anode rod, while others have two, all with different positions.
What size indirect water heater do I need?
An indirect water heater with 30-gallon storage would sufficiently provide hot water for approximately a dozen people. A boiler consumes a high amount of BTUs with consistently held high temperatures that can keep up with the demand. This is considered a smaller storage indirect water heater that can handle single-person usage.
What size of indirect water heater suits a family of 4?
Medium to large households can be sufficiently serviced by 65-75 gallon indirect water heaters with a good first-hour rating requirement.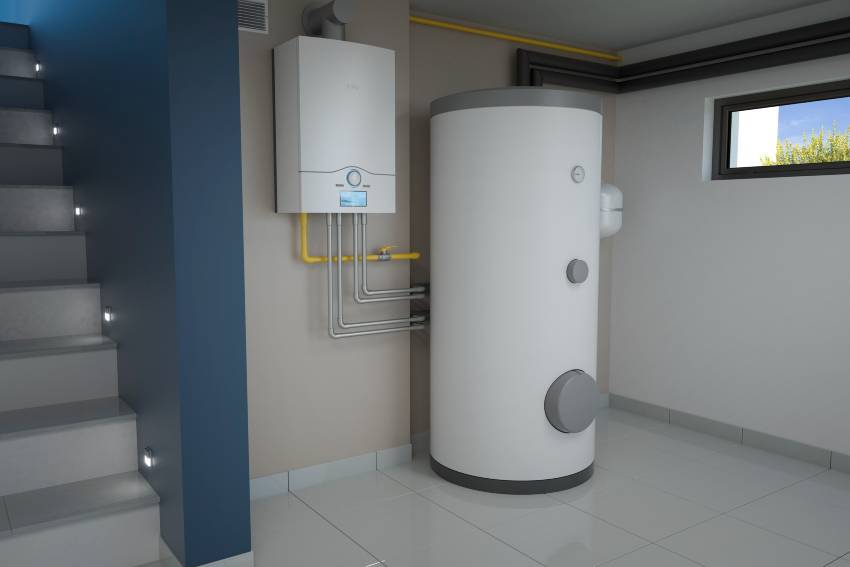 How to clean an indirect water heater?
While all sorts of cleaning agents work, you should be careful and watch out for one thing. Do not use cleaning agents that are too acidic. Certain metals can't stand acidic chemicals.
Measures must be taken to neutralize the pH of the cleaning substance. Perhaps by implementing a routine where the cleaner is followed with a more alkaline substance to balance out the pH.
Additionally, in the case of hard water, the coil should be pulled to check for any impurities. Later, you should install a filter in the system to prevent hardening from happening again.
There is also a chemical-free way to clean the indirect water heater. It involves draining the tank, and once the tank is empty, raising the temperature to around 400o F. The hot coil will then be introduced to cold input water, shocking the coil and causing the calcium to fall off in flakes.
In Conclusion
Getting the best indirect water heater for your home will be easy as long as you factor in your water needs and lifestyle habits. Since this is not an everyday purchase, we advise you to take a moment and make a list of things you need.
At The Home Dweller, we explore all sorts of homestead topics, bringing you tangible, useful info. If you found this article useful, feel free to share it on social media. Who knows, maybe you help a friend out!