Dealing with hard water can be quite a challenge if you like to keep your clean dishes spotless. The hard your water is, the more stains you have to clean. But, there is a way you can alleviate this – dishwashers for hard water!
And while there are plenty of time-proven methods aimed to reduce the effects of hard water on your dishwashers — such as acid additives or special decalcifiers – the first step towards achieving a more consistent cleaning with high grain water is finding a suitable dishwasher. So, please stay a while and check out our reviews and FAQ to find the best model for your home!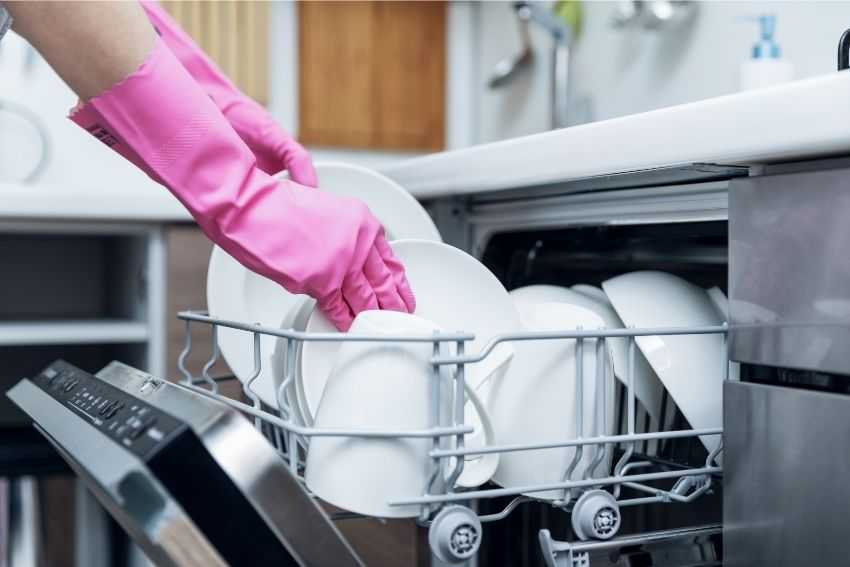 Things to Consider Before We Begin
When looking for a dishwasher compatible with hard water conditions, the most important aspects to pay attention to are the materials and cleaning power.
Dishwashers with full stainless steel tubs are generally durable and handle the wear and tear well. This makes them a perfect choice for households that run on water with high amounts of calcium and magnesium. However, hybrid tubs that incorporate polypropylene elements in the tub's floor or lining can also hold their own against the effects of hard water.
Other essential features to consider are a dishwasher's sound rating and capacity. The sound rating is measured in dBA, or A-weighted decibels, describing the loudness of sound as perceived by the human ear. A dishwasher's quiet to medium noise levels during normal operation range from 45 dBA to 55 dBA, equivalent to a whisper or quiet conversation, respectively.
Top-Rated Dishwashers for Hard Water
Loading capacity of a dishwasher is typically described in the settings – it is the number of dishware items you can load in a dishwasher for a single run. For full-size dishwashers, this number ranges from 8 to 16 and even higher with heavy-duty machines. Plenty of modern dishwashers is also equipped with a third rack to improve the standard two-track systems, though it is mainly done for storage organization.
Table of Contents
Best Dishwashers for Hard Water – Reviews
Frigidaire FFCD2413US Dishwasher for Hard Water
The Frigidaire FFCD2413US is a tremendous all-around dishwasher that handles hard water with ease, thanks to the tech behind it. The stainless steel resists all sorts of damage, and the self-cleaning filters will help you out with the maintenance. On top of that, you get to control the dishwasher through an intricate yet simple control panel. So, whether it's a delayed start or an extra rinsing, you get to set it up with ease.
This 24″ dishwasher for hard water comes as a built-in, meaning that it can fit virtually any kitchen out there. When it comes to the dishwasher's capacity, we are talking about the rating of 14 places. If you and your family cook a lot, this dishwasher will be able to follow that dynamic. You also get to dry out the dishes faster with the drying mode; don't expect them to be dry after a single cycle.
The doors of this dishwasher use the stay-put system so that you can rely on the extra stability during loading/unloading. Both racks are easily managed, while you may spend some spare time installing the dishwasher (since it is a built-in model). Overall, this Frigidaire can handle larger loads of dishes while enduring the effects of hard water.
Features:
Loading capacity: 14 place settings
Number of cycles: 3
Number of racks: 2
Exterior Finish: Stainless steel
Control type: Full panel
Energy rating: Energy Star
Pros:
Larger loading capacity
Smooth glide bearings
Hot drying mode
Energy Star Certification
Self-cleaning filters
SPT SD-9263W Dishwasher for Hard Water
Now, If you are tight on space or you have to maneuver around your kitchen a lot, this particular SPT dishwasher might be the solution. It is an 18-inch model, meaning that you can put it almost anywhere. But, don't let the compact size fool you; this dishwasher comes with all sorts of quality-of-life features. The portable part is just a bonus, although you should keep in mind that the capacity is somewhat limited – the place setting is rated at 8.
Firstly, you can see the entire control panel on the top of the front panel that lets you control the cycles, programs, and timers. The dishwasher has six programs installed, including heavy, rapid, eco, glass, 90-minute, and normal mode. Once you try them all out, you'll surely know which mode fits your habits and "dish dynamic."
This particular dishwasher model handles hard water well thanks to stainless steel parts and the ease of cleaning. One of the most popular features of this specific dishwasher model is incredibly easy to install. Some would say that no plumber is needed with how easy it is. This means that you can move the dishwasher to a new location, or as some people do, use it as an additional dishwasher in the household.
Features:
Loading capacity: 8 place settings
Number of cycles: 6
Number of racks: 2
Sound rating: 52 dBA
Exterior finish: white
Control type: full panel
Energy rating: Energy Star
Pros:
Super portable
Requires no special tools to install
Stainless steel interior
ENERGY STAR® qualified performance
BLACK+DECKER BCD6W Compact Countertop Dishwasher for Hard Water
You probably know Black+Decker as an industrial tool manufacturer. However, they have their hands on appliances as well. This countertop dishwasher for hard water brings all the rigid and durable technology along, with a modern twist, of course. While it is a countertop dishwasher for hard water, its powerful cycles (a total of 7) will get the job done quickly, eliminating the stains that mineral deposits left behind.
Connecting this dishwasher is easy thanks to its quick-connect system that doesn't call for a plumber or any special plumbing work. The washer is controlled through the panel and the LED screen. Once you are done, you can easily store it below the counter since it weighs only 46 lbs.
The seven modes include Normal, Intensive, Eco, Glass, 90 Minutes, Rapid & Soak. This dishwasher also features a child lock system that prevents children from accidentally operating it. Maintenance is also made easy thanks to the removable filter that you can rinse under some running water (or wash it if necessary).
Features:
Loading capacity: 6 place settings
Number of cycles: 8
Number of racks: 1
Sound rating: 60 dBA
Exterior finish: PrintShield™ stainless steel
Control type: LED display with a control panel
Pros:
Super portable at only 46 lbs.
Durable materials
7 Powerful heavy-duty cycles
No direct plumbing needed to install
Danby 18 Inch Built in Dishwasher for Hard Water
This Danby dishwasher for hard water packs a bit of everything. It utilizes modern technology and sturdy materials to deliver results even in areas with hard water. Also, it is not a big and robust dishwasher that takes up half the kitchen – it's only 18 inches in size.
The dishwasher is controlled via an intuitive control panel with a built-in screen. Here, you can pick one of the six cycles, including Heavy, Normal, Eco, Glass, Rapid, and Rinse. Moreover, you can control the heat – a total of 4 temperature modes are available, allowing you to adapt to the mess that needs to be washed off.
The overall sound levels are low, clocking at 52 dBA. When it comes to power rating, this particular dishwasher for hard water comes with an Energy Star rating. So, if you are looking for a full dishwasher that can withstand the challenges of high-mineral water in your area, this Danby might just hit the spot.
Features:
Loading capacity: 8 place settings
Number of cycles: 6 + 4
Number of racks: 2
Sound rating: 52 dBA
Exterior finish: Anti-fingerprint stainless steel
Control type: Full panel with an LED screen
Energy rating: Energy Star
Pros:
6 wash cycles plus 4 temperature modes
Silent operation
Durable tub
ENERGY STAR® certified run
FAQ About The Best Dishwashers For Hard Water
How do I remove hard water deposits from my dishwasher?
While many prevention techniques may help you stove off future hard water deposits, the first stage of this process is removing the already accumulated stains from your dishwasher.
There are a few steps to cleaning your appliance of hard water residue, all of them quite simple. For this, you will need everyday household items like white vinegar, baking soda, lemon juice, Lime-A-Way, or Borax. Additional tools include a sponge, a screwdriver for the filter, and a toothbrush (preferably new and soft), or a small cleaning brush, also soft.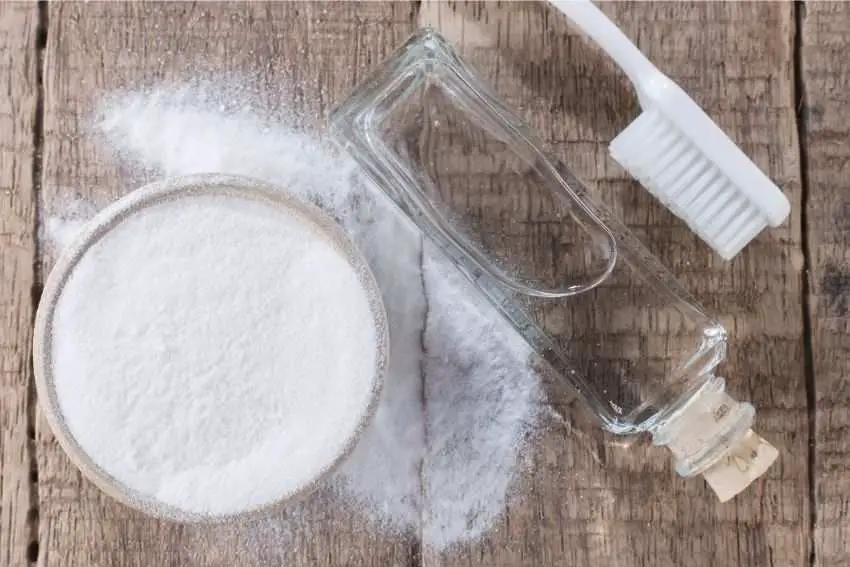 How to clean a dishwasher for hard water?
Clean the filter located at the bottom of the dishwasher's tub. The best way to do it is to remove it first (some filters need to be unscrewed first), then rinse it with hot running water while carefully scrubbing it with a soft toothbrush. Adding special dishwashing detergent may help the process.
Get a dishwasher safe glass and fill it with white vinegar, though not to the brim. Place the container on the top rack of the empty dishwasher and run a normal cycle.
After the vinegar stage has completed, add regular baking soda to the tub's floor and run a short cycle.
Avoid using the newly cleaned dishwasher until the next day and leave the door open overnight. This will vent the odors from your improvised cleaning agents and remove the traces of hard water buildup.
How does hard water affect your dishwasher?
Hard water generally lowers the cleaning quality of a dishwashing machine. This includes salt deposits, scaling, murky stains, and cloudy glass effects. More serious hardware damage may occur only after continuous exposure to hard water over a long period, though it also depends on the grain count in your water.
High-grain hard water contains high amounts of magnesium chloride and calcium chloride, resulting in the buildup of deposits on the interior parts of your dishwasher. Over time, the dishwasher's motors, pumps, and heat-generating elements become particularly vulnerable to lime deposits. If not removed in time, such deposits can lead to premature rust of the tub and even motor failure.
How do you get hard water stains off glasses in the dishwasher?
One of the easiest ways to remove hard water smudges from your glassware is to soak them in a special solution. You can whip it up at home by mixing two cups of white vinegar with warm soapy water.
Once the mixture is ready, submerge the glasses for 10-30 minutes. The soak time depends on how tough the hard water stains are and how much of the total surface they cover.
After a good soak, please take out the glasses and wipe them with a soft sponge or cloth. Rinse each glass well to remove all traces of the solution.
What to use in a dishwasher for hard water?
Since the issue of cloudy glassware and stained dishwasher tubs is quite common in areas with hard water, a few foolproof methods have been accepted as the top go-to DIY solutions. The most commonly used additives include white vinegar, lemon juice, baking soda, and special cleaning agents.
Typically vinegar is poured into a glass and placed inside the tub. Still, some tutorials recommend adding it directly into the liquid detergent tray, though it could be harmful to some dishwashers. Baking soda is usually peppered over the bottom tub surface for maximum effect.
What dishwasher is best for hard water?
If you live in an area with a hard water supply, but your household still requires a dishwasher, your best option would be a model with full stainless steel or hybrid interior and heavy-duty wash support.
Most leading industry brands offer a whole series of affordable yet powerful dishwashers suitable for hard water use, but which of them is the right option for you depends entirely on the priorities of your household—whether you put style, functionality, or durability above all else. The perfect balance of budget, performance, and design can strike once you invite more practicality into your process.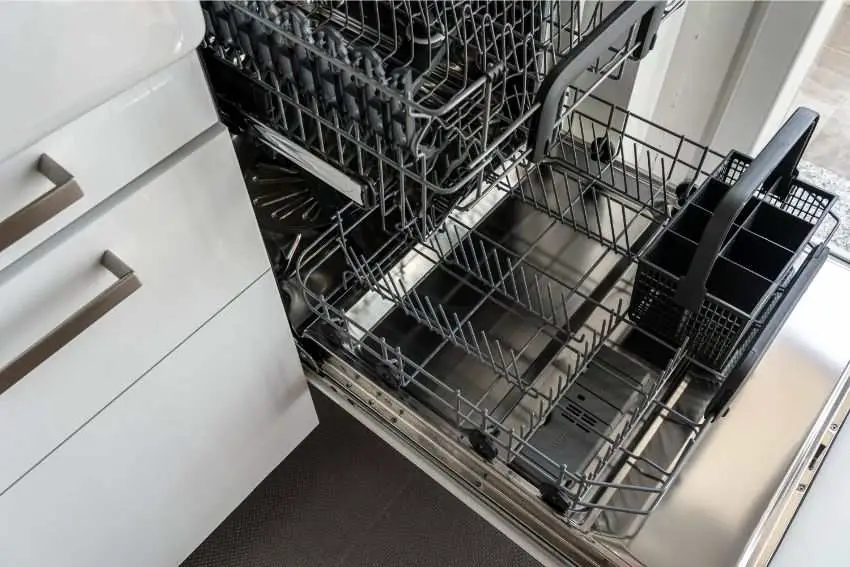 In Conclusion
Going through all these dishwashers for hard water can be a cumbersome task. That is why we hope that our reviews and guidelines will be there for you to help you make the best choice. If you know that your area has issues with hard water, there is no reason not to get a sturdy dishwasher that can deal with it. Factor in your habits and wishes, and pick the dishwasher for hard water that matches them.
At The Home Dweller, we aim to get you tangible info on house appliances and homestead topics. So, if you found this article helpful, please share it with someone who requires a good dishwasher that works with hard water.