There are plenty of choices when it comes to the best professional gas ranges for the home chef. Powerful, big, and gorgeous, pro-style gas ranges have become a staple of any modern home. These wide-style cooktops and feature-packed ovens make an upscale kitchen what it is — a warm, hearty place to gather around lovingly prepared meals.
Professional gas ranges give you more cooking versatility and pro-chef results at home, whether it's baking, grilling, or concocting complex five-course dinners. Pro-style kitchen stoves combine the best of both worlds — industrial-strength features and home-style compactness.
But not all pro-style gas fuel ranges are made equal. Today, let's talk about the factors you should consider before you choose the ideal model for your home, so make sure to check out the buyer's guide below. Let's dig in!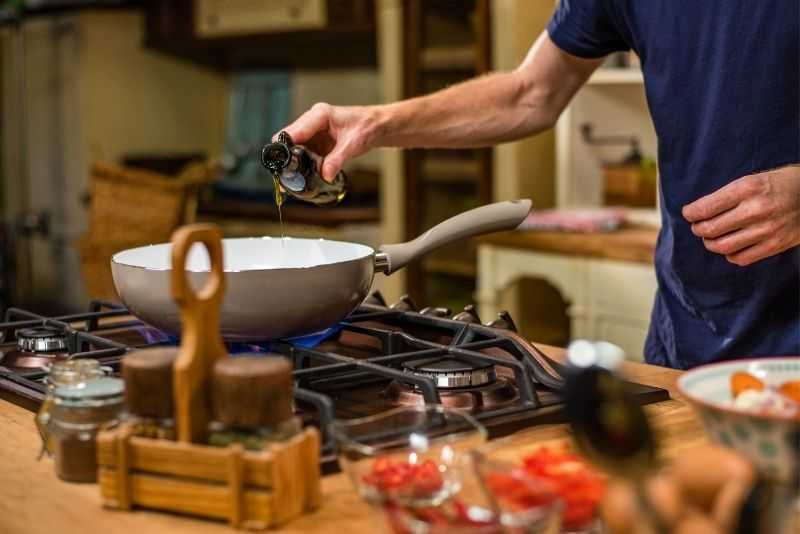 Best-rated Professional Gas Ranges for Home
Other Recommendations
Table of Contents
What to Look For in a Pro-Style Range
Pro-style ranges come in all shapes and sizes. Anything between your run-off-the-mill home-use range and the industrial-style professional ranges falls into this category. That's why it's important to establish a baseline for the perfect model before you start checking out gas ranges. Here's what any pro-style gas range worth its salt must have:
A width between 30 and 60 inches
High oven capacity (at least 5 cu. ft.)
At least 4 gas burners 
Grates made of cast iron on the cooktop
Convection mode for the oven
A broiler. 
You can find detailed information about everything a great pro-style range needs in the buying guide just below our pro-style gas range reviews!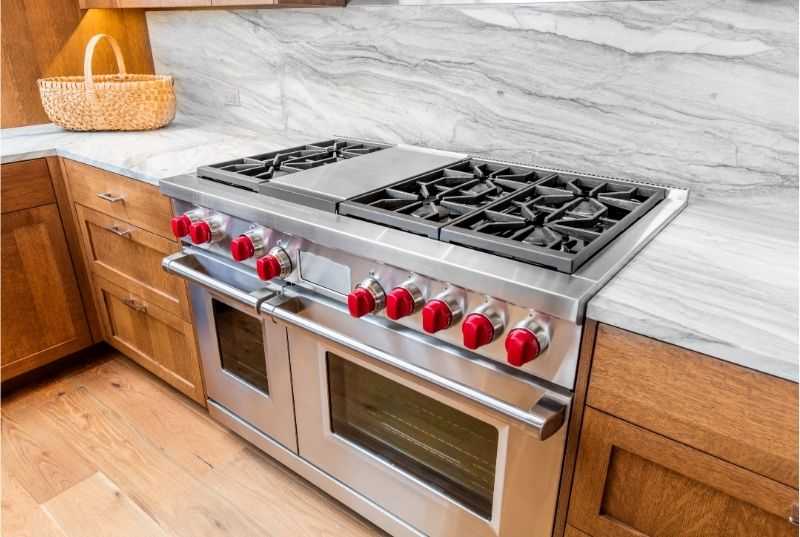 Pro-style Gas Range Reviews
Pro-style Gas Ranges – Buyer's Guide
A pro gas range is quite an investment, so it's important to consider several things before you make your final pick. What cooking techniques are a must-have in your cuisine? Do you need a pro-style range for everyday meal prep or a home-run business? Where does a gas range fit into your cooking space? Figure out the answers to these questions and find the ideal specifications before making your purchase.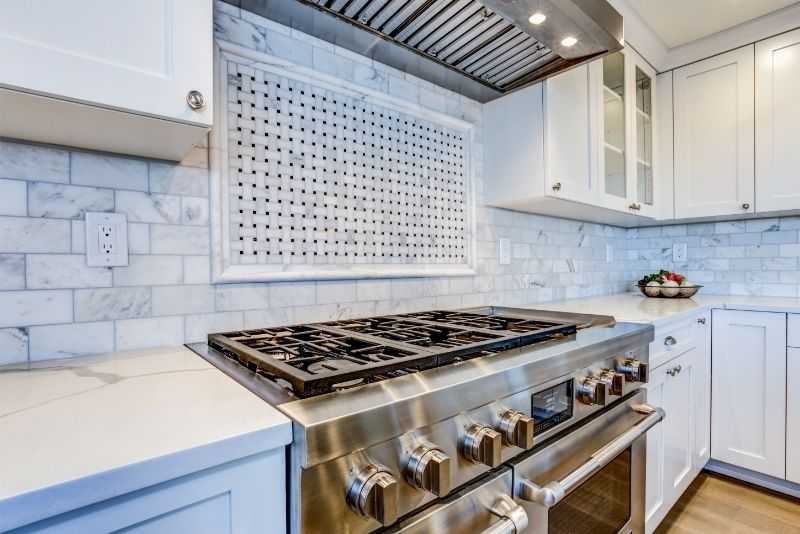 Width
Pro-style gas ranges come in many shapes and sizes. The ranges that fit into most home kitchens are 30" or 36" wide — enough to fit your counter space and provide more burners on the cooktop. Pro cooktops come with 4-6 burners, sometimes including additional grills, flat griddles, and special sections for woks.
As you go wider, the 48" and 60" models often fit double ovens, giving you more space to experiment with your cooking. 
Naturally, the size of the range influences oven capacity. 30" and 36" pro-style ranges typically have one big oven (with a capacity over 5 cu. ft.). Wider models often feature two ovens, one bigger and one smaller. 
Burner Power in BTUs
The centerpiece of any professional gas range is a high-efficiency burner that generates no less than 15,000 BTUs. It's best to study the cooktop layout and power allocation for each burner since some of them are specifically designed for low-heat cooking.
Oven power is also measured in BTUs, though there are generally only two heating elements: the broiler element and the bake element. Convection ovens are great – they utilize a fan to achieve even heat distribution throughout the oven, giving an equal browning to your food from all sides. Some even come with a warming drawer – a compartment that keeps your food warm.
Most gas ranges combine burners with different powers, so the BTU output of each depends on the particular burner's purpose. An average burner produces between 7,000 and 15,000 BTUs. However, burners designed for slow cooking such as simmering and sauteing will give approximately 4,000-5,000 BTUs. On the other end of the spectrum are high-efficiency burners — which most professional ranges have — that can deliver anywhere between 18,000 and 30,000 BTUs. If you are looking to upgrade your outdoor cooking as well, giving your food that special flavor, take a look at the best vertical smokers and the top smoker grill combo models out there. You will certainly find something that fits your backyard kitchen perfectly.
Features
Think about your cooking style, because modern gas ranges come with plenty of extra features for home chefs. These include dedicated simmer burners, grills, cast iron, often continuous grates, drip pans, a warming or storage drawer for pots and pans, self-cleaning ovens, broilers, and convection systems.
Of course, a cook is only as good as the tools they use, so make sure to get your hands on a trustworthy oil mister and some solid cookware that matches your style.
Slide-in vs. Freestanding Ranges
Slide-in ranges are essentially designed to create a built-in effect when installed with your kitchen counters. Unlike freestanding units, you can use a slide-in range on a kitchen island. This feature tends to raise the price. 
Another difference is that slide-in appliances have no back guard and offer direct access to all controls from the front panel. This makes them easier to clean and operate.
The cooktops on slide-in ranges are often wider than those on regular 30-inch freestanding models — they feature an overhang. This feature was devised for a seamless transition to countertops on either side of the stove. As a bonus, the overhang doesn't let any food fall in between the stove and the counters.
Electric vs. Gas Fuel Ranges
Both types of stoves come with pros and cons.
Gas stoves are more expensive on initial purchase and installation but will save money over time. 
Electric stoves are more convenient when it comes to both price and connection, but in the long run, they tend to cost more in utility expenses.
You can also get a dual fuel model if you invest some extra money into your next range. These appliances get the best of both worlds. In most cases, dual-fuel models use gas to quickly power up cooktops and electricity for controlled oven baking.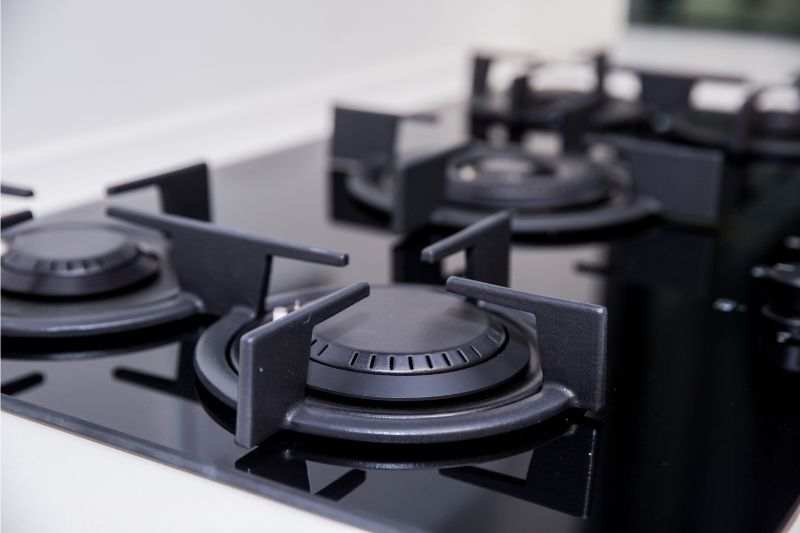 Heat Distribution
Gas stoves apply direct flame to heat the cookware, so the temperature distribution is even as it reaches both the bottom and the sides of the pan or pot. 
Electric coils, on the other hand, deliver heat only in areas in which cookware comes in contact with the hot plate. The electric stove also takes longer to attain the required cooking temperature.
Maintenance
Flat-top electric stoves are much easier to clean and maintain – you only need to wipe any spillage and you're good to go. Gas stoves and their intricate cooktop grates demand a more thorough approach which can take some time and effort. 
When it comes to cleaning after you bake, a self-cleaning oven is a great investment. 
Safety
Electric stoves are the safer option since they don't expose you to the effects of gas combustion. Still, they pose a few dangers of their own, such as slowly receding residual heat. Additionally, gas stoves can be used even during power cuts and other emergencies, while electric appliances are rendered useless without electricity — unless you own a backup generator that needs LP or Diesel to operate.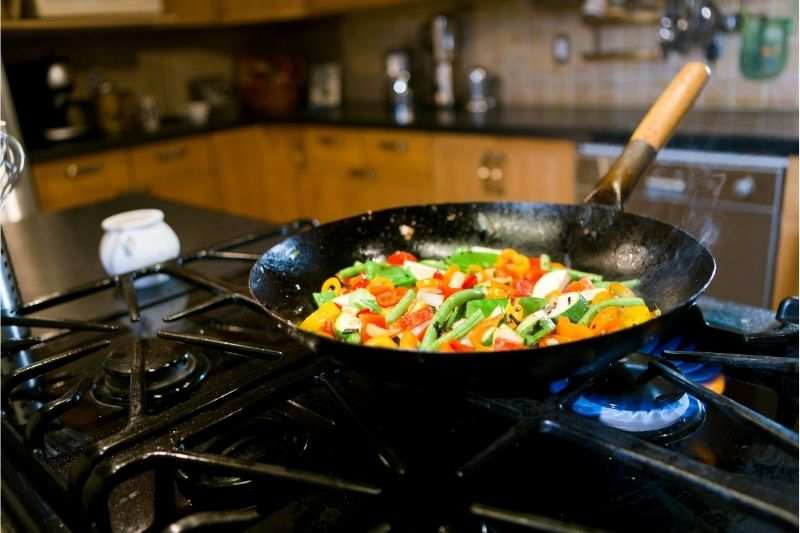 Frequently Asked Questions about Pro-style Ranges
What range do professional chefs use at home?
Professional chefs tend to stick to what they know and trust best when cooking at home, so the top preferred choices among industry specialists are more or less uniform. Pro chefs tend to go for trusted brands like Thermador, Jenn Air, Thor Kitchen, KitchenAid, Wolf, Bertazzoni, and Bosch. All of these manufacturers produce top-notch gas ranges with a plethora of cooking modes for an amazing cooking experience at home.
If you are a grilling enthusiast, take a look at these built-in grill models and equip your backyard with a great grill as well.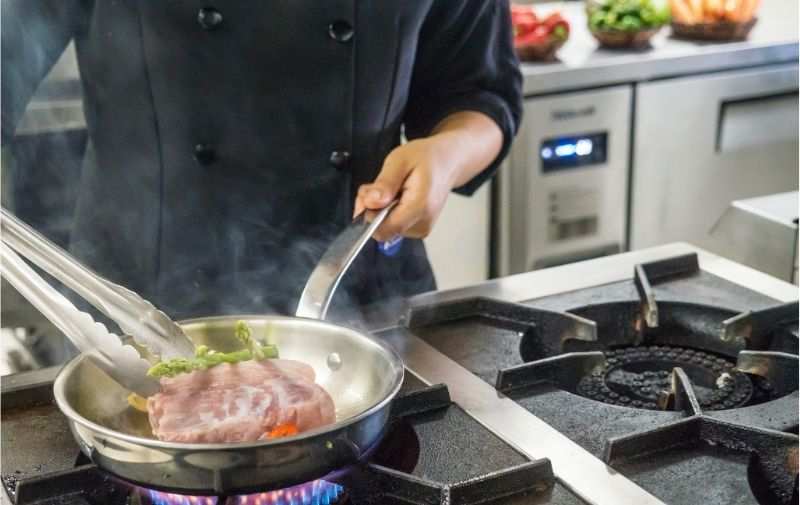 Are pro ranges worth the money?
Pro gas ranges cost more up-front, but they're a worthy investment in the long run for any enthusiastic home chef. A pro range brings a lot to the table in terms of functionality, with advanced oven and stove settings that will help you reach perfect results. For example, almost all pro ranges have a convection mode for the oven, while this option is harder to find in regular ranges. 
If you opt for a gas pro range, you'll also save money in the long run. That's because gas fuel costs less than using electricity.
Does a pro-style range need a vent hood?
While vent hoods are not legally required for residential buildings, it's always best to install one. If you use a gas fuel range in your kitchen, especially a commercial-grade one, the room needs to be vented. The vent hood keeps your space safe and free of odors as it extracts natural gas/propane emissions and removes unpleasant smells that could be left by aromatic dishes or burnt food. Alternatively, you can keep a window open whenever you cook.
In Conclusion
We went through all the essentials regarding the best professional gas ranges for the home chef, but the final decision is yours to make. But choosing the right model can be daunting for any cooking enthusiast. There are so many details and features that ensure lifetime satisfaction with your new pro-style range. 
Here at The Home Dweller, we do our best to bring you well-researched information in an easy-to-read format. If we helped you find that ideal kitchen range, consider sharing the article with your friends and family on social media.