What is better, charcoal or gas?
Who cares when you can have both!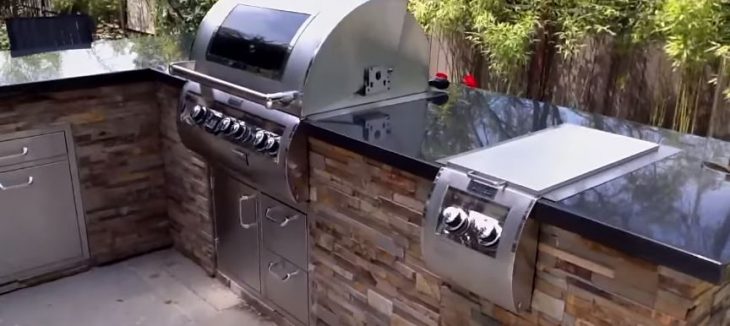 However, I do care, and so should you, even when you do buy a combo gas and charcoal grill, you need to know the differences between the two and how to maximize the deliciousness of your food by using each one appropriately.
List of Top-Rated Gas charcoal combo grills
Now let's take a look at the five best gas charcoal combo grills.
The Best Gas charcoal combo grills Reviews
This is the Fire Magic Aurora A830i Combo Grills Gas and Charcoal combo with smoker and rotisserie.
Performance
This is a professional style combo unit that gives you the ultimate in cooking experiences at a very hefty cost; this is the Fire Magic Aurora A830i.
This high-end commercial grade grill is used by professionals and home cooks seeking the ultimate cooking experience. This model is entirely made from stainless steel and is Equipped with two cast stainless steel "E" burners delivering 50,000 BTU's under a 432 square inches of cooking surface (24″ x 18″).
This models ignition and control unit is powered by a 110 Volt plug-in electrical supply with 12-volt transformer and has 12-volt internal oven lamps, for easy nighttime grilling. The Electronic Spark ignition system with flash tubes and the control panel comes with polished comfort touch control knobs.
There is also 13,000 BTU recessed stainless steel rotisserie backburner, and a Spit rod storage rack.
The A830i comes with a Stainless steel valve manifold, Stainless steel rod cooking grids, Stainless steel warming rack, a Cooking grid lifter, and very light easy lift seamless hood with mounted analog thermometers.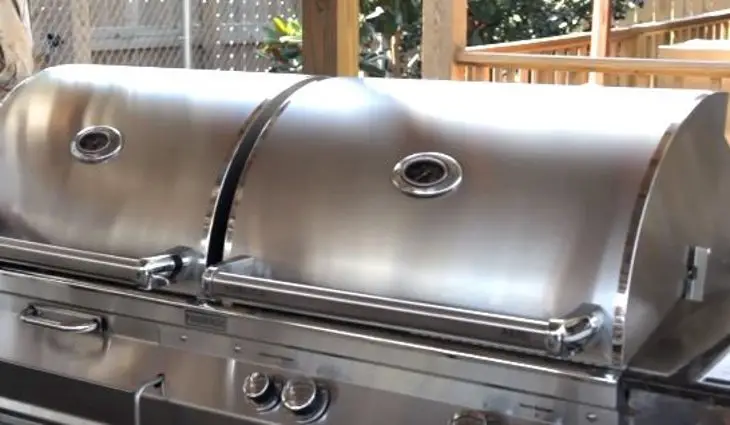 Even the 36″ flex connector is made from Stainless steel flex connector, and there are Disposable drip tray liners to finish off.
The charcoal burner delivers 26,000 BTU under a 396 square inches of cooking surface (22″ x 18″) and comes with an Adjustable airflow fire pan, a Stainless steel warming rack and a grill matching the hood. The charcoal is easily loaded through an access door.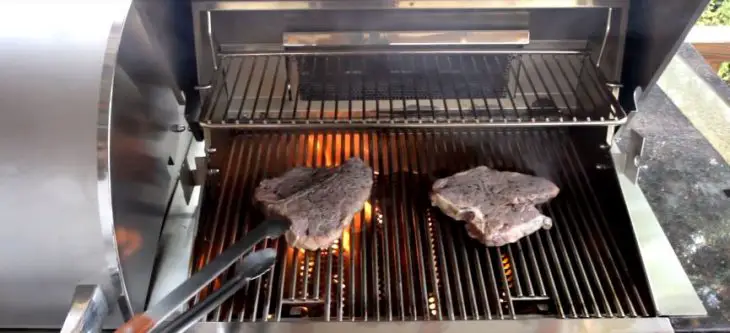 The overall cooking surface is 828 square inches, and the Cut-out Dimensions of this model are 50 1/4″w x 19 1/2″d x 12″h
Features
Diamond Sear Cooking Grids
Analog Thermometer
Hot Surface Ignition
Comfort touch knobs
Halogen Interior Lights
Cast Stainless Steel Burner
Recommendations
This is an amazing combo unit, yes, it comes with an amazing price too and is fit for professionals, restaurants, as well as for home cooks seeking the ultimate in cooking experiences.
This is the Char-Griller Double Play™ 5650 gas and Charcoal Grill
Performance
This combo gas and charcoal grill unit provides you with two separate cooking surfaces, both covered. The right side one is a gas powered 3 burner unit that delivers 40,800 BTU's and comes with an additional 12,000 BTU side burner. The right-hand grill is a charcoal bin that provides a perfect sear for the steaks as you cook comfortably over the gas top.
This model comes with stainless steel heat gauges, cast iron grates, and easy-dump ash pan. Gas is fast, so you can heat up your food quickly, giving you time management control beyond one system. If you want, you can always add a smoking side box too to add that extra dimension to your food.
Features
Porcelain Coated Cast Iron Grates
Easy Dump Ash Pan
Adjustable Fire Grate
Stainless Steel Heat Gauge
Electronic Ignition
Heavy Duty Steel Construction
Powder Coating Finish
Warming Rack
Dual Gas Smokestacks
Recommendations
This is a classic combo unit that delivers compartmentalized perfection. It comes at a very affordable price reflecting the high quality and reliability of the construction and performance of this product.
This is the Smoke Hollow PS9900 4-in-1 LP Gas Charcoal Smoker Searing BBQ Grill
Performance
The Smoke Hollow combo unit is a backyard combo gas and charcoal unit; it also comes with a smoker box too. This is an affordable large cooker that comes with 1,245 square inches of cooking surface. This model has 4 burners, 3 that deliver 10,000 BTU's each, and one that provides 12,000 BTU's, giving a total of 42,000 BTUs.
The PS9900 comes with porcelain-coated cast iron cooking grid, flare guard and warming racks. There are a temperature gauge and a removable grease tray.
The battery operated ignition is a push button electronic system, and the charcoal grill section comes with a Porcelain-coated cast iron cooking grid and an Adjustable charcoal pan with a grate. There is also an Air damper control with the Temperature gauge and an Ash removal tray.
Features
3 x 10,000 BTU stainless steel tube burners
12,000 BTU sear burner
Porcelain-coated cast iron cooking grid
Porcelain-coated flare guards
Porcelain-coated warming rack
Temperature gauge
Removable grease tray
Easy, adjustable charcoal basket
Removable grease and ash drawer
Four casters for easy mobility
Recommendations
This is a budget-friendly gas charcoal grill combo that comes with a smoker unit too and is for the backyard of any home. This model is designed for looks, style, and performance.
This is the Fire Magic E660s-4E1N-62-W Echelon Diamond E660s Natural Gas Grill Single Side Burner
Performance
This is a professional grade cooking product that comes with a hefty price to match and is usually found in the high-end restaurants and hotels. This model is an exceptional beast of a performance, and it comes with top-level quality materials and features.
To start with this is an all stainless steel model that comes with a magic window lid so you can see how your food is cooking all the time it's covered. This model comes with a 30″w x 22″d (1,056 sq. in.) cooking surface and a 30″w x 8″d (384 sq. in.) warming rack and delivers via cast stainless steel "E" burners 78,000 BTU's with an additional 11,000 BTU from recessed infrared Quantum Backburner.
The console and electronics are powered by a direct 110v/120V Power supply.
You get a Diamond Sear Cooking Grids and Flavor Grids, and a Charcoal Smoker Basket. There is a Chrome Digital thermometer with meat probe. This model comes with an Angled halogen internal lights and a hot surface ignition for fast start-ups.
Features
Cooking surface: 660 square inches (30″ x 22″)
16 gauge stainless steel flavor grids
Backlit safety knobs
Heat zone separators
Electronic digital thermometer
Halogen lamps for evening grilling
Electronic push-to-light spark ignition system
Spring-assisted lid
78,000 primary cooking surface BTU's
11,000 BTU backburner
15,000 BTU Single side burner
Wood Chip smoker with dedicated 3,000 BTU burner
All 304 Stainless Steel
Recommendations
This is an amazing model, expensive, top grade and virtually unbeatable. However, due to its price tag is reserved for professionals and commercial grade use more than the average home use.
This is the Kamado Joe classic II KJ23RHC Ceramic Charcoal Grill, Blaze Red
Performance
When it comes to famous, popular and well known, nothing beats the red Kamado Jo. This is a standout Kamado grill unit that comes with an easy-open dome using a counterbalanced Air Lift Hinge and element-proof, ultra-precise Kontrol Tower top vent.
The cooking surface is made from 304 stainless steel integrating the Divide & Conquer® Flexible Cooking System, as well as the Advanced Multi-Panel FireBox, which is a heavy-duty rolling cast iron cart that comes with a patented slide-out ash drawer for easy cleaning.
This models dimensions are 46.5″ W x 48″ H x 28″ D and the cooking surface is 18" diameter plate giving a total of 256 sq. in.
This grill weighs 188 lbs. and its heat range is between 225°F – 750°F
Features
18″ Ceramic Grill with Cast Iron Cart
Divide & Conquer® Flexible Cooking System
Air Lift Hinge
Kontrol Tower Top Vent
AMP FireBox
Stainless Steel Latch
Wire Mesh Fiberglass Gasket
Patented Slide-Out Ash Drawer
Built-in Thermometer
Finished Folding HDPE Side Shelves/Handle
Grill Gripper
Ash Tool
Recommendations
This is the Kamado Jo, if you never heard of it you never grilled, if you heard of it you wanted it, and now you can get it.
How to choose a Combo Grill?
A grill is used for three styles of cooking
Direct heat for high sear cooking such as open cooking steaks.
Indirect heat convention for cooking whole chickens, roasts and other food that requires either a long slow air circulating cook or a hotter medium timed cook.
Indirect heat smoke is roasting with a closed lid to provide smoky flavored food.
So, what's the difference between the two processes for the three styles?
Initial heating up is the main difference; a gas grill heats up in minutes, a charcoal grill needs time to prepare.
Searing is the second difference; charcoal grills are better from searing steaks, they produce greater direct heat.
Those are the two main differences, since in most cases you never need to much heat to cook most products and all the top chefs and restaurants use gas and not charcoal for many reasons that also include the speed at which you prepare the grill, the speed at which you can control the temperature and the cleanliness of the environment.
To be honest, using charcoal is like using a horse and cart when compared to a car. Sure, its old-fashioned and fun, but it's not as efficient for overall cooking, and apart from that sear, it doesn't outperform gas.
When it comes to smokiness, you can get both from either type, all you need to do is add the smoking unit, or add smoking pellets on a metal surface, so they don't burn with direct heat, and they start to emit that smoky flavoring steam.
However, the arguments for and against are irrelevant and not moot when you decide to buy a combo grill that gives you the benefit of both worlds.