Getting some extra greens into your diet is always a good idea and if eating them isn't up your alley – you should get your hands on the best juicer for greens to help you out. And that is the subject we will be tackling!
Regular consumption of leafy greens has proven beneficial to us for all sorts of reasons, with the main three beings: vitamins, minerals, and fiber. Adding an extra dose of baby spinach or chard can make a huge impact in the long run. 
By going through the buyer's guide and the reviews, you'll be able to get the ideal juicer that matches your lifestyle. So, let's explore the best juicers for greens and see what they have to offer!
Top-Rated Juicers For Greens
Best Overall
Omega J8006HDS Quiet Dual-Stage Slow Speed Masticating Juicer
Versatility - this juicer can tackle virtually all sorts of plant-based food items
Masticating juicer with 5 different speed settings 
A long 15-year warranty 
Premium Choice
Tribest - Green Star Elite Cold Press Juicer
One of the best masticating juicers with high juice yield
Adjustable pressure for pulp ejection
Easy to assemble 
Best Budget
AICOK - BPA-Free Slow Masticating Cold Press Juicer
Easy to clean and easy to use
Excellent performance for the price 
Responsive and helpful customer service
Other Recommendations
Table of Contents
Why Are Leafy Greens So Important?
Herbs and greens have always been a part of the human diet. Historically, if we look at the cuisine of various civilizations around the world, people have always put green veggies in their meals. And, yes, there is a dietary reason behind "putting grassy stuff" in your meals. 
The biggest nutritional value of leafy greens is – vitamin K. Without getting too deep into the medical importance of this vitamin, we could safely say that vitamin K plays a role in:
Blood clotting 
Bone health maintenance 
Metabolic processes and immune system boost
Long story short – we need vitamin K in our everyday diet to maintain the health of our bodies. And what better way to meet those daily needs than spicing your glass of morning juice with some leafy greens. 
Lastly, leafy greens come with another more physical health benefit, in contrast to the chemical side of vitamin K importance. Green vegetables, especially dark leafy greens, have a positive effect on bowel movement. So, not only will you boost your blood and bone wellbeing, but you also get a healthier and more regular bowel movement schedule. It's a win-win situation. 
What Are The Best Greens For Juicing and Why?
Now that we've addressed the main benefits of consuming leafy greens, let's see which plants are a good point for you to start juicing. Everyone has a different preference, yes, but the truth is – leafy greens are pretty easy to "hide" into a mix of other popular fruit and veggie choices. Additionally, the following plants are an easy challenge for any centrifugal or masticating juicer, so you won't have any trouble mixing them with other ingredients or even with other leafy greens.  
| Leafy Green Type | Main Nutrients  |
| --- | --- |
| Kale  | Antioxidants, Vitamins A, B6, C, and K |
| Spinach (and baby spinach) | Folates, Iron, Vitamins A, C, and K |
| Cabbage  | Vitamins C and K |
| Collard Greens | Vitamins A, B9, C, and K  |
| Beet Greens | Potassium, Calcium, Riboflavin, Vitamins A and K |
| Swiss Chard  | Potassium, Manganese, Vitamins A, C, and K |
| Romaine Lettuce  | Vitamins A and K |
Best Juicers For Greens Reviews
Best Overall
If you want the best "bang-for-buck" leafy greens juicer, this Omega cold press juicer might be the right one for you. It has a bit of everything and it is able to tackle all sorts of foods including, but not limited to: greens, fruit, veggies, coffee, butters, milk, and frozen food. 
Since green veggies tend to be more fibrous by nature, you'll be happy to know that this masticating juicer can change the amount of pulp it lets through. This is especially useful if you juice spinach often. Additionally, you get to control the speed via the 5-setting module. 
What we liked:
Versatility - this juicer can tackle virtually all sorts of plant-based food items
A masticating juicer with 5 different speed settings 
A long 15-year long warranty 
What we didn't like:
Weak pulp control on the fastest setting (around 80 RPM). Have some patience with extra fibrous veggies.
Specifications:
Size: 14.5 x 6.5 x 15.5 inches
Weight: 13 lbs.
Warranty: 15 years
Premium Choice
No matter if you are looking for an upgrade, or want to go all-in as a juicing beginner, this Tribest juicer is one of the best cold press juicers out there. The build quality is supreme and the twin gear system can juice virtually anything. Green Star press juicers are renowned for their quality and the masticating models come with a wide arrange of features. 
The Tribest comes with a masticating motor that goes up to 110 RPMs that delivers high juice yield. Inside, there is a mechanism that combines bioceramics and magnets to constantly mix the ingredients, thus allowing maximum extraction. 
What we liked:
One of the best masticating juicers with a high juice yield
Adjustable pressure for pulp ejection
Easy to assemble
What we didn't like:
Takes a while to clean until you get the hang of it
Specifications: 
Size:18.6 x 6.8 x 12.4 inches
Weight: 17.2 lbs
Warranty: 5 years
Best Budget
This AICOK model earned its spot on our list thanks to it being a great entry point if you are looking to get into cold press juicers. Even though it is a budget model, its price-to-performance ratio is excellent. You may miss some of the more advanced features, but hey - it will help you extract that green vegetable juice with ease. 
The feed chute is smaller than average, but if you cut your leafy green vegetables into smaller pieces, you'll enjoy a glass of green juice in no time. Lastly, this particular juicer model is easy to clean and assemble. 
What we liked:
Easy to clean and easy to use
Excellent performance for the price 
Responsive and helpful customer service
What we didn't like:
The food chute is smaller than average
Specifications: 
Size: 16.1 x 7.9 x 11.6 inches
Weight: 8.2 lbs
Warranty: 3 years
Best Centrifugal
Some people prefer centrifugal juicers over masticating ones. This Breville model is one of the most popular centrifugal units out there for a reason. Its 1,000-Watt motor reaches speeds of up to 13,000 RPM, which is more than enough to tackle all sorts of fruit and veggies, and most importantly - green vegetables. 
The housing is made of steel, and you will be happy to hear that the detachable parts are dishwasher safe. When it comes to juice yield, you can push a lot with this juicer thanks to the 3-inch wide food chute. And, if you want to slow down the green juice extraction, there is a slower mode that extracts green juice at 6,500 RPM.
What we liked:
Easy to use (with overload protection system)
2 separate speed modes for better green juice extraction 
Dishwasher safe 
What we didn't like:
The juicer is louder than average, which is to be expected from a centrifugal model
Specifications: 
Size: 16.5 x 9 x 16 inches 
Weight: 14.4 lbs.
Warranty: 1 year
Best Trusted Brand
Kuvings earned its palace on the kitchen counters around the world thanks to its build quality and green juice extraction capabilities. It is easy to use, easy to clean, and the pulp is easily separated. On top of that, the parts are made of BPA-free materials. However, these removable parts are not dishwasher safe. 
Now, when it comes to performance, the slow masticating motor operates at 50 RPM, and no greens are a challenge to it (not even spinach leaves). Additionally, the pulp separation is near perfect, allowing you to control the amount of fiber you get with your green juice.  
What we liked:
Wide feed chute for a more convenient experience 
High-quality build (one of the best masticating juicers out there)
10-year warranty with excellent customer support 
What we didn't like:
The removable parts (even though they are BPA-free) are not dishwasher safe
Specifications: 
Size: 8 x 9.5 x 19 inches
Weight: 25.4 lbs.
Warranty: 10 years
Is Juicing Greens Good For You?
Ok, let's get one thing out of the way – juicing of any kind is not a substitute for a healthy diet. People often try to promote juicing as the next big thing in human eating habits, but the truth is – you need a balanced diet first, and juice supplementation right after.
Now that we got that out of the way, let's talk about whether juicing greens is good for you. Essentially, out of all juice types (e.g. orange juice or lemon juice), leafy greens are among the least caloric you could consume. So, from an energy point of view, the risk of going overboard with caloric intake is minimal. 
From a nutritional point of view, green juices are virtually the richest. For example, masticating juicers can almost completely extract vitamins, minerals, and soluble fiber from leafy greens, with insoluble fiber loss along the way. 
So, the final verdict would be – juicing greens is good for you as long as you don't drink these juices as a substitute for meals or a healthy diet. 
Juicing vs. Blending Leafy Greens
Knowing that leafy green juices are not a substitute for meals, one question arises – what is the best way to get all those nutrients into a glass. The two main competitors are juicers and blenders. Juicers are also split into two categories (centrifugal and masticating juicer models), but more on that later. Also, some blenders (like Vitamix blenders) are great for making green juices as well. And, if you prefer having a healthy drink on you at all times, take a look at the best portable blenders and their cordless systems.
So, the biggest difference between juicing and blending greens would be the pulp treatment. 
Blenders are quicker, somewhat louder, and they blend everything into a single mix. This means there is no pulp separation. While this feature does sound awesome, you should consider the other side of this medal, and that is – blenders destroy large amounts of nutrients along the way. Nutrients get "destroyed" by the surrounding oxygen thanks to the fast and aggressive mechanism. 
On the other side, we have juicers. They take a bit longer to get the job done (especially slow masticating juicers), but they keep the nutrients in the mix. Moreover, you get to repurpose the pulp by adding it to a cooking recipe, or by simply putting some of it back into the mix.  
Centrifugal Juicing or Masticating – What's the Difference?
Even though you can make juice without a juicer, when it comes to juicers for leafy greens, there are two main types – centrifugal and masticating juicers. While they operate similarly, the difference in speed and juice delivery is significant for nutrient retention. 
To put it simply – both types of juicers will get the job done, but you will have to pick between speed and quality. 
Masticating Juicers for Greens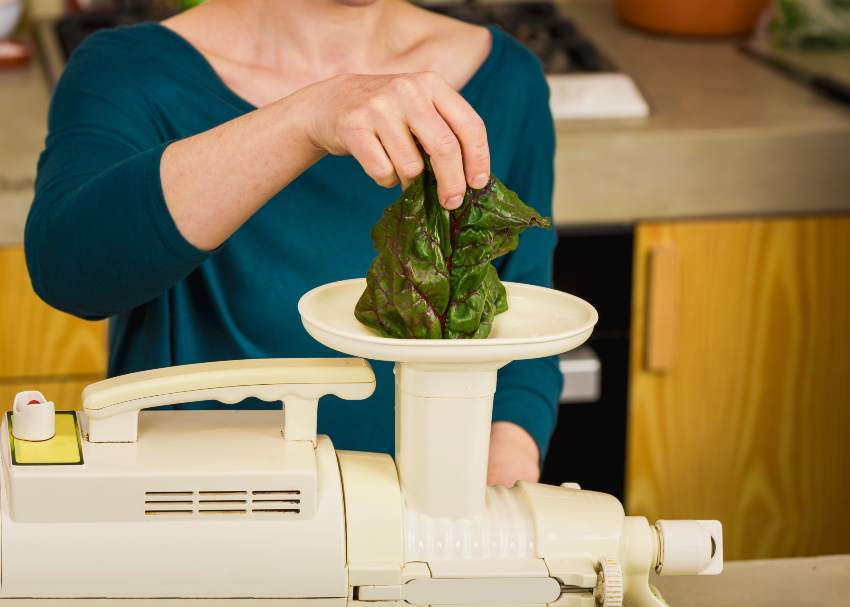 Masticating juicers, aka slow juicers, squeeze fruits, veggies, and greens using an auger system. This auger slowly spins, allowing the masticating juicer to drain the juice that carries the flavor and the nutrients. 
This type of juicer for leafy greens preserves nutrients that can't withstand high RPMs that centrifugal juicers utilize. 
So, if you can spare a few minutes more, a masticating juicer may be a better option for you. Additionally, masticating juicers keep the pulp in better shape for later repurposing, thanks to the slow-rotating auger.  
Centrifugal Juicers for Greens
In contrast to slow juicers, we have their more aggressive counterparts – the centrifugal juicers. While a masticating juicer uses a slow auger, a centrifugal juicer will utilize the power of high-speed rotation. 
This type of juicer will do the job faster at the expense of some nutrients and a lot of fiber. Centrifugal juicers are not ideal for greens, but they get the job done pretty quickly, and they are relatively easy to clean and maintain. 
Best Juicer For Greens – Buyer's Guide
If you want to make sure that you get the best juicer for green veggies that matches your lifestyle, it's important to go through a few key factors. Every juicer out there has something slightly different to offer, so it would be best if you made your list of features you'd like the juicer to have. 
So, let's take a look at the most important things you should factor in before you make the final decision. 
Type
We touched upon the main two types of juicers for greens – the slow masticating juicer and the centrifugal juicer. The differences are clear, but the decision rests solely upon your shoulders. Essentially, you will have to balance between nutrition and time. 
If you are a busy person and can't afford to wait for a juicer to finish the job, then a masticating juicer is probably not for you. Masticating juicers are slower, but they retain more nutrients and fiber. 
On the other hand, centrifugal juicers get the job done quicker, yes, but the process also destroys a portion of the nutrients (and fiber) from within. 
All in all, the juices made with both types will be healthy and tasty, and you get to decide whether you want to wait a bit for a bit more nutrients. 
Juice Yield
When it comes to juice yield, the results may vary, depending on several factors:
The size of the juicer's main chamber – juicers for greens that come with a larger chamber tend to mix the greens with the other ingredients better, thus making a bigger juice yield. Naturally, you can't expect the greens to have as much juice as oranges, but a juicer for greens will get the last drop out of that baby spinach.
The type of greens you use – typically, greens on the fibrous side don't exactly provide a lot of juice, so the yield is somewhat limited. On the bright side, you get more pulp and veggie leftovers to make pesto and all sorts of delicious recipes. Some greens can go better with a cold press juicer. However, a juicer for greens allows you to mix all sorts of greens at the same time. So, don't be afraid to mix things up a little.
The feed tube size – the feed chute dictates how much greens, fruit, and veggies you can juice at once, or rather in succession. While the juice yield stays virtually the same, smaller chutes take longer to process the ingredients. Not to mention that you have to cut your veggies beforehand. Which brings us to our next factor…  
Feed Tube (aka chute size)
Every juicer out there, including juicers for greens, comes with a feeding chute. Essentially, this is a plastic tunnel you push the ingredients through. In the case of leafy greens (thanks to the structure), you can push more volume at the same time. 
However, caution is advised since leafy greens also come with a high percentage of fiber inside. More fiber translates to harder juicing and eventually a potential jam. 
To decide whether to opt for a juicer with a bigger chute, try to figure out what kind of ingredients you will be juicing most often. If it's larger fruit like orange, it would be best to get a juicer for greens with a bigger chute. 
Cleaning and Maintenance
When it comes to cleaning a juicer for greens, there isn't much difference compared to other types of juicers. Juicer maintenance is not that complex if you do it on time. Some running water and soap will do the trick in a matter of minutes as long as you don't let the fruits, veggies, and greens dry out inside the juicer. 
If you are worried about cleaning, you should probably look for a model that has easily-detachable parts. If the parts are accessible, you just need to rinse off the leftover greens and plant matter right after you are done juicing. 
Size and Design
In the end, do not neglect the juicer size and the overall design. Juicers for leafy greens are not necessarily bigger than other types, but some models do come in bulkier casings. So, all you have to do before you decide is – measure the counter space you want to dedicate to your new juicer for leafy greens. 
Frequently Asked Questions
Can I drink green juice every day?
Of course, you can! When it comes to homemade juicing, greens are recommended for consumption every day. Since leafy greens carry very few calories, you don't have to worry about going overboard with the juice (in contrast to fruit juices). 
However, please keep in mind that juices are not a substitute for a healthy diet. Use your juicer alongside healthy meals to achieve your daily micro and macronutrient goal. 
Are there veggies and leafy greens that should not be juiced?
While there are no limitations in terms of technical specs and the ability to be juiced, some veggies and leafy greens should be consumed with caution. If you are a healthy person with no chronic health conditions, this does not apply to you. 
However, it is known that some greens like kale can have a somewhat negative effect on some hormones (like thyroxine and other thyroid hormones). Also, if you are prone to bloating and want to introduce greens into your diet, start small and see how your body responds. Leafy greens and green veggies, in general, can make you even more bloated, so be extra careful. 
Can I use the pulp leftovers after I'm done juicing leafy greens?
Not only can you use the pulp leftovers, but you should also be doing it! While juicers for greens tend to preserve as many nutrients as possible, fibers do not survive the process in large amounts. Centrifugal juicers are known to break down a lot of fibers while masticating juicer units leave some of the fiber in the juice. 
To overcome this small downside, all you have to do is open up the juicer after you are done, and put some of the pulp back into the juice. Friendly advice – start small and see how your body responds to the pulp. If you overdo it, you will have a glass of sauce, not a glass of juice, and you will be needing a spoon. 
Before you go
Adding greens to your diet has no virtual downsides – they are full of high-quality nutrients, even though they bring little to no flavor. That is why so many people opt for a juicer for greens to help with greens consumption. A juicer (masticating or centrifugal) allows you to mix the fruit and veggie flavors to create your taste.  
We hope that our guide and reviews helped you to finally get a juicer that goes hand-in-hand with your dietary habits. If you have any questions, feel free to comment down below, and we will get back to you with the answers ASAP. 
Have fun with your new juicer for greens, and above all – stay healthy!