If you are looking for a new grill, but you don't have where to put it, we recommend looking into the best small gas grills. They are affordable, and above all – they require very little room so that you can install the grill virtually anywhere. 
Cooking dinner on a full-sized gas grill can be great for a big backyard BBQ, but it's not practical for every situation. A small gas grill might be the answer if you are low on space. However, there's more to this than just the sheer size of the grill. 
We went all in to discover the ins and outs of small gas grills and prepare a buyer's guide and a list of the best small gas grills models out there. Let's dig in!
Best-Rated Small Gas Grills
Table of Contents
Other Recommendations:
There are plenty of options out there when it comes to outdoor cooking. If you're looking for something other than a small grill to level up your cooking, consider these instead:
The Best Small Gas Grills – Reviews
Best Small Gas Grills – Buyer's Guide
While looking through all the small gas grills, remember that price and brand name are not the only factors you should consider. You want your grill to last more than a single season, and you want to make sure it produces even heat for even cooking. Also, if you decide to upgrade your outdoor kitchen one day, we recommend you start your search with the best built-in grills we reviewed.
Here are some of the factors we considered when compiling our list of the nine best small gas grills out there.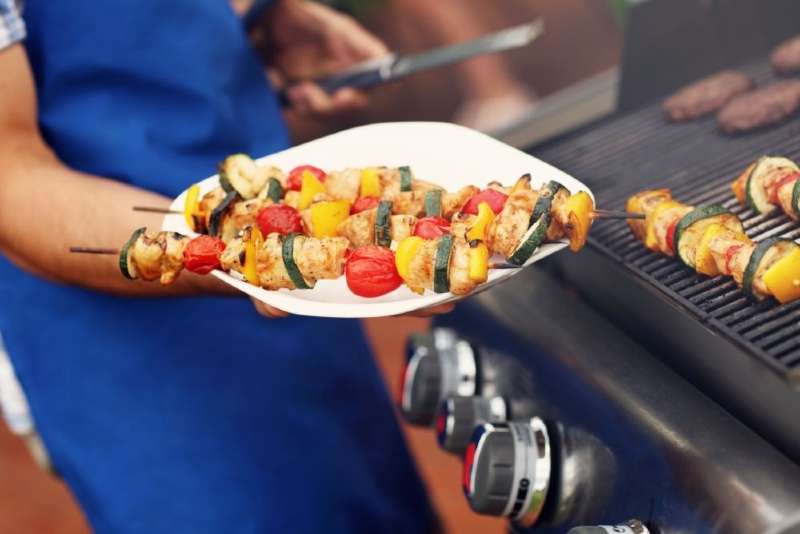 Durability
As mentioned, you should make sure any grill you purchase is made from durable materials that can last multiple grilling seasons. Materials are essential, yes, but the assembly and the build are crucial. 
Usually, a lengthy warranty is a good indicator that the manufacturer stands by the grill quality. Brand reputation is also worth considering. Grill brands earn their reputations based mainly on build quality.
Materials are not as straightforward as you might expect. Most grills are made from steel, yet steel quality differs significantly. Look for corrosion and peel-resistant coatings to help extend the lifespan of your grill. 
Corrosion-resistant coatings are critical if you do not have storage space for your grill, which may be the case if you're planning to use your grill on an apartment or condo balcony. Many people store their grill in a shed or garage during the cold, wet months, but if this is not an option for you, find something that can stand up to harsh weather conditions. Stainless steel grills are great for this, and you will find quite a few on our top nine list. 
Overall Size and Cooking Area of Small Gas Grills
Since we're counting down the best small gas grills, size is an essential factor. The first step is making sure that the grill is small enough for your space, but it is also vital to consider the cooking area.
Find a grill that fits your space and gives you the maximum cooking surface possible. While you can cook up some impressive meals on a small grilling surface, make sure it is large enough to properly sear the foods you are planning to cook on it.
Many of the grills on our list feature foldable side shelves, which allow you to fit the grill into a tighter space. We avoided grills that wasted space with large side handles and fixed shelves because we want to ensure that the area your small grill takes up is helpful.
The truth is that some grills look large on the outside, but the cooking surface is surprisingly tiny. We avoided these types of grills and instead prioritized practicality and efficiency. 
Portability
While you may plan on permanently positioning your grill on a balcony or patio, many people want the option to relocate the grill when necessary. If you only have access to a small outdoor space, you might enjoy the option to move it to a less prominent area when not in use. That's why some of the grills on our list feature foldable designs that are so portable you can even take them camping!
Heat Distribution
Heat distribution is an important factor when assessing overall quality, no matter what size grill you are looking at. The last thing you want is to grill food and find it cooked unevenly once you start it.
A high-quality grill also has better insulation to deal with heat loss when the lid is closed. Blocking wind and cold air from getting into your grill helps reduce heat fluctuations and makes cooking that much easier.
A grill with good heat distribution makes sure that heat is spread evenly across the entire grilling surface. A grill with a few hot and cold spots is much easier to cook on!
The Overall Cost of Small Gas Grills
If you are in the market for a new grill, you probably have some idea of your budget. Small grills are available at a wide range of price points. We tried to strike a balance between cost and quality to help you get the most bang for your buck!
Consider your budget and how often you will use your new small gas grill. If you intend to cook on it regularly, it might be worth investing more money in a higher-quality grill. We made sure to point out which grills are the best option for those on a tighter budget!
Accessories and Extra Features
Although build quality and heat distribution are key, there is something to be said for a grill that comes with all the bells and whistles. Even with smaller grills, you can find those that include some impressive features and extra accessories. 
For example, if you want a grill with a built-in thermometer, plenty of smaller grills have this feature. We were sure to point out the features each of our top nine small grills came with, and we made a note when the manufacturer sold upgrades and additional accessories to customize the grill.
Best Small Gas Grills – The Verdict
Picking up the best small gas grill is no easy task due to all the factors that come into play besides its size. Hopefully, our guide and small grill reviews will help you make an informed decision and finally treat yourself to some tasty, tasty grilled food. 
At The Home Dweller, we do the research and compile it into these bite-sized articles to help people out. If you find the info helpful, we invite you to share it on social media and save someone the trouble of going through days of research.