Urban dwellers are usually ignorant of the workings of rural lifestyles. This is most obvious when handling freshwater supply. In the city, you will have municipal pumping stations providing high-pressure water to buildings within the municipal border.
Add to this the extra pumping stations found around cities with different levels due to topography, and then add to that high rises that have their pumping units to help maintain high pressure when supplying residents on the 60th floor.
All these pumping units work together to create a constantly flowing source of water from your tap.
In the countryside the case is different. This is where water supply becomes a feat of engineering and water sources are worth more than gold.
In extremely rural settings you will find most homeowners managing their water sources from underground natural wells. This requires the installation of a pump that can manage to deliver high-pressure water to the homestead as well as the yard for irrigation purposes. The deeper the water supply, the bigger the pump, and the larger the area to feed the bigger the pump needed.
In this review, I am concentrating on jet pumps. Jet pumps work differently from submersible pumps, jet pumps suck water up, while submersibles push the water up. This main difference provides you with a dry pump, usually located close to the water source, and generates a suction to pull water out from its source.
Deep well pumps work in much the same principle, but the pumping mechanism is bolstered with a tailpipe that goes all the way down to the good source.
No matter what unit you decide to take there are three key factors you must be aware of:
PSI – Pounds per inch of air pressure, which is what sucks the water.
GPM- Gallons per minute, which is the amount of water you produce
HP – Horse Power, which is the amount of energy expended for the PSI/GPM.
Table of Contents
Now let's take a look at the Best Jet Pumps for 2018:
Goulds Pump J5S
Not to be confused with Goulds Pumps, this is a Xylem brand Goulds Water Technology pump. This is a manufacturing company with a similar named product name but not the same brand.
However, don't make a mistake, this is a Global company fabricating some of the best pumping equipment around and has sites manufacturing in the US, Europe, and Asia.
Specifications
Design: The diaphragm is sealed and retains water in the casing to assure that the seal never dries out.
It comes with 1¼" NPT suction and 1" NPT discharge pipe connectors.
PSI: Preset to 30 to 50
GPM: 15.7 at 20 PSI
HP: ½
Body Weight: 43lbs
---
Goulds Pump J10S
This is the Goulds Water Technologies J10S model shallow water jet pump.
Specifications
Design: This is a steel body shallow-well pump with electro-coating to assure corrosion resistance and comes with UV-resistant plastics.
This model comes with a shallow pump adapter in its body, so there is no need for an extra unit. The pump is designed to operate even when air gets into the system, and it will re-prime itself when that occurs. The motor is a NEMA 60Hzsingle phase motor that delivers 3,500 rpm and has a built-in overload reset switch.
PSI: Preset to 30 to 50
GPM: 22.9 at 30 PSI
HP: ½
Body Weight: 50lbs
Note that this is a larger model than the J5S.
---
Xylem Flojet 18555-000A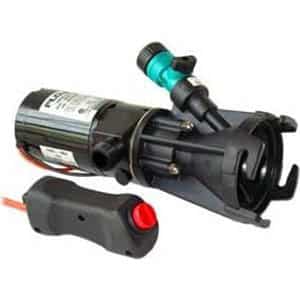 Xylem was established in 1975 as a manufacturer of special application pumps focusing on the cleaning machine market. Since then XYLEM FLOJET has emerged as a global supplier of variously sized pumps, motors, and dispensing pumps.
This is their Flojet 18555-000A, Portable RV Waste Pump that specializes in pumping wastewater, and is great for emptying septic and holding tanks. The pump connects onto the standard three-inch waste outlet and can have a 30-second run dry protection mechanism.
The discharge port connects to a standard garden hose connector and the stainless-steel macerator grinds waste down particles down to a size of 1/8″ maximum. The impeller is constructed of a Jabsco Nitrile Compound.
The company recommends you don't operate this for more than 15 minutes at a time.
PSI: N/A
GPM: 10
HP: N/A
Body Weight: 6lbs
---
Flotec FP4012-10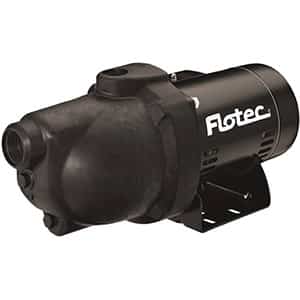 This is the Flotec built-in shallow well pump jet that can pump up to 25'. This model incorporates fiberglass-reinforced thermoplastics, so it's corrosion-resistant. It also handles sandy water perfectly.
The shaft is stainless steel and uses a heavy-duty ball bearing with a mechanically sealed shaft and motor windings. It connects via standard 1 ¼" NPT and discharge are 1" NPT.

PSI: Preset 30 to 50 can reach 77
GPM: 10 at 40 PSI (optimum 8)
HP: ½
Body Weight: 26lbs
---
WAYNE CWS75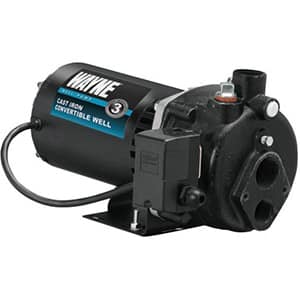 This is the WAYNE CWS75 3/4-Horsepower Convertible Well Pump and can work in wells as deep as 90'. This is only the pump unit; the jet assembly has to be acquired separately.
Design: This is a cast iron body deep well pumps up to 90' with cast iron volute. It is thermally protected preventing overheating and has electro-coating to assure corrosion resistance. It comes with a ¾" NPT discharge with a 1 ¼" Suction adapter as well as a 1" drive.
PSI: Preset to 30 to 50
GPM: 7.7 at 50 PSI (462 GPH)
HP: ¾
Body Weight: 38.4lbs
---
WAYNE SWS50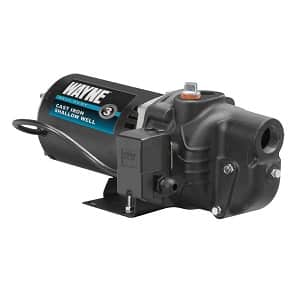 This is the WAYNE SWS50 1/2 HP Cast Iron Shallow Well Jet Pump, and it works perfectly up to depths of 25'. This model comes with a voltage change selector that allows you to connect it to a 115v or 230v source.
Design: This is a cast iron body shallow well jet pumps up to 25' with cast iron volute. It comes with a ¾" NPT discharge with a 1 ¼" Suction adapter.
PSI: Preset to 30 to 50
GPM: 7 at 50 PSI (420 GPH)
HP: ½
Body Weight: 39lbs
---
Red Lion PWJET50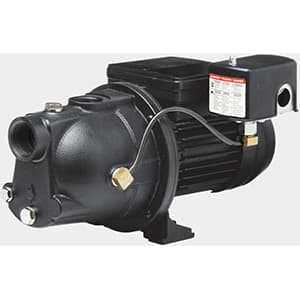 Red Lion is a veteran American company that was founded back in 1935. They continue to provide innovative products that provide excellent service and results in all their categories.
Their Red Lion Shallow Well Jet Pump is no exception to the rule, and it works perfectly for any depth up to 25'. Red Lion is a major provider of pumps to rural North America.
Design: This is a cast iron body shallow well jet pumps up to 25' with a rust-resistant coating.
PSI: Preset to 30 to 50 with automatic shut off
GPM: 12 at 50 PSI
HP: ½
Body Weight: 21lbs
---
Red Lion RJS-100-PREM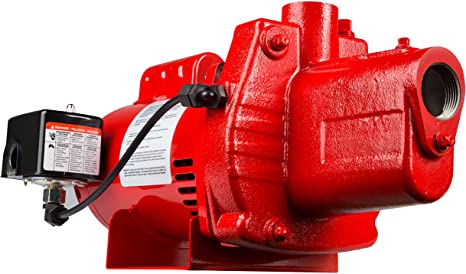 This is Red Lions RJS-100 model, and it's the larger brother of the RJS-50 model. This one is larger since it provides 1HP rather than ½ HP, as such its output is double that of the smaller unit.
Design: It is thermally protected with a glass-filled thermoplastic impeller and diffuser. It comes with a 1" FNPT discharge with a 1 ¼" Suction adapter.
GPM: 23 at 50 PSI
HP: 1
Body Weight: 41lbs
---
Hallmark Industries MA0414X-7
This is Hallmark Industries' MA0414X-7 Deep Well Submersible Pump. This is a vertical model and slips into a smaller niche than the standard models reviewed here. These vertical pumps are designed to sit in the well and pump the water up using a mechanical lifting mechanism rather than suction.
Design: This model comes in a 4" diameter stainless steel housing covering a cast iron body. It comes with a Built-in starter box, so it doesn't need an external control unit. The unit is a 2-wire pump but comes with a grounding wire.
This model comes with a built-in check valve, and the motor is hermetically sealed.

PSI: Maximum 89
GPM: 33
HP: 1
Body Weight: 27lbs
Height: 30."
Diameter 4"
---
Well types
There are many different locations for fresh groundwater; they can be under hundreds of feet of rock or just a few feet under the arable soil. No matter what constrictions you have to reach your water, once you do overcome them, and manage to reach the water source, you will need a pump to get it out.
Naturally, the physics and mechanics of pumping water from different depths is not the same, the deeper you go down, the more power you need to pump up the water, it's not just a matter of pulling or pushing the water, it's also the weight of the water in the pipe that has to be considered. The deeper the well, the heavier the displacement.
How a jet pump works video:
To fully comprehend the differences between the good types, shallow and deep, let's take a look through the eyes of the pump engineer.
Shallow-well pumps
A shallow well is a water source that is no deeper than 25', now you might think that 25' is deep, but when you consider the depth of the Earth's outer crust (Mantel) it's just a scratch on the surface. Also, when you consider the depth that some commercial wells have been bored to (3,000') you realize how shallow this is.
The only issues with a shallow water well are the nature of the material you need to bore through to get to the water source. In most cases, you can dig down with hand tools when the material is the rock you will need ground drills or pneumatic hammers.
Whatever the material, once you have excavated enough to reach water level, it's time to decide how to draw the water out.
Shallow water pumps use a sucking method to draw the water out. This is a simple vacuum mechanism, where a submerged ingestion tube is inserted into the water, and the pump creates a vacuum that draws the water out.
The more powerful the suction mechanism, the faster and you will be able to suck out more water. However, this is an oversimplification of the process, so here's what is involved.
The jet pump is usually powered by an electric motor that rotates an impeller or centrifugal pump. This drives the water from its source through a narrow tube (jet), and this constriction makes the water move faster.
As the water is leaving the well, a vacuum is created that helps pull the water out with less power needed to pull (Pumped). The jet of water is spraying into a Venturi tube this is a tube whose diameter increases, which causes the water flow to slow down as well as build up a larger vacuum suction force.
These two streams of water, the jet, and the pumped combine to flow up the discharge hose or pipe and out towards its destination.
Suction relies on the collection unit being submerged completely in water. Therefore pumps have a 1-way check valve is installed to make sure that there is always a perfect condition for pumping.
Deep Well Pumps
Deep wells are deeper than 25', and no, we don't mean 26', we mean deepwater wells that can go as far down as 100 feet and more. The main difference between a shallow and deepwater well pump is the jet assembly unit.
In deepwater wells, the pump's jet assembly unit is set vertically down from the pump unit, looking like a pipe, where the impeller is inserted into the water, and the pump is set to suck the water out vertically.
The jet, in this case, pulls the water out, creating a vacuum that sucks the water from the jet tube into the pump tube. This water is then pumped up vertically using both the vacuum-generated suction as well as the pressure of the impeller to drive the water up longer distances.
To counter the issue of over-pumping, many deep-water wells come with a 35' tailpipe that's connected to the intake end of the jet unit. This acts as a security measure, ensuring that the jet housing is never going to pump out the well.
The system incorporated mimics a shallow well condition, where 25' of water is required to maintain the integrity of the well. Once the water level goes below this, the pump will fluctuate based on the water level, but the 35' tailpipe will make sure that there is always water in the well.
Submersible Pumps
There is another version of the deepwater well, one that uses more energy but provides more power and is found in many places is the submersible pump. Unlike the standard jet pump, a fully submersible pump sits under the water and uses the impeller to push the water up the pipe, not relying on vacuums and suction.
The unit might still look like a long tube, but in this instance, the lower tube is the pump, and there are a series of impellers that work together, each separated by a diffuser that drives the water up to the pipes.
There is a downside to submersible pumps, and that is reaching them to maintain or fix them. While submersible pumps are far more efficient and powerful, they are underwater, and as such, you cannot access the unit unless you pull them out of the well. This might seem like a major issue, however, in reality, submersible pumps are made so well that they usually last between 20 to 25 years without needing a maintenance call.
In any event, when placing a submersible pump down a well, make sure it can be reached easily, and that there is plenty of room to pull it out. This means that you should have an easy release mechanism that can unbolt the pump from its mooring, and a chain or pulley system to lift it out of the well.
Remember, deep water wells can be extremely deep and narrow, so when considering using a submersible, make sure that during the excavation process you make it accessible.
Pump Commonalities
Pumps are pumps, they might have different bodies, different methods of sucking or pushing, but at the end of the day, they are still pumps. This means that there is a motor to turn an impeller that either creates pressure to suck out water like a vacuum or to push water up a pipe like an elevator.
No matter what system you employ, at the end of the line is a water tank that holds the water. Modern water tanks have an airbag (diaphragm) inside them that compresses when the tank fills, and this is what gives you the home plumbing water pressure.
The diaphragm is connected to a switch, this unit checks to see whether the internal pressure is between 40 to 60 PSI, once the pressure goes below 20 PSI the pumps activate and water flows into the tank when the optimal pressure is reached, the pump is deactivated.
Conclusions
You will note that I did not try to expound on each pump type like a common commercial. This is due to many reasons, the main one being that a pump has to suit them well as well as the well's owner. Just like a car, there are more expensive and less expensive models.
Essentially, what you need to know are the specifications, after this, you need to know if the pump is a good brand. Whether the pump is rigid and long-lasting cannot be determined by a review, we can only ascertain what has come before and considered the companies older model performances.
Just as you know Volkswagen and Mercedes Benz are cars for different budget levels, but both last for decades. Pumps too can be noted for their longevity and quality based on their manufacturer.
What I have done is give you the best pumps fabricated in the best manufacturing houses, and that these products are all trustworthy, rugged, and of the highest quality.
The pump that suits your needs is something you need to work out based on the capacity of water required, the distance of your water source, and the depth you need to reach. Once you have this information, any one of the above pumps will provide the necessary performance levels that will go beyond your expectations.