Upgrading your home gym can be a cumbersome task. The list of different machines and contraptions that can help you get healthy is virtually endless. However, since you are already here, it is time to talk about Sole treadmills – Sole F80 vs F85 to be exact. 
We talked about the Sole F63 vs F80 case, so it is only fair to take a step up and see what these treadmills are about. As you may know, Sole Fitness is one of the leading manufacturers of exercise (mainly cardio) machines. Having in mind that these two treadmill models became quite popular in the last couple of years, let's dig in and see what they have to offer!
Table of Contents
Sole F80 vs F85 Comparison Chart
Product
Number of Programs
Number of Programs
10 - 6 standard, 2 custom, 2 heart programs
25 - 6 standrad, 12 custom, 7 fitness test modes
Running Surface
Running Surface
22" x 60"
22" x 60"
Motor Strength
Motor Strength
3.5 HP
4.0 HP
Incline
Incline
Yes - up to 15%
Yes - up to 15%
Display
Display
Backlit 9" LCD
10.1" TFT Touch Panel +Android System
Speed Range
Speed Range
.5 mph - 12 mph
.5 - 12 mph
Speakers
Speakers
Yes (Bluetooth Suppoted)
Yes (Bluetooth Suppoted)
Bluetooth Connectivity
Bluetooth Connectivity
Yes
Yes
App Support
App Support
Yes (Sole Fitness App)
Yes - WiFi Phone or Tablet Mirroring Capability
USB Support
USB Support
Yes (for charging devices)
Yes (for charging devices)
Easy Assist Folding
Easy Assist Folding
Yes
Yes
Cooling Fan
Heart Rate Monitoring
Heart Rate Monitoring
Pulse Grips & Chest Strap
Pulse Grips, Chest Strap, Telemetric
Weight Capacity
Weight Capacity
375 lbs.
400 lbs.
Sole F80 vs F85 – Main Differences
Sole F80 vs Sole F85 – as you can see in the table above, Sole Fitness upgraded their F80 model in some areas more than others. As opposed to the previous, F63, the next-gen F85 comes has a few major upgrades. 
The Console
One of the most important things for any treadmill user is the console. We use it to set up, well, virtually anything a treadmill has to offer.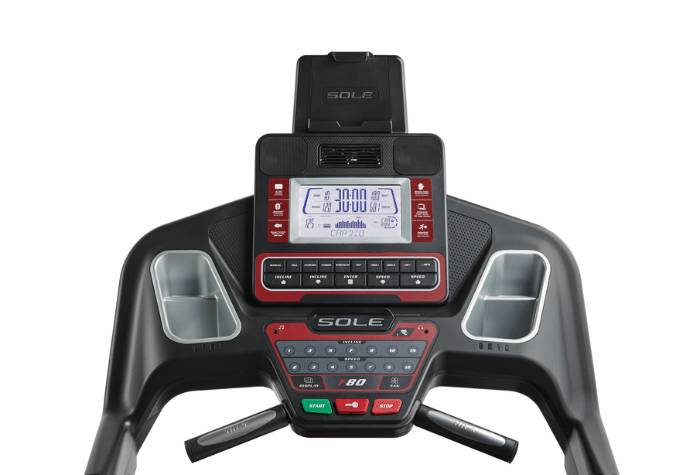 If it wasn't obvious from the images, Sole F85 has a significantly upgraded console. Not only is the display bigger, but it also has a touchscreen with an OS. This allows you to connect your phone and clone the image to the screen. You can use 3rd party apps on Sole's F85 as well (news, Netflix, youtube, etc.)
Additionally, because there is no need for them, you can expect fewer buttons on the Sole F85. However, no matter the tech of the display, both of these Sole treadmills have Sole App support for your smartphone.
Power
Now, this is where some specs do not seem like an upgrade, but they actually are. Treadmills use electric motors to power the belt and the incline mechanism. The Sole F80 has a 3.5 HP motor, while F85 has an upgraded 4.0 HP motor. Both treadmills have a 15% incline range and a speed range of .5 – 12 mph. But, what's the difference then?
Well, even though rated incline and speed stats are identical, Sole F85 will achieve selected speeds and incline levels faster. A stronger motor directly translates to better acceleration and deceleration. Additionally, Sole F85 has a higher maximum user weight limit of 400 lbs. (in contrast to the F80's 375 lbs.).
Extra Features
When it comes to treadmill basics, you can expect a bottle holder, integrated tablet holder, firm side grips, etc. from both these treadmills. However, if we were to talk connectivity and fitness tracking, Sole F85 is the winner. 
Heartrate tracking options for both treadmills include pulse grips and chest strap tracking (belt included, which is not the case with Sole's other treadmills). But the F85 also has telemetry next to standard heartrate tracking systems. So, if heart rate tracking is something you hold dear while running, in the Sole F80 vs F85 duel, the F85 takes the cake (or maybe some broccoli would be better). 
Sole F80 Treadmill Review
Sole F80 Review
The Sole F80 is a foldable treadmill designed as an upgrade to F63, and it's considered a step down from the Sole F85. So, all in all, we can say that it takes up the space of the upper-middle-class in the world of treadmills. Its frame is made of heavy-duty steel, and the treadmill motor packs 3.5 HP. This allows the Sole F80 to withstand runners of up to 375 lbs. 
When it comes to running programs, you can expect a total of 10 workout programs, including 6 standard, 2 heart, and 2 custom ones. If you combine this with the 15% incline range, you can get a good workout no matter your fitness level. Also, custom programs allow multiple runners to use the treadmill to meet their daily fitness needs. 
Everything is controlled via the console that packs a 9" backlit LCD monitor. The console also has Bluetooth audio speakers that allow you to project your music from a phone, or you can even plug in a standard audio jack. Programs are controlled via dedicated buttons, with some quick-access buttons closer to you. Lastly, you also get a USB charging port and a cooling fan on top of the console. 
What we liked:
Strong 3.5 HP motor 
User-friendly console with Sole App support
Bluetooth connection (chest strap compatible)
Speakers that allow you to play music via Bluetooth or an audio jack
Sole F85 Treadmill Review
Sole F85 Review
Now, Sole F85 is an upgrade to the Sole F80 treadmill. While they look similar, the differences are definitely there, some subtle, some less so. The F85 comes with a stronger, 4.0 CHP motor, meaning it can handle a lot in terms of runner weight (rated at a weight capacity of 400 lbs.). On top of that, the extra-large rollers and the cushion flex whisper deck make the treadmill operate silently. 
Now, the big upgrade people were anticipating is the console. It comes with a large 10.1" TFT touchscreen and an Android OS. This allows you to track and program your workouts better (especially if you pair them with the Sole Fitness app). Speaking of, Sole Fitness F85 treadmill has 6 standard programs, 12 custom programs, and 7 fitness test modes. Again, pairing these with the 15% incline range results in a lot of workout versatility. 
Similar to previous versions, you get to pair your phone via Bluetooth, however, Sole F85 offers you the option to duplicate your phone screen and cast it on the console display. The console has a fan, and a set of built-in speakers to play music (Bluetooth or direct connect via audio jack). 
What we liked:
A large touchscreen with Android System that you can cast your phone screen on
An amazing maximum weight capacity of 400 lbs.
The treadmill accelerates, decelerates, inclines, and declines rapidly (4.0 HP motor)
Decent, low noise levels while in use
Sole F80 and Sole F85 Treadmills – FAQ
Is Sole F80 quiet?
The short answer is – yes, the Sole Fitness F80 treadmill is pretty quiet while working. The 3.5 HP electric motor is powerful more than enough so the machine doesn't struggle (a struggling motor is a loud motor). 
That being said, the actual answer to this question is – it depends. Every human being has a unique walking and running gate (similar to how unique our fingerprints are). The point is – if you are an inexperienced runner, the treadmill will probably be louder. Newbie runners tend to land on their heels, which significantly diminishes cushioning. This in turn leads to louder "thud" noises while running. Don't worry, though. The noise starts disappearing the more you run. 
If you'd like to get into low-impact exercises, you should look into elliptical machines. Treadmills are more traditional, but ellipticals offer benefits as well. If you're interested, Schwinn ellipticals are a great way to start.
Does the Sole F85 fold?
Yes, the Sole F85 does fold, and it's pretty easy to do. By grabbing the bar on the back end of the running surface, and pulling up, you can fold the F85 in just a few seconds. Once the treadmill is in the upper position, it clicks and locks, so you don't have to worry about pets or kids unfolding it. 
And, if you so wish, you can easily push and pull the folded F85 around. It has a 2×2 set of wheels underneath. So, despite its heavy frame will not stop you from moving the folded treadmill around.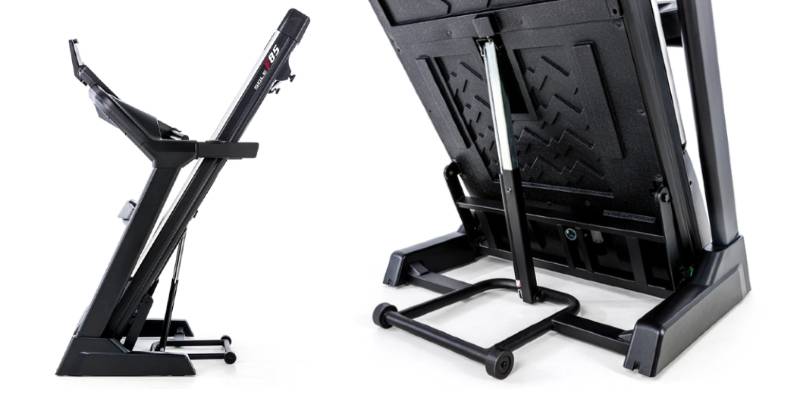 How much does the Sole F85 weigh?
The total weight of the Sole F85 treadmill is 308 lbs. Now, that does seem a lot at first thought, especially if you plan to make use of the folding frame. However, compared to the Sole F80 treadmill, this model can withstand heavier users. 
The maximum user weight is rated at 375 lbs and 400 lbs, for Sole F80 and F85 respectively. 
Sole F80 vs Sole F85 Conclusion
And there we have it – the Sole F80 vs F85 debate can finally be put to bed. As you can see in the comparison above, both Sole models are more than enough to get your body into shape. The differences lie mostly in the quality-of-life features, like the onboard computer Sole F85 has, as well as the motor power. 
No matter which treadmill you choose, you'll be able to achieve your fitness goals. The only question that remains is whether you want to spare the extra budget for the extra features. 
At The Home Dweller, we dive deep into all sorts of homestead topics to deliver you valuable info and thus help you improve and maintain your home. If you found this article helpful, feel free to share it on social media. Have a great time running!